We sold IBM (NYSE:IBM) and a few other equities a number of few weeks back as I wanted to plough more capital into precious metals for the elevation portfolio. This trade has worked out very well but I still believe stocks are a good place to be at present as the market clearly looks like it is being protected. Just look at the V shaped rally the market underwent a few days after the Brexit vote. The market (NYSEARCA:SPY) is up almost 5% since we bottomed on the 27th of June and IBM has followed suit. What is relevant here is that I believe we printed an intermediate cycle low in equity markets on the 27th. What does this mean? Well what this means is that because we ran under the previous daily cycle low and sentiment hit an extreme, in all probability we are in the initial innings of an intermediate cycle which means higher prices are ahead of us.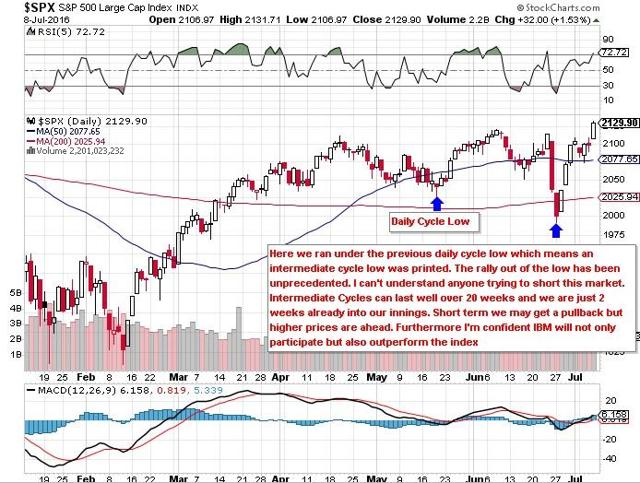 The S&P 500 and the Dow look certain to break out to new highs any day now. The Nasdaq will undoutedly follow. IBM has easily outperformed equity markets this year and I believe this trend will continue. Why?
Well even after its 12%-plus rally this year, IBM still appeals to me as a value play. Its earnings and sales multiple of 11.7 and 1.9 respectively are still below its historic averages and its price to cash flow ratio is well under 10 (something I look for in value plays). Furthermore dividend growth has been robust in recent years and the company raised again to $1.4 per quarter back in May. Yes debt has increased at the company especially since 2012 which has lifted the debt to equity ratio to 2.7 but the company brought in $13.43 billion in free cash flow last year. Many bears focus on rising debt and decreasing revenues and never research the good things that are happening under the hood at this company.
Many bearish analysts consistently focus on the 14 straight quarters of reducing revenue but fail to see how fast the company's Strategic Imperatives are growing. Furthermore gross margins are well up on 2011 when the company almost brought in $107 billion in revenues. Suffice to say that there was more than $25 billion between the company's top line in 2011 and 2016 but the bottom line only reported $10 billion of difference. There's even a smaller percentage difference between free cash flow levels in the above mentioned years. Are we to continually watch revenue counts or are profits and margins more important? I focus on the latter which is why the payout ratio is holding firm below 40%.
I have stated before that the dollar is about to enter a multi-year bear market and IBM is well positioned to take advantage as it derives more than half of its sales from international operations. As the chart shows below, we did technical damage to the dollar index when we pierced right through the 94 level. I see us rallying to max the 98 level before we roll over once more..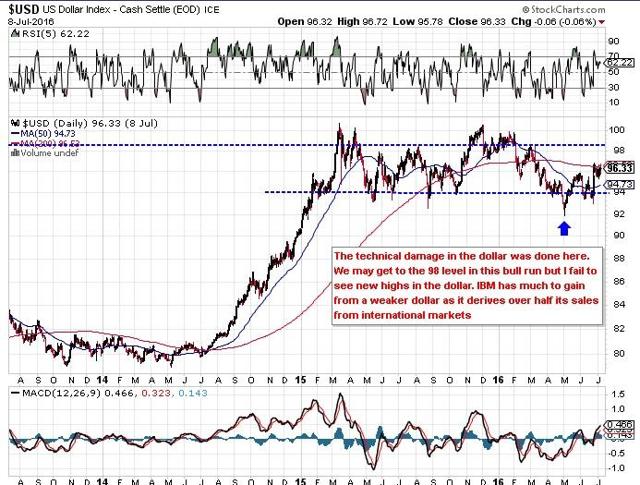 As a shareholder you need to ask yourself this question. Do you want a company that will give you solid earnings every year but by doing this may be sacrificing future growth? US Bancorp (NYSE:USB) comes to mind as a bank that spits out predictable revenues, cash flows and profits every year without fail. If you want the predictability, IBM is not your company. However in saying this, IBM has been through huge changes in its industry's landscape before and came through it. Why should now be any different? To sell off "growing" divisions in recent years was a statement of intent in my opinion. It is going where the value is and where the biggest problems need to be solved. Chevron (NYSE:CVX) is another company in a similar vein. The right thing to do was to invest through the down cycle (as it was half-invested already) and not to protect the balance sheet. IBM has gone the same route with six acquisitions in the last quarter alone and I believe its day in the sun will come soon enough.
To sum up, I'm going to be adding a few good dividend and growth stocks to the Elevation Portfolio over the next several weeks when I see value. In order to ensure that income is brought in every month, it's imperative that they are not correlated and all don't have similar valuations. You can follow along by pressing the "Follow" button above. Action: Buy 100 Shares Of IBM.
Disclosure: I am/we are long IBM.
I wrote this article myself, and it expresses my own opinions. I am not receiving compensation for it (other than from Seeking Alpha). I have no business relationship with any company whose stock is mentioned in this article.