Deckers Outdoor Corporation (NASDAQ:DECK) has a problem. The makers of the UGG brand of footwear have a flagship product that seems to have peaked and which generates the majority of its sales in a single, highly weather-dependent season. This past winter, having been milder than normal, put this on full display. Sales growth in UGG was anemic, and the company as a whole suffered.
In an attempt to alleviate this issue, Deckers is looking to expand both the range of products within the UGG brand and the strength of its non-UGG product lines. Current offerings are broken out in the most recent 10-K to include Teva, Sanuk, and other, which encompasses Hoka One One (Hoka), Ahnu, Koolaburra by UGG, TSUBO and MOZO.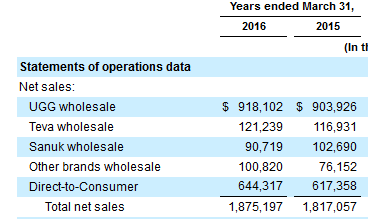 The table shows growth, but it is sluggish. However, something promising happened in the "Other" category. That space saw a nearly 33% improvement. The reason? The Hoka brand. The cliff notes version of the Hoka appeal is that it is a running shoe that is able to offer more cushion to runners while still being as light or lighter than most traditional trainers.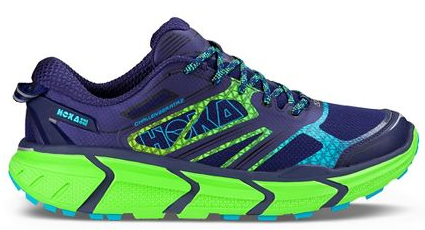 The massive sole on some of the products had early publications contrasting Hokas with the individually toed Vibram Five Fingers casting it as a maximalist trend born from backlash against minimalism. However, Google Trends data shows slow consistent growth for Hoka to this point that looks nothing like the whiplash progression of Vibrams.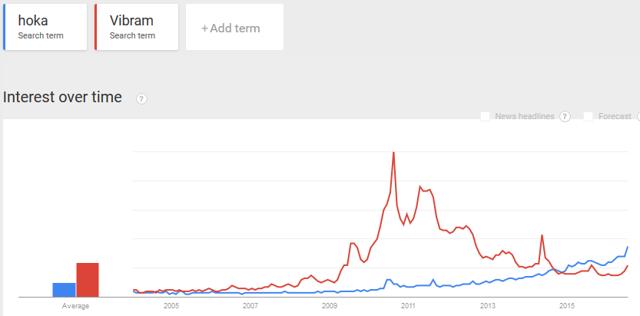 As laid out by retiring CEO Angel Martinez during the previous conference call, Hoka is really the one bright spot for the future of the company, "By brand, we expect UGG revenue to be in the range of flat to down 3%, Hoka to grow approximately 20% to 30%, Teva down low single digits, Sanuk down mid single digit."
Not only are Hoka shoes growing, but they also are some of the more high-margin products that the company carries. "The operating results of our other brands wholesale improved over the prior year period due to an increase in net sales and a 3.2% increase in gross margin...The increase in gross margin was primarily attributable to a shift to higher margin Hoka brand products." Still, this story seems to be somewhat overlooked by the investing public. Three recent Seeking Alpha stories referenced the product thusly:
"The shoes have had good feedback from Ultra Marathon athletes, so perhaps they will concentrate on building the product up in a niche market. While this is a great way to grow a business, it may not make much of a noticeable difference to the top line for many years in our view."
"One positive note was that Hoka One sales are up 73% continuing a remarkable run for this brand."
And not at all. In a piece taking a 10-year view of the company!
Should people looking at Deckers only care about Hoka? Of course not. Even if the entire "Other" category were Hoka sales, it would account for barely 5% of revenue. On the other hand, if growth continues in the 20-30% range for much longer, Hoka could soon be representative of closer to 15-20% and considering the high margins more than 25% of profits.
Deckers, of course, knows it has a potential blockbuster on its hand and is putting money towards marketing and broadening the reach of the brand. For example, having taken a large portion of the ultra running and Ironman market, and skewing male demographically, the company released a new shoe called the Clayton this spring. The aim of this new product is to make headway amongst female runners, a population that now constitutes a clear majority of participants in the sport.
This is all company copy though, and it merely represents a popular shoe in a hypercompetitive space. Some people will like Hokas and some will not. Where's the edge? For me, the inspiration for this article came when I started noticing a specific category of people wearing Hokas who do not appear to have been publicly courted by the company or really any other: masters athletes.
It only makes sense that a shoe known for its cushion would be favored by those most desperate to lessen the impact on their knees and other joints; yet, this use remains something of an off-label phenomenon. Deckers doesn't seem ready to associate its brand with the silver foxes of the world just yet. Check the reviews of any Hoka on a site like Amazon though and the signs are there. At a rate higher than for other popular running shoes I looked at, people are referencing their age in their positive reviews for the product...
… and so on.
Even better for Deckers than the fact that its shoes are finding a home on the feet of an aging demographic is that the market is huge. Not only are baby boomers legion in sheer population, but also they are the first generation who are staying active while growing old. Stats from Running USA show that nearly 30% of the 19 million finishers listed in timed road races in 2014 were over forty five. This trend is widely corroborated, for example, "for about the past 15 years, the baby boom fitness market has been slowly growing," says Colin Milner, CEO of the International Council on Active Aging. "But in the last several years it has really exploded, and it's exploded in many segments."
Furthermore, having already purchased homes and put their children through college, spending $160 on a pair of shoes isn't nearly the burden it might be for a person at a different stage in their life. In fact, it might even be a wise investment: HealthPartners Research Foundation announced its study that showed adults aged 50-plus years who started exercising just 90 minutes a week saved, on average, $2,200 per year in medical costs.
Encouragingly, all of these arguments about being able to remain active apply to larger runners as well. Anecdotes in review sections paint a picture of heavy people being able to put miles on these shoes while protecting their legs like never before. Whether the overlap between people who run and people who are overweight is ripe for finding revenue is less clear, which is why aging rather than obese people are the thesis of this article.
Finally, one non-speculative bright spot for Hoka is the international market. The annual report noted that "the increase in international sales was due to increases of approximately $11,000 for other brand products, primarily Hoka..." With the Olympics upcoming, there is some opportunity for further exposure, but for the most part, the Hoka track team is made up of national level athletes rather than Olympians. Leo Manzano has a shot at making the team, but David Torrence is probably the only lock for Rio since he has changed nationalities in order to compete for Peru (The Olympic Trials 1500m featuring Manzano has yet to take place at the time of this writing). On the other hand, Hoka is now the official shoe of Ironman, an incredibly international organization.
Deckers could put Hokas on every Ironman competitor in the world though and it wouldn't do much for the company. Older people looking to stay active is another story. There are hundreds of millions of people out there exercising in pain or failing to exercise all together because they can't handle the pounding. Hokas can lessen this impact, just like they can protect Deckers from an income statement beholden to UGGs and the vagaries of the weather.
Disclosure: I/we have no positions in any stocks mentioned, and no plans to initiate any positions within the next 72 hours.
I wrote this article myself, and it expresses my own opinions. I am not receiving compensation for it (other than from Seeking Alpha). I have no business relationship with any company whose stock is mentioned in this article.