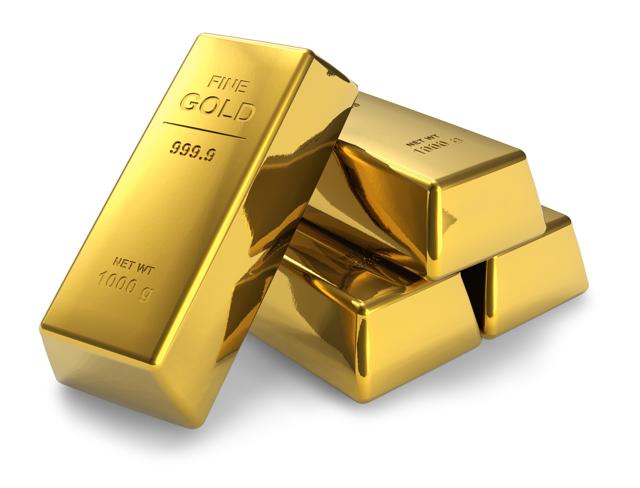 Stocks over the last two weeks, especially U.S. markets, have rebelliously defied the coming and passing of the Brexit referendum. Yankee ingenuity prevailed once again, this time by using Friday's surprisingly positive Employment Report to catapult the S&P-500 (NYSEARCA:SPY) to a new 6-month high and within a heartbeat of making a new all-time high. Some may call it a fake rally, but if you booked profits, then they were as real as real can get. No disputing that one. That was the big story of the week. However, if you read between the lines, you will find another even more compelling story.
The other story is the continuation of the bullish trend in precious metals and their mining stocks. Last week I wrote a rebuttal article to a Wells Fargo analyst who opined that the gold commodity advance was over and due for at least a $300 decline. I countered that it could trade to at least $1500 and provided several underlying reasons for such. After reviewing this week's trading volume, I am even more confident of this.
Of course, in terms of actual dollar-volume liquidity, the SPY dwarfs most exchange traded funds, but our analysis is more concerned with percentages. Not only did the $XAU, Gold Trust (NYSEARCA:GLD), Silver Trust (NYSEARCA:SLV), Gold Miners (NYSEARCA:GDX) and Junior Gold Miners (NYSEARCA:GDXJ) deliver superior price performance, but they did so on quite impressive volume. When comparing percentage changes in weekly dollar-volume (see table below), one will note that precious metals easily outperformed every other asset class. The only exception was the GLD and even it bested all the rest. This confirms that demand for gold and silver remains strong and that the bulls still control this market.
Weekly Price Volume Analysis Summary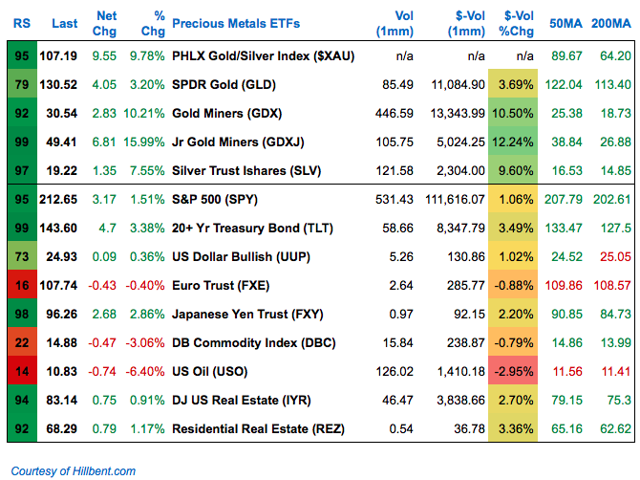 (*Weekly volume-dollars are measured and compared to our proprietary time-weighted volume indicator, which quantifies liquidity over various periods and tends to reduce the volatility of abnormal volume patterns brought on by asymmetrical market moving events).
Other commodities did not fare as well. The US Oil Fund (NYSEARCA:USO) and DB Commodities Index (NYSEARCA:DBC) both contracted in liquidity, which can be interpreted as bearish and an outflow of capital. It's easy to see how the Wells Fargo analyst and others who only categorize gold as a commodity and ignore its utilitarian value as a currency, albeit a most inconvenient one when it comes to fungibility or transferability, might misinterpret these trends. At times gold can and does decouple from other commodities and I believe this is one of them. Here's why.
The Fed's perception on whether the U.S. economy is slowing down or not is debatable and perhaps less relevant because monetary policy is no longer data dependent on domestic events, but also tethered to Europe and Asia.
Needless to say, with all the major central banks in accord to maintain low to negative interest rates, this is the perfect environment for precious metals to compete with non-interest bearing assets.
Lastly, I would like to share some brief comments on silver. The preference for silver to gold is becoming more pronounced as the 10-year weekly chart of the SLV to GLD ratio is indicating a double-bottom pattern. The downtrend channel for SLV/GLD as a paired trade has been broken and suggests the potential for relatively higher returns over a sustained period. The weekly dollar-volume percentage change for silver is more than two and a half times greater than that for gold (see price volume analysis table above). This is worth monitoring, especially if gold pauses to consolidate or undergoes a minor correction.
Ratio Chart for SLV/GLD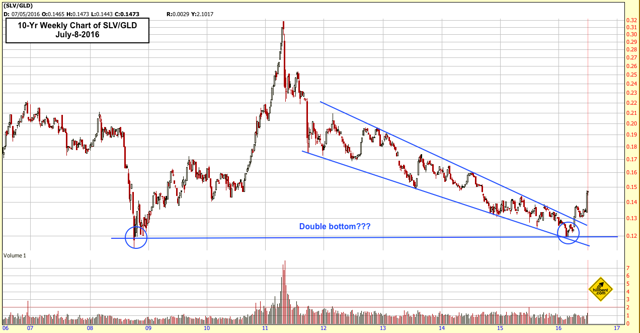 Well, this wraps up our weekly Yellow Brick Road report. For your convenience and reference, below is our periodic table for comparative performance of gold and silver exchange traded funds vs. other major asset classes. Signing off until next week...
Weekly Periodic Table of Asset Class Performances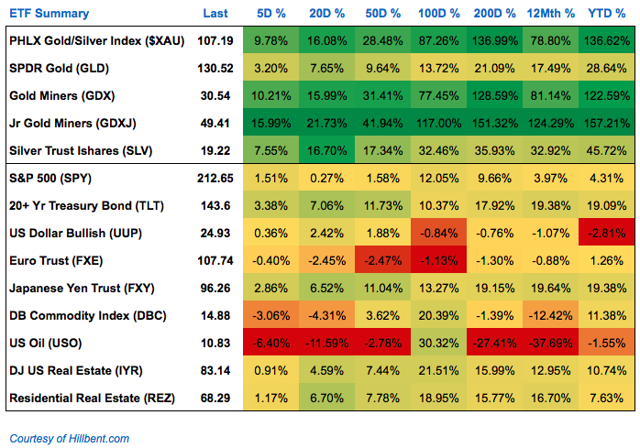 Disclosure: I am/we are long SLV.
I wrote this article myself, and it expresses my own opinions. I am not receiving compensation for it (other than from Seeking Alpha). I have no business relationship with any company whose stock is mentioned in this article.