For those of you unfamiliar with this series of articles, they're basically an approximate five-year profit and loss review of a number of Exchange Traded Funds (ETFs) and Closed End Funds (CEFs) that primarily invest in and hopefully profit from dividends earned from their investments in preferred securities, which they then distribute to shareholders. This link will provide you the information necessary to fully appreciate and understand the following article, the differences inherent in CEFs and ETFs, and the remaining articles of this series. It will also serve to eliminate lots of reading redundancy for my regular readers.
This report concerns Flaherty&Crumrine Dynamic Preferred And Income Fund, Inc. (NYSE:DFP), hence the following description and chart: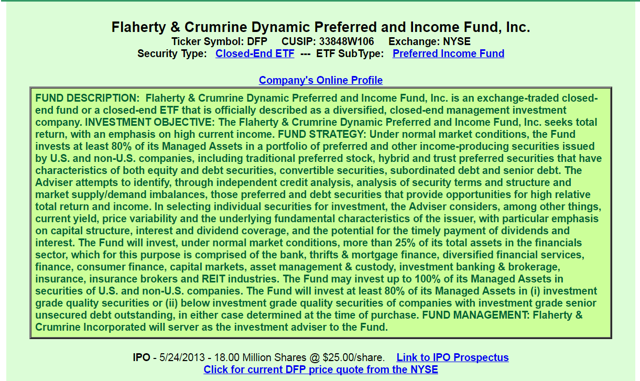 Let's dig into the facts learned from DFP's prospectus. Management fees, which includes fees to an advisor and servicing agent is quite complicated and difficult to figure, however, according to Flaherty it totals to a whopping 1.68%, the highest I've reviewed thus far; however adjusted down to 1.08% according to Morningstar. Transaction costs, such as commissions when securities are bought or sold, and any applicable taxes if held in a taxable account. The more active the trading account, the higher these fees. From my research thus far this appears to be standard operating procedure for funds such as this.
At least 80% of the Fund's total assets will be invested in a diversified portfolio of preferred securities and other income-producing securities consisting of various debt securities. At least 80% of the Fund's holdings of preferred and debt securities will be investment grade quality at the time of purchase. Up to 20% of the Fund's total assets may be invested in securities rated below investment grade.
Under normal market conditions, the Fund invests at least 80% of its Managed Assets in a portfolio of preferred and other income-producing securities issued by U.S. and non-U.S. companies, including:
Traditional preferred stock;
Hybrid and trust preferred securities that have characteristics of both equity and debt securities;
Convertible securities;
Subordinated debt; and
Senior debt
The average credit quality of this portfolio is BBB-, considered lower medium grade, or one notch above non-investment grade securities. Ninety-seven percent of its preferred portfolio are corporate preferreds.
Of the few bonds it holds, 45.26% offer yields between 6 - 8%, and 21.25% offer yields between 8 -10%. Their maturities might be problematic because their length:
20 - 30 years 16.87%
30 years 76.53%
Seventy-one percent of this portfolio are American based securities and 16.87% are from France.
From the following list of its top 25 holdings, it's apparent that this fund primarily invests in banking, some insurance, and a bit of utility preferreds.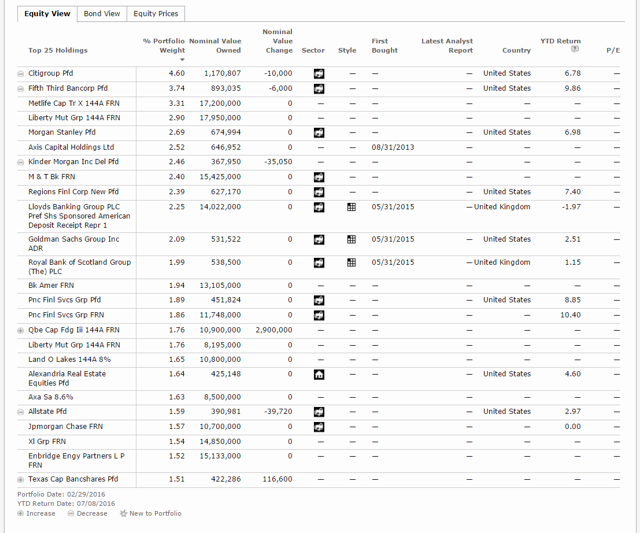 Now for that five-year performance chart, even though it IPO'd on 5/24/13: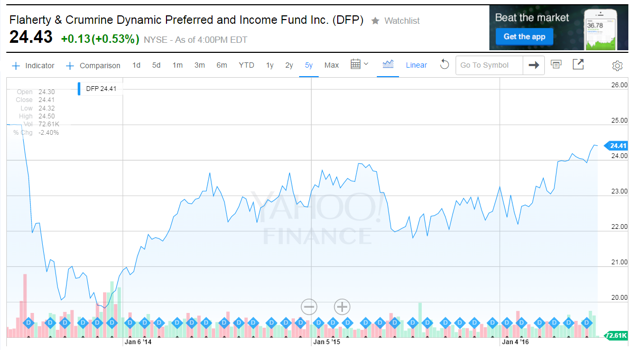 It displays DFP's performance over the past three years. This fund has performed nicely during this time. Actually, from inception until the present, this fund has decreased in value from $25.00 to its current price of $24.41, a $0.59 decrease, which is not that bad considering that shortly after its inception, it dropped precipitously to a low of $19.83, from which it has then trended higher.
DFP has distributed $5.952* for each share invested at an approximate price of $25.00 on 5/24/13.
*I got the dividend distribution figures from DividendInvestor.com.
5.925/25.00 = 23.81% yield over 38 months.
23.81/38 = .00627% yield per month X 12 = 7.52% per year.
Therefore, if my math is correct, the investor would have profited by a yearly dividend yield of 7.52% over the past 38 months. However, it's a bit lower. The price depreciated by 0.59:
5.925 - .59 = 5.335/25.00 = 21.34% over 38 months
21.34/38 = .00562 yield per month X 12 = 6.74% per year yield.
A modest profit over the past 3 years, however, considering its amount of leverage, 33.33%, this fund entails an increased amount of leverage risk, consequently, investors must decide whether the reward is worth the risk. The decision to invest in this fund should be taken with this knowledge and according to the individual investor's tolerance for risk.
Although this Flaherty & Crumrine fund has not performed as well as their others I have reviewed thus far, FLC and FFC, it has performed adequately and is worthy of further consideration. However, according to its current price, which is significantly higher than that of its sister funds FLC and FFC, I am of the opinion it's by far the worst of the three. Because this is surprising, I invite the more fund sophisticated members of our group to review my findings and discuss this price discrepancy to determine a plausible reason, if any, for this price imbalance. If I am correct, it might be wise for holders of shares of this fund to sell them and switch to either FLC or FFC.
The following is the list of funds I have and will investigate to give you a clear picture how each has performed over the past five years. Initially, I had decided to judge each over the entire life of the fund, but was dissuaded by a number of followers who advised that the results would be unfairly skewed by the recessionary contraction of 2008-9. Here's that list of funds, which has grown considerably as a result of additions you requested: iShares U.S. Preferred Stock (PFF), PowerShares Preferred Portfolio ETF (PGX), Global X SuperIncome Preferred (SPPF), PowerShares Financial Preferred Portfolio (PGF), VanEck Vectors Preferred Securities ex Financials (PFXF), SPDR Wells Fargo Preferred Stock ETF (PSK), PowerShares Variable Rate Preferred Portfolio (VRP), iShares International Preferred Stock ETF (IPFF), John Hancock Preferred Income Fund II (NYSE:HPF), First Trust Preferred Securities and Income ETF (NYSEARCA:FPE), Flaherty&Crumrine/Claymore Total Return Fund (FLC), Flaherty&Crumrine/Claymore Preferred Securities Income Fund (FFC), Flaherty&Crumrine Dynamic Preferred and Income Fund, Inc. (DFP) and Flaherty&Crumrine Preferred Income Opportunity Fund (PFO), Clough Global Opportunities Fund (GLO), First Trust Strategic High Income Fund II (FHY), First Trust High Income Long/Short Fund (FSD), Prudential Global Short Duration High Yield Fund (GHY), ProShares UltraShort S&P 500 (SDS), First Trust Intermediate Duration Preferred & Income Fund (NYSE:FPF), Cohen & Steers Select Preferred and Income Fund, Inc. (NYSE:PSF). Virtus Global Multi-Sector Income Fund (NYSE:VGI), DNP Select Income Fund (NYSE:DNP) and John Hancock Premium Dividend Fund (NYSE:PDT).
Below is a screenshot taken from my IB platform I populated to keep you apprised of the order of my reviews, and as a bonus the funds' closing prices for the week.

Notice, the 2015 dividends are placed just to the right of the fund symbols. To the right of that are the trade prices as I write this day, 7/11/16. Of further interest, at the far right of the screen are the prices of the 13-week highs and lows of each fund.
Disclosure: I/we have no positions in any stocks mentioned, and no plans to initiate any positions within the next 72 hours.
I wrote this article myself, and it expresses my own opinions. I am not receiving compensation for it (other than from Seeking Alpha). I have no business relationship with any company whose stock is mentioned in this article.
Additional disclosure: Because this is a series of fund performance studies, although each is an entirely different study, the method I utilize to arrive at each conclusion is quite similar, and more effective because by using the same parameters, I am comparing apple to apples, not apples to pears.