Starbucks (NASDAQ:SBUX) announced that it would raise prices by as much as $0.30 next week. The move is the latest example of the firm's premium pricing strategy that has proved highly successful. SBUX has raised prices for at least the past three years, according to spokesperson Lisa Passe, typically by 1-2% each year. It should be more difficult for SBUX to raise prices: the firm's premium brands are discretionary and labor market conditions continue to weaken. Labor force participation is near a thirty-year low and income growth remains flat. At the same time, competition has increased. Fast food companies such as McDonald's (NYSE:MCD) and Burger King (BKW), and even fast-casual joints have added coffee to their menus. How is it that SBUX can continue to raise prices?
The most obvious answer is that SBUX's strong brand makes customers less sensitive to price. Starbucks has transcended what it means to be a coffee shop, and differentiated its brand by creating a unique store atmosphere. People flock to Starbucks for the experience as much as they go for the product, and therefore don't mind paying extra for the company's high-end coffee blends. Customer demographics are important as well. Coffee consumption increases with household income (Figure 1), and whereas many of its peers market to lower-income customers, Starbucks targets urban professionals in higher income brackets who are less sensitive to price.
Figure 1: Coffee Consumption and Income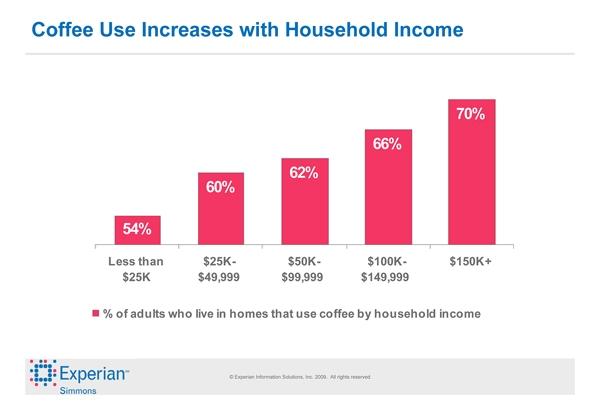 Source: Experian.com
Starbucks will always be able to sell coffee by virtue of its strong brand and the addictive nature of caffeine. But what many people do not consider is the impact that consumer sentiment can have on price elasticity (customer sensitivity to price changes). SBUX has benefited from rising stock and home prices, which has made its customer base feel wealthier, and spurred demand for its discretionary products. Thanks to quantitative easing and low interest rates, asset prices have risen sharply since the housing crash (Figures 2 and 3). Starbucks benefits from this more than its peers because its customers, who earn higher incomes on average than those who shop at McDonald's for example, are more likely to own stocks and real estate. In 2009, after the housing crash, SBUX reported flat sales despite opening thousands of new stores, as weak consumer sentiment prevented SBUX from raising prices. It is noteworthy that SBUX missed analyst expectations for revenue growth in the latest quarter, a period during which the S&P 500 had its worst-ever start to the year following the December rate hike.
Figure 2: S&P 500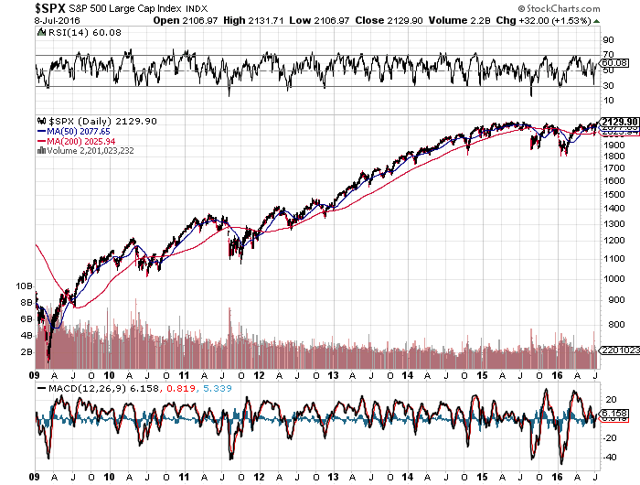 Source: stockcharts.com
Figure 3: Home Price Index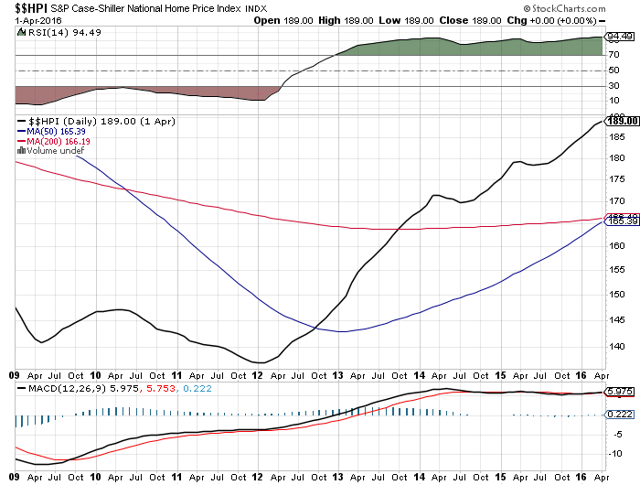 Source: stockcharts.com
What does this mean for investors? If you are thinking about investing in Starbucks, you may want to pay more attention to what the Fed is doing than whether or not the economy is improving. Economic fundamentals in the US have been deteriorating for some time, but that has not stopped SBUX from raising prices. Given that Brexit happened and that we are in an election year, the Fed probably won't raise interest rates again in 2016. Yellen will not risk pricking the asset bubbles created by her predecessor because her job depends on Clinton becoming president. As long as stock and home prices stay high and customers feel rich, they won't mind forking over an extra 1% on their purchases. In the near term, we expect Starbucks to successfully raise prices without sacrificing volumes. But investors should be aware that SBUX is more susceptible to a correction in asset prices than its peers, and should be on the lookout for any signs that the Fed may be about to raise rates.
Disclosure: I/we have no positions in any stocks mentioned, and no plans to initiate any positions within the next 72 hours.
I wrote this article myself, and it expresses my own opinions. I am not receiving compensation for it (other than from Seeking Alpha). I have no business relationship with any company whose stock is mentioned in this article.