Paychex Inc. (NASDAQ:PAYX) is a payroll company, originally founded in 1971 as Paymaster. Since then, the company has grown to approximately $22B in market capitalization, and does business with over 605,000 customers (source). This kind of growth is always worth investigating.
Plus, I recently wrote about investing in ADP. And in the comments of that article, someone mentioned PAYX. I'd seen this company before but was finally prompted to take a closer look. Plus, the stock is trading near all-time highs, and I'm always curious to see the underlying fundamental trends that support this kind of price performance.
Before getting into the fundamental data though, here's a long-term price chart of PAYX, so you can see for yourself what kind of total return opportunity this investment has presented in the past.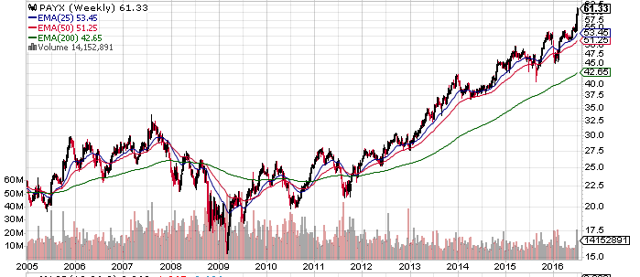 By looking at the strength of the underlying financial trends, we can see if this price performance, and underlying dividend growth, is supported. We'll also be able to get more insight into how PAYX is competing against its incumbent, ADP.
PAYX: Fundamentals in Focus
When considering an investing in a company, I always like to start with top line demand. If there is a steady trend heading up and to the right, then I'm encouraged there's real demand for the services in question. So how does it look in the case of PAYX? Let's take a look at revenue: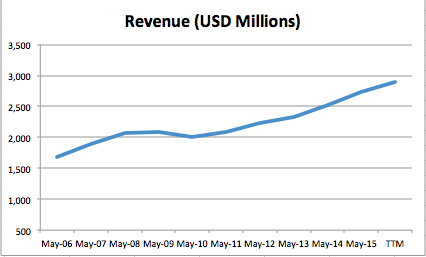 As you can see, top-line growth has been consistent. For background, it's been historically driven by a combination of organic expansion and acquisition. Over the years, PAYX has gobbled up smaller niche payment processors, adding in excess of 50,000 customers in the process (source). It's likely they'll continue to pursue bolt-on acquisitions to compliment organic growth.
For more context on how this revenue breaks down, keep in mind the company generates sales across 2 services areas, though they're technically one segment. This recent investors presentation slide (source) breaks them and their contribution out concisely: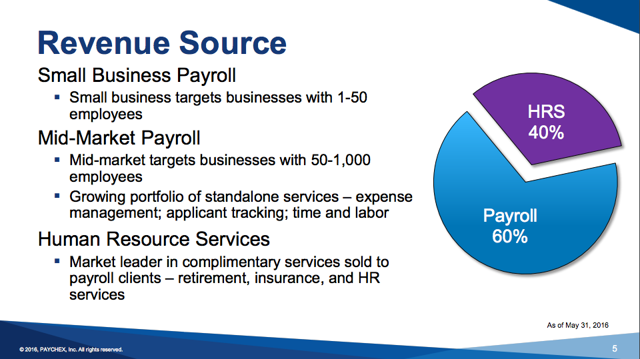 Although HRS makes up a smaller portion of sales, it is a much faster growing business area. In the last year, HRS revenue increased 18% vs. 4% for payroll revenue. It seems PAYX is very effectively using its payroll distribution to push additional HR services to its existing client.
To the extent PAYX can sell more recurring revenue services to existing client, this high margin growth should be able to continue. The lack of customer acquisition cost on these sales will likely boost earnings too. So let's take a look at how that has been panning out.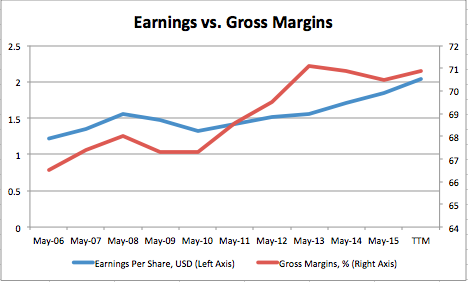 As you can see, both earnings and margins have risen with revenue. These consistent trends speak to the high quality nature of the business. Intuitively, it makes sense too that there would be consistency in these results because the services provided are relatively essential to businesses. Even when economic times get tough, companies still need payroll services to the degree they still have staff. For these reasons, I'm a little more confident these financial trends are likely to be relatively representative on a forward-looking basis.
Another positive sign for PAYX is the quality of the earnings, which are well backed by cash flow. This is encouraging in that it demonstrates the company isn't resorting to any accounting maneuvering to beat estimates. Again, this is another sign of a quality company with an enduring competitive moat.
As shareholders though, we need to ask how we're benefiting from this moat. Luckily, in the case of PAYX, it looks like the board has been relatively shareholder friendly. For starters, upwards of 80% of dividends are paid out to shareholders. However, on a cash flow basis this number looks a little more manageable.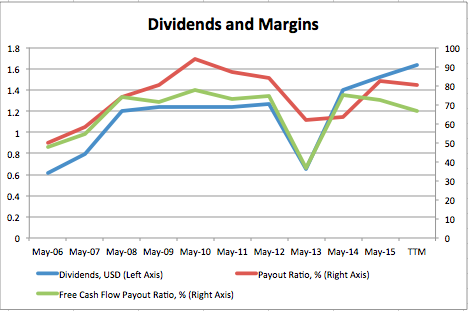 While the high payout ratio is admirable in that it speaks to the company's dedication to returning cash, the bumpy dividend record is a little alarming. Ideally, I'd like to see the company increase the dividend a manageable amount each year. Inconsistency is a slightly uncomfortable precedent for me. That said, as long as free cash flow can hold up, I'm optimistic we'll see more dividend growth.
In addition to dividends, the company has also authorized another $350M in share buybacks over the next year. This will allow them to continue growing the dividend on a per share basis without having to increase the total amount of distributions. While I'm not always a fan of buybacks, PAYX is primarily financing them with free cash flow, so I'm not too worried. Their balance sheet is also debt-free, leaving them lots of financial flexibility.
Now, while PAYX seems to have many of the attributes of a high quality dividend growth investing business, it's not a perfect investment. Every investment has risk. And there are a few worth talking about regarding PAYX.
Potential Risks of Betting on PAYX:
PAYX, like any investment, has some real headwinds. First of all, it's competing against an enemy twice its size. As this industry becomes more and more automated with technology, ADP may have the edge in terms of economies of scale. On the small business front, there are also a variety of cloud-based start-ups trying to bite at market share.
But I think the other big risk facing new potential PAYX shareholders, is the risk of overpaying. At this point, prices of PAYX have been going on a bit of a tear. It's hard to buy at all time highs, especially when shares are trading at such a high premium to the S&P 500: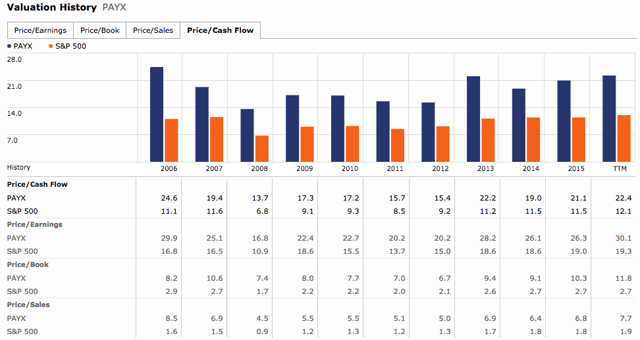 On the other hand, it looks like PAYX has always had a premium price tag. So if you want to own this business you may want to set an alert for when it falls 10-20%. I typically don't like to buy at peak valuation, but it looks like that has been the only option with PAYX.
Conclusion: Dipping a Toe in PAY
I've had a good experience investing in ADP. And from all accounts, PAYX looks like it could be a faster growing compliment. For that reason, I was willing to start a small position in PAYX last month. The price was definitely more than I would have loved to pay. But I wanted to get some exposure and it's already working out well. I will keep monitoring and be ready to dollar cost average at lower prices.
This works for me, because I have a long investment timeframe and ability to add to the position on pullbacks. But what do you think? Does PAYX look like an appealing investment to you, or is it too expensive at this price?
Disclosure: I am/we are long PAYX.
I wrote this article myself, and it expresses my own opinions. I am not receiving compensation for it (other than from Seeking Alpha). I have no business relationship with any company whose stock is mentioned in this article.