If you pay any attention to the world around you as you walk outside, you can see the dominance of mobile devices in mindshare of individuals across age and wealth. People use devices not only to communicate but also to engage with and discover new experiences. At the Coachella music festival in 2016 for example, AT&T transmitted 29.2 terabytes of data over 2 weekends. Basically, that means 8 days in total! On a daily basis, tons of users utilize data to navigate, search on their phones, and check social media. Recent trends in user engagement only point to drastically more data usage in the near future. Periscope and Facebook Live are examples of live video content that is now being shared to provide better engagement with fans. Snapchat is used by over 100mm people who all are documenting their lives and viewing others on a daily basis. The most recent phenomenon to sweep mobile devices is Pokemon Go which has caused Nintendo's (OTCPK:NTDOY) stock to skyrocket since it was launched. Pokemon Go involves an augmented reality world where gamers encounter Pokemon and others as they traverse the world. This represents only the tip of the iceberg in data usage as AR/VR applications become more sophisticated and create better user experiences that draw in more of mobile device owners.
This trend in increasing data usage will benefit many companies including the telcos (ISPs), tower owners, and cloud storage companies. I think the best way to view this trend is represented in the stock price charts of companies that provide the infrastructure for data, i.e. the tower companies as they are least affected by other factors. The cloud storage companies like Amazon's AWS (NASDAQ:AMZN), Google Cloud (NASDAQ:GOOGL), etc. are benefiting from more than just data usage but also from the shift from on-prem to more flexible cloud servers. In my opinion, most of the Telcos are affected more by subscriber growth and high dividend yields in a lower interest environment than by the trend of increasing data usage.
So let's look at some long-term weekly charts of tower companies to see how they are doing. First, let's start with American Tower Corp. (NYSE:AMT) which is my personal favorite tower stock due to its emerging market exposure particularly in India where it made a large acquisition in the past positioning itself for the next wave of mobile users as they gain disposable income.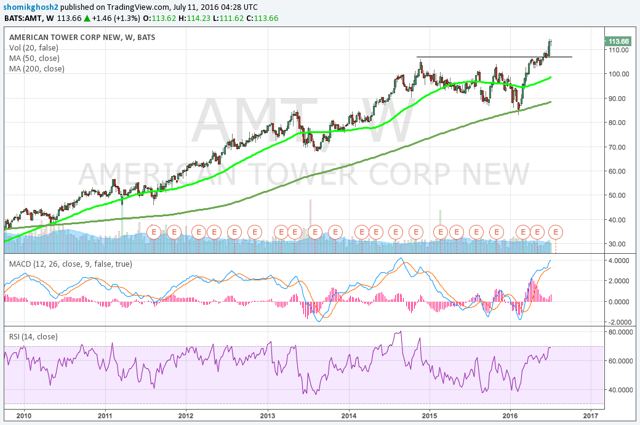 Looking at the weekly chart of AMT, you can see that the stock has just broke out to all time highs after consolidating under resistance for the past ~1.5 years. Pullbacks within this trend have been few and relatively shallow.
Next up is Crown Castle International (NYSE:CCI) which has also had huge call buying positioning in the past few months.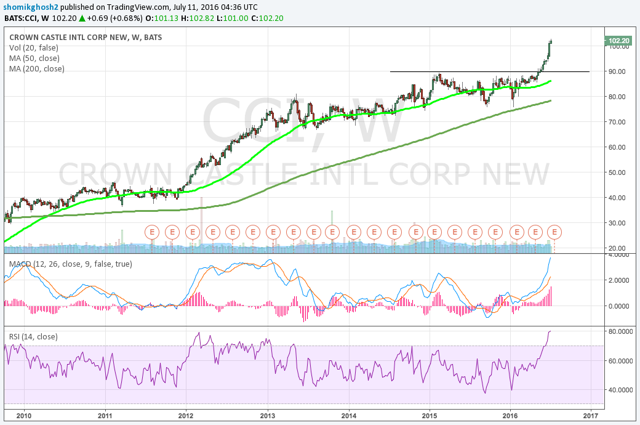 Those option buyers were clearly right. Not only has CCI made new all-time highs, but it has gone nearly vertical since breaking it's resistance level. Once again, it consolidated under that resistance for nearly 1.5 years before accelerating to the upside. To be fair, some of it's vertical nature may be its high dividend yield compared to other companies in the sector. For reference, those option buyers purchased a boatload of long-term bullish risk reversals (selling puts to buy calls). Specifically, they sold Jan 2017 80 puts and bought Jan 2017 95 calls.
Finally, I'd like to highlight SBA Communications (NASDAQ:SBAC).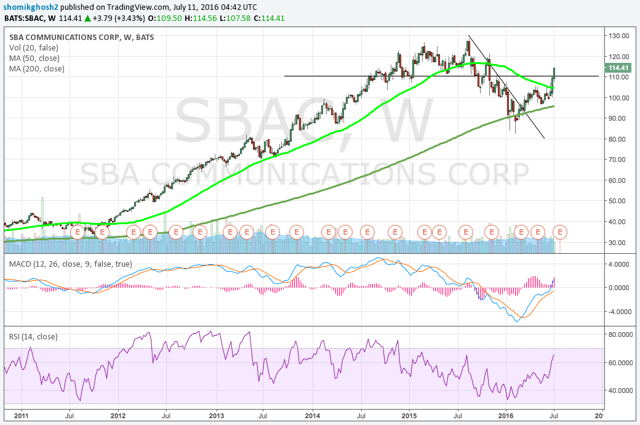 SBAC is still below it's highs although it just cleared a long-term resistance level and looks highly bullish based on long-term momentum indicators. The stock is above its 50 and 200 weekly moving averages and with the strong industry tailwind behind its back, it would not be surprising if it made new highs.
In conclusion, data usage based on increased mindshare of mobile devices in people all over is a trend that will continue for many years. Mobile adoption in developed markets is close to becoming saturated but still has room to grow and emerging markets are a greenfield opportunity. The charts of tower companies clearly show that investors understand the importance of this trend and these stocks should be evaluated by investors who are long-term thesis driven.
Disclosure: I am/we are long AMT.
I wrote this article myself, and it expresses my own opinions. I am not receiving compensation for it (other than from Seeking Alpha). I have no business relationship with any company whose stock is mentioned in this article.