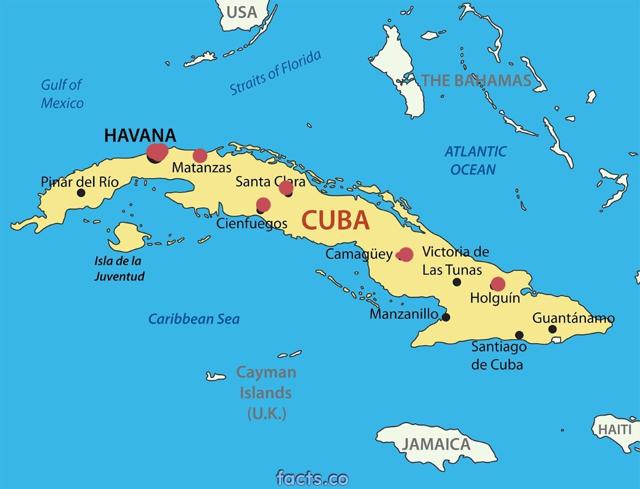 Img 1: American Airlines Cuba Cities
The DOT has finalized its allocation of Cuba flights, ushering in a new era where U.S airlines will once again fly scheduled commercial flights between the United States and Cuba. The flights are being controlled heavily by the DOT and Cuba to ensure the market and Cuban infrastructure does not get overwhelmed with flights from the United States initially. For the airlines who did get flights allocated, Cuba looks very promising, and American Airlines (NASDAQ:AAL) is the biggest winner in this regard.
| | | |
| --- | --- | --- |
| From | To | Frequency |
| Charlotte | Havana | 1x Daily |
| Miami | Camaguey | 1x Daily |
| Miami | Cienfuegos | 1x Daily |
| Miami | Havana | 4x Daily |
| Miami | Holguin | 2x Daily |
| Miami | Matanzas | 2x Daily |
| Miami | Santa Clara | 2x Daily |
Table 1: American Airlines Upcoming Cuba Flights
American Airlines has been awarded a total of 13 daily flights to Cuba, well above JetBlue, who was awarded 7 daily flights, the second largest number. The largest airline that was the worst off in the route allocations was United with only 1 daily Newark - Havana flight along with 1 weekly Houston - Havana flight awarded.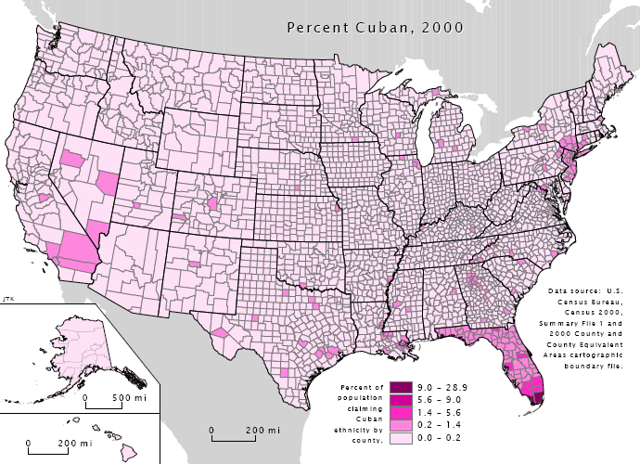 Img 2: Cubans In The USA According To US Census
The fact that all but one of these flights originate in Miami bodes very well for the performance of these new American Airlines routes. Nearly 70% of Cuban Americans live in Florida with 982,000 in the Miami-Fort Lauderdale-West Palm Beach Metro region. Miami is also the closest major U.S city to Cuba, leading to these flights spending a very short time in the air.
Due to the highly controlled nature of flights between the U.S and Cuba, American Airlines will also be able to charge a premium for these flights. The combination of pricing power, strong local market and very short flight time should allow these flights to perform very well right from the launch.
Business
The business market is one that will see a lot of initial strength. Many companies will be sending executives out to Cuba to check out the local market and look at establishing themselves in the market. As a result demand for flights from higher yielding business travelers should be strong right from the launch of these flights.
Leisure
The leisure market is a bit more tricky and one where you could argue there is more of a zero gain rather than a net positive. For American Airlines, many leisure passengers traveling to its new Cuban destinations will likely be doing so rather than traveling to another destination American Airlines already flies to such as the Dominican Republic or Mexico. In addition, limited hotel capacity in Cuba will limit the number of leisure travelers for the foreseeable future.
Connections
Connections is another area that should also be an area of strength for these new flights. Passengers from British Airways for example, or any other American Airlines partner will be able to take a one or two stop flight from London or any other international starting point to seven Cuban cities via American's Miami hub. This incremental connection traffic will help support these flights in addition to the U.S traffic.
Cargo
The air cargo market in general is in very bad shape at the moment with capacity growing faster than demand leading to an unfavorable pricing environment. A boom in trade as Cuba seeks to update much of its infrastructure and American companies take advantage of the Cuban market to sell goods to should create a strong air cargo market. American Airlines with the largest network from the United States to Cuba will be poised to capture much of this market.
As a result of the highly regulated number of flights to Cuba and strong demand for service to there, cargo yields should not see the same downward pressure they are seeing in many other parts of the world.
Conclusion
American Airlines investors should continue to watch for news regarding these new routes to Cuba. It is a rare that such an opportunity arises and American is set to take advantage and benefit from the restoration of Cuba - US relations more than any other US airline. With the negative events in Brazil hitting American Airlines hard and the Brexit potentially hurting American Airlines more than any other US airline, the strong performance of American Airlines in acquiring coveted Cuba routes is a welcome event.
Disclosure: I am/we are long AAL.
I wrote this article myself, and it expresses my own opinions. I am not receiving compensation for it (other than from Seeking Alpha). I have no business relationship with any company whose stock is mentioned in this article.