Source: W.P. Carey
The effects of Britain's historic and shocking Brexit vote on June 23rd have had a strong effect on US REITs.
A rush to the safety of US Treasuries caused US interest rates to fall to all-time lows. This helped drive a strong rally in US REITs, as represented by the Vanguard REIT Index ETF (NYSEARCA:VNQ), as well as Realty Income (NYSE:O) - the ultimate sleep-well-at-night, or SWAN, stock.
However, as you can see, W.P. Carey (NYSE:WPC) hasn't participated in this rally. That's likely due to the company's heavy exposure to both Europe and the UK property markets. How worried should W.P. Carey's investors be over Brexit? Is this truly a game changing, historic change, akin to the breakup of the USSR? Or merely a potential buying opportunity as the REIT becomes ever more undervalued relative to its US focused rivals?
Read on to learn: Why investors are worried over Brexit; how at risk W.P. Carey's cash flow could be from the potential fallout; and most importantly, what WPC investors and potential investors should do today.
Brexit could mean slower UK and EU GDP growth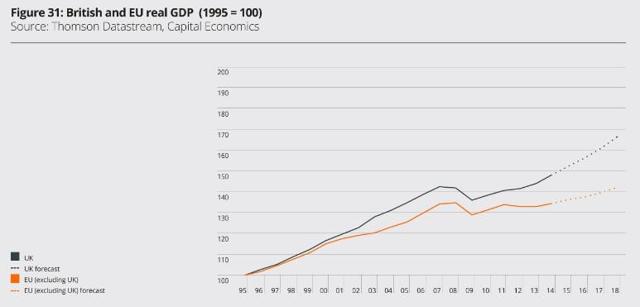 Source: Woodford Investment Management
A study by Capital Economics commissioned by the Woodford Investment Management concluded that in the event of a Brexit, the EU's economy would be 15% smaller by 2018 than if Brexit had not occurred.
While such forecasts should never be taken as gospel, there is a very real risk that the UK's property market, especially that of London, will be greatly affected by falling demand. That's because, pre-Brexit, London served as the EU's major financial capital. This resulted in large amounts of foreign investment into its commercial real estate markets, especially compared to the rest of England.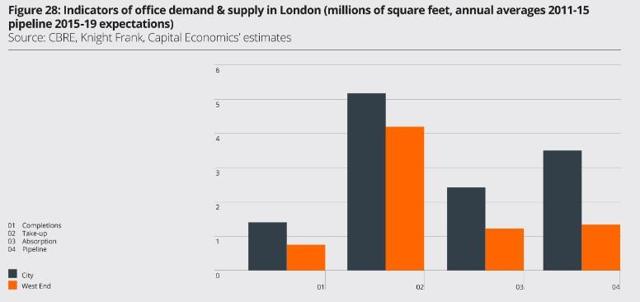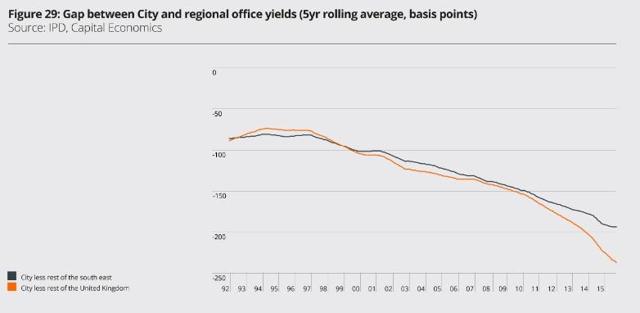 Source: Woodford Investment Management
Now that the UK is leaving the EU, it's possible that London could lose its status as the financial capital of Europe. This is a major concern for investors in London real estate. According to a pre-Brexit survey of 700 UK and German companies conducted by the Bertelsmann Foundation, 29% planned to either cut capacity or leave England altogether in the event of a Brexit.
Meanwhile, thus far, big banks such as HSBC (NYSE:HSBC) and Goldman Sachs (NYSE:GS), which had previously threatened to leave the country if it voted to leave the EU, seem to have been bluffing. For example, the morning after the vote Douglas Flint, Chairman of HSBC, reiterated that the bank's "Commitment to British businesses, customers and staff...remains undiminished."
Similarly, a Goldman spokesman said there would be "no immediate change" in the bank's operations, and future changes would "depend on the terms of the UK's exit."
That uncertainty could be a problem, because, under the terms of Article 50 of the EU Treaty, "any Member State may decide to withdraw from the Union in accordance with its own constitutional requirements." However, such a withdrawal requires a two-year negotiation period in which the EU Parliament would renegotiate the free trade agreements between the now separate political entities. The new terms would need to be ratified by each member EU nation, and the UK would have no vote in the discussion.
It's this medium-term uncertainty that has caused many economists to worry that companies operating in the UK might put off investment decisions, cut staff, or even leave. For example, Siemens (OTCPK:SIEGY) has already announced it was putting on hold plans to construct a new British wind project until the new trade terms are announced. Similarly Vodafone (NASDAQ:VOD) has said that whether or not it maintains its headquarters in the UK depends on the negotiated withdrawal maintaining the "positive attributes" it now enjoys as an EU citizen.
W.P. Carey's high exposure to Brexit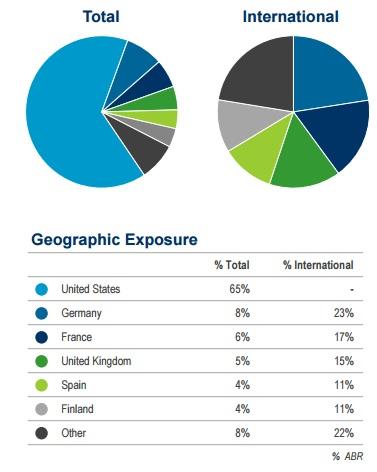 Source: W.P. Carey investor presentation
At the end of Q1 2016, 35% of W.P. Carey's rent came from Europe. This creates two risks investors need to consider. First, any slowdown in the UK and EU economies could have a negative effect on property demand going forward, potentially limiting the REIT's pricing power on future rent increases.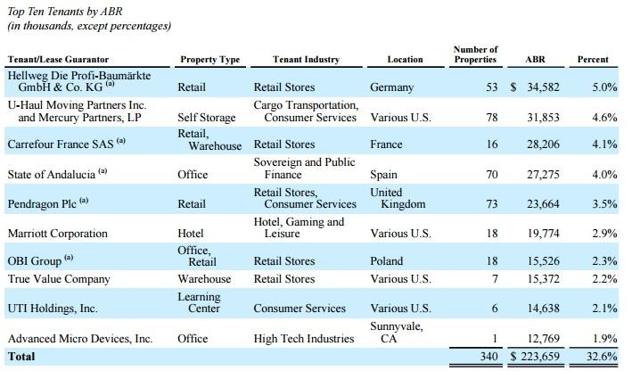 Source: W.P. Carey 10-Q
W.P. Carey's largest customers include several EU and UK companies. However, as you can see in the below examples, the long-term nature of its leases means that the REIT's rental income shouldn't be too badly affected by the Brexit vote.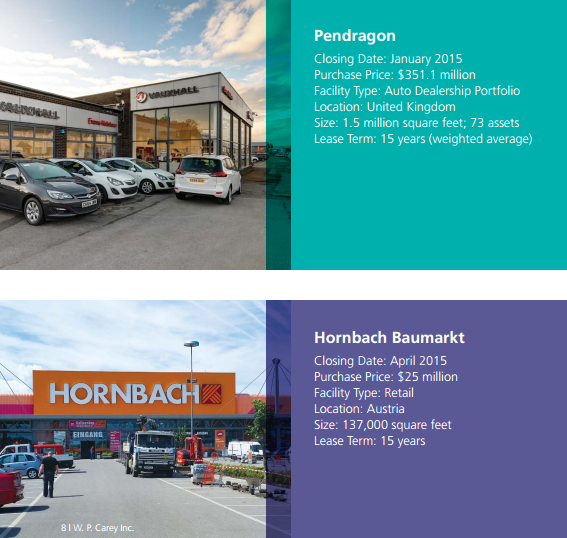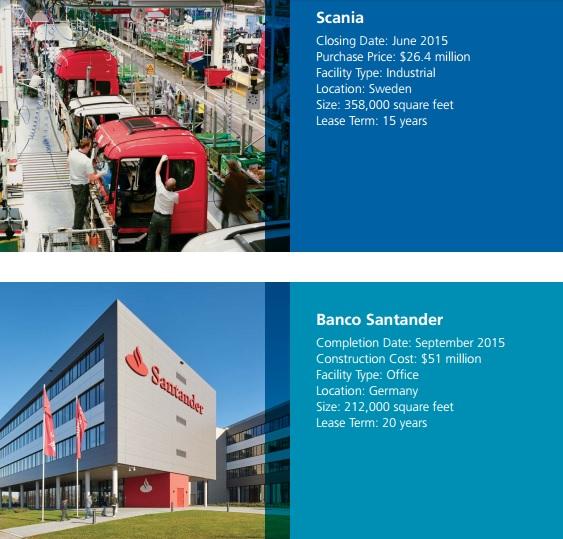 Source: 2015 W.P. Carey Annual Report
However, before you sigh with relief and run out to buy shares of W.P. Carey, be aware that there is one aspect of Brexit that could VERY MUCH affect the REIT's ability to sustain and continue growing its dividend.
Currency effects could be significant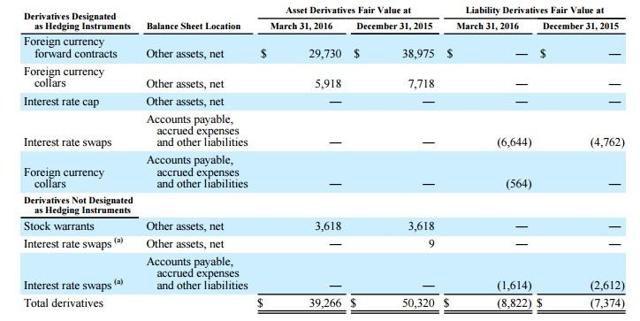 Source: W.P. Carey 10-Q
W.P. Carey actively hedges against currency fluctuation and takes steps to ensure its foreign properties don't cause cash flow problems. For example, it typically lends and borrows in the same local currency.
However, despite its currency derivatives, according to its latest 10-Q, W.P. Carey's cash flow remains exposed to fluctuations in the exchange rate between the dollar, euro and pound. Normally these aren't large enough to significantly affect its dividend security or growth, however, in this case, the collapse of the pound could have a big impact on its payout ratio.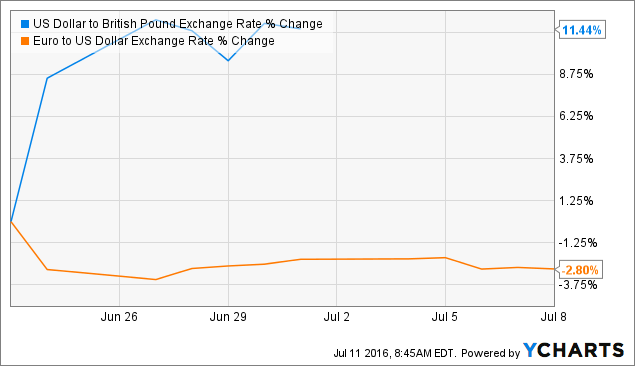 US Dollar to British Pound Exchange Rate data by YCharts
Sources: W.P. Carey 10-Q, Earnings release
| | |
| --- | --- |
| Metric | Brexit Effect |
| Annual Euro Currency Exposure (Rising Dollar) | -$3.0 Million per 1% change |
| Annual Pound Currency Exposure (Rising Dollar) | -$4.9 Million per 1% change |
| Euro Change Since Brexit | -2.8% |
| Pound Change Since Brexit | -11.44% |
| Euro Effect on Cash Flow | -$8.4 Million |
| Pound Effect on Cash Flow | -$56.1 Million |
| Total Effect of Brexit on Cash Flow | -$64.5 Million |
| 2016 AFFO Guidance | $543 Million |
| % Change in Q1 AFFO | -11.5% |
| % Change in 2016 AFFO | -11.9% |
| Pre-Brexit AFFO Payout Ratio | 76.9% |
| Post-Brexit AFFO Payout Ratio | 87.3% |
Don't get me wrong, in no way do I think the current $0.98/share quarterly dividend is at risk. However, with a likely post-Brexit payout ratio of 87%, investors should be concerned about the slower future dividend growth. Or they would be if it weren't for W.P. Carey's world-class management team.
Brexit: Both crisis AND opportunity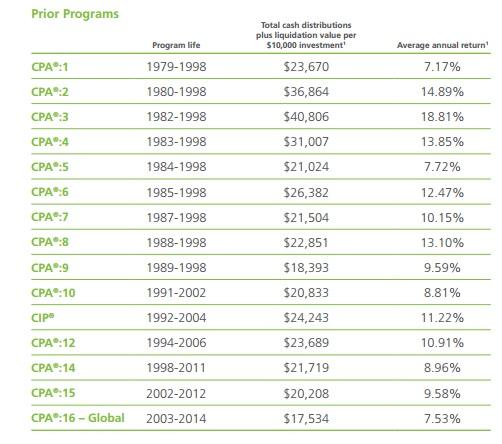 Source: 2015 W.P. Carey Annual Report
As you can see, over the past 43 years, W.P. Carey has proven itself one of the best real estate investors in the industry. In fact the average annual return from the 16 asset portfolios it manages (it recently opened two more) has been 10.3%.
In its latest conference call, management stated that European cap rates were falling, meaning that inflated real estate prices were making it harder to find attractive investment opportunities.
Now, after Brexit, it's possible that W.P. Carey will be able to use ongoing cheap euro- and pound-denominated debt to acquire several new high-quality properties at much lower prices. That's because increased concerns over Brexit have caused the London commercial property market to be thrown into turmoil.
In fact, recently, three UK property trusts representing $12 billion, or 26% of the British real estate trust industry, have suspended withdrawals over liquidity concerns. In other words, buyers are so outnumbered by sellers that property prices could fall through the floor resulting in fire-sale prices.
That's precisely the kind of environment that a quality management team, skilled at taking advantage of economic downturns and crises, can turn to its advantage to lock in future high investor returns. That's especially true given that W.P. Carey has over $1.1 billion in available liquidity in the form of $2.8 billion in unlevered property that it can potentially take out loans against. In addition, it has an authorized $400 million "at-the-market" or ATM program that can raise equity capital if management feels there are attractive enough investment opportunities available.
So the bottom line is that I'm confident that W.P. Carey won't just sit back and let the currency chaos of Brexit gut its ability to reward long-term income investors with growing dividends. Rather, I expect the future to include a potentially significant expansion of the company's EU and UK property portfolio under terms that are highly accretive to AFFO per share. That in turn should offset the currency effects mentioned above, especially since they are likely to eventually reverse themselves due to natural currency fluctuations.
Bottom line: Time-tested and crisis-hardened management means investment thesis remains intact
I can't tell you for certain what the Brexit vote will mean to the economy, or property market of the UK and EU; no one can. However, based on W.P. Carey's fantastic track record of growing investor wealth over the past 43 years through numerous crises and economic downturns, I have little concern over this REIT's long-term future.
Yes, the currency effects on W.P. Carey's cash flow could be significant if the pound and euro stay this weak or fall further against the dollar. However, thanks to its low pre-Brexit payout ratio, even this potential reduction in cash flow shouldn't put the dividend at risk.
And while true that a payout ratio increase to close to 90% would mean potentially slower dividend growth in the future, that's only if management fails to take advantage of falling UK commercial property prices and potentially rising cap rates. Given the quality of W.P. Carey's veteran management team, I think that highly unlikely and thus consider the REIT's long-term investment trend as a high-yield, dividend growth stock, to remain intact.
Disclosure: I/we have no positions in any stocks mentioned, and no plans to initiate any positions within the next 72 hours.
I wrote this article myself, and it expresses my own opinions. I am not receiving compensation for it (other than from Seeking Alpha). I have no business relationship with any company whose stock is mentioned in this article.