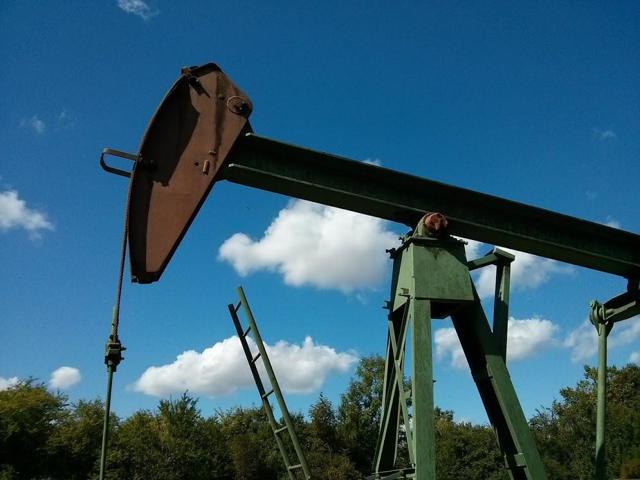 source: Stock Photo
In an interview with The Financial Times last week, executive director of the International Energy Agency, Fatih Birol, entered into alarmist mode, suggesting the increase in market share from OPEC posed a threat to the West, based upon being too dependent on oil from the cartel - specifically oil supplied from the Middle East.
Being a proponent of the global warming theory, he also was sending out alarms on Western nations needing to impose stricter fuel efficiency standards on vehicles in order to cut back on so-called greenhouse gas emissions.
People like Birol who adhere to end of the world scenarios, always look to government, rather than the market, to deal with issues.
For example, people have voted with their money to buy larger vehicles with gasoline prices subdued over the last couple of years. This apparently offends people like Birol who don't understand the market is an aggregation of billions of decisions individual people around the world make on a daily basis. To attempt to curtail those decisions by government fiat always makes things economically worse.
It will of course fall on deaf ears - at least in America - where larger vehicles have been driving sales.
As for OPEC gaining some market share - so what? That won't make anyone more reliant on the Middle East in any way. It may mean more imports will come from the Middle East, but the billions of barrels of oil in the U.S. ensure it will continue to increase the number of barrels it produces on an annual basis for a number of years.
The idea lower investment by upstream companies will exacerbate the problem isn't convincing either. That's especially true concerning U.S. shale producers.
OPEC's market share gain
What is concerning some is OPEC now accounts for 34 percent of the global market share, now that it's supplying 31 million barrels per day. That's the biggest share it's had since 1975 when it garnered 36 percent market share.
This is an ebb and flow business, which is why I have not concerns about this situation. There was a time when OPEC only had a market share of 19 percent back in the 1980s.
The boost in market share from OPEC is unsurprising in light of low oil prices. It has been obvious for some time the high-cost U.S. shale producers would be forced to cut back on production, leaving a vacuum OPEC would step into. The idea this is some type of threat to the West is nonsense, and in fact U.S. shale production remains more of a threat to OPEC when considering it is going to increase supply in the years ahead.
What remains to be seen is whether or not global demand for oil rises faster than global supply - including supply from the U.S. If it does, all producers will benefit from increasing demand outpacing supply, which will drive the price of oil up.
That's more beneficial to shale producers because the higher cost of oil will bring more production on line, which will provide more capital to reinvest from the increase in profitability.
There two ways OPEC can maintain market share. The first is to keep production at very high levels; that way it can keep the price of oil down, forcing more shale producers to shut down production and declare bankruptcy. The second way is for demand for oil to continue to grow, with OPEC increasing supply to match the pace. Under that scenario the price of oil could rise if the market has troubles meeting the growing demand. That also assumes OPEC has the capacity and capability of increasing production to maintain market share.
Market share probably won't be as important in the years ahead if demand continues to grow. How many barrels being supplied will be a better metric. If there is a loss of market share but OPEC increases supply, it won't matter. Everyone will be happy with the increased demand for oil and the accompanying rise in business.
Upstream investment
There have been a number of stories over the concerns of lower investment on the upstream side of the energy business, which dropped by about 20 percent in 2015, and is projected to decline once again in 2016. As far as I've been able to find, that hasn't happened before. Even so, that's not as concerning to me when considering the U.S. shale industry.
A lot of the upfront costs for the many drilled but uncompleted wells has already taken place. As of April 2015 there were about 5,000 DUC wells in the U.S. Some of them have already been completed, others are being completed now, and many more will be in the future. Again, the bulk of the expenditures on these have already been made, and all that remains is completing them when companies feel comfortable with the price of oil.
The idea of lower investment suggests there will be a lag time where demand will increase and supply will be constricted because lower investment will eventually result in lower supply.
In the past I would have agreed with that assessment, but again, with much of the upfront costs of DUC wells already in place, the impact is likely to be much less than believed, if it happens at all. The improvement in productivity of premium shale wells, along with lower costs of completing the wells, means the way to analyze oil investment has changed. Lower costs don't necessarily mean lower supply; at least as it applies to the shale segment of the industry.
What we don't know yet is how much the completed wells will add to supply, and to what degree it will offset lower expenditure. That's the same with how much an increase in supply from DUC wells will offset growing demand. We've never been in this position before since the emergence of U.S. shale production, so we'll have to wait until there's a track record to go by.
My sense is lower expenditure and production from U.S. shale producers won't be able to fully make up for losses, but it will make both less ominous than some think. So far that has proven to be the case over the last year or so, and shale should continue to surprise to the upside.
Conclusion
Growing demand and hundreds of billions of global shale oil yet to be developed, makes the increase in market share from OPEC a non-event. It's good for the few competitors enjoying the fruits of the decline in U.S. shale production, but overall, and aside from members in the Middle East, OPEC isn't benefiting as much from the increase in market share as thought.
This isn't a threat to the West, and it isn't even a threat to shale producers. Shale oil is here to stay, and it will become increasingly competitive as the quality companies continue to find ways to remove costs from production.
I don't see laws being made that will be detrimental to the oil industry. It'll be around for many decades, and probably much longer. Any attempts to artificially suppress demand will be futile because the market still wants it, and market-driven alternatives are still in their infancy. And as consumers are showing, when the price of gas is low enough, they value safer, larger vehicles built for families.
The biggest challenge for the industry isn't demand, but ongoing oversupply and stockpiles. Until that works itself through the system, the price of oil will remain subdued. Those are the real issues to watch over the next year to 18 months, not whether or not companies are investing enough or OPEC has gained some market share.
Disclosure: I/we have no positions in any stocks mentioned, and no plans to initiate any positions within the next 72 hours.
I wrote this article myself, and it expresses my own opinions. I am not receiving compensation for it (other than from Seeking Alpha). I have no business relationship with any company whose stock is mentioned in this article.