Introduction
Increased infrastructure spending in Canada and continued transportation spending in the United States have already started to fuel Stantec as the company continues to grow in market share. For the reason that I will go into detail below, I think that Stantec has a competitive advantage versus its peers and is well positioned to benefit from shifts in government spending.
Market Overview Though as an industry, the performance of the business services sector has been mixed, several companies have shown strong growth and expected future growth through revenues builds and company guidance on future growth. In the current slow-paced economic growth environment, I see that as an industry, business services has an overall slightly positive outlook. As firms continue to rein in spending in order to preserve operations, they have started to shift more towards the business service industry to consult and augment operations.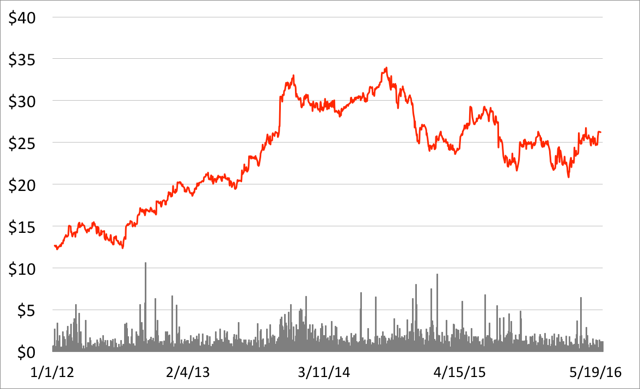 Thesis Overview Stantec (NYSE:STN) has positioned itself well with strong financial growth to best take advantage of the new growth opportunity in Canada, as well as continued operations in the United States. With a diversified business operating segments as well as a start-to-finish business model, Stantec has continued to grow and gain sizable market share over the last ten years. The new infrastructure spending increase in Canada as well as increased interested in water works projects will continue to fuel growth in addition to continued acquisitions.
Business Overview Stantec, Inc. is a professional consulting company which provides full-package services to client, including planning, engineering, architecture, interior design, landscape architecture, surveying, environmental sciences, project management, and project economics. The company client's operates in a number of industries, granting Stantec as diversified operation portfolio. Stantec has 380 offices in North America, Europe, Asia, South America and Africa. According to Stantec, the firm's business goal is to become one of the top ten design companies in the world. The company breaks down its operations into four main segments: Buildings, Energy & Resources, Environmental services, and Infrastructure.
The building segment provides design and construction services for planning, building, and engineering. It also serves interior design for vertical infrastructure in the many airports and other industries. The Energy & Resources business unit specializes in industrial engineering consulting and services, environmental science services for mining, oil & gas, and energy sectors, and construction management. The third business unit is the infrastructure segment which front-end design, specialized engineering services, and project and construction management for community development projects and water works projects. The final business unit is the environmental services group which was realigned in 2016 to be an independent group to meet the fast growing demand for environmental science needs of clients. The segment provides environmental services to clients that do not fall under the mining, oil & gas, and energy sectors.
Starting in 2012, Stantec also began paying quarterly dividends to shareholders and has continued to do so since then. For the company's 2015 fiscal year, 46% of revenue came from Canada, 51% came from operations in the United States, and 3% were from other international operations. The gross revenue from international operations was $99.2 million. Year over year, Stantec's revenue grew 13.7%, of which, 12.1% was the result of acquisition activity.
Investment Thesis
Stantec has a substantial ability to grow organically and inorganically over the next several years. The company's ambitious growth strategy is very much in line with its business goals and I believe that the company management is very capable in adjusting and adapting the firm's growth to minimize inefficiencies and meet growing demand.
Strong Acquisition Growth Since 2000, Stantec has acquired over 75 other companies to deepen its geographic reach and market share. This strategy allows the company to grow its client portfolio and build its project expertise. After passing antitrust regulation in early 2016, Stantec acquired MWH Global, Inc. MWH is an international engineering and consulting management firm. The acquisition brought a strong base to the growing water works project demand that the industry has experienced. According to Stantec, the company acquired MWH for $796 million at a 7.3x adjusted purchase multiple (9.5x excluding expected synergies) which was in line with precedent industry transactions. This was the first major stage for Stantec to take its operations international on a large scale. The acquisition is expected to increase total net revenue by roughly 60% as Stantec moves into new countries. The acquisition nearly doubles Stantec's employee base as well in addition to bringing expertise in the water sector and infrastructural engineering management.
Market Outlook On June 3, 2016, Stantec held an analyst day in Boston in order to discuss in details some of the major factors of the MWH acquisition. As a whole the event increased investor confidence and solidified some of the expectations of the impact that the MWH acquisition will have on Stantec. As Stantec and MWH has very little geographic overlap, the firm's complementary nature will allow Stantec the ability to enter MWH's major markets as a continued competitive force. The addition of MWH's construction capabilities (roughly 15% of combined revenue) will allow Stantec to expand its market where the current focus is in design. Though the large decline of the Energy & Resources revenue and slight decline in Environmental Services, have made both segments right sized as a percentage of total revenue. This reduction has been in line with current industry trends and Stantec has experienced reduced decline in these segments, relative to its peers. The Environmental Services business unit has benefited from the low oil and gas environment as it has allowed for larger market share for its services as well as increased strength with clients.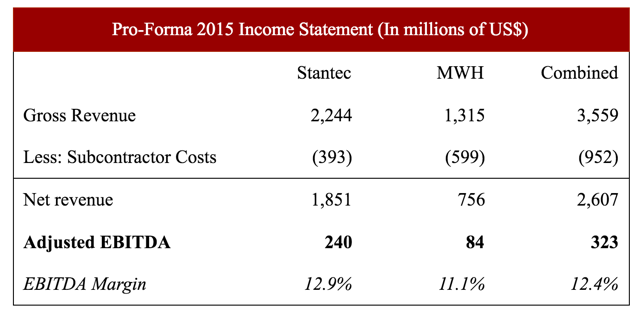 The majority of the current growth for Stantec, currently comes from acquisitions, yet the firm has maintained a strong debt/equity ratio. For the industry and for Stantec's current size, the M&A environment is shrinking as the number of firms that are candidates for acquisition are shrinking. This trend has forced the multiples to increase across the board from the historically observed 5-7x range to the 7-9x range or more. For the MWH prior to the acquisition, the firm experienced little growth with a generally flat revenue of roughly $1.3 B over the last 3 years.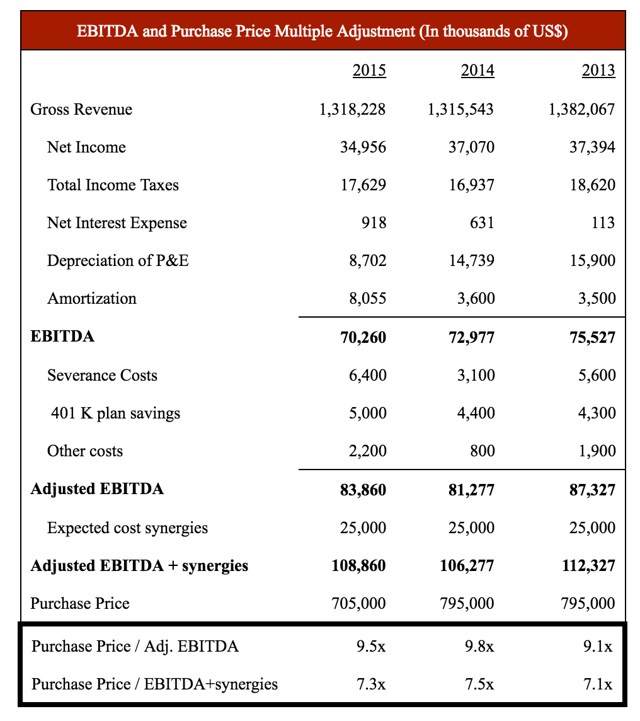 Macro Trends With the majority of current revenues coming from the United States and Canada, Stantec is well positioned economically to take advantage of trends. In Canada, the Liberals won the election and have announced a new plan to double government investment on infrastructure over the next 10 year. The $120 billion plan over the next ten years is intended to re-energize the nation and focus on fixing the nation's aging infrastructure. Over the next two year, the Liberals intend to spend $11.2 billion on green transit and social projects. Of that $11.2 billion, $8.234 Billion will be spent on projects and in areas that fall under Stantec's umbrella of operations. $3.4 billion is expected to go directly to maintain and rebuild aging public transportation and transit projects, a field that Stantec has a large market share of in the United States. For this reason, I believe that this spending will both directly and indirectly aid Stantec's growth. By expected increase in revenue and sales as well as more generally a .2%-.4% in Canada's GDP as a result of the spending, the infrastructure overhaul bodes well for Stantec's immediate future.
Phase two of this infrastructure spending starts after the two years and will last eight years. This part of the plan focus more on waterworks and wastewater projects. With the acquisition of MWH, I believe that Stantec is positioned well to take full advantage of this spending in order to capture a significant share of the market. This increased infrastructure spending is also expected to aid Stantec experience some degree of organic growth in its business segments, which will accelerate the company's growth as it grows organically over the next ten years as well as continues aggressive acquisition growth.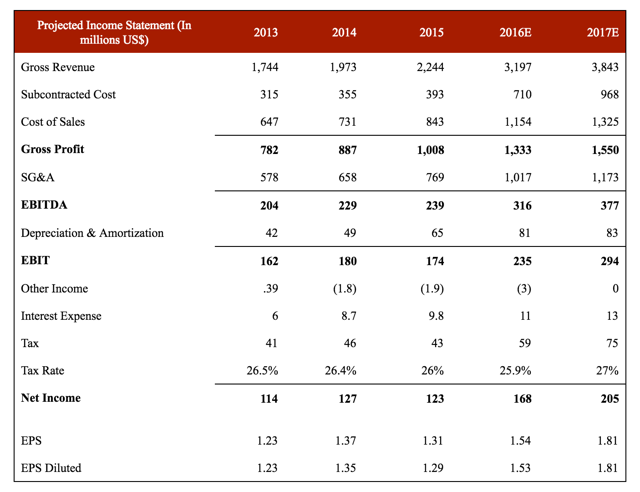 Projected Financial Statements From the table above, I can see the projected annual income statements for Stantec. I used three year historicals, in addition to recent announced company information to project two years of the company's income statement. The sizeable increase in Revenue as well as the majority of changes in FY16E is primarily a result of the MWH acquisition. In FY16E and FY17E, I see margins slightly decreasing as the firm continues to grow and as a result of lower margins in regions of MWH operations. This trend is expected to continue into the immediate future but I see this decrease stabilizing in two-three years as the new regions' revenues and costs normalize. The largest variable for the projected income statements, is the tax expense and the tax rate. Though the firm will have a significant portion of its total revenue coming from the US and Canada, the revenues in other foreign are subject to different tax laws, and regulations. Though I do not see any immediate regulatory restrictions or overly impactful tax rates, the expected 27% is a slight increase overall. This is expected to increase further as operations in foreign markets continues to increase.
Comparable Analysis Stantec has many competitors both regionally and globally. Though there are an estimated 50,000 firms globally competing for market share, Stantec is a considerably large firm. For the comparable analysis, I used only US equities mainly due to the fact that foreign equities are not actionable for SIF. For the comparables themselves, I chose three firms of similar size and relative business operations. Of these comparables, Stantec is slightly larger than the largest comparable in addition to be nearly $600 million bigger than the comparable average. I think that what differentiates Stantec from other companies is the strong focus on acquisitions and continued and sustained growth. Furthermore, on a closer inspection, the type of companies that Stantec acquires is important. The company seems to generally acquire companies within its industry that complement its existing services or build up on some weakness. Some acquisitions by Stantec have historically been to penetrate regions that organic growth is struggling in or new services that allow Stantec to achieve its role as a full start-to-finish project consulting and services firm.
For the multiples valuation, I used the EV/EBITDA average of the US comparables (excluding KBR, Inc which had a significantly lower EV/EBITDA relative to both US, Canadian, and other international companies) to back out and calculate an implied Enterprise Value. Then I subtracted the actual net debt and minority interest in order to find the implied market capitalization. Using the actual share outstanding and our implied Market Cap, I found an implied share price of $26.39. This calculation is by no means an accurate price target but gives a rough comparison of where Stantec stands relative to its peers.

Investment Risks For Stantec, the investment risk is very low compared to other industries as well as some of its peers. For Stantec, the major risks would be unforeseen shifts in industry such as a sudden shift away from water works projects or a large decrease in infrastructure expenditure in Canada. In addition, a long-term depressed Oil & Gas environment would pose risk to the continued Environmental Services and Energy & Resource groups. In the long run, as viable options for acquisition are depleted, the lack in ability to continue to grow organically would also pose investment risk. If Canada should fall short on its plan for increased infrastructure spending, Stantec would be impacted negative after preparing for increased business activity.
Recommendation With our updated valuation models as well as re-analysis of business risks, business risk, and company and industry outlook, I think a $34 price target for Stantec is very reasonable give the firm outlook. I believe the company's ability to perform and grow is favorable over its competitors as well as its ability to continue its growth through acquisitions strongly. I see Stantec gaining large presence in new geographic markets while continuing to deliver strong services in current major regions. The acquisition of MWH has allowed access to markets as a dominating force and allows Stantec the ability to hit the ground running. Overall, I have faith in the company and its management and believe that it is on track to achieve its goal of being a global top 10 design firm.
Disclosure: I/we have no positions in any stocks mentioned, and no plans to initiate any positions within the next 72 hours.
I wrote this article myself, and it expresses my own opinions. I am not receiving compensation for it (other than from Seeking Alpha). I have no business relationship with any company whose stock is mentioned in this article.