Source: Apple Inc.
Apple (NASDAQ:AAPL) has been one of greatest long-term investments of the past 20 years, having generated total returns of 27.6% CAGR since the return of Steve Jobs in 1997. That's compared to just 5.3% for the S&P 500 over that same time period.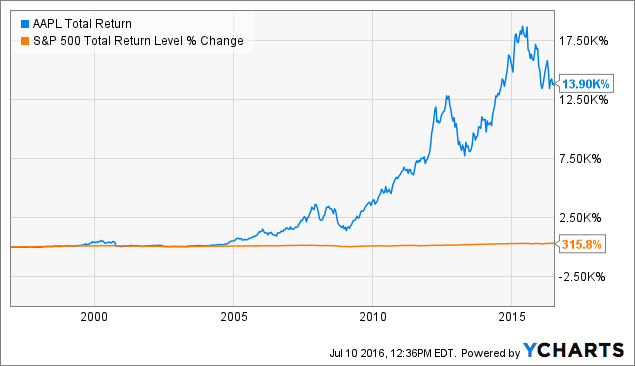 AAPL Total Return Price data by YCharts
However, today Apple has transitioned from one of the world's greatest growth stories to a far less exciting dividend growth stock. While Apple can still make long-term investors very rich in the years to come what if you are primarily concerned with generating strong, immediate income? Apple's 2.4% yield, while better than the market's 2.1% payout, is hardly something to write home about.
Read on to learn a simple and low risk way to earn far higher yields from the world's most profitable smartphone maker.
The awesome income generating power of covered option writing
Options often get a bad rap among conservative investors who view them as confusing and complex financial instruments designed to use massive leverage as a means of making potentially massive, but speculative profits. While this is true of some types of naked options strategies, they can also be used as conservative, and low risk tools to generate substantial income. For example, covered calls and cash secured put writing use no leverage and thus expose investors to 0 risk of margin calls. Here's how these financial instruments work.
Covered option contracts mean you are essentially becoming an insurance company. By writing puts you are agreeing to buy 100 shares of Apple stock per contract at a designated price (known as the strike price), by a given date if Apple is trading below that price.
A covered call contract means you will sell 100 shares of Apple stock per contract to the owner of the option at the strike price if Apple is trading above that price by the expiration date. In exchange for taking on these obligations the buyer of the option pays you an upfront option premium.
The reason that option buyers are willing to pay you this premium is to hedge against uncertainty over the future price of Apple stock. For example, the buyer of a put contract may be worried that the upcoming release of the Apple iPhone 7 will be a flop, and want to guarantee a fixed selling price in case the shares drop.
On the flip side, a buyer of a call option may think Apple is highly undervalued and potentially set to rally. However, with pessimism about Apple's growth prospects now at multi-year highs he/she wishes to avoid buying shares unless they end up rising in the future.
Apple is MASSIVELY undervalued which make cash covered puts the way to go
Which option type to write is based on whether you think Apple is overvalued, (write calls), or undervalued, (write puts).
| | | | | | |
| --- | --- | --- | --- | --- | --- |
| PE Ratio | Historical PE Ratio | Price/Operating Cash Flow | Historic P/OCF Ratio | Free Cash Flow Margin | Average Historical Discount |
| 11.3 | 26.1 | 7.6 | 24.3 | 10.1% | 57.7% |
As you can see, Apple's PE and Price to operating cash flow ratios are far below their historic levels. Meanwhile shares of Apple are currently a free cash flow yield of 10.1%, which likely indicates the stock is highly undervalued. While I grant that some measure of multiple contraction is warranted by the fact that the company's growth prospects have dimmed somewhat, the extent of that contraction is likely overblown.
| | | | | |
| --- | --- | --- | --- | --- |
| TTM FCF/Share | 10 Year Projected FCF/Share Growth Rate | DCF Estimated Fair Value | Reverse DCF Implied Growth Rate | Margin of Safety |
| $9.77 | 9.9% | $209.53 | -3.9% | 54% |
For example, based on a reverse DCF analysis Apple appears to be priced for -3.9% FCF/share growth over the next 10 years. Given the company's still superior margins and immense cash flow generation, buybacks alone should make that highly unlikely.
Now DCF analyses should always be taken with a grain of salt due to their reliance on long-term growth projections and arbitrary discount rates, (I used the market's historic 9.1% CAGR since 1871). However, based on analyst's latest growth forecasts Apple is likely trading at a substantial discount to the present value of its future cash flows.
Don't get me wrong, DCF fair value estimates should NEVER be the sole reason for buying or selling a stock. They are just one data point and can only give a general indication of whether or not a stock is likely trading at a discount or premium to its intrinsic value. That being said, I think it's safe to say Apple is probably undervalued to a high degree, which means that cash secured put writing is the best conservative option income strategy to use.
Apple bright future means Wall Street bears are wrong
Of course, Apple's shares are only significantly undervalued, and thus a great put writing candidate, if it can continue to grow it's already impressive earnings and cash flow. Luckily future increased sales of the iPhone and the strongest margins in the smartphone industry make this highly likely.
For example, Apple's brand is the most valuable on earth, worth $154.1 billion; nearly double that of its nearest competitor, Google (NASDAQ:GOOG).
That aspirational brand is protected by an incredible sticky and enormous ecosystem over 1 billion iOS devices. This results in steady global market share while maintaining premium pricing power.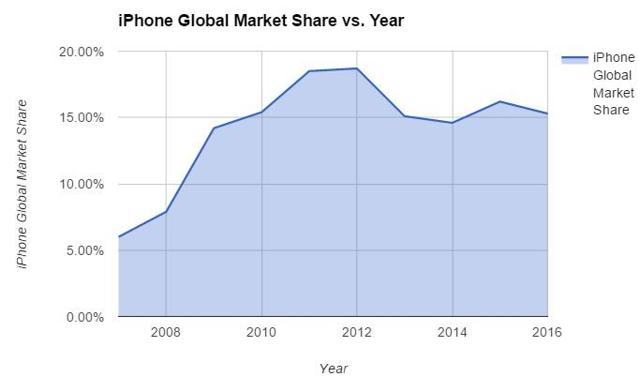 Source: Author, data from Statista
The end result is a remakable 24.3% free cash flow margin that has allowed Apple to amass the largest cash reserve of any company on earth, and fund the largest buyback program in history.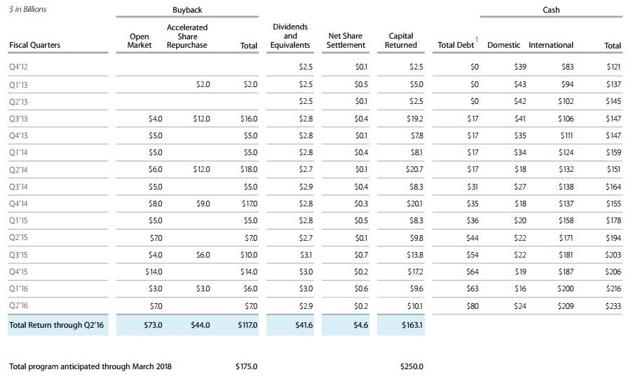 Source: Apple investor relations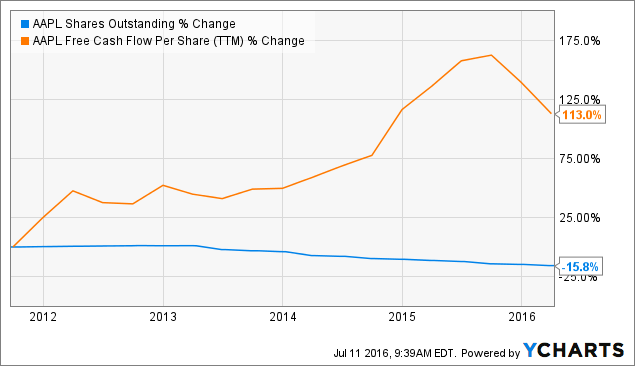 AAPL Shares Outstanding data by YCharts
Apple's ability to reduce its share count by 4% a year has been most impressive, and with $58 billion remaining under its existing buyback plan that trend should continue. Of course, in the long-term the key to Apple's share price rising is growth in free cash flow per share.
With FCF/share recently declining due to weaker than expected iPhone sales why should investors remain bullish? More importantly why should investors consider writing puts on its undervalued shares?
iPhone 8 will silence the doubters
Japan's Nikkei newspaper recently reported that the company is moving to a longer iPhone upgrade cycle, meaning major changes won't arrive until 2017's iPhone 8. While that means that iPhone 7 sales may once again show a lack of growth, it also potentially sets the company up for a massive, blow out 2018.
According to Barclay's analyst Mark Moskowitz, Apple's 2017 iPhone 8 is likely to be an upgrade mega-cycle. That's due to numerous major upgrades that supplier leaks hint are coming. These include:
Brand new glass form factor
Larger, more power efficient OLED screen
Elimination of home button (meaning larger screen won't necessarily make the phone bigger)
Wireless charging
While Moskowitz expects 2016 iPhone sales to decline by 1.8%, he predicts the iPhone 8 will sell 10.3% better than this year's iPhone 7 upgrade. That would, if true, set new sales records for Apple, and likely generate the highest free cash flows in the company's history.
While analysts forecasts should never be the sole reason for an investment, none the less, I agree that the next major upgrade cycle to the iPhone is likely to silence Apple's critics. Which is why I'm confident that record results are likely to lead to a sharp rise in the share price. That's especially true if the company's recent efforts to expand its prescence in India's booming smartphone market prove succesful.
Which means that Apple put writers have a strong catalyst for potentially several years of strong income generating potential. How much income exactly? Well just take a look.
Why Apple is such an attractive put writing candidate
| | | | | | |
| --- | --- | --- | --- | --- | --- |
| Put Option | Premium/Share | Implied Stock Purchase Price | Implied Dividend Yield on Cost | Option Yield | Annualized Option Yield |
| Aug 16 $100 | $5.12 | $94.88 | 2.4% | 5.4% | 88.0% |
| Aug 16 $95 | $2.32 | $92.68 | 2.5% | 2.5% | 34.9% |
| Aug 16 $90 | $0.89 | $89.11 | 2.6% | 1.0% | 12.7% |
| Sep 16 $100 | $5.72 | $94.28 | 2.4% | 6.07% | 42.4% |
| Sep 16 $95 | $3.00 | $92.00 | 2.5% | 3.26% | 21.2% |
| Sep 16 $90 | $1.40 | $88.60 | 2.6% | 1.58% | 9.9% |
| Oct 16 $100 | $6.51 | $93.49 | 2.4% | 6.96% | 30.9% |
| Oct 16 $95 | $3.86 | $91.14 | 2.5% | 4.24% | 18.1% |
| Oct 16 $90 | $2.16 | $87.84 | 2.6% | 2.46% | 10.2% |
| Jan 17 $100 | $8.70 | $91.30 | 2.5% | 9.53% | 20.0% |
| Jan 17 $95 | $6.00 | $89.00 | 2.6% | 6.74% | 13.9% |
| Jan 17 $90 | $4.06 | $85.94 | 2.7% | 4.72% | 9.7% |
| Mar 17 $100 | $10.02 | $89.98 | 2.5% | 11.14% | 17.2% |
| Mar 17 $95 | $7.45 | $87.55 | 2.6% | 8.51% | 13.0% |
| Mar 17 $90 | $5.31 | $84.69 | 2.7% | 6.27% | 9.6% |
| Apr 17 $100 | $10.60 | $89.4 | 2.6% | 11.86% | 16.1% |
| Apr 17 $95 | $7.81 | $87.19 | 2.6% | 8.96% | 12.1% |
| Apr 17 $90 | $5.80 | $84.20 | 2.7% | 6.89% | 9.3% |
| Jun 17 $100 | $11.65 | $88.35 | 2.6% | 13.19% | 14.5% |
| Jan 17 $95 | $9.05 | $85.95 | 2.7% | 10.53% | 11.5% |
| Jun 17 $90 | $6.87 | $83.13 | 2.7% | 8.26% | 9.0% |
| Jan 18 $100 | $15.10 | $84.90 | 2.7% | 17.79% | 11.5% |
| Jan 18 $95 | $12.28 | $82.72 | 2.8% | 14.85% | 9.7% |
| Jan 18 $90 | $10.00 | $80.00 | 2.9% | 12.5% | 8.2% |
Apple's already low share price, just 8.8% off its 52 week low, means that Apple should have a reasonably strong floor under it preventing it from falling further in the short-term.
So now that we know which option strategy to use with Apple, and why it's likely to work, let's look at three concrete examples of how investors with different risk tolerances can use put writing to earn substantial option premiums.
Let's say that you agree that Apple is highly undervalued and wouldn't mind owning shares at $94.88 which is close to the current price. You can sell August 2016 $100 puts, which would pay you $5.12 per share in premium or $512 (excluding commissions) per contract. This generates a premium yield of 5.4% for this one month contract, or 88% on an annualized basis. You would then need to set aside $9,488 in case the price remains below $100 and you have the shares put to you.
If Apple rises above $100 then the contract expires worthless and you keep the premium and can potentially repeat the process to keep earning high income. If the price is under $100 by August 16 then you end up owning 100 shares of Apple per contract at a cost basis of $94.88, or a dividend yield on cost of 2.4%.
On the other hand, let's say that you like Apple and want to own shares, but aren't sure that the current price is a good one. In that case you can write an out of the money put, meaning the strike price is below the current share price.
For example, you can write a September 2016 $90 put that pays $140 in premium per contract, in exchange for the obligation of buying Apple at a cost basis of $88.60; a dividend yield on cost of 2.6%.
The reason this premium is so much lower than the previous example is because Apple would have to fall over 7.6% from its current price. On the other hand, in exchange for tying up $8,860 of your capital for just two months you can earn a 1.5% return, or 9.9% on an annualized basis. In today's ultra low interest rate environment that kind of yield can only be found in junk bonds or higher risk equities such as mREITs, BDCs, or highly distressed dividend stocks.
One final example, this time for someone who is generally bullish on Apple's long-term prospects but unsure about the next year or so. Maybe you are worried that the market is set for a big correction and or iPhone 7 sales will be much worse than expected.
You can sell a January 2018 $90 put which would, in a worst case scenario, cause you to end up with a cost basis of $80, and a dividend yield on cost of 2.9%. Actually, given that Apple's CEO Tim Cook has said the company plans to raise its dividend each year, that is likely to be closer to 3.2% (assuming another 10% dividend hike) by expiration.
By January of 2018 the iPhone 8 will have been released and, if analysts, (and myself) are right about the coming mega-upgrade cycle, Apple will be trading well above $90/share by that option's expiration.
Risks to consider
There are six VITALLY important things all cash covered put writers need to remember. After all, the buyer of a put option isn't going to pay between 8.2% and 88% premiums for no reason. Nothing on Wall Street pays that well without coming with strings attached.
First, this strategy is ONLY for those who like Apple as a long-term investment and wouldn't mind owning shares at the implied share price. That's because the stock market is inherently volatile, and investors can become highly irrational; especially in times of a short-term market panic.
Which brings me to risk number two. Because options are time sensitive, and because most of them expire before the iPhone 8 is likely to be released, there is always the risk that the Apple shares will sell off in the coming months. That's especially true with the stock market at an all time high while corporate earnings remain in a recession.
In fact, even a January 2018 $90 put bears the risk of you buying the shares if Apple's get caught in a general market correction or bear market; no matter how impressive iPhone 8 initial opening weekend sales figures may be.
Which brings me to risk number three. If Apple drops below the strike price, unless you close out the contract, (buy it back, likely for more than you sold it for), you will receive those shares at the implied buy price.
For example, let's say you sold the October 2016 $95 put, which has an implied buy price of $91.14 per share. If a market crash takes Apple to $75, then you would end up owning the shares and have an instant unrealized loss of 17.7%. Thus you could end up with massive buyers remorse at the fact that you effectively bought Apple at a 2.5% yield instead of the 3.0% you could have received if you hadn't written the contract and thus been able to buy shares at $75.
A forth important thing to remember is that this strategy should only be undertaken if you actually have the money to buy 100 shares of Apple per put contract you write. Most brokers will allow you to sell naked puts, (if you have a margin account). That means you can potentially write contracts to buy thousands of dollars of Apple stock even if you only have a fraction of the money to cover your obligation.
However, this leveraged strategy, while potentially leading to even higher option premium income yields, also comes with the risk of a margin call. That means that, should the market fall and the rest of your portfolio sink in value, your broker could require you to top up your account in order to be able to meet put contract obligation.
If you can't afford to do that, then the broker could end up selling your other holdings, potentially at a massive loss. This risk is the reason I only ever recommend writing cash covered puts, meaning you always have the money to buy the shares set aside.
Fifth, while the biggest risk with put writing is a financial loss, there is also the risk of lost profit opportunity. That's because put writing allows you to profit in from a rise in Apple's share price, but only to a certain point.
Say for instance, that you wrote a January 2018 $100 put that paid you $1,510 per contract in gross premium. However, iPhone 8 opening weekend sales turns out fantastic and by January 16, 2018 shares have soared to what I believe to be Apple's fair value price of $210.
Suddenly that 11.5% annualized return you earned from the option premium doesn't look so hot compared to the 117% gain you could have earned had you simply bought Apple shares at today's price.
Finally, while the examples I give here don't include commission costs or taxes, in real life you must always consider these. For example, the cheapest broker for options trading is either Interactive Brokers (NASDAQ:IBKR) or eOptions. Interactive Brokers charges $0.7 per contract with a $1 minimum while eOptions charges $3 + $.15 per contract. Thus for writing five or fewer contracts Interactive Brokers is the cheapest, but for six or more contracts you're better off with eOptions.
Meanwhile other brokers can charge significantly higher fees. For example, Options Xpress charges a $12.95 flat fee for the all options trades up to 10 contracts, (11+ costs another $1.25 per contract). While this may not seem like much, studies show that keeping trading costs low is one of the most important components to successful long-term investing. Depending on what put contract you write that commission can eat up a substantial portion of your option premium. Say you're with Options Xpress and you sell a single August 2016 $90 put. That $12.95 commission would represent an outrageous 14.6% commission.
In addition to commission fees you can't forget Uncle Sam. All written option premiums are taxed as short-term capital gains. Which means that you could potentially be facing a 39.6% hair cut if you're in the top tax bracket.
This is why option writing is best done in a tax sheltered account such as an IRA. However, brokers can have strict limitations on margin requirements in such accounts. Which is yet another reason to never write naked puts, but only ones covered by the cash needed to buy the shares.
Bottom line: obvious growth catalyst makes undervalued Apple an ideal cash secured put writing candidate
As long as you remember the risks you're taking on, writing cash covered puts on Apple is a way to earn potentially amazing income from one of America's best new dividend growth stocks. At worst you'll end up owning shares for cheaper than you could buy them today.
However, if you take the time to write a contract that meets your specific risk profile and time horizon, and Wall Street ends up valuing Apple closer to its intrinsic value (especially after the release of the iPhone 8), then you can potentially turn Apple into a wonderful cash generating machine. One that could end up paying you potentially stunning option premium yields for years to come.
Disclosure: I/we have no positions in any stocks mentioned, and no plans to initiate any positions within the next 72 hours.
I wrote this article myself, and it expresses my own opinions. I am not receiving compensation for it (other than from Seeking Alpha). I have no business relationship with any company whose stock is mentioned in this article.