It's hard not to talk about the recent infrastructure delays plaguing the Northeast right now. At BTU Analytics, we've recently highlighted delays/cancellations of Tennessee Gas Pipeline's Northeast Energy Direct (NYSE:NED) and Constitution, looked at the potential impacts to the Southeast power market if Mountain Valley Pipeline (MVP) and Atlantic Coast Pipeline are delayed, and theorized what would happen if no more pipes out of the Northeast are built. However, all of these topics look pretty far into the future. After all, NED was originally scheduled for 2018 and even this year there aren't many major takeaway projects coming online. So the question remains, what happens before then? Will anemic drilling activity and the Marcellus & Utica well backlog hold producers over until infrastructure comes online or will we see significant declines in production?
The answer to that question lies in the Marcellus & Utica well backlog - or as others call it the 'fracklog'. Well backlog consists primarily of wells that have been drilled, but uncompleted (DUCs) and wells that have been completed, but still on backlog ((COBs) - as we call them at BTU). DUCs have been discussed widely in the industry and are prevalent outside of the Northeast, however COBs are more unique and mainly a function of the capacity constraints in the Northeast where wells are completed but waiting for a midstream tie in to be turned to sale. Of course there is always delay between the spudding of a well and when it is turned to sale, so we will only be considering excess backlog, meaning wells that have been in backlog in excess of the spud to sales time.
Due to the reduction in drilling activity we have seen this excess backlog fall dramatically since the start of this year. BTU Analytics estimates that this backlog has fallen by over 600 wells in the past 6 months alone to maintain and even grow production through the winter.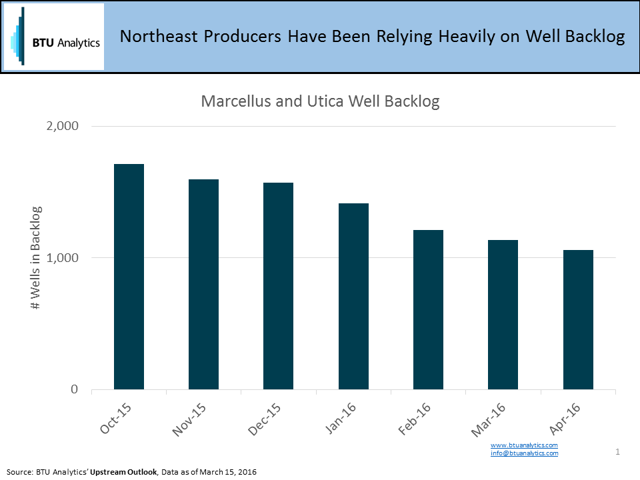 So looking at where we are now, let's project current drilling activity forward and see how long the remaining excess backlog in the Marcellus and Utica will last. The graphic below shows anticipated production if current drilling activity is projected forward. We then rely on excess backlog to fill pipe capacity out of the region.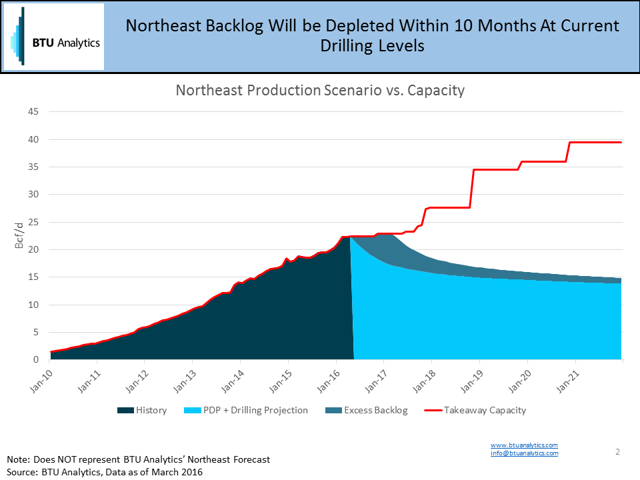 So projecting current drilling activity forward shows that by early next year DUCs and COBs, two low cost sources of production for operators will be depleted. This poses the question: when will drilling recover so we don't find ourselves in this scenario? And what prices are required to incentivize a recovery in drilling? For answers to those questions, request a trial of BTU Analytics' Northeast Gas Quarterly, which provides in depth analysis of the Marcellus and Utica as well as Henry Hub and Northeast basis forecasts.
Disclosure: I/we have no positions in any stocks mentioned, and no plans to initiate any positions within the next 72 hours.
I wrote this article myself, and it expresses my own opinions. I am not receiving compensation for it. I have no business relationship with any company whose stock is mentioned in this article.