Lydian International (OTC:LYDIF)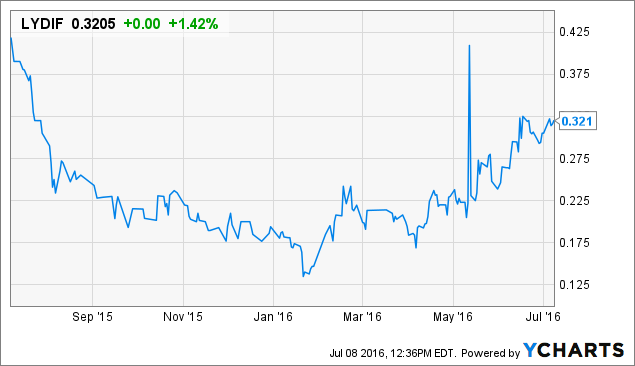 (Lydian also trades on the Toronto Stock Exchange under the symbol LYD. The market cap figure below is an updated figure that includes the proceeds from the most recent private placement).
Recent Stock Price: $.30
Shares Outstanding: 665.9 million
Market Cap: $199.8 million
52-Week Range: $.13 - $.48
With the price of gold soaring to over $1,300 per ounce recently, gold miners and developers have followed along as expected. The run-up in both gold and the miners has made it pretty tough to find good deals in the market.
However, there are still a few gold stocks that I feel are undervalued and worth a buy here. Newmarket Gold is one of them, and Lydian International is another.
With a market cap and enterprise value of about $200 million following its most recent private placement, the stock looks undervalued here based on the value of the company's main asset, the Amulsar gold project in Armenia.
On June 8, the company decided to proceed with construction at the 100%-owned project, and closed on two big private placements. Armenia is emerging as an up-and-coming mining jurisdiction - Dundee Precious Metals currently operates the Deno gold mine and two other companies are exploring gold, silver and base metals deposits in the country. On May 24, the company received updated mining right approvals from the government.
Funding is now complete for the project ($325 million has been raised - $185 million in senior secured debt, $80 million in equity and $60 million in a gold stream, and a $70 million equipment financing is being arranged). The project has been de-risked a great deal because of this financing in my view. The debt and stream portion of the financing also minimized dilution for existing shareholders, so the long-term share price upside is greater.
Upon completion of construction, the mine will produce an average of 243,000 ounces of gold over an initial five years of operation and 211,000 ounces over the initial 10-year mine life. This is a huge gold deposit, as it contains 5 million ounces of total gold resources (2.4 million of which is actual gold reserves, plus 20+ million ounces of silver in resources).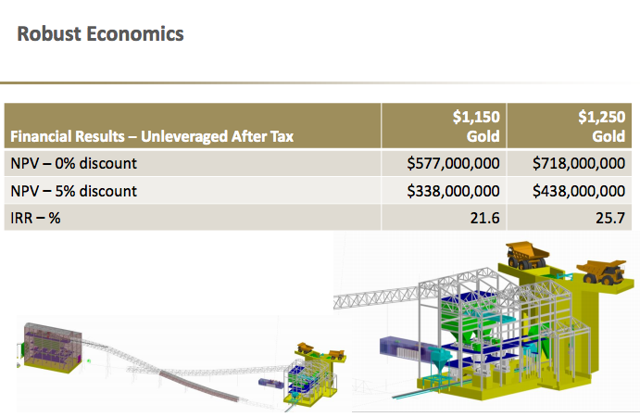 (Credit: Lydian Corporate Presentation)
More importantly, it's going to be a low-cost, high gold recovery project, and all-in sustaining costs are estimated to come in under $600 per ounce, according to the updated feasibility study. It should be a profitable gold mine at nearly any gold price.
Again, the economics of this mine should be extremely robust. Using a gold price of $1,250 per ounce (which is $100 lower than current prices, I might add), this project carries a net present value (5% discount, after-tax) of $438 million and an internal rate of return of 25.7%.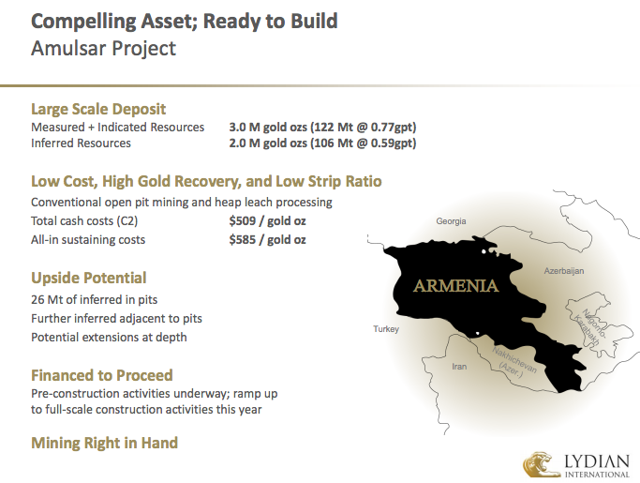 (Credit: Lydian Corporate Presentation)
Consider the upside case as well. The current mine plan calls for 211,000 ounces of annual gold production over an initial 10 year mine life. However, it does not include any of the 2 million ounces of inferred resources, including in-pit inferred resources. Further exploration and development at the deposit could extend the mine life and increase annual production levels.
The goals for the rest of 2016 include: securing equipment financing, infill drilling and getting ready for the start of construction, which should occur in early 2017. If all goes as planned, first gold pour should occur in 2018.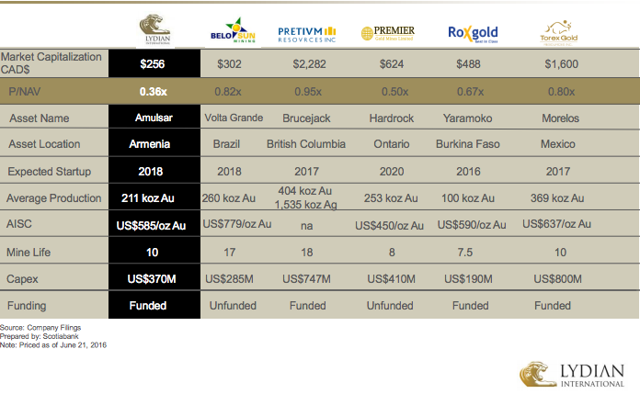 (Credit: Lydian Corporate Presentation)
Most importantly for readers, I think shares are undervalued here. Following the latest equity financing round, Lydian carries a market cap of C$256 million on the TSX and a market cap of $200 million on the US exchange, and trades at a P/NAV of just .36X, which is lower than peers who have similar projects in development, according to Lydian's most recent presentation.
For example, Belo Sun Mining (OTCPK:VNNHF) trades at a ratio of .82, Pretium Resources (PVM) trades at .95X, Premier Gold Mines (OTCPK:PIRGF) trades at .50X, Roxgold (OTC:ROGFF) trades at .67X, and finally Torex Gold (TORXD) trades at .80X, according to Lydian's corporate presentation. The only one of these companies expected to have lower AISC at its projects is Premier Gold, which estimates $450 per ounce AISC, and some of these projects are not yet fully funded.
Now, there are some risks to be aware of here. Lydian has taken on a significant amount of debt to get this mine to production, and will be required to start making payments on June 30, 2018. Some of this debt also carries high interest rates. Everything will need to go as planned in construction, and the gold price will need to stay at a reasonable level for Lydian to make enough profit to repay the debt. Other risks include the potential for increased labor costs and the ability to attract and retain skilled workers. A full list of risk factors can be viewed on Lydian's annual report, but these these are the main risks.
In conclusion, Lydian International owns a highly economical gold project (high production and recoveries, low costs) with exploration upside. Shares look undervalued here and I think the stock could outperform going forward as a result.
Disclosure: I am/we are long CAGDF.
I wrote this article myself, and it expresses my own opinions. I am not receiving compensation for it (other than from Seeking Alpha). I have no business relationship with any company whose stock is mentioned in this article.
Editor's Note: This article covers one or more stocks trading at less than $1 per share and/or with less than a $100 million market cap. Please be aware of the risks associated with these stocks.