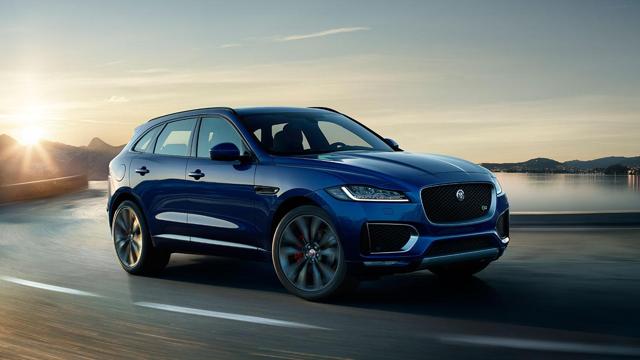 Jaguar F-Pace, propelling sales growth
What I am about to describe is a long thesis for a stock on account of Brexit (UK's exit from the European Union). This thesis was taken and sold in my Idea Generator service, although arguably the thesis remains valid.
Tata Motors (NYSE:TTM) is an automaker based in India, whose main subsidiary is JLR (Jaguar Land Rover), based in the UK. Other than Jaguar Land Rover, a high-end car maker, Tata sells commercial vehicles and passenger vehicles in India. Tata Motors bought JLR from Ford (NYSE:F) back in 2008, for just $2.3 billion. JLR came with no debt.
Presently, JLR represents ~3/4ths of Tata Motors' revenues and 80% of its EBITDA. Tata, for investment purposes, is Jaguar Land Rover. Moreover, on account of the successful launch of several new models, including the Jaguar XE and Jaguar F-Pace, JLR is showing strong growth (>20% year on year). JLR is on track to be a high-end automaker selling ~600k cars per year.
The Thesis
Why would one buy something such as Tata Motors/Jaguar Land Rover on account of Brexit? The thesis is simple:
JLR has its cost base in the UK.
~75% of JLR's revenues come from outside the UK.
Now, upon the news Brexit won, GBP (British Pound) took a significant dive: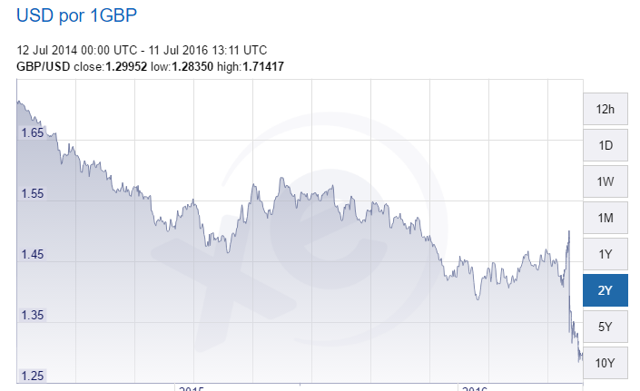 Source: XE.com
It is this dive which prompts the thesis for the investment. With a large portion of costs being taken in GBP and revenues being taken in other currencies, this means JLR will enjoy higher margins on top of its recent significant growth.
These margins should start being felt around Q3 2016. This is all the more relevant because JLR is selling some cars which are higher volume but lower margin, like the Jaguar XE, so the company is particularly sensitive to this development.
Valuation
Of course, just having a thesis is not enough. If we don't buy cheap enough, we're still exposed to valuation multiple shrinkage which can destroy the benefits from a favorable thesis.
As it were, Tata Motors also shows well when it comes to valuation. It trades for around 3.7x EV/EBITDA, which is extraordinarily undemanding. That said, not all is roses. The car business is extremely capital intensive, so what looks like a very cheap EV/EBITDA turns into a much less appealing (indeed, expensive) 31.3x EV/(EBITDA - Capex).
Risks
Even with a positive thesis and somewhat favorable valuation (on EV/EBITDA terms, but not really on EV/FCF terms, as we saw), there are still other risks to consider. I would highlight the following:
The market can turn sour on luxury automakers on account of any economic fears. JLR is a luxury car maker and would necessarily be hit if such a thesis emerges.
EVs brought about by Tesla (NASDAQ:TSLA) and, in due time, other automakers, are eating high-end market share. JLR can lose appeal versus this ongoing and incoming wave of EVs, though JLR itself will have EVs in due time.
The UK has a good chance of facing a near-term recession as investment should fall steeply on account of the uncertainty brought about by Brexit. With ~1/4 of JLR's sales coming from the UK, it could happen that the first effect investors see is slowing growth, instead of growing margins.
Tata Motors' passenger cars are not competitive in India, mostly because their design is not up to worldwide automakers' standards. Tata is launching new models right now and this is being masked, but this problem is likely to emerge again. That said, this does not affect commercial vehicles, which have less design considerations and are more often bought on specs and cost. Tata's India passenger car division is ultimately not very relevant. Indeed, as with Apple (NASDAQ:AAPL) and the iPhone, for Tata what matters is JLR and (nearly) nothing else.
Tata's present growth wave is on account of several model launches. Tata is now starting to lap last year's Jaguar XE launch, and nine months later, it will start lapping the F-Pace. As this happens, posted year-on-year growth rates will quickly abate.
Short term, a sudden GBP move can actually provoke negative translation effects on JLR's P&L. This is so because JLR has significant accounts payable EUR balances, and the Brexit vote took place before the end of Q2 2016, leading to a drop in the GBP right before the end of the quarter. This drop will figure into the translation of those Q2 2016 accounts payable balances, and such will provide for a one-off extraordinary cost which will take place before the lower ongoing costs and higher margins are recognized in Q3 2016.
Conclusion
Weighting every factor, Tata Motors seems worthy of a buy on account of the Brexit catalyst. This catalyst is likely to provide upside to JLR's margins, and hence, Tata Motors' margins, as soon as Q3 2016.
However, and this gives me some pause:
Short-term risks (UK sales cooling, GBP translation effects) can be seen before (Q2 2016, monthly sales during Q3 2016) the benefit happens (higher margins in Q3 2016).
The stock failed to quickly react powerfully to the improved margin prospects.
Disclosure: I/we have no positions in any stocks mentioned, and no plans to initiate any positions within the next 72 hours.
I wrote this article myself, and it expresses my own opinions. I am not receiving compensation for it (other than from Seeking Alpha). I have no business relationship with any company whose stock is mentioned in this article.