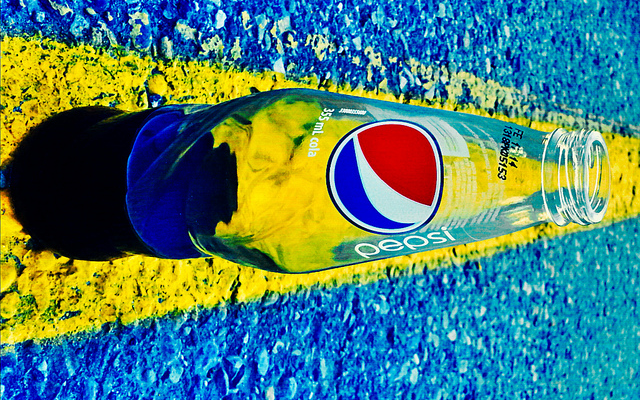 I have been watching PepsiCo (NYSE:PEP) for some time now. It has during that time, quietly and efficiently got on with its business of selling its impressive stable of snack and beverage products to consumers across the globe.
Generally speaking, however, I have not been moved to write on them for some time. Dr Pepper Snapple (NYSE:DPS) has, generally, attracted me more as a subject on which to write. Nonetheless, PepsiCo's recent H1 2016 results impressed me enough to make me do just that. Why? Well, what they revealed was a company managing to produce pretty compelling volume growth figures alongside increasingly impressive cash flow performance in what remains a very tough environment.
Let me explain what I mean a little more here.
Strong Top and Bottom Line Progress
If you did not travel much further beyond the reported results from PepsiCo, you may not have shared my enthusiasm. Reported results for the first half of the year were hardly glittering with both operating profit and revenue dipping around 3%: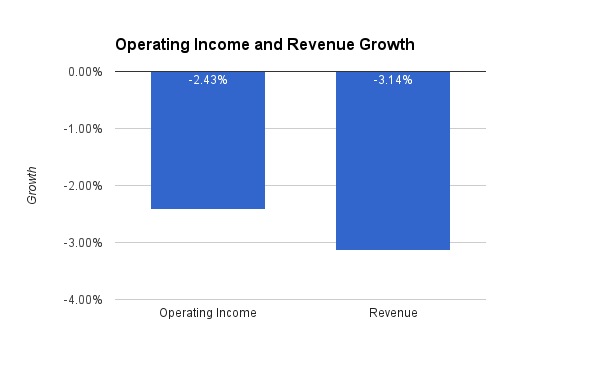 Organic results look far more impressive, however. With so much of its income and revenue coming from outside the US, the strength of the USD has hit the company pretty hard. As a result, stripping out the effects of currency as well as recent acquisitions and divestitures shows a much healthier top and bottom line performance: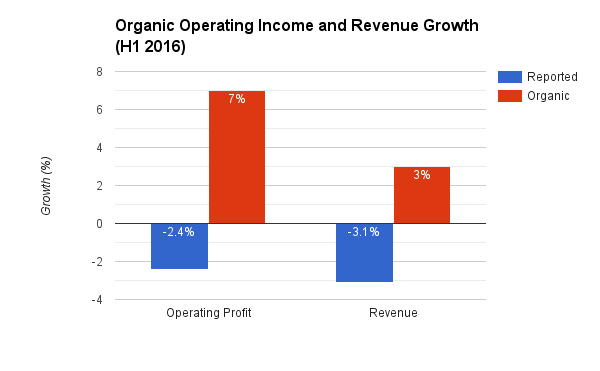 This is exactly what I'd like to be seeing right now. Currency headwinds look very unlikely to ease anytime soon. Yet, for me, the drivers of this underlying top and bottom growth is very important indeed. Happily it is apparent that PepsiCo is continuing to pull in higher volumes to achieve this.
North American Volume Growth Robust
Indeed, volumes wise PepsiCo as whole could claim a 2% lift in H1 2016 over H1 2015. Nor has their most important region-North America-disappointed in 2016 so far. North America remains their single largest region composing over 65% of revenue (the blue segments):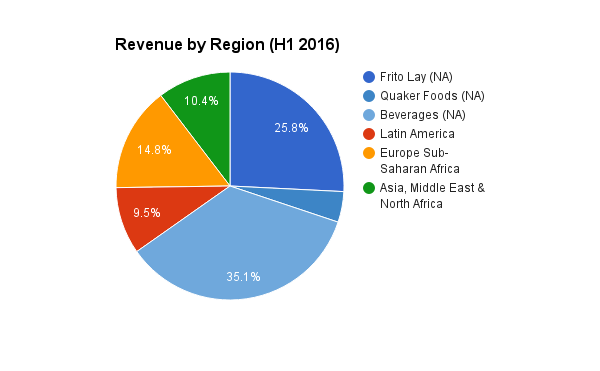 Consequently, performance results from this region are important to follow closely. Fortunately, snacks in particular saw some surprisingly strong volume growth of between 2% and 3%. Beverages, on the other hand, saw a modest 1% decline: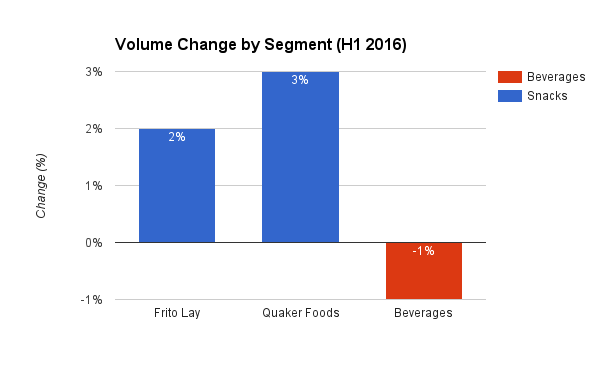 Pretty robust in themselves, perhaps. Yet what I found really encouraging was that these results saw improvements in snacks volume growth over 2015's results: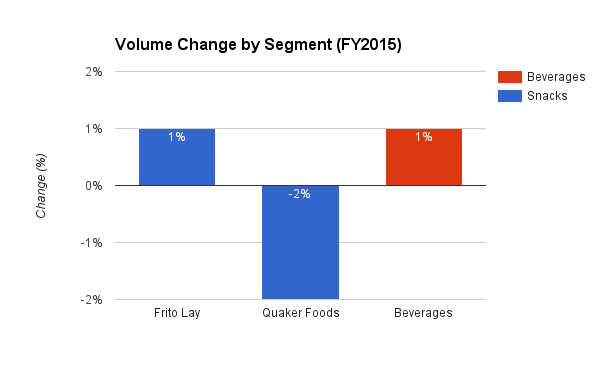 Clearly North American beverages did not fare quite so well in 2016, volumes wise. Switching from a 1% growth to 1% decline in the segment which represents over 35% of revenue is hardly welcomed. Yet assuming it does not worsen as the year progresses, it is hardly catastrophic and more than compensated for by the snacks division. So far, then, so good.
Global Performance Strengthening
More encouragingly, beverages performed far more strongly across other regions. Yet again, however, it was snacks continue to generally pull the company forward volume wise: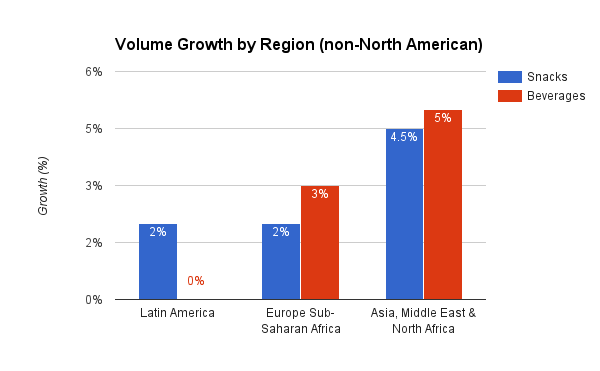 Again, these volume growth figures are impressive enough in isolation. Yet when compared to 2015's overall results, it shows that PepsiCo has managed to pull together a marked volume improvement so far in 2016 over 2015: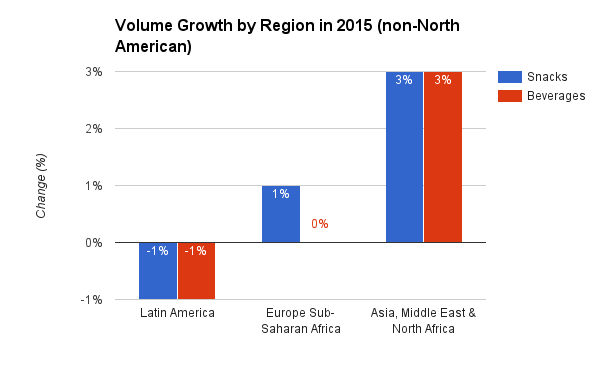 For me, this is extremely encouraging as increasingly major food and beverage companies have rested almost exclusively on price hikes rather than volume growth to fuel their top and bottom line growth. PepsiCo's volume figures suggest that 2016 will not see the same from them. When combined with even modest price increases, PepsiCo could expect to see a generous benefit to their profit and revenue figures come the end of the financial year.
Cash Flow Expands
Encouraging volumes figures were of great interest to me. Yet PepsiCo's H1 results offered much more to catch my eye. One of the most attractive traits of PepsiCo has always been its cash generation strength. At H1 2016 time, this appeal was certainly not diminished. Once again they managed to generate more FCF compared to 2015 despite seeing their CapEx grow fairly significantly over the same period: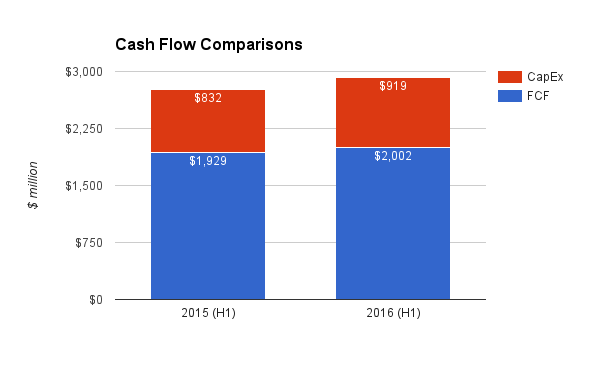 Despite debt and equity levels growing at the same time, PepsiCo's impressive cash flow growth also saw a healthy boost to their CROIC (cash return on invested capital) metric: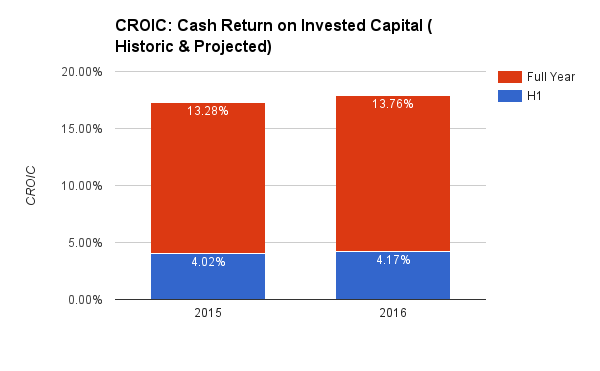 Assuming that current cash flow represents a similar proportion to 2015, we could expect to see a CROIC around the 18% mark. This would represent another year of impressive improvement since 2012: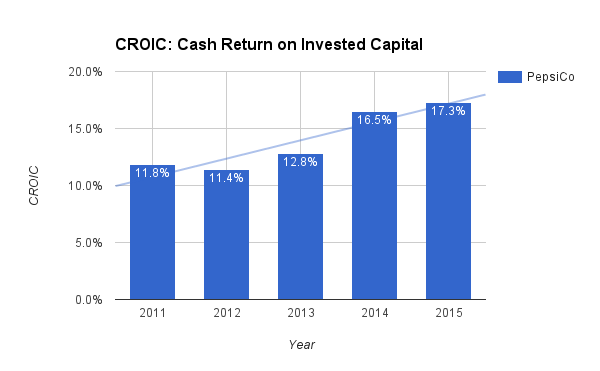 This suggests that for every $100 of capital invested (total debt and shareholders' equity), PepsiCo generates about $18 in FCF. For me, anything above 10% is a compelling cash generation efficiency which leaves PepsiCo looking extremely attractive. This is even more impressive in light of the fact that PepsiCo's already impressively-performing peers, Coca-Cola (NYSE:KO) and Dr Pepper Snapple, produced figures of just 11.5% and 14.6% last year. PepsiCo, it seems, continues to outperforms its peers in what is a strong sector as a whole.
Solid Income Play
PepsiCo continues to represent a compelling income play too. With cash flow looking set to grow yet again, the dividend seems set to remain very well covered as it has done over the last few years: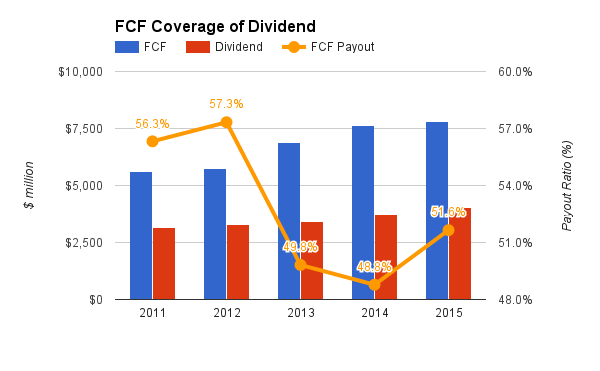 The suggested ~6% lift in the full year dividend in 2016 seems a pretty fair prediction in light of the likely FCF coverage at the end of the year. Despite the notable share price lift in recent months, however, PepsiCo still holds a fairly generous yield: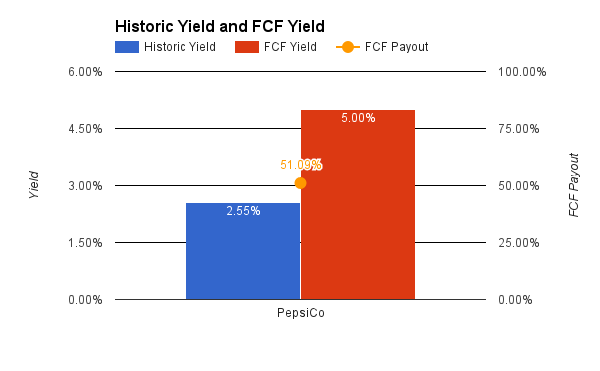 In a market where yield is hard to find and volatile, tough conditions undermining company performances are the norm all of this looks very attractive indeed.
Still Pretty Fairly Valued
Nor do I come to the conclusion that PepsiCo is particularly overvalued. Taking PepsiCo's recent 5-year average dividend yield, PE ratio valuation and EV/FCF valuation and then plugging in predicted dividend, PE and FCF figures (see how I predict FCF figures here) for 2016 suggests that it is still fairly valued up to about $110 per share: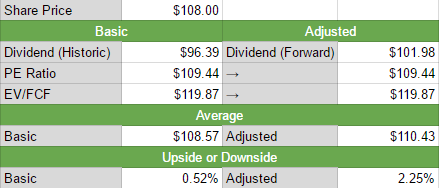 At $108 PepsiCo may not be a bargain. Yet for such a healthy consumer defensive company in an undoubtedly edgy global market, it has very strong appeals indeed.
Conclusion
PepsiCo's H1 results have impressed me a lot. Volumes growth appears to be improving almost across the board. Clearly weakness in their largest North American beverages segment is unwelcome, yet at present the fall is moderate and strength across the rest of their segments remains very healthy indeed.
If I was to pick a hole in their results it is their continuing piling up of debt: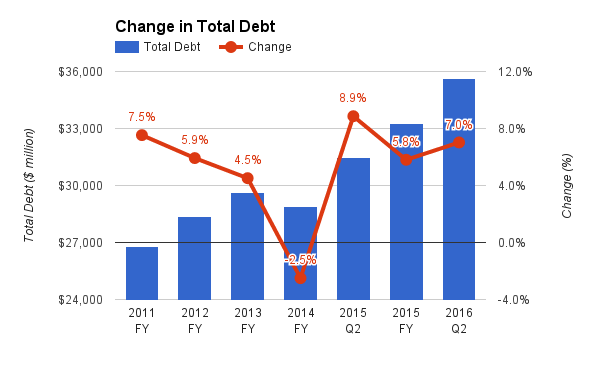 Debt may be cheap and cash flow may make debt levels like this relatively "safe", but the seemingly unstoppable leaps northward in debt is for me one of the few unappetizing aspects of PepsiCo's results in recent years which has continued into the first half of 2016. Ideally I would at least like to see debt growth stop if not reverse in the coming quarters with it shrinking over the next few years. My concern is that having consistently grown debt for such a prolonged period of time, I doubt this will occur anytime soon without interest rates growing.
Despite this, I remain increasingly impressed by PepsiCo's excellent performance in what remains a challenging market. Should they be able to continue to benefit from this momentum in the remaining quarters of the year, 2016 should emerge as a robust performance for them.
At $108 I would be sorely tempted to open a modest position in the company courtesy of its robust yield, strong fundamentals and defensive nature. Nonetheless, I would not look to build up a full position in this undoubtedly quality consumer goods company until the valuation edged down closer to the $100 mark. Nonetheless, with its strong volume and cash flow performance so far in 2016 it is hard to argue against almost any portfolio benefiting from a little exposure to this snack and beverage giant right now.
Notes
Unless otherwise stated, all graphs and the calculations contained within were produced by the author. Creative Commons image reproduced from Flickr user aakanayev.
Disclosure: I/we have no positions in any stocks mentioned, and no plans to initiate any positions within the next 72 hours.
I wrote this article myself, and it expresses my own opinions. I am not receiving compensation for it (other than from Seeking Alpha). I have no business relationship with any company whose stock is mentioned in this article.