There are always a multitude of reasons not to invest in a company when its securities have declined substantially in value. Frustrating and often futile, calling a bottom in a stock or sector is a fool's game unless you know precisely what variables are involved and what your investment time horizon is. Deep value is a vexing investment concept because the chart looks terrible, the stock is at 52 week lows, TV pundits verbally assault the sector on a daily basis, revenues are down massively, there is at least one major headwind facing the firm without a clear solution, and yet, deep value often provides the greatest cushion to investors because they are buying cash flows and assets at valuation levels far below their norm.
Today's example is no different. The comments will be full of reasons (as they should be) not to invest in Potash Corporation of Saskatchewan (NYSE:POT), Mosaic Co (NYSE:MOS), Agrium Inc (NYSE:AGU), Intrepid Potash (NYSE:IPI), and last but not least the focus of this article: CF Industrial Holdings (NYSE:CF). I consider that a good thing.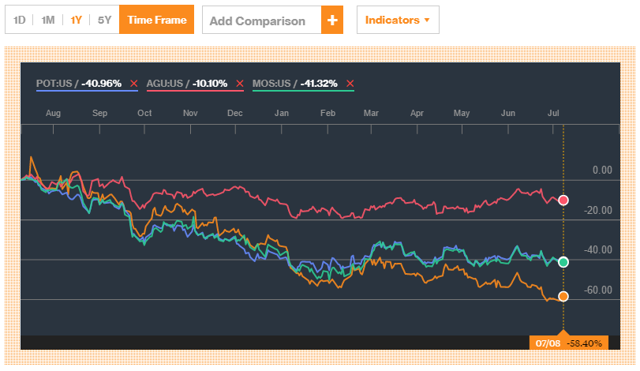 CF is the best stock among the group for my particular objectives despite being the hardest hit in the last year. The five year chart shows why the last 12 months have been so tough for equity investors.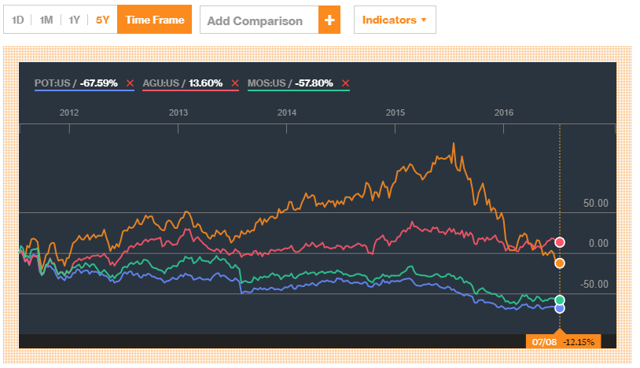 The stock had a huge run-up in mid 2015 rising from the low $30s in 2013 to over $66 per share this time last year.
Here are the key reasons the firm is appealing to me today:
Resilient free cash flow despite substantial headwinds.
Though the firm has significant leverage, it interest costs are low relative to EBITDA and manageable even if relevant commodity prices remain depressed.
Investment maintained to grow production capacities so the firm is strongly positioned when the cycle eventually turns. Many firms allocate all their resources to interest and distribution payments during tough environments instead of reinvesting in the business. Some even increase leverage just to pay distributions. We'll review an example of this later in the article. Capitulating to short-term investor demands at the expense of long-term profitability is not a recipe for success.
The stock recently hit 6 year lows, and despite a 6% gain due to an upgrade at BMO, it is still down >58% in the last 12 months.
The firm has increased its distribution from to 30 cents a quarter and now yields nearly 5%. Although distributions can be reduced by the board of directors at any time, the underlying free cash flow is strong enough to maintain the distribution and reinvestment requirements in the business.
M&A activity and or speculation within the sector.
Natural gas is a major cost input for CF and while it may rise in price toward $3-3.50/MCF, it will likely remain at levels considered favorable for several years to come.
Let's go through each of these variables.
Cash Flows and Leverage
Per Bank of Montreal (NYSE:BMO):
BMO says CF is the leading free cash flow generator among North American fertilizer makers despite a ~50% cut to estimates, with a $1.20 dividend; the firm estimates $1.93/share of free cash flow in 2017, implying an 8% FCF yield.
This results in an approximate dividend payout ratio to FCF of 62% with 38% remaining to invest into new chemical plants, expanding production capacity, improving distribution facilities, and optimizing facility operations. 40% or lower dividend payout ratios are ideal, particularly in industrial firms where reinvestment requirements are large and nearly constant, but at or near the bottom of the cycle this ratio is good.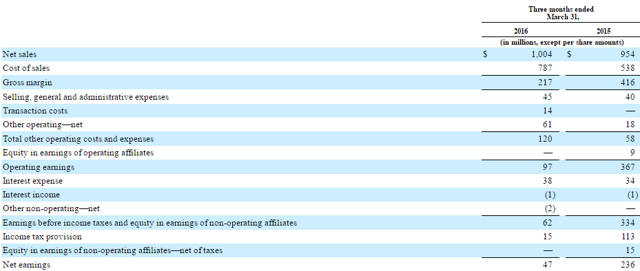 Source: SEC.gov
While revenues derived from the production and sale of nitrogen based fertilizers (ammonia, granular urea, urea ammonium nitrate, and ammonium nitrate) and phosphates were approximately flat year over year, costs were 50% higher in Q1 2016 than 2015. How does that compare to peer Potash Corp? The firm's core business differs from CF's since it mainly mines and sells potash, but its primary clients and markets are similar as is its exposure to the rise and fall of agricultural commodity prices which all tend to move together.

Source: SEC.gov
Potash was harder hit due to the downturn in pricing in terms of gross margin, decline in revenues, and profitability. We'll compare balance sheets later in the article.
Let's take a longer look back to see what cash flows were prior to the collapse in the cartel between Russian miner Urakali and the Belarusian Potash Company. Combined with the North American producers, these entities combined effectively control the entire potash market. This is not directly related to CF's core business but it did correlate tightly with the overall degradation of agricultural commodity and chemicals pricing globally. Most of the unique fertilizers CF makes don't have as consistent or transparent pricing as potash does but trend to follow it.

Source: ycharts.com
Per the World Bank, we can see that potash spot prices fall from above $450 per ton in 2012 to current levels in the mid-$250's. Based on very recent negotations and transaction data, we could see prices average in the $220's before a bottom is finally established. This time last year China was paying $315 a ton; Chinese buyers supposedly made deals in the low $200's in Q2 2016 before prices rose to current levels. How has the overall poor pricing for agricultural products, particularly potash, impacted revenues and profits?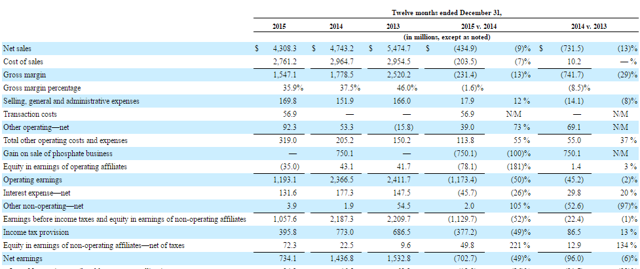 This chart within the firm's last 10-K shows net sales decreasing 10-15% annually since 2013. Costs on an annual basis held steady resulting in gross margins declining from $2.52 billion for the year 2013 to $1.55 billion in 2015 or 46% down to 35.9%. Earnings from 2014 to 2015 have to be evaluated in the context of the $750.1 million gain on the sale of its phosphate business in 2014. Net GAAP earnings fell just over 50% from 2013 and 2014 levels in 2015 but were still a positive $1.06 billion. Interest expense has fluctuated but remained between $131.6 and $177.3 million in the last several years. Compared to EBITDA and net earnings this interest cost quite manageable. The firm's Depreciation and Amortization for Q1 totaled $146 million for all operating segments; this was up from $115 from Q1 2015. Net earnings plus these non-cash expenses paints a fairly accurate picture of cash flows. Based on Q1 results, I expect another hit to revenue and margins in 2016 similar to full year 2015. This will leave the firm with gross margins in the low to mid 20% range and net earnings between $500 and $650 million. This is the "bear" case and results will be better if pricing and or volumes increase in the second half of this year. I believe these figures are more than priced into the current stock price.
Debt
The aforementioned $130-177 in annual interest costs result primarily from the firm's $5.6 billion in long-term debt (compared to current equity value of $5.8 billion) as detailed below.

Management has done a good job layering issuances over time. The first major bond maturity within this schedule is $800 million due in 2018. Another $1.8 billion in private and public debt is due between 2020 and 2023; after that only $750 million is due until 2027 and from there the maturity dates very spread out through 2044. The longest maturity has an effective interest rate of only 5.456%. This rate, which includes the market's perception of repayment risk, is very positive in terms of market sentiment and interest cost. The credit rating agencies are nervous in their guidance for the next 12-24 months with Fitch assigning the firm BBB- with a negative outlook. As long as a firm maintains investment grade, the credit agencies are otherwise fairly useless entities in my opinion as they are backward looking and or take too simplistic of a viewpoint. CF will very likely be able to roll over its debt at moderately favorable interest rates or better but it could also pay off most of its obligations in cash generated from operating activities if it had to assuming commodity prices do not fall spectacularly from here. The effective interest of its currently outstanding debt confirms this. Most firms with high sensitivity to agricultural or energy prices and demand would be envious of CF's position in this regard.
Let's use peer Potash Corp as a comparison.

Its total debt, which consists primarily of long-term debt, continues to rise and is now at approximately $4.2 billion versus an equity value of $15 billion (note: remember CF's is just under $6 billion). At BBB+, POT's 2036 bonds have a yield to maturity of 4% which is slightly better than CF's comparable bonds. These metrics are good for POT but a look at its income statement provides a more complete picture. Its Q1 2016 gross profit of $234 million is only 5% higher than CF's yet its interest cost of $52 million is 37% higher (POT's Net Income is slightly better but that moves significantly on a quarterly basis). Its current 6.5% distribution looks great on paper, but that is the equivalent of $1.0 per share (already reduced by 34% earlier in the 2016) against EPS estimates by firm management of only 60 to 80 cents per share. This is an interesting situation: CF could pay a distribution of 7.8% with free cash flow yet pays 4.9% while POT pays a distribution of 6.5% but can only pay a distribution of 4.6% with free cash flow. I like Potash Corp and used to own it, but which would you choose as an income investor? Now add in the risk of continued depressed commodity pricing and there is not much of a decision to make - you'd have to choose CF over POT and most of its other peers in terms of distribution durability. Potash's recent debt shelf filing is almost certainly going toward paying distributions.
From a simpler valuation perspective, the firm's trailing twelve month price-to-earnings ratio of 11 is significantly lower than all its peers except Mosaic's 9.9. I hesitate to put much credence into this metric as cash flow is a better indicator of a firm's performance.
Sector Instability
There are two items worth mentioning: M&A activity within the sector and potential reconciliation of the European cartel which may signal the stabilization of commodity prices globally. POT surged as much as 6.5% last week on rumors BHP Billiton (NYSE:BHP) may be reconsidering a takeover of the firm as it attempted in 2010. While I think it makes much more sense financially and strategically for BHP to acquire Potash Corp now than the last time it tried, I do not expect anything to come from the rumors. The Canadian government requires a net benefit to the entire nation, not just shareholders, before it'll approve a merger involving what it considers key firms. That being said, merger bulls do have a few valid points including the fact the regime has changed and that the regulatory structure makes it arguably more difficult to block such transactions. This article is not about Potash, however; it is about CF.
The underlying business and potential suitors may vary, but the macroeconomic and financial circumstances are not all that different. Anytime there is industry consolidation, which is common during depressed business conditions and borrowing difficulties, particularly in sectors where a few larger firms control most of the market, this provides an additional catalyst for the firm to move higher. As a practical example, I've hit an internal price target on firms that were never bought out simply because they moved 5-15% on what turned out to be an irrelevant buyout rumor. This can provide a favorable exit that would not occur otherwise.
Secondly, there is momentum building toward the old cartel coming to their senses and subsequently another agreement. Jailing their competitor's executive certainly strained relations, but potash prices do not reflect any real chance of the cartel reforming. If they do, I expect potash prices to quickly rise over $300 per ton globally. This will help firms directly involved in potash mining and sales more than CF but based on historical price action it should receive some benefit. As India and China's demand for both potash as well as other agricultural products such as those that CF sells stabilizes and becomes more predictable, combined with the re-establishment of the cartel to some degree, prices should stay above $350 per ton for potash and provide similar gains for other related products. Brazil's troubles have also caused their potash and agricultural chemicals production to falter which I expect to continue for the foreseeable future based on their political and economic issues.
Based on historical results, this puts free cash flow per share above $4 or a very healthy FCF yield exceeding 16%. Conservatively, this will push the common equity to $36 to $40 per share as long as interest rates stay low. Interest rates are important in terms of low refinancing costs and making the distribution rate competitive which leaves more cash flow to be directed toward business growth rather than to satisfy equity and debt holders.
Natural Gas
From CF's 10-K:
Natural gas is the largest and most volatile component of the manufacturing cost for nitrogen-based products. We manage the risk of changes in natural gas prices primarily through the use of derivative financial instruments covering periods through the end of 2018.
As of the end of 2015, the firm had open natural gas derivative contracts of 431.5 million MMBtus up from 58.7 million at the end of 2014. This equates to over 85% of contracts being initiated during 2015; the entire year had very low natural gas pricing which results in locking in the most critical and unpredictable cost input at highly favorable prices. Even if natural gas rises, much of the firms exposure will be locked in through 2018. This will be particularly beneficial in terms of competitiveness if markets improve and natural gas pricing recovers. Fertilizer stocks in general are among the biggest net beneficiaries of low U.S. natural gas prices; in fact this was designated as a major precursor to the capacity expansion of both fertilizer companies and other industrial companies, many of which are located along the oil and gas rich Gulf Coast, since 2012. As someone with large exposure to the energy sector, I like owning firms that benefit from lower prices.
Summary
CF's revenues are down substantially versus years prior while its costs not been able to decline materially. Significant uncertainty remains concerning commodity pricing as well as the key economies responsible for agricultural chemicals demand globally. The stock in the last 12 months is down much more than its peers. Its debt is worth nearly as much as its equity. The commodity space in general has been hammered and many firms have lost or are in the process of losing their investment grade credit rating and are effectively locked out of the credit markets. All of these are real risks investors should be aware of.
The key, however, is that these are priced into the current valuation in my opinion. This means that as each variable changes in our favor, there is a catalyst for the stock to move higher. This is the crux of deep value investing. In addition, investors are paid a sizeable 5% yield, which is comfortably covered by cash flow, while they wait for the these variables to improve. I estimate revenues will recover close to 2015 levels in the next 3 three years resulting in a 33-50% cumulative gain conservatively alongside the current 5% current yield on cost.
Disclosure: I am/we are long GST-A, VTR, HCP, HTA, DOC, VNRBP, MAIN, BXMT, BNS, LGCYO, CF, EPD, MMP, CF, EVEP, MEMP, TD, RY.
I wrote this article myself, and it expresses my own opinions. I am not receiving compensation for it (other than from Seeking Alpha). I have no business relationship with any company whose stock is mentioned in this article.
Additional disclosure: The author may enter into long or short positions in any part of the capital structure of any of the firms mentioned in this article. Readers should always conduct their own independent due diligence and not rely upon information or opinions provided by the author.