Perhaps I'm a little late with this article since July 4 has come and gone -- I had the flu last week, so I couldn't do much writing -- but what better way to celebrate U.S. independence than investing in a fund that "supports energy independence through reduced reliance on foreign sources"? Since they said it so much better than I can, I have taken this introduction of the Tortoise Energy Independence Fund (NYSE:NDP) from the company's latest fact sheet:
The Tortoise Energy Independence Fund is the first closed-end fund with a dedicated focus on North American crude oil and natural gas production, which supports energy independence through reduced reliance on foreign sources. NDP invests primarily in equity securities of upstream North American energy companies that engage in the exploration and production of crude oil, condensate, natural gas and natural gas liquids that generally have a significant presence in North American oil and gas fields, including shale reservoirs. While upstream investments may experience some price volatility, we believe that focusing on this portion of the value chain is the best way to access the heart of the North American oil and gas production growth opportunity.
(Source: NDP fact sheet)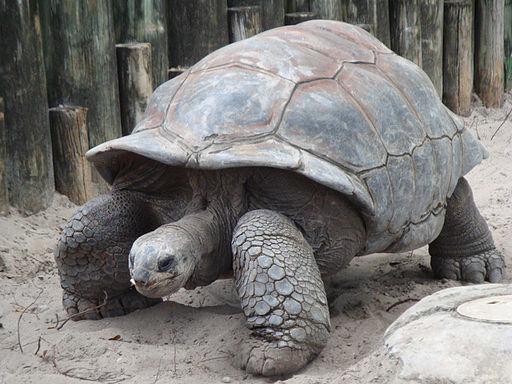 (Source: Wikipedia, "Giant Tortoise")
What seems funny to me is that I stumbled across this fund quite by accident. I am always looking for good investments in the high-yield income area, and I normally prefer monthly payers over quarterly payers. But I noticed that the payout dates of my other portfolio holdings which pay quarterly were concentrated in the months of March/April and June/July with comparatively little coming in during the months of May and August. Since NDP pays quarterly distributions at the end of the month in February, May, August, and November, I thought this would help to fill the gap. And after doing some more research, I decided that it was just too good an investment opportunity to pass up.
Tortoise CEF funds in comparison
It would be beyond the scope of this article to go into great detail about the other Tortoise closed-end funds -- Tortoise Energy Infrastructure Fund (NYSE:TYG), Tortoise Power and Energy Infrastructure Fund (NYSE:TPZ), Tortoise MLP Fund (NYSE:NTG), and Tortoise Pipeline & Energy Fund (NYSE:TTP) -- but I wanted to show why I thought NDP was my best pick among them. Depending on how you value the different fundamentals, i.e., investing focus of each fund, one or more of the other funds listed here -- all of which are concentrated in the energy sector -- might serve your needs better.

(Source: Tortoise CEF website; current as of July 7, 2016)
Obviously, NDP is showing the highest yield presently at 12%. However, TTP and TPZ have discounts of -13.3% and -13.6% respectively, whereas NDP and NTG have comparable discounts of -6.3% and -6.6%. TYG is selling at a slight premium. TYG and NTG are by far the largest funds when looking at the AUM ("assets under management"). TYG, which is also the oldest of the Tortoise funds and which has raised its distributions continuously each year since its inception in 2004, would have a yield of 9.43% if it were selling at a discount of -6.3% instead of a premium of +0.9%. It is also the only fund that has grown its NAV above its inception price. As far as history is concerned, both TTP and TPZ have cut their distributions by -9.4% and -9.1% respectively compared to the previous year; I am pretty certain that this is mostly responsible for the large current discounts to NAV. As mentioned above, TYG raised its distribution compared to the previous year by 1.6%; all the rest were unchanged.
Undoubtedly, TYG has the longest (and best) track record of all the funds. However, I don't like to buy any CEF funds at a premium, and it is hard to ignore NDP's 12% distribution.
One thing about NDP's distributions in 2015: All were characterized as return of capital ("ROC"), which would normally be a big red flag. However, that was not always the case; in previous years, there was only a moderate proportion of ROC in their distributions. Looking further into the prospectus and other filings, it became clear to me that this ROC was primarily due to the fact that the fund writes covered calls on a good number of their holdings, and the amount of option income collected during 2015 was almost the same as the total amount of distributions paid to stockholders.
This year, when they announced distributions for May, they said:
...The source of distributions for NDP is estimated to be approximately 80 to 90 percent ordinary income, with the remainder as return of capital...
Of course, as with all holdings, nothing is ever certain until you receive the Form 1099-DIV early the next year. But it does look like NDP is now earning money again to cover their distributions.
Energy is finally on the rebound
After the annus horribilis we had in 2015, it appears that the prices of crude oil, natural gas, and NG liquids have finally bottomed. The outlook, as expressed by futures prices, is positive over the mid- and long-term, whereas there will probably be patches of volatility in the sector through the rest of this year. One way of profiting from the upswing is to invest in a fund such as NDP -- although it is concentrated on the energy sector, it is highly diversified within that sector; the list of portfolio holdings reads like the "Who's Who" of the energy sector.
There is one particular website, the U.S. Energy Information Administration or EIA, which really has "Everything You Always Wanted to Know About Energy But Were Afraid to Ask" -- and if not "everything," I'm sure there is a link somewhere in that site to whatever might be missing. Perhaps the most important document giving an outlook on all kinds of energy for the next several years is the Annual Energy Outlook that's published each July. The current issue for 2016 will be out on July 21, but it is usually published as an early release. I shall incorporate a few tables from that (further below), which was published on May 17, 2016. In their estimates, two cases are presented -- one with and the other without CPP (the "Clean Power Plan"). And there is a caveat (quote is from the AEO early release):
Energy projections are subject to much uncertainty, as many of the events that shape energy markets, including future developments in technologies, resources, policies, and geopolitics, cannot be foreseen with certainty. Some key uncertainties in the AEO2016 projections are addressed through alternative cases, which will be published in the full AEO2016 release.
Also, EIA publishes short-term outlook data. Here is a quick look at some relevant price estimates for this year and next year: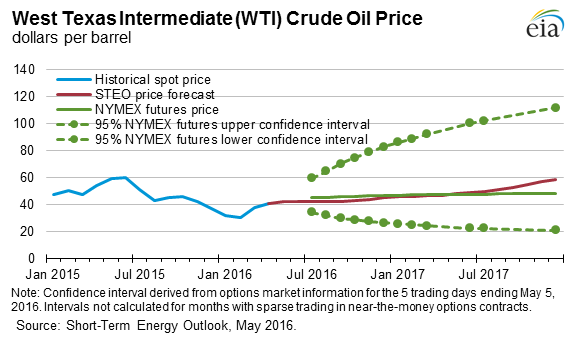 And here is a similar short-term outlook for natural gas prices: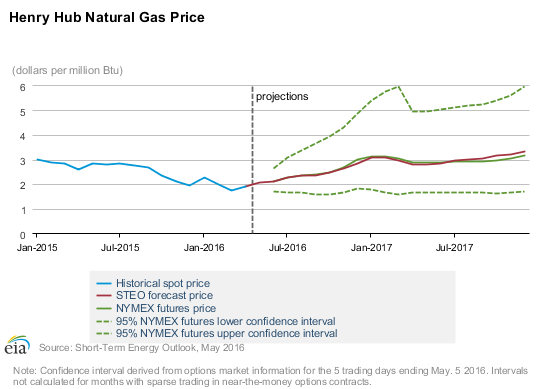 NDP's Portfolio
The top ten holdings as of June 30, 2016 were:
Name
Ticker
Market Value
(in Millions)
% of Investment Securities(1)
EOG Resources, Inc.
EOG
$30.3
10.3%
Pioneer Natural Resources Company
PXD
26.2
8.9%
EQT Corporation
EQT
21.4
7.3%
Anadarko Petroleum Corporation
APC
14.4
4.9%
Concho Resources Inc.
CXO
11.7
4.0%
Enbridge Energy Management, L.L.C.
EEQ
11.3
3.8%
Devon Energy Corporation
DVN
9.6
3.3%
Cimarex Energy Co.
XEC
9.2
3.1%
RSP Permian, Inc.
RSPP
9.1
3.1%
Newfield Exploration Company
NFX
9.1
3.1%
Total
$152.3
51.8%
(1) Percent of Investments and Cash Equivalents.
(Source: NDP news release)
The top ten holdings account for slightly over half of the total AUM ("Assets Under Management"); the top five of those account for a bit more than one-third of AUM. Approximately 75% of the holdings are common stock of O&G ("Oil and Gas") upstream producers; 20% pipelines of different sources (mostly MLPs); and 5% NG ("Natural Gas") processing/gathering (source: NDP 1st quarter 2016 filing).
According to the Tortoise prospectus for NDP, the maximum investment percentage allowed for any single asset is 10%. Obviously, since prices change every day, it is nearly impossible to avoid going slightly over or under that figure. But EOG Resources (NYSE:EOG) is at the maximum, which looks like a good thing to me. Not only is EOG "one of the largest independent (non-integrated) crude oil and natural gas companies in the United States" (source: EOG website), but they have a break-even cost of only $30 a barrel of oil. Read more about EOG in this excellent SA article by Brandon Dempster: "EOG Resources: Buy Now" as well as the abundant literature at the EOG Resources website.
The complete list of the approx. 50 holdings in NDP's portfolio is still only current as of 2/29/2016. In that list, Occidental Petroleum (NYSE:OXY) was the 4th largest investment. Tortoise publishes "Unaudited Balance Sheet Information" at the end of each month. On April 30th, Occidental was still in the list of top ten holdings as number 4; on May 31, it was gone. Obviously, they reduced their position in OXY, but we won't know by how much until the complete list is published for more details (probably in the next quarterly earnings report).
NDP's distribution is maintainable
Although NDP has only been around since July 26, 2012, it has maintained its distribution amount of $1.75 annually (0.4375 per quarter), even through the rough patch we have seen in late 2014 and throughout 2015 due to the lower price of oil. I foresee a possible raise in distributions perhaps sometime in 2017 if the scenario for O&G prices as estimated by the EIA plays out. Currently, yield is about 12%, and the market price is at a -6.3% to NAV.
NDP uses moderate leverage and an options strategy
This is perhaps unusual for closed-end funds, which normally use either leverage or options, but not both. Target leverage according to the prospectus is 10%-15%, and use of leverage up to 20% is permitted on a temporary basis. The current leverage of 21% is therefore on the high side for NDP and can be expected to be reduced in the near future as the oil and gas price environment improves. The use of the covered call strategy accounts for a variable amount of ROC ("return of capital") in the fund distributions. I find it interesting that the largest of NDP's underlying holdings (EOG, Pioneer, and EQT) also use similar hedging strategies as can be seen by referring to their respective quarterly and annual reports.
U.S. EIA forecasts support the energy independence thesis of NDP
Here it is shown that the USA is on track to becoming a net exporter of oil and gas: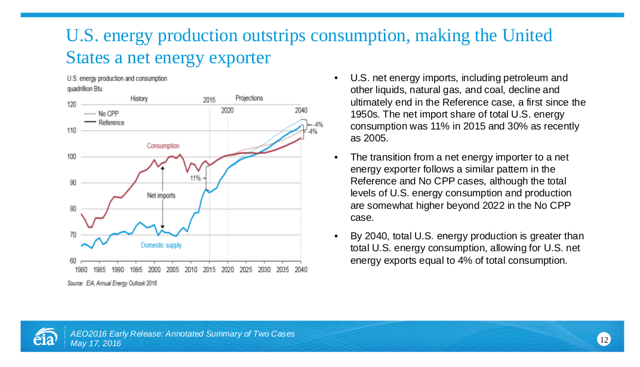 And the USA is set to become a net exporter of natural gas and NG liquids by as early as 2018: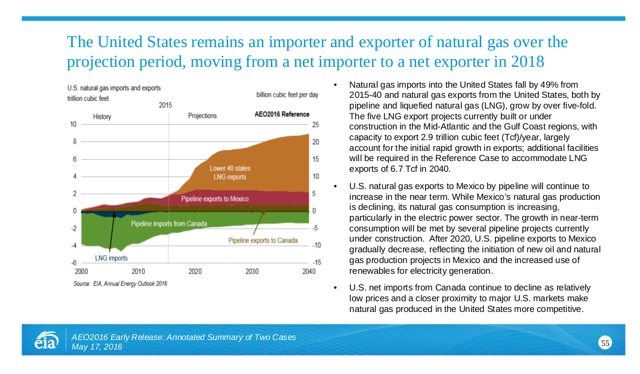 Summary
With the compelling fundamentals and current market discount and yield, I see NDP as a strong buy. NDP is lightly traded, so it seems best to start out with a small position and buy into any dips along the way. I definitely see this as a long-term "buy and hold" investment, although the expected volatility in oil prices this year might provide some trading opportunities for the bolder ones out there.
Disclosure: The author is long NDP since May 31, 2016.
Disclosure: I am/we are long NDP.
I wrote this article myself, and it expresses my own opinions. I am not receiving compensation for it (other than from Seeking Alpha). I have no business relationship with any company whose stock is mentioned in this article.