Biotechnology investors are well aware of the emerging class cancer treatment drugs known as immuno-oncology (I-O) therapeutics, which are increasingly regarded as the most promising cancer treatment method in development. Here, we will only say that while the goal of traditional chemotherapeutics is to preferentially kill cancer cells without harming the patient, I-O drugs disrupt the ability of cancer cells to evade protective immune system responses, enabling the body's own immune system to battle cancerous cells, which is a revolutionary advance in cancer treatment.
Successful cancer treatments are sometimes thought of as still far from reach, but the fact is, the effectiveness of emerging therapies is rapidly improving, and overall cancer mortality rates are falling, even in the face of rising incidence rates (see Figure 1 below).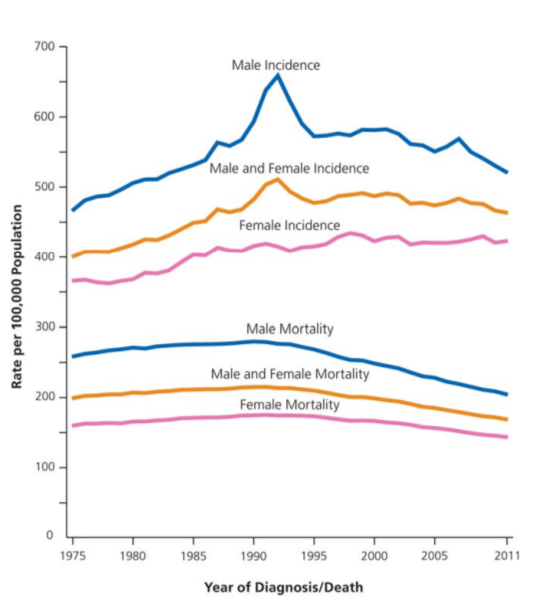 Figure 1. Cancer mortality and incidence rates in the US (Source: CA Cancer Journal for Clinicians)
I-O therapies themselves have shown astonishing results in small scale clinical studies focused on leukemia, for example, where complete remissions have been observed in 80-90% of patients. In what could end up being the most lucrative market in the pharmaceutical business, the competition is fierce, with numerous small companies along with big pharma racing to get these therapies to market.
Last week, Bristol-Myers Squibb (NYSE:BMY) signed a deal to acquire Sweden's Cormorant Pharmaceuticals for $520 million. Between 2011 and 2015, immuno-oncology acquisitions totaled $46 billion, according to Datamonitor Healthcare, so while the recent BMY acquisition is no blockbuster deal, it underscores how high the stakes are in the I-O market. Aggressive acquisition strategies by large pharma companies show just how lucrative the market for I-O drugs is expected to be. Such acquisitions can also generate huge returns for investors in some of the peripheral developers, but in many cases, holding shares of a small I-O focused company with promising technology can also be very risky. Juno Therapeutics (NASDAQ:JUNO), for example, was a darling for investors for some time, until last week's FDA-ordered halt on JUNO's Phase II clinical trial of JCAR015 in adult patients with relapsed or refractory B cell acute lymphoblastic leukemia sent shares plummeting over 30% Friday. Investors who want access to I-O growth potential without the volatility that comes with trying to pick winners might consider instruments like the Loncar Cancer Immunotherapy Index ETF (NASDAQ:CNCR), which holds shares from established pharmaceutical companies strongly pursuing I-O development, like BMY and Merck (NYSE:MRK) for example, but also allocates a significant portion of its assets to a managed list of smaller growth investments, like JUNO and Medivation (NASDAQ:MDVN).
So far, BMY has led the way in I-O development among its competitors, with 50 acquisitions between 2011 and 2015, along with laying claim to the top-selling I-O drug, Opdivo. The overall cancer treatment market is currently close to $100 billion, and we are expecting the market for I-O drugs alone to reach or exceed that number in the next several years. One major catalyst that we believe will drive near-term growth of the I-O market is the expansion of disease-state applications for drugs that are already available or are in late-stage development. Opdivo, for example, originally received FDA approval for melanoma treatment in 2014. In 2015, BMY got additional approval for use of Opdivo to treat lung and renal cancer with Opdivo, and earlier this year, they got the green light for Hodgkin's lymphoma. BMY is not alone in this regard. MRK, whose Keytruda is the second best selling I-O drug, also originally received approval for melanoma treatment, and is now seeking approval for use of Keytruda to treat breast cancer.
In 2015, BMY grossed $940 million in Opdivo sales. Based on Q1 results, that number is expected to triple in 2016, and we believe there is still significant upside potential. Consider this model - Opdivo is currently marketed at roughly $5000 per dose. Studies have shown that the mean treatment duration for a patient using Opdivo is about 6 months, with doses being administered every two weeks. That brings the total per patient to around $65,000. According to the American Cancer Society, there are approximately 80,000 new cases of melanoma per year. At current prices, treatment of half of those cases would generate annual revenue of close to $3 billion. Additionally, newer applications for treatment of lung and renal cancer, which see around 300,000 new cases per year in the US, could carry the total addressable market for Opdivo alone north of $20 billion.
Obviously there are a lot of other factors at play here: Opdivo may not prove as effective at combating other forms of cancer, there will likely be significant competition for market share, etc. So, with accelerating drug development, rapidly expanding disease-state applications, and dramatically improving effectiveness, just how big could the I-O market get? We examined some of the more established I-O drugs currently available, which are shown in Table 1 below.

Table 1. Model for sales revenue per case for four of the top selling I-O products available.
Given an average total treatment cost per patient of $70,000, and 1.5 million new cases per year (in the US alone), a 70% treatment rate would yield a TAM of $73.5 billion. For FY2015, the total sales for all of the companies listed in the Loncar Cancer Immunotherapy Index was just shy of $200 billion. In even the most conservative valuation regimes, this presents significant collective upside, and reaffirms our belief that the biotech sector is poised for significant gains in the future.
Disclosure: I/we have no positions in any stocks mentioned, and no plans to initiate any positions within the next 72 hours.
I wrote this article myself, and it expresses my own opinions. I am not receiving compensation for it (other than from Seeking Alpha). I have no business relationship with any company whose stock is mentioned in this article.