Canadian National Railway Co. (NYSE:CNI) is the largest railroad operator in Canada and a major operator in North America.
The Canadian National Railway was formed between 1918 and 1923, when the Government of Canada purchased or acquired several government and privately owned railways that had gone bankrupt.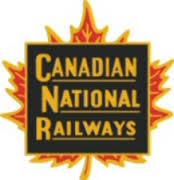 On December 20, 1918, the Canadian government created the name Canadian National Railway and adopted the slogan "The People's Railway." Notably, in 1818, Canada was not yet a country.
2015 was the 20th anniversary of CN's highly successful IPO. After many years of steady growth, the slowdown in the economy in 2015 forced the company to shift its focus and show how nimble it could be when shipping volumes declined.
CN is more than just a great railroad; it is a great company. It has been acknowledged for its achievements over the years in numerous areas representing meaningful measures of how it contributes to society. In 2015, it was recognized in the Globe and Mail's annual review of Corporate Governance in Canada, where CN ranked fifth overall and first in its industrial group. Its sustainability practices earned CN a place on the Dow Jones Sustainability World Index (DJSI) for the fourth consecutive year, and the company has been listed on the DJSI North America Index for seven years in a row.
The Montreal-based carrier is a true backbone of the economy, transporting more than $250 billion worth of goods annually for a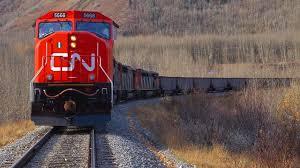 wide range of business sectors, ranging from resource products to manufactured products to consumer goods, across a network of 20,000 route miles of track spanning Canada and mid-America and connecting three coasts: the Atlantic, Pacific, and the Gulf of Mexico. CN's network access to three coasts and across the U.S. mid-west results in a highly diversified revenue mix.
CN serves the port cities of Vancouver and Prince Rupert, British Columbia, Montreal, Halifax, New Orleans, and Mobile, Alabama, as well as the metropolitan areas of Toronto, Edmonton, Winnipeg, Calgary, Chicago, Memphis, Detroit, Duluth, Minnesota/Superior, Wisconsin, and Jackson, Mississippi, with connections to all points in North America. CN's sole access to the Port of Prince Rupert is a competitive advantage - the railway connects with Vancouver and Prince Rupert in a long arc, providing opportunities for the company to move containers from Asia to the U.S. heartland.
CN's freight revenue spans seven different commodity groups, representing a diversified and balanced portfolio, with no individual commodity group accounting for more than 23% of revenues in 2015. From a geographic standpoint, 17% of revenues relate to U.S. domestic traffic, 33% trans-border traffic, 19% Canadian domestic traffic, and 31% overseas traffic. The railway is the originating carrier for approximately 85% of traffic moving along its network. Canadian National also operates one of the largest trucking services in Canada.
Since early 2015, it has been a challenging environment for North American railways, including Canadian National. Declining shipments, blamed in part on China, stemmed as well from a number of other forces, including weak industrial activity amid a sluggish North American economic environment and outlook, low commodity prices, declining demand for coal and steel, and the prolonged slump in oil prices that has made moving it by rail uneconomical.
One of CN's hallmarks has been its ability to accommodate growth with low incremental cost. With the economic slowdown in 2015 and the first drop in CN volumes in many years, the company faced a different kind of challenge, which it has reacted to effectively.
CN responded in part by reducing its workforce by 2,400, including 1,200 train operators. The cut represents about 10% of its workforce, which now stands at about 23,000. The company's natural annual attrition rate of close to 8% gives it the flexibility to reduce further, if necessary - hiring or not, depending on market conditions. It hopes to call back some of its laid-off conductors as attrition moves through the system.
Despite the challenges, CN's share price is up 7.84% over the past year, while most of its North American peers' share prices are flattish to down. Canadian Pacific Railway's (NYSE:CP) share price, for example, has dropped by 12.4%.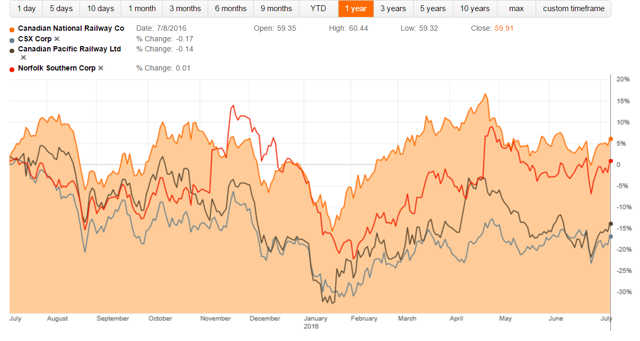 CN capped off the taxing 2015 fiscal year by growing diluted earnings per share 15% to C$941 million, or C$1.18 per share, in the fourth quarter. This compared with C$1.03 per share, or C$844 million, a year earlier.
However, CN's revenue in 2015 decreased 1% to C$3.17 billion as carloads declined by 8%, while revenue ton-miles declined 5%, largely as a result of a weakened Canadian economy. Analysts had expected per-share profit of $1.11 and revenue of $3.2 billion.
Analysts have slashed profit expectations for the major North American railroads, and debt rating agency Moody's Investors Service recently downgraded the sector's outlook to negative from stable, citing the declines in freight and the unprecedented and likely long-lasting drop in coal shipments.
To date in 2016, the number of rail carloads in the United States has fallen by 13%, amid economic weakness and a drop in demand for commodities, coal in particular.
However, CN is better positioned to avert the coal headwinds compared to rival Canadian Pacific and U.S. peers like Norfolk Southern (NYSE:NSC), CSX Corporation (NASDAQ:CSX), Union Pacific (NYSE:UNP), Genesee & Wyoming (NYSE:GWR), and Kansas City Southern (NYSE:KSU) because it derives proportionally less of its revenue from coal. Only 5% of CN's total revenues in 2015 came from coal transportation. In the same year, coal's contribution to the company's total carloads was less than 8%.
This is especially important given the bleak long-term outlook for coal. Not only is the outlook poor for metallurgical coal, which is used in making steel, as demand for steel from China, the world's largest consumer, continues to fall, but thermal coal is facing intractable secular headwinds that will eventually remove it from the global energy mix.
Moreover, in the recently completed second quarter of calendar year 2016, the number of intermodal cargo containers hauled by the major railways in North America declined by a larger-than-expected 7%, reflecting the worrisome condition of the North American economy - intermodal is an indicator of North American economic conditions.
The business of hauling containers - which generally carry imported consumer goods arriving by ship from Asia and are carried cross-continent by train to a truck for the final leg of the journey to a warehouse, store or factory - has until recently been a growth area for railways.
It appears that as consumer spending and retail sales slowed from the middle of 2015, inventories continued to rise and are now sitting just above the historical average.
The intermodal business contributed approximately 24% to CN's 2015 revenues. Of its total carloads in 2015, intermodal's share was 40.7%, which was a 37% increase from 2014.
The number of containers hauled by both major Canadian railways in Canada and the United States has fallen by 3% this year to date, compared with the same period in 2015. The drop for CN comes despite its industry-best access to container ports on B.C.'s coast as well as the U.S. East and Gulf coasts. However, 2015 was a strong year for the company's container division, making for a tough comparison this year.
Low fuel prices have also allowed trucks to compete more effectively for the business; however, recent increases in the cost of diesel fuel should benefit the railways in the months ahead. In addition, large crop sizes are expected in Canada and the United States this fall, which, coupled with higher commodity prices and higher Canadian grain rates, should offer some lift in the second half of the year.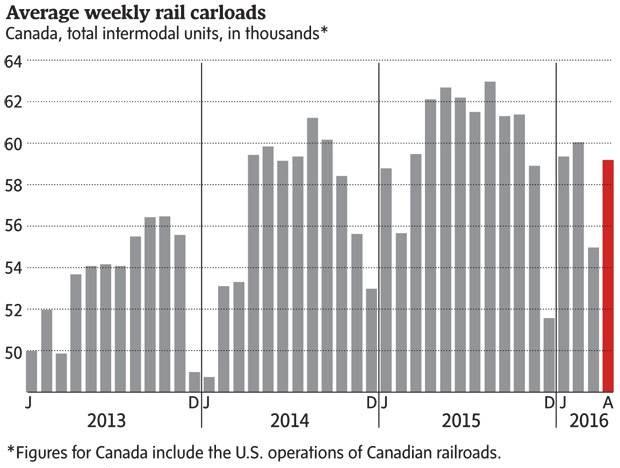 Source: American Association of Railroads
Investment Thesis
Notwithstanding the current economic uncertainty, an important advantage of investing in railways is the industry's exceptionally wide economic moat, in part because of the strict regulatory requirements, as well as the massive capital requirements to establish the necessary infrastructure, thus protecting the established railways from potential new competitive inroads.
These favorable long-term sector fundamentals, and CN's strong position within the sector, should continue to drive increased free cash flow for the company and grow shareholder returns over the long haul. The North American rail sector is essentially an oligopoly, possessing an industry-unique array of positive characteristics, including limited and rational competition, among the highest barriers to entry of any industry, and the favorable competitive/economic advantages of rail as a means of shipping, which will result in sustained demand. Moreover, the North American railway group, as a whole, are exceptionally well run. I believe these enduring attributes will continue to drive real rate increases, volume growth, and margin expansion for CN over the long term.
CN further leverages this relatively benign competitive environment with its own marked qualities, including its commitment to execution and service excellence, its sustained focus on service improvements, efficiency initiatives, and the implementation of smart technology.
The company is weathering the slump in freight traffic that has gripped the North American rail sector, aided by a lower Canadian dollar and a tight rein on costs. The railway generates more than half its revenue in U.S. dollars, while many of its expenses are in Canadian "dollarettes."
CN is intensely focused on retaining its position as the industry's efficiency leader, with its operating ratio falling to a record low of 58.2% in 2015 and an impressive 57.2% (where lower is better) in the final quarter of the year.
With a market cap of C$61 billion, stable capital expenditure requirements, and a clean balance sheet, including an industry-leading operating margin of 52.6% and a debt-to-equity ratio of 0.69, CN is well positioned to generate increasing free cash flow, which, in turn, will continue to drive positive shareholder returns.
CN merits the recognition it receives as a best-in-class railroad, given its industry-leading operating record, safety record, and commitment to delivering superior service. Its unswerving focus on balancing service and operating excellence generates a more robust revenue stream, wider margins, and stronger earnings and free cash flow growth.
I fully expect the company to continue with its disciplined execution of this strategy, which will support free cash flow growth and, in turn, lead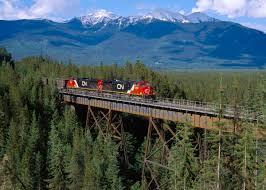 to increasing shareholder returns through long-term capital appreciation, meaningful share repurchases, and consistent dividend growth over the long haul.
Accordingly, I believe CN stock will ultimately benefit from a positive multiple rerating. This multiplicity of fundamental positive factors makes me confident that the stock will outperform over a long holding period.
Safety is of the utmost importance at CN. The company connects employees to this core value by fostering a strong safety culture across the network. Training is at the heart of that culture. CN's major investment in two training facilities in Winnipeg, MB, and Homewood, IL, is revitalizing the way it teaches and reinforcing strong safety behaviors.
Among other things, employees learn about the valuable role peer-to-peer communications, coaching, and mentoring all play in safe railroading.
In 2015, over 16,500 Mechanical, Engineering, Transportation, and Intermodal employees - a full 70% of the workforce - received focused training on what CN calls "Looking Out For Each Other," a mindset that encourages employees to embed safety in their daily practices to ensure everyone goes home safely at the end of the day.
High dividend yields don't necessarily equal high returns. It is better to screen for consistent dividend growth, because a company that consistently raises its dividend is nearly always a strong business. A steadily rising dividend provides investors with an income stream that can keep up with inflation.
A company's past record is usually a good indicator of the likelihood it will continue to increase its dividend in the future. In the case of CN, its enduring business model is indicative of sustainable competitive advantages, which leads to steady dividend growth.
CN pays a dividend four times per year, generally declaring its dividends in January, April, July, and October, and paying them in March, June, September, and December. The company typically increases its quarterly dividend once a year, in January, which it did again this year, despite the challenging environment.
CN's dividend increase in January was 20%. The railway now pays a quarterly dividend of C$0.375 per share, or C$1.50 annually, up from C$0.31 and C$1.24, respectively. Since going public in 1995, the company has declared 20 consecutive annual dividend increases, averaging 17% per year. In the past five years, its average annual dividend growth has been 18.2%. CN has a conservative dividend payout ratio of 21.76%, based on trailing 12 months' cash flow.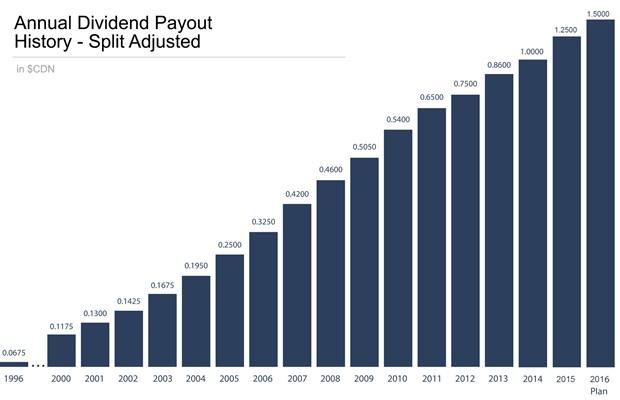 Source: CN website
CN is a member of the Dividend Channel International S.A.F.E. 10 list, signifying an international stock with above-average "Dividend Rank" statistics, including a current yield of 1.92%, as well as a strong track record of at least five years of dividend growth.
For the information of U.S. shareholders, CN is a "qualified foreign corporation" for U.S. federal income tax purposes, and its dividends are therefore eligible for "qualified dividend" treatment. For Canadian shareholders, the company's dividends are designated as "eligible dividends," as provided under the Canadian Income Tax Act and its provincial counterpart.
The Panama Canal expansion looks like a possible game changer for CN's strategy. In early July, the company began hauling trains loaded with containers that made the journey from Asia to Alabama's port in Mobile, with its new terminal built to handle the larger ships that can use the expanded canal.

Source: APM Terminals Mobile
The $5.2 billion expansion of the Panama Canal, which opened in late June, more than doubles the capacity of the water route that links the Pacific and Atlantic oceans and provides larger ships with a link between Asia and the U.S. East and Gulf coasts. Ships that carry as many as 13,000 containers can now travel through the canal, compared with the previous limit of about 5,000. As a result, East Coast ports are expected to increase their share of Asian container traffic by 10% by 2020.
CN has spent three years strengthening its connections with ports and intermodal terminal operators by signing supply chain agreements with the Port of Mobile, Alabama State Port Authority, and APM Terminals, as well as with the Port of New Orleans. These collaboration commitments are expected to drive container traffic through the Ports and across CN's network, further reinforcing the company's position as a key player on the U.S. Gulf Coast.
The agreements allow CN to offer customers a two-day service to the main hub of Chicago - more than twice as fast as the rail trip from the West Coast. Until now, its business in Mobile had been restricted to the dwindling business of coal and other goods.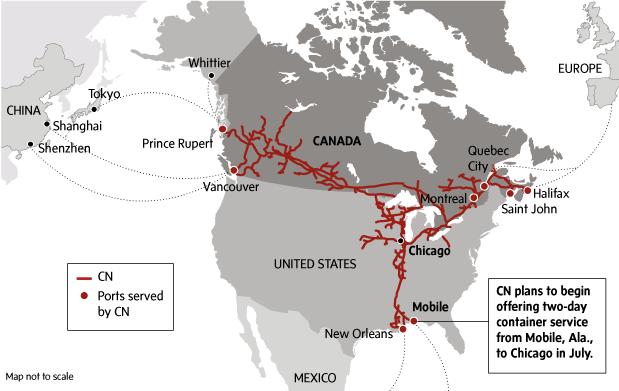 Source: CN website
CN operates North America's only transcontinental rail network, further reinforcing its economic moat. The railway owns tracks in the United States extending from the Great Lakes all the way down to the Gulf of Mexico.
APM Terminals, the Port of Mobile's container handler, has spent $40 million to service the larger ships and expand the container facility. The Alabama State Port Authority, which runs the Mobile port, has spent $50 million building a container transfer terminal that can be serviced by CN and four of its rivals, CSX Corp., Norfolk Southern Corp., Kansas City Southern, and BNSF Railway Corp.
CN delivered solid execution in its fiscal Q1 FY2016, despite the weak demand environment. The operator continues to improve expense efficiency as it manages through a weak economic environment. It should continue to benefit from its diversified book of business, with relatively low bulk exposure and high consumer-related exposure.
The company's Q1 FY2016 operating earnings per share reached C$1.00, an increase of 16% year over year, and well above analysts' consensus of C$0.93. Again, cost efficiency was impressive and was the main positive variance relative to analysts' estimates.
CN's Q1 operating ratio was 58.9% - almost 500 basis points ahead of analysts' expectations and a 675 basis points jump year over year. This compares with the industry median of 63.4%. CN's Canadian peer, Calgary-based Canadian Pacific Railway Ltd., meanwhile, has an operating ratio of 59.8%, which is a vast improvement over the past four years.
Accounting for 69% of U.S. freight rail mileage and 90% of employees, there are seven Class I railroads in North America: BNSF Railway, CN, Canadian Pacific, CSX Transportation, Kansas City Southern, Norfolk Southern, and Union Pacific. The two Canadian Class I railroads lead their North American peers in terms of operating ratio performance.
CN's stronger-than-expected operating ratio in Q1 reflects the resiliency of the company's operating model. Despite continued pressure on the top line, operating expenses were down by 14% to C$1.7 billion, which was a solid 15% below analysts' estimates. CN's operating ratio of 58.9% was a record for the company's first quarter and far better than analysts' consensus expectations of 63.6%. Although a milder winter helped, the company's ongoing focus on productivity enhancements was the key factor in the impressive operating ratio.
Expense efficiencies also benefited from superior asset productivity and utilization, with yard productivity, train productivity, and locomotive utilization all better by mid- to high-single digits. Despite the increased utilization of assets, CN also delivered impressive year-over-year improvements in track-level service metrics, with terminal dwell better by 15% and train velocity up by 10% versus the prior year.
Labor productivity also improved. Labor and fringe benefits were reduced by 12% year over year to C$590 million, versus analysts' consensus estimates of C$647 million. Headcount was reduced by 10% year over year. Management scaled back overtime hours, and pension expense was also lower. Fuel productivity improved by 5% in Q1 versus the prior year's Q1.
Despite the meaningful Q1 beat, the company reduced its guidance for 2016 EPS growth to flat, versus previous guidance of a mid-single digit increase. The two reasons cited for the lowered guidance were macro in nature, not company-specific: namely, the continued weakness in demand due to economic conditions and the strengthening Canadian dollar. It is important to note that CN's volume guidance was in line with or better than that provided by industry peers.
Management's comments on volume during the Q1 conference call largely reflected an offset between more positive consumer-related volume trends versus continued weakness in bulk, energy, and metals. Based on management comments and the revised guidance during the call, the sharpest declines in volume are likely to occur in CN's current fiscal second quarter, followed by a gradual recovery through the second half of the fiscal year.
Company management officially lowered guidance, whereas its peers took a wait-and-see approach. As a result, there should not be a sustained divergence in share price performance for CN relative to peers because of the company's guidance change. Because the railway has already cut its profit outlook and hinted at a reduction in capital spending, I don't anticipate any further surprises from CN, as its freight declines are in sync with analysts' expectations.
As of July 7, CN's shares on the TSX, where it trades with approximately twice the average volume versus the NYSE, have increased by 5.35% over the last 12 months, which is above its peer median of -9.2%, reflecting its leading operating performance. The total return to shareholders over the same 12-month period, including share appreciation and dividends received, is 9.74%.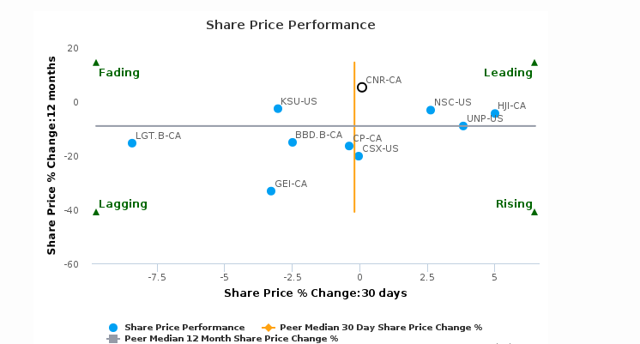 Source: Capital Cube
Luc Jobin became president and CEO of CN on July 1st, succeeding Claude Mongeau, who stepped down from his role leading CN, after 22 years with the company, for health-related reasons. Mr. Jobin joined the company as CFO in June 2009, with responsibility for financial management, strategic planning, information technology, and corporate development.
The newly minted CEO has already indicated the freight carrier may cut 2017 spending on locomotives and other equipment by as much as C$400 million as it faces a drop in carloads. The company is continuing to invest in fail-safe train controls mandated by regulators, including C$400 million in 2016. These and other technology investments should help it improve safety, productivity, and service.
Another bright spot for CN is that grain crop output in Canada and the United States is expected to be higher this year, and U.S. farmers are expected to release much of their stored grain in response to rising prices.
The company has been consistently more profitable than its Canadian peer, Canadian Pacific Railway, or even Union Pacific, North America's largest railway. Over the last 10 years, Canadian National has reported an impressive average annual return on equity of 21%, significantly higher than Canadian Pacific's 16% and Union Pacific's 17%.
CN's disciplined spending, its share buyback program worth C$2 billion, and a dividend that has risen by an average of 17% per year since its IPO are strong signals the company is mindful of returning capital to shareholders.
CN shares closed Friday at C$78.11 on the TSX, which equates to a P/E multiple of 17.11. Applying a 17.5 P/E multiple to the analysts' consensus 2017 EPS estimate results in a price target of C$89.00 for CN. This multiple is in line with the company's historical average, but slightly above the 16.7 average multiple of its five closest peers, as CN is widely considered to be a best-in-class operation with a network advantage and superior service, which together warrant a premium valuation.
In line with its customary operating precision, CN announced on July 5th that it will issue its second-quarter 2016 financial results at 4:01 p.m. Eastern Daylight Time (EDT) on July 25, 2016.
Potential Risks
While there is no such thing as a risk-free investment, as I stated previously, an important advantage of investing in railways is the industry's exceptionally wide economic moat because of both the strict regulatory requirements and the massive capital requirements to establish the necessary infrastructure, thus protecting the established railways from potential new competitive inroads.
Notwithstanding the relative safety of CN as an equities investment, potential risks include possible re-regulation resulting from the ongoing review of the Canada Transportation Act, further impairment of crude-by-rail economics due to persistent oil price weakness (although crude-by-rail is now a relatively minor proportion of CN's business in the current environment), network disruption or lower crop yields as a result of severe weather events, reduced cross-border freight activity due to unfavorable currency fluctuations, and lower industrial production and consumer demand because of economic volatility throughout North America.
The focus of my articles for Seeking Alpha is on attractively valued, large- to mega-cap dividend growth stocks with sound business models, strong management teams, and wide economic moats - "Forever Stocks." I strive to provide an in-depth analysis of the companies I research. I wrote this article from the perspective of a long-term investor who follows a straightforward, four-part strategy:
Identify a company with strong competitive advantages.
Satisfy myself its competitive advantages are enduring.
Invest in this company when it is trading at a fair price.
Hold the stock forever, unless there is a significant change to the fundamentals associated with the company. Canadian National Railway fits this mold, and I will continue to hold my full position in the company.
If you found this article helpful, please "Follow" me on Seeking Alpha to receive notification whenever I publish a new article.
You may also be interested in recent articles I have written for Seeking Alpha that focus on stocks aligned with the investment approach I summarized above.
Disclosure: I am/we are long CNI.
I wrote this article myself, and it expresses my own opinions. I am not receiving compensation for it (other than from Seeking Alpha). I have no business relationship with any company whose stock is mentioned in this article.
Editor's Note: This article covers one or more stocks trading at less than $1 per share and/or with less than a $100 million market cap. Please be aware of the risks associated with these stocks.