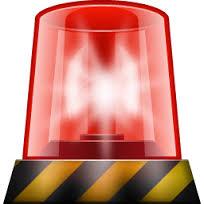 Safety Stocks Are Becoming Inherently Unsafe
We continue to pound on the fact that the thirst for yield and the notion that dividend rates on the S&P 500 (NYSEARCA:SPY) now exceeds the 30-year treasury bond, is opening up investors to excessive risks. The Wall Street Journal has been focused on the topic as well these last few days. In a recent article titled, "Desperate for Yield? Utility Stocks Are More Dangerous Than They Look," the author discusses how these stocks are sought after due to the low interest rate environment.
The sector, along with telecoms, is on fire, up 22% YTD. All due to investor piling in to get the roughly 3.3% dividend yield which when compared to the 10-year treasury, has one of the largest spreads ever. But how long can this last?
As the Journal notes:
Low rates also have boosted utilities' profits. That is because regulators allow utilities to make a specific return on their investments. Utilities borrow a lot, so rates matter. But regulators have lagged behind the reality. So rates are being set as if utilities were borrowing at higher rates than they really are. The difference is profit.

The second benefit for the industry has been lower energy prices. Energy accounts for roughly two-thirds of consumers' electric bills, and utilities just pass along those costs. But when utility bills are low overall, regulators are more likely to be generous when they negotiate rate increases, according to Morningstar utilities analyst Travis Miller.

Finally, there is the benefit of having more-valuable shares, which makes it cheaper to raise capital. "Your cost of equity has gone down and your cost of debt has gone down," Mr. Miller said.
But as the author notes in the article, people who buy stocks for the yield are forgetting that equities are susceptible to declines. From December 1, 2007 through January 31, 2009, the SPDR Utilities Select Sector Fund (NYSEARCA:XLU) fell nearly 40%, even as interest rates collapsed. In mid-2015, the ETF fell over 10% in just over 2 weeks, wiping our three years of yield. The XLU has garnered approximately $1.7 billion in new assets out of the $9 billion currently in the fund.
The sky-high valuation is also apparent in the consumer staples sector as well with current forward P/Es above 23x. No-growth dividend-paying defensive names seemingly hit new highs every day. As money flows into these safe names, and the values are bid higher, their "safety" becomes untenable.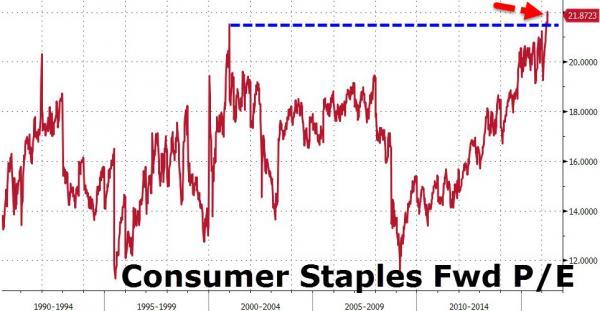 Tobacco stocks and other sin companies are some of the ultimate "safety stocks." They have been on a tear with stocks like Altria (NYSE:MO) and Reynolds American (NYSE:RAI) up 63% and 70.3%, respectively over the last two years while the S&P 500 is up just 8%. Reynolds has not grown free cash flow in the last ten years but people are bidding up the shares due to the perceived safety. Underlying fundamentals have improved but mostly due to M&A activity and margin improvement, rather than increased sales. The long-term viability of a cigarette manufacturer is questionable at best.
The market is valuing these companies as bonds, not as stocks, so the money flow and the performance of these segments are completely understandable. The perceived relationship is simple: as interest rates decline, the "value" if the yield goes up. Our contention is that these are NOT bond surrogates and have significant risks derived from variables outside of interest rates.
Payouts Have Reached A Ceiling With Corporate Margins Falling
The current dividend paying environment is really a product of the financial recession. With yields low and corporate profit margins on the rise due to cost-cutting and productivity enhancements, leading to strong EPS growth, corporations paid out cash flow to shareholders instead of reinvesting in the business. But that environment is now over with corporate cash flow growth slowing, and likely to be negative over the next two years.
We think increases in dividend payouts are also set to slow as many corporations have exhausted payout ratios- in other words, are paying out more than they earn. Today, 42 companies in the S&P 500 are now paying out more than they earned in reported net income. The reason: investors are craving them. Last year, the dividend yield of the S&P 500 was the only return they received on stocks as the total return was 1.38% and the dividend yield at 2.1% meaning actual prices fell 0.7%.
One thing investors need to be aware of is the payout ratios of the index. In the first quarter of 2016, dividend per share declined for the second straight quarter, the first time it fell in the last 2 years and fell two quarters in a row since the financial crisis. In the last twelve months, companies have paid out roughly 65% of their earnings as dividends. But when you add in share repurchases, the figure rises to 128% of reported earnings, the highest level ever outside of the financial crisis when earnings collapsed and companies were slow to cut their payouts.
With little-to-no earnings growth, second quarter earnings are expected to rise 2.7% versus the 1.1% actual growth in the first quarter, and payouts already sky-high, dividend growth from here is likely to be extremely below the recent historical trends. If earnings do not grow materially faster, then dividends cannot grow at faster clip. The historical 6.9% dividend growth rate of the last seven years is unsustainable in the current environment.
One of the variables that is no longer available for corporations are expanding profit margins. Coming out of the recession, the resulting rebound, efficiency measures, and lack of reinvestment into the company allowed for significant expansion in margins. The long-term average net profit margin is approximately 6.3% going back to 1960. That figure hit 9.7% in late 2014 and has since declined to just 8%. That 170 bps decline is fairly large and typically an indication of a recession.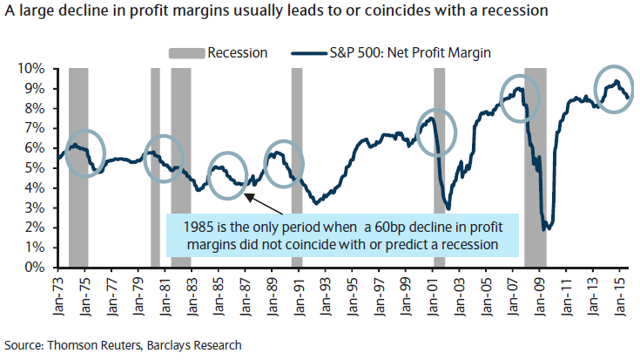 Corporate profit margins are one the most predictable mean-reverting data points (Jeremy Grantham calls it the most mean-reverting series in finance). Warren Buffett has made similar comments stating that corporate profits as a percentage of GDP cannot stay above 6% for a sustained period of time. Eventually, the forces of capitalism take hold and competition forces that rate down.
Some analysts state that "this time is different" and that the current environment can likely sustain higher corporate profit margins. However, if the average does mean-revert, it would mean a significantly lower S&P 500 EPS, and thus, difficult to justify the current valuation of the equity markets. This may be already occurring as sell-side firms take down EPS estimates and forecast lower margins (JP Morgan forecasts another 60 bps margin decline yoy in Q2).
With corporate net earnings growth stalling out- and even declining amid the "earnings recession," the dividend growth we witnessed over the last several years is likely over. But we think investors are counting on similar growth to occur (average dividend increase of S&P 500 companies was over 15% since 2010 ex-financials). In 2015, it was up approximately 13% and is so far up roughly 9% this year. Corporate boards are typically slow in responding their dividend policies to the current environment.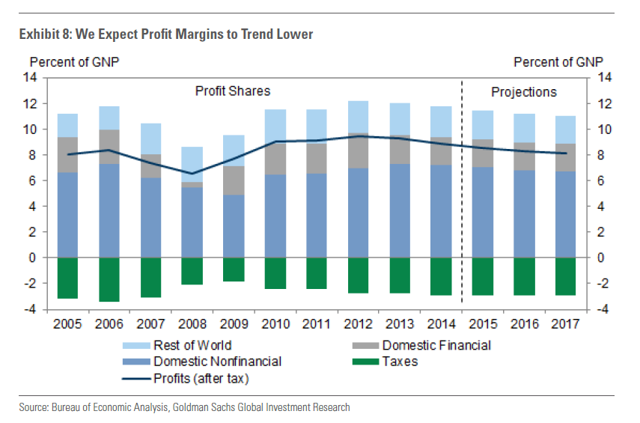 As the labor market continues to tighten, wage growth should start to pick up. This is already showing early signs with a 2.6% increase in hourly earnings in the most recent jobs report. Meanwhile, productivity has stalled out meaning more labor is likely going to be needed to produce an increase of goods, rather than a more productive existing workforce. As labor costs rise, profit margins should face headwinds.
Chart below courtesy of Doug Short: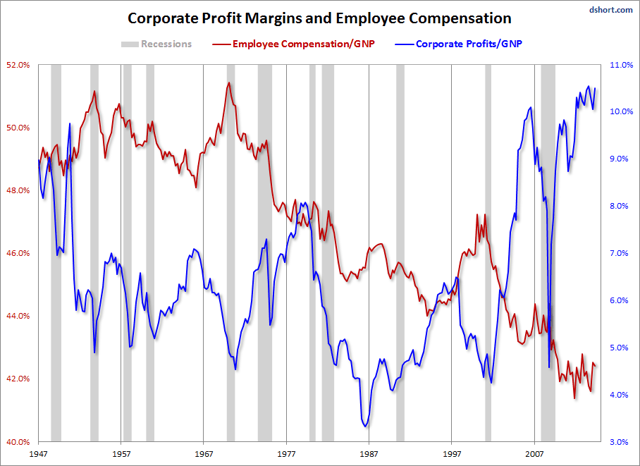 However, if interest rates remain in ultra-low territory, the draw of dividend-paying stocks will remain. Investors will continue to pile into these stocks which many believe are bond-surrogates; securities that comprise the characteristics of a bond but are in fact equities. However, even these supposed safe stocks have standard deviations that far exceed what is realized in the bond market.
Perception Is NOT Reality
We continue to press that these safe stocks are not as safe as they appear. Clorox (NYSE:CLX), a name we mentioned in our "Ideas In Taxable Closed-End Fund" piece last week, has reached extreme levels of overvaluation. We noted that the PEG ratio had reached 4x, when earnings and sales growth are flat or negative over the last few years.
But during the financial crisis, Clorox stock fell over 26% from peak-to-trough from late 2007 until early 2009. In fact, most of the top holdings of the XLU and XLP (SPDR Consumer Staples ETF) fell between 25% and 40% from late 2007 through early 2009. We fail to see how these stocks are "safe" if they are going to fall by 30% or more during times of duress.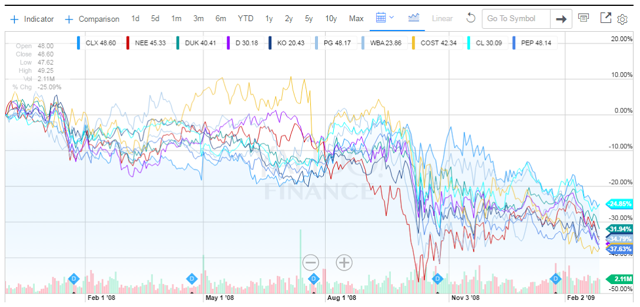 (Source: Yahoo Finance)
Meanwhile, the iShares iBoxx Investment Grade Corporate Bond ETF (NYSEARCA:LQD), which returns a distribution yield of 3.2% (30 day SEC yield of 2.95% and ttm yield of 3.22%) is out there as an alternative. The effective duration of the ETF is 8.6 years and most importantly, the fund has a standard deviation of just 4.9% over the last three years. The equity beta is just 0.19.
If investors want to generate a 3%-4% yield, why not invest in a safer way? This ETF over the same time period as those above, was down just 11% (dec 1, 2007 through Jan 31, 2009). Most of those individual equities mentioned above, along with most in the XLU and XLP, have a yield between 2.5% and 4%. LQD has a similar yield just above 3% but substantially less risk.
The annualized volatility of LQD since mid-2007 is just 9%, a period that includes significant volatility and an entire business cycle. The max drawdown was 21.5% with a total return of 74%, roughly the same as the SPY (max drawdown of 55% and vol of 21.5%). During that same period, the XLU and XLP had much larger max drawdowns of 46.5% and 32.4% with volatility of 19% and 14.4%, respectively.
For dividend growth investors, we included the Vanguard Dividend Growth ETF (NYSEARCA:VIG) in our table below. Annualized volatility over the last nine years is only slightly lower than the market as a whole. However, we believe that under a period of financial stress, that number is likely to rise given the much higher valuations of the underlying holdings.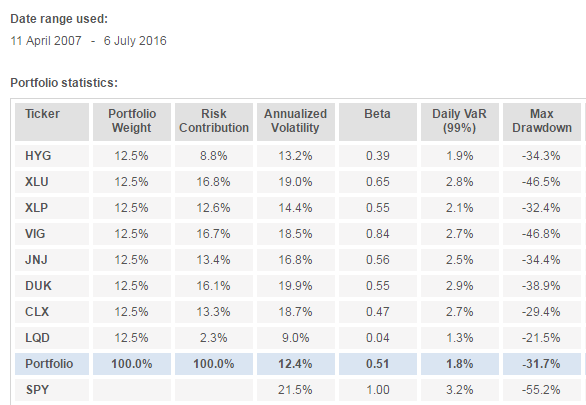 (Source: InvestSpy)
Conclusion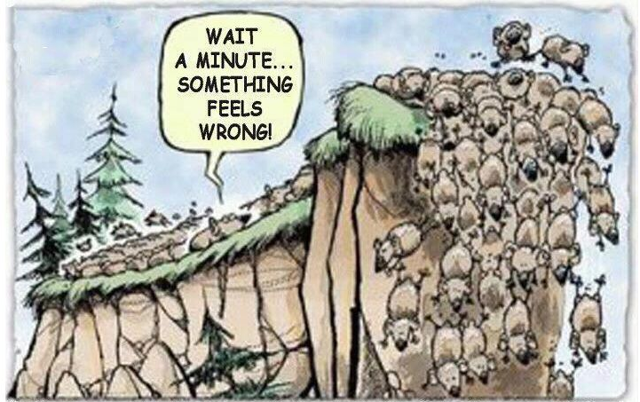 Many investors are like lemmings and head towards the shiny object. It's natural human emotion as they (the investor) do not want to be the only one missing out on making money. Performance chasing is a well-documented phenomenon and is very apparent today in the safety stock trade. However, we think yield-seekers continue to ignore the risks of the equity markets all in a search for 3% dividends and recent strong performance.
We believe yield-seekers should diversify their income-producing allocations and include fixed-income into their portfolios. We prefer closed-end funds as the asset category to do so given the strong advantages of the security type for this kind of environment.
Disclosure: I/we have no positions in any stocks mentioned, and no plans to initiate any positions within the next 72 hours.
I wrote this article myself, and it expresses my own opinions. I am not receiving compensation for it (other than from Seeking Alpha). I have no business relationship with any company whose stock is mentioned in this article.