A secular tale
The UN estimates that the global population will grow to 9.7 billion by 2050, from 2.5 billion in 1950 and 6.1 billion in 2000.
If consumption per capita remained the same, this would result in a 40% increase in protein demand until 2050. But as we know, the standards of living are improving, especially in emerging markets and that is why the UN estimates protein demand will double by 2050.
Here it is important to note that although 70% of the Earth's surface is covered by water, only 6.5% of the protein sources for human consumption is produced in this element.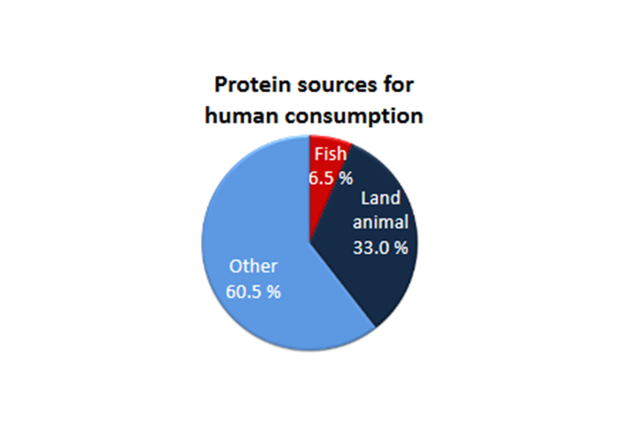 Source: Salmon Farming Industry Handbook
Looking at the supply side, there has been a considerable increase in total and per capita fish supply since 2000, mostly due to aquaculture which is the fastest growing animal-based food producing sector. In fact, ongoing technology improvements enabled the industry expansion both in volume and across species. China alone produces 62% of global aquaculture and Asia as a whole accounts for 88%. The World Bank estimates that by 2030, 62% of fish for human consumption will come from this industry.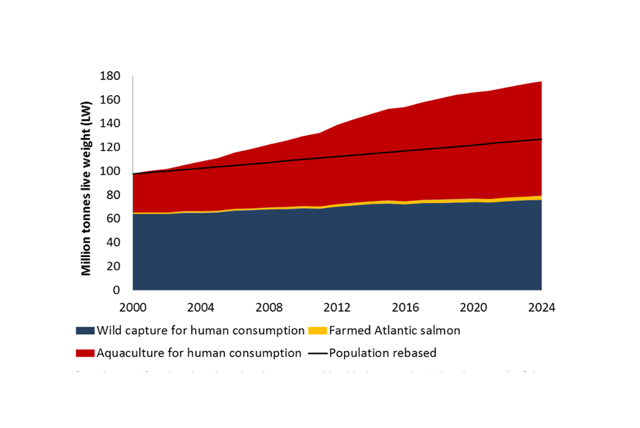 Source: Salmon Farming Industry Handbook
For the period 2010-2030, population is expected to grow 20% whereas fish production is expected to grow 24%: that's equivalent to a 23 million tonnes increase in seafood supply.
Salmon Industry
Salmon is a healthy food with high content of protein, Omega 3 fatty acids, minerals (iodine & selenium) and vitamins D and B12. Even though it is still a rather expensive product in the supermarket, salmon prices have become relatively cheaper over the past 40 years: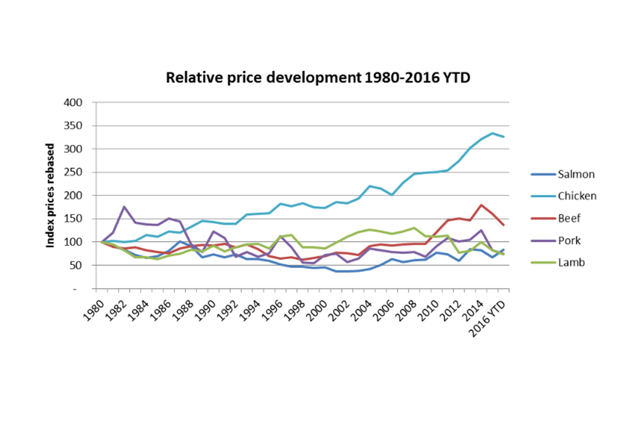 Source: Salmon Farming Industry Handbook
Today, salmon is the more industrialized and the lowest risk fish culture and even after an 800% increase in production since 1990, it still represents only 4.3% of global seafood supply. In fact, about 70% of the world's salmon is farmed, mostly in Norway, Chile, Scotland and Canada, where a combination of water temperature, currents, geographical (archipelagos) and biological requirements are met.
Environmentally, the salmon aquaculture pressure on Earth's resources is considerably lower than other species: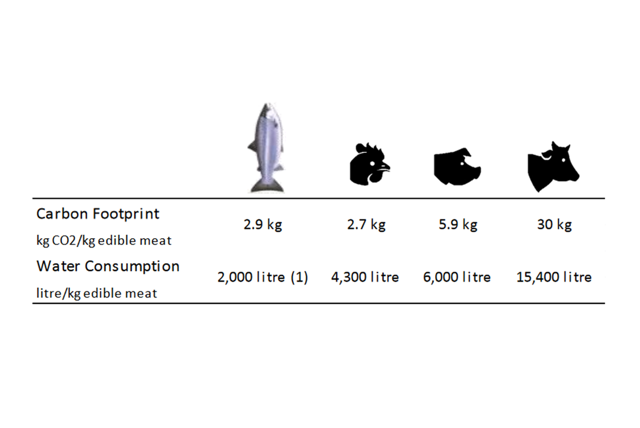 Source: Salmon Farming Industry Handbook
Companies
If you want to invest in this industry, you'll be happy to know that there are a few alternatives in the stock market, namely in the Norwegian Stock Market OSEAX (NYSEARCA:NORW) (BATS:ENOR). In this article, I'll stick to 3 of those companies: Marine Harvest (NYSE:MHG) (OTCPK:MNHVF), Salmar and Leroy Seafood Group (OTCPK:LYSFF) (OTCPK:LYSFY).
The 3 share an attractive valuation, as you can see from the table below:

Source: Bloomberg
Marine Harvest is the main player in the industry. It is vertically integrated from feed, to farming, to processing and produces salmon in Norway, Scotland, Ireland, Canada and Chile. The valuation is attractive at 14 times earnings and 2 times sales, especially considering the track record and prospects of revenue growth.
As you can see from the graph below (in USD), the stock has known only 1 direction during the past few years: up. Technically, it has paid off to follow the trend defined by the 200-day moving average regardless of the MACD or RSI readings:
Source: Stock Charts
In Summary
Food production is a theme I want to be invested in for the years to come, and in this regard, the salmon industry meets the condition. Even though I am not invested yet, I'm looking for an opportunity (pullback) to put some money to work in one of these companies.
Disclosure: I/we have no positions in any stocks mentioned, but may initiate a long position in MNHVF over the next 72 hours.
I wrote this article myself, and it expresses my own opinions. I am not receiving compensation for it (other than from Seeking Alpha). I have no business relationship with any company whose stock is mentioned in this article.
Editor's Note: This article discusses one or more securities that do not trade on a major U.S. exchange. Please be aware of the risks associated with these stocks.