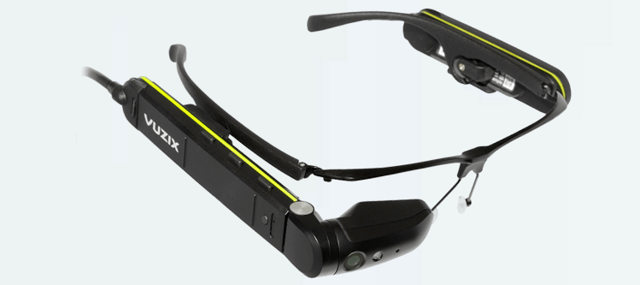 I've been following Vuzix (NASDAQ:VUZI) closely for over 18 months, and the investment story has never been this exciting. Intel (NASDAQ:INTC) corporate invested $24.8m in Vuzix in January 2015, which provided Vuzix with critical capital to develop new augmented reality products and expand manufacturing capacity. Intel's investment and involvement in Vuzix's next generation augmented reality hardware called the M300 (image featured above) is a game changer for the company and the enterprise companies that Vuzix supports.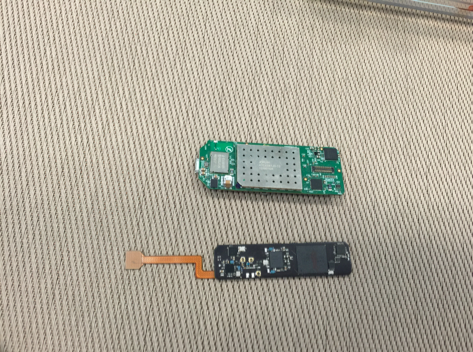 The M300 CPU board featured on the bottom in the image above is much slimmer than its predecessor the M100, but will deliver a remarkable improvement in overall computing power. According to Vuzix's June 2016 investor presentation the M300 powered by Intel Inside will deliver 4 times the computing power of the M100. An announcement on Thursday also highlighted hands-free voice recognition technology that will also play a critical role for Vuzix's enterprise end users.
Consistent with the Q1 conference call in May Vuzix has begun shipping M300 units to VIP customers. The initial M300 engineering units will come with varying degrees of support in exchange for between $4,500 and $10,000 per unit, which represents a significant premium from the $1,499 list price.
Intel's $24.8m investment also went towards building Vuzix's new 30,000 square foot manufacturing facility. The manufacturing facility is focused on waveguide development as well as the final staging process for other products including the Vuzix iWear.
Vuzix Announces Waveguide OEM Agreement
On June 7th Vuzix announced that the company has entered into a collaboration agreement with a global consumer electronics and mobile firm to develop and supply Vuzix see-through optics technologies. Vuzix is expected to receive a minimum of $500,000 for the company's effort to develop functioning prototypes leading to potential commercialization for volume production by the customer for mid-2017.
This agreement is significant for Vuzix for several reasons. First and foremost the agreement validates Vuzix's waveguide technology as a go-to market option for the consumer smart glass marketplace. Second of all, this agreement with a major Tier-1 OEM if it ultimately leads to volume production has the potential to drive 8 figure annual revenue amounts beginning as early as the middle of 2017. Lastly, all signs continue to point towards Vuzix delivering waveguide technology to a leading Tier-1 Korean based OEM (most likely Samsung or LG) under this agreement, which is consistent with my Seeking Alpha article dated March 9th.
Vuzix Waveguide OEM Opportunities Exist Outside of Korea
Intel's $24.8m investment in Vuzix in January 2015 was predicated on advancing Vuzix's waveguide optics and displays for fashion based smart glasses. Intel's deal with Vuzix closely followed a multiyear agreement with Luxottica (NYSE:LUX) (owner of the Oakley brand) in December 2014 to deliver fashionable smart glasses.
In March 2016 the Wall Street Journal published a report that Intel would likely offer its augmented reality smart glass design to other manufacturers and hinted that Intel and collaborating with Microsoft (NASDAQ:MSFT) on the project.
One person briefed on Intel's headset plans said it is collaborating with Microsoft; a spokesman for the software company declined to comment. (WSJ March 2016)
During Vuzix's Q&A portion of the presentation at LD Micro Main Event conference in December 2015 Vuzix's CEO Paul Travers referred to Intel as "potential OEM" in reference to waveguides. Travers comments on Intel should not come as a big surprise after Vuzix's November 2015 10-Q highlighted over $200,000 worth of waveguide display engine shipments to a related third party (Intel).
Intel invested in Vuzix to further the development of the company's waveguide technology. Intel has a multi-year agreement with Luxottica focused on fashion and smart glasses. Intel purchased over $200,000 from Vuzix in the September 2015 ending quarter. Intel's augmented reality project includes collaborations from Microsoft and the reference design is being shopped to potential OEMs according to the Wall Street Journal.
From my vantage point an OEM deal between Vuzix with Intel is on the table, however the other company on the other end of the table remains up in the air.
Vuzix Iwear: High Quality, Superior Optics And Fit For Drones
Vuzix's iWear video headphones, which were destined to arrive and ship into various markets was delayed several times and production is still below full capacity based on my visit to Rochester manufacturing facility on June 20th. That being said the number of iWear units being reviewed for quality and final staging at the Rochester facility has increased from a few dozen in early April to over 500 units as of June 20th. The iWear is now selling on Vuzix's website without delays and is also listed for sale on Amazon and FPVaces. The image below taken on June 20th depicts hundreds of iWear units being reviewed in the final staging on the left hand portion of manufacturing area.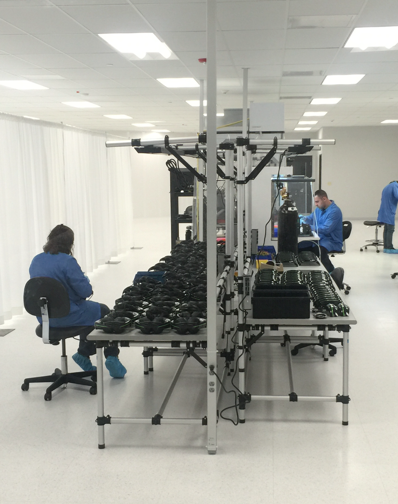 The delay in the commercial rollout of the Vuzix iWear may have had unintended consequences that might actually turn out to be bullish for Vuzix's bottom line. Vuzix's initial target market for the iWear was video games and movie lovers since the iWear is an easy plug and play with virtually any device ranging from a Blu-ray player to your smartphone.
The manufacturing and quality issues that plagued the iWear have resulted in even crisper optics and a partnership with the International Done Racing Association (IDRA.co) that was announced on July 5th. The partnership with the IDRA will begin to bear immediate fruit as Vuzix's iWear is set to be front and center at the 2016 US Drone Racing Championship held in New York City August 5th and 6th.
I've had an opportunity to speak directly with both co-founders of the IDRA Charles Zablan, Vice President of Marketing and Justin Haggerty, CEO. First and foremost the IDRA takes their business very seriously and is focused on developing a business model centered on an experience for fans, viewers and participants like no other. Justin Haggerty, CEO of the IDRA is already deep in the planning process and is working diligently to finalize the IDRA racing events for 2017 to maximize the impact for fans, drone racing competitors as well as the IDRA brand and business results.
The Vuzix iWear is a game changer in drone racing. Combined with Amimon Connex's ProSight 720p HD camera and transmitter, the iWear erases the latency and poor transmission issues that many drone goggles experience. With 5-7 milliseconds of latency and crystal clear vision, iWear will make pilots faster, races quicker, and a more immersive experience for online viewers" Justin Haggerty Founder and CEO of the International Drone Racing Association. (Source: Vuzix Press Release)
Vuzix's iWear technology is a perfect partner for drone flyers and drone racing competitors. When paired with Amimon Connex's Prosight 720p HD camera and transmitter Vuzix's iWear is heads and shoulders above other drone goggles. The number of registered drone pilots is growing at an incredible pace with the number of pilots increasing over 900% in less than a year from 10,000 to 100,000+. The national spotlight that IDRA will bring to the sport and business of drone racing in August will be a big win for Vuzix in terms of brand recognition and in terms of follow through orders for Vuzix iWear.
Are Wall Street Analysts Expectations Too Conservative For Vuzix?
The two Wall Street analysts that cover Vuzix remain upbeat on the company's product roadmap, but remain largely conservative in their estimates for 2016. I believe their cautious approach is well warranted after Vuzix's disappointing finish in 2015 that resulted in a hangover for first half of 2016 as well.
Vuzix's 2015 results were impacted by the painful rollout of the Vuzix iWear video headphones that have been delayed almost a year versus expectations set out in the spring of 2015. The announcement of Vuzix's second generation M300 cannibalized sales of the M100 as many of Vuzix's customers delayed implementations resulting in anemic sales over the past few quarters.
Chardan sees Vuzix delivering between $1 and $1.5m of revenue from the M300 this year, which is equivalent to approximately 700 and 1,000 units sold. On the iWear side of the business Chardan sees Vuzix shipping between $2.5m and $3.0 in 2016 or between 5,000 and 6,000 units. In terms of quarterly sales Chardan is forecasting $0.5m in Q2, $1.8m in Q3 and $2.8m in Q4.
Rodman and Renshaw forecasts Vuzix delivering $0.6m of revenue in Q2, $1.5m in Q3 and $4.1m in Q4. Q4 sales estimates are bolstered by expectations surrounding the iWear, however revenue by product was not provided in the analyst's report.
Chardan for months now has been calling out the elephant in the room, Vuzix's cash balance. Over the last several months, the report has read something along these lines: "only a few quarters of runway at the current burn".
The Elephant In The Room: Vuzix's Cash Balance
After Vuzix reported disappointing Q1 results and telegraphed Q2 results that will be stronger than Q1 the biggest eyesore on Vuzix's balance sheet was the cash position. Vuzix's Q1 cash balance was down to $8.2m, or enough to fund operations for through the end of 2016 assuming sales did not ramp up over the remainder the year and the company failed to convert over $3m of iWear and M100 inventory into sales and cash.
In a surprising move, Vuzix announced an offering for 1m shares of common stock at $5.75, with an additional 150,000 shares available for overallotment. The deal is expected to bring the company approximately $6m of net cash, assuming the allotment shares are sold. According to an interview with Wall Street Analyzer on July 8th, Vuzix's CEO Paul Travers indicated that the recent financing led by Oppenheimer was "way oversold," which leads me to believe the overallotment of shares will be sold as well.
Some investors that I have spoken to were upset with the equity offering. One of the main discussion points was the price and investor's have short memories that VUZI was trading below $5 after the conference call in May. Vuzix's average closing share price over the last 30 trading days prior to equity offering was $6.22 and over the last 60 trading days it was $5.57. The offering, which was priced at $5.75 falls within the average daily close over the past 30 and 60 trading days.
Other investors were upset about the offering itself. Why would Vuzix proceed with an offering if the company's management has been adamant that cash was sufficient to fund operations? Management expected cash on hand plus the conversion of inventory to be sufficient to fund operations.
I still believe Vuzix could have proceeded without raising cash, but why would the Board of Directors place financial handcuffs on the management team? Vuzix is in the midst of two very exciting product deployments, with a 3rd one set to come on-line before the end of the year. The company made the right choice to raise cash, even if shares took a short-term hit after the financing news was announced.
I asked Vuzix's CFO Grant Russell about the cash position during the Q1 conference, and Grant responded that if the business exploded, there may be a need for some additional working capital.
Ultimately if the business exploded because its finally running up the hockey stick that we're all hoping for. There may be a need for some additional working capital. (Vuzix Q1 CC Transcript via Seeking Alpha)
The equity offering resulted in less than a 5% dilution for all shareholders including the management team, which owns over 15% of the company. The $6m of cash that will be coming in after the deal closes on July 11th will provide liquidity to fund M300 inventory, waveguide capital expenditures and financial resources for the launch of Vuzix's monocular waveguide based M3000 and the binocular waveguide based B3000 smart glasses in 2017.
10,000 Reasons Why Vuzix Investors Should Be Excited Right Now
Vuzix's book of business boasts over 200 customers, including over 40 Fortune 100 companies. Over the last several months, I've had meaningful discussions with several of Vuzix's biggest partners, including APX Labs, XOEye, Apprentice Field Suites and Pristine, as well as Vuzix's newest board member Paul Boris, head of Manufacturing Industries, General Electric (NYSE:GE) Digital.
Vuzix's partners are seeing pilot programs being converted into commercial rollouts. Pilot programs play a critical role to validate the return on investment (NYSE:ROI) for potential customers. Pilot programs can vary in terms of number units or the length of the program and each pilot program is different and customer specific. XOEye deployed 750 Vuzix M100 smart glasses to Lee Company HVAC over the last 6 to 9 months, and has already seen a demonstrated ROI of $20.11 for every $1 invested in smart glasses.
Given our large deployment with Lee Company early this year, we are now starting to see what ROI looks like over hundreds of smart glass users over a meaningful amount of time. So far, Lee is seeing a $20.11 ROI per dollar invested in our technology. This is a good start, and we expect to see this number improve over the remainder of the year. (Aaron Salow, CEO and Co-Founder of XOEye)
Forrester Research published a research report in April 2016 focused on How Enterprise Smart Glasses Will Drive Workforce Enablement. The report outlines today's smart glasses hardware manufacturers including Vuzix as well as the key software players in enterprise smart glasses. Most if not all of the key software players in the enterprise smart glasses industry are Vuzix partners, and several of these companies I have had meaningful discussions with over the last several months, including APX Labs, Pristine and XOEye.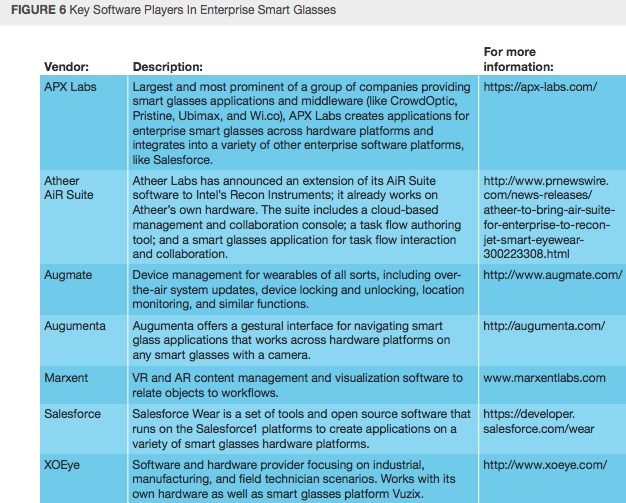 (Image Source: Forrester)
The top enterprise software players in enterprise smart glasses are not household names, and are likely unknown by anyone outside of the industry. However, a closer look at the collective book of business for a handful of Vuzix's partners is downright impressive, if not unbelievable.
APX Labs - A Virginia, USA-based company that boasts relationships with 6 out of the largest companies by market cap, including over a dozen Fortune 100 companies. APX Labs customers include General Electric, Boeing (NYSE:BA), Tesla (NASDAQ:TSLA), Merck (NYSE:MRK), Johnson & Johnson (NYSE:JNJ), Baker Hughes (BHI), Applied Materials (NASDAQ:AMAT), Jabil Circuit (NYSE:JBL) and Shell (RDS.A, RDS.B). Jabil Circuit is the manufacturer of Vuzix's M300 smart glasses and is also a customer of APX Labs, which I thought was noteworthy and interesting as well. I spoke with APX Labs CEO Brian Ballard and checked in on what he is seeing in the industry, GE's involvement as an investor in APX Labs as well as his thoughts on Vuzix's M300 smart glasses.
Question: What kind of developments are you seeing within the enterprise smart glasses space right now?
Customer awareness levels continue to grow and many of our customers are in various cycles within the deployment process. Behind the scenes large organizations are working closely with procurement, software developers and smart glasses hardware providers to move from pilots to deployments.
As you know Paul Boris of GE recently joined the Vuzix Board and GE Ventures is an investor in APX labs. Can you tell me what it is like to work with GE?
GE Ventures has been an incredible partner and has helped our business in countless ways. In particular they do so much for their own businesses by having access to a broad network of startups that are relevant to what GE produces.
Vuzix will be launching its next generation smart glasses the M300 in just a few months. What are your thoughts on new Vuzix hardware?
We have no greater dependence than on the quality of our hardware partners and they all are evolving their products with feedback from customers. I am particularly very excited about ergonomic design and mounting options of the Vuzix M300.
Lastly, how big is the smart glasses industry for APX Labs and the other hardware and software players in the market?
The enterprise market for smart glasses is enormous and reflecting that opportunity it takes a lot of work to bring a new market into play. (Brian Ballard, APX Labs Founder & CEO)
XOEye - A Tennessee, USA-based company that focuses on HVAC, oil and gas and automotive customers and field service workers. XOEye worked with Vuzix and Lee Company to deploy a 750-unit order to help HVAC workers improve customer satisfaction and engagement as well as building a "how-to" repair video database for reference in the field. Aaron Salow CEO and Co-Founder at XOEye described for me the closed network for the smart glasses and how every image taken is cataloged and linked to a service technician. Aaron was kind of enough to share his thoughts on what XOEye is seeing within the enterprise smart glasses industry.
We are seeing mid-market business leaders in field service investing in smart glasses due to a serious need when it comes to a growing skilled trades gap and need to differentiate from their competition. These markets are ripe for disruption, but typically slow to act, so the speed at which they are deploying such leading edge technology is evidence of the massive problem they have and their need to solve it quickly. We are happy to partner with these underserved customers by partnering with them to provide a simple robust wearable technology solution that really works.(Aaron Salow, CEO and Co-Founder of XOEye)
Pristine - A Texas, USA-based company focused on insurance, inspection and audits, field services, life sciences as well as industrial and manufacturing environments. Pristine's CEO Peter Evans is closing several deals a month and has seen planned commercial rollouts increase from 100 units to over 500 units for several customers that operate in various industries.
Apprentice Field Suite - A New Jersey, USA-based company that focuses on Pharmaceutical, Biotechnology, and Biomanufacturing. The company boasts relationships with 5 out of the top 10 BioPharma companies, 3 of the top 10 CMOs (contract manufacturing organization) and 1 major pharma equipment manufacturer. During Vuzix's June 20th annual shareholder meeting Apprentice Field Suite announced that the company is set to deploy Vuzix's M300 smart glasses with 2 Fortune 50 BioPharma companies.
Ubimax - A Bremen, Germany-based company that focuses on industrial wearable computing solutions across a plethora of industries. UbiMax solutions address serviceable markets including logistics, manufacturing, remote support, construction and service and maintenance and health care. UbiMax customers include DHL, Daimler, Volkswagen, Ricoh, Samsung, SICK AG and several others. UbiMax announced last week via the company's twitter account that they were rolling out four smart glasses projects for four major Fortune 500 companies around the globe.
Another customer that not only prefers Vuzix over Google Glass, but is now using Vuzix's augmented reality smart glasses at their Homburg, Germany facility is Bosch. A November 2014 article highlighted the preference of Bosch, a multinational engineering and electronics company, for Vuzix smart glasses over Google Glasses.
From our perspective, this [Vuzix] is the best smart glass for logistics. Google glasses are made for consumers. Vuzix glasses are more stable, made for industry use, which is important in a warehouse. (Bosch via Glass App Source)
Bosch's affinity for Vuzix hardware was centered around logistics and the warehouse in 2014. However, a special on Bosch featuring Vuzix's augmented reality smart glasses within an automotive manufacturing facility was broadcasted on the national news in Germany on July 10, 2016. The link to the Bosch/Vuzix smart glasses story can be found here.
Vuzix has over 200 qualified volume opportunities expected to close in 2016 and has over 250 active leads in the funnel. According to one of my industry contacts, Vuzix will easily sell thousands of M300 from pilot programs alone in 2016. Vuzix is scheduled to produce 10,000 M300 units in 2016 with volume production beginning as early as August 2016 or as late as September 2016.
The first group of customers that will receive M300 EVT units are 35 VIP accounts. M300 EVT shipments began in late June and carry a price tag between $4,500 and $10,000 per unit. The next group of customers will receive M300 DVT units beginning in July and continuing into August. The DVT units will carry a premium versus the cost of M300 production units ($1,499 list price), but will be priced well below the EVT unit cost.
My Final Thoughts
Vuzix is finally executing on its promises after a painful year for investors that featured delays and manufacturing issues surrounding the iWear and disappointing smart glass sales associated with the legacy M100 device. Vuzix's iWear is now being manufacturing in volume with high quality with specifications and performance that are enamored by the International Drone Racing Association. Vuzix's M300 manufacturing is on track, EVT units have begun shipping to VIP customers and key software partners continue to see a steady flow of new deals as well as planned commercial volume deployments.
The secondary offering announced last week that will close on July 11th will provide Vuzix with ample liquidity to fulfill M300 orders. Vuzix's waveguide OEM agreement announced in June that is expected to run through a leading Tier-1 Korean based company. This OEM agreement validates Vuzix's technology and puts the company on the map as a supplier for consumer based smart glasses. Vuzix's relationship with Intel could blossom into a second waveguide OEM agreement at any time. Vuzix's relationship with Intel should not be discounted by investors as an arm's length relationship surrounding Intel's go to augmented reality go-to-market strategy that should involve Vuzix's waveguide.
Shares of VUZI are trading below their recent highs, but the momentum building in the enterprise sector for augmented reality hardware and solutions is picking up steam. The elephant in the room has now been addressed and with ample liquidity, a refined iWear manufacturing process coupled with a Tier-1 M300 manufacturing partner, which will significantly reduce the risk of another serious operational hiccup like we witnessed over the past several months.
Disclosure: I am/we are long VUZI.
I wrote this article myself, and it expresses my own opinions. I am not receiving compensation for it (other than from Seeking Alpha). I have no business relationship with any company whose stock is mentioned in this article.