Stepan (NYSE:SCL) is a small-cap dividend champion offering excellent growth prospects and trading around fair value.

Business Overview:
Stepan is a chemical company founded in 1959 which produces products in 3 segments:
Surfactants: used for chemicals in the oil/gas and agricultural sectors. Also sold for use in shampoos, lotions, and toothpastes
Polymers: used to create rigid foam in thermal insulation for construction and automotive applications
Specialty Products: flavorings used in foods, pharmaceuticals, and nutritional supplements.
They have decent diversification, with no customer accounting for more than 10%. Their segment sales are split as follows: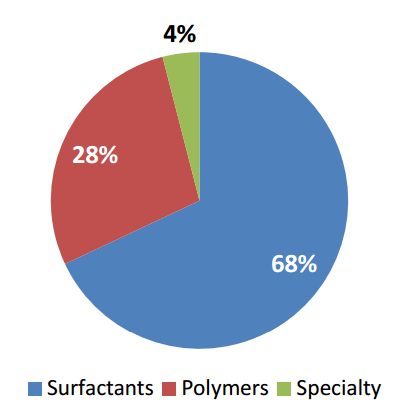 Source: Midwest Investor Conference
Recent Operating Performance
Stepan's performance during the Great Recession might lead one to believe that they are recession-proof, considering that they managed to increase EPS every year through it. However, their revenues did decline, and they were able to cut costs and increase margins to counteract the negative effects. A good portion of their business is tied to the energy and agriculture sector, both of which are highly cyclical due to commodity prices. The last couple of years, both sectors have had a rough time, with fellow dividend champions Archer Daniels Midland (NYSE: ADM) and Chevron (NYSE: CVX) also being forced to cut costs to deal with declining revenues. Stepan has been forced to turn around their business, which has led to their earnings per share breaking through their 2012 high only this year. The good news is that their polymers business has been growing at an excellent rate, and their shift towards more profitable growth has begun to pay off in the form of expanding margins and stabilizing revenues. Their revenue stream has shifted to 60% coming from non-cyclical industries, which should provide more stability going forward. They have a long growth runway, and continue to execute on their restructuring plans, which should begin paying off for patient long-term investors.
Finding Growth
The acquisition of an agricultural chemical plant in Brazil provides a large international growth opportunity for the company. Brazil accounts for 36% of total global agricultural exports, according to the Rio Times. Chemicals produced by Stepan are used to improve yield and treat crops. They have also built a research and development plant in China. Chinese laws are moving towards higher energy efficiency, which should be a tailwind in their polymer business going forward. However, the Chinese economic slowdown is a near-term headwind which the company expects to continue through at least 2017 for their construction polymers.
Stepan seems to be sacrificing short term gains for long term growth prospects. I believe that investing their capital into projects to drive growth while simultaneously cutting costs and divesting non-performing assets will lead to long-term success. Their chemicals have typically been used in cyclical industries, but management is shifting the company towards more non-cyclical revenue, which should further enhance stability in the future.
Dividend:
Stepan has increased their dividend for 48 consecutive years, according to David Fish's CCC List. That is an astounding record, and is even more so considering their small size. Smaller companies tend to have equally small moats which makes them less able to hold up in deep downturns. However, Stepan has been consistent and has kept their capital allocation conservative. Their dividend growth rates aren't going to set the world on fire, and neither will their yield, but if their growth initiatives start to pan out, I expect the DGR to increase.

As far as sustainability of their dividends, the payout ratio is a low 20.6%, which is expected given their ~1.3% yield. Their FCF was negative in 2014 and has been positive since then. They have been investing lots of available cash into capex to improve efficiency in their business. This will drive savings down the road and will be reflected in their ROIC metrics. However, it means that this isn't a wide moat business. It's difficult to compare Stepan to other well-known champions that are household names. That is part of what interests me in the company so much, since this small-cap's dividend growth record is on par with companies that are 200-300X their size.
Profitability:
Stepan's ROIC-WACC spread has been consistently positive, driving shareholder gains over time. This metric will be increasingly important going forward, as they invest most of their available cash into their business. If they were to yield poor returns on that capital, it would have been better spent on dividends or buybacks to return it to shareholders.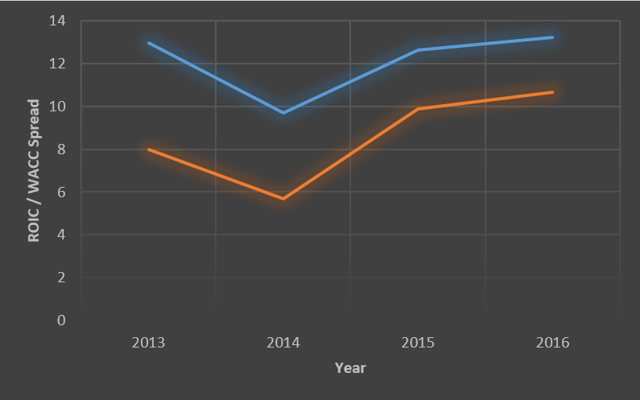 Source: GuruFocus
Their return on equity has taken a hit, but the last 2 years of increases show that the company has likely turned a corner.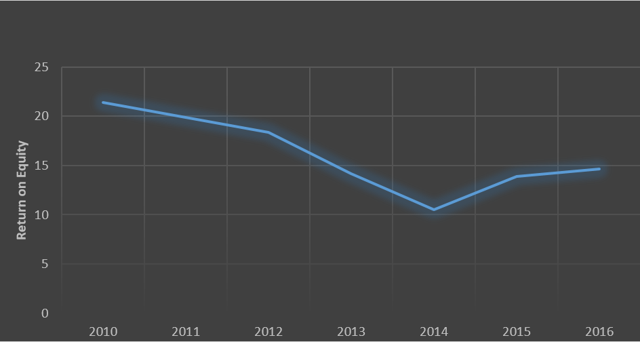 Source: Morningstar
Valuation:
Although there was a better entry point to Stepan at the beginning of the year (there was for many companies), I believe they are trading around fair value at this time. Combine their ~16.5 ttm P/E ratio with an expected EPS growth rate of 18% per year for the next 5 years, and the company actually seems undervalued. However, due to their recent investments, their FCF yield is only 2.6%. This shouldn't worry investors, though, since they can easily cut back and maintain profitability and their dividend, as evidenced by their streak of dividend increases and performance during the Great Recession.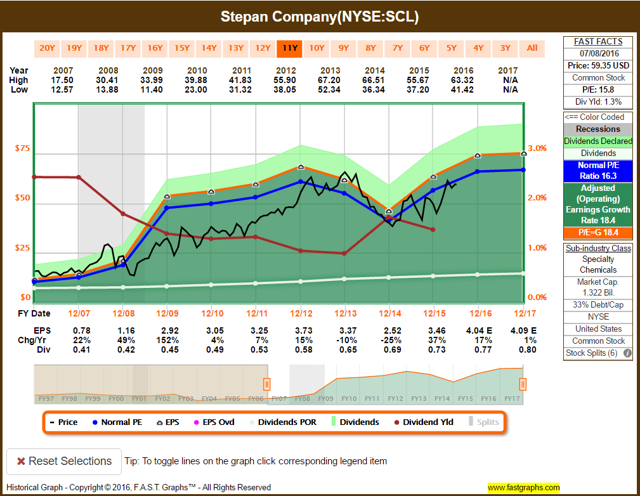 Source: FAST Graphs
Forward Look:
I expect Stepan to grow its earnings at an excellent rate going forward. Once they overcome some near-term headwinds and some of their recent investments begin to pay off, they should be able to drive excellent returns for shareholders. 18% per year for 5 years may be a little lofty, however, considering the uncertainties in the oil and gas business.
Investors should watch their margins and ROIC going forward. I believe that these metrics will help show how well their growth is progressing. Their goals of driving higher margin growth and building new plants while divesting unprofitable ones should help them emerge as a leaner business.
Conclusion:
Stepan is an interesting company trading with a margin of safety to fair value. Their growth prospects are intriguing, as well as their dividend growth record. I believe this represents an attractive entry point to this company.
Other dividend champions offering value today:
PPG Industries: A Dividend Aristocrat Offering Value Post-Brexit
Fears Over Cardinal Health Are Overblown
If you liked this article, and would like to read more like it, please click the follow button next to my picture at the top.
Financial statistics were sourced from FinViz, unless otherwise stated. This article is for informational purposes only and is not a formal recommendation to buy or sell any stock. Please do your own due diligence and/or consult a financial professional prior to making investment decisions.
Disclosure: I/we have no positions in any stocks mentioned, but may initiate a long position in SCL over the next 72 hours.
I wrote this article myself, and it expresses my own opinions. I am not receiving compensation for it (other than from Seeking Alpha). I have no business relationship with any company whose stock is mentioned in this article.