On July 11, 2016, General Electric (NYSE:GE) announced a strategic partnership with Microsoft (NASDAQ:MSFT) that will make GE's Predix platform available to users of Microsoft's Azure cloud service. The Predix platform is GE's cloud-based operating system for the Industrial Internet of Things ("IIoT"), and it is important to note that the platform is already receiving great praise from customers (see this article for a high-level understanding of the platform and for commentary on what Pitney Bowes (NYSE:PBI) thinks of Predix).
This partnership is great news for both GE and Microsoft, but, in my opinion, this partnership will especially go a long way towards showing the investment community that GE has fully solidified itself as the leader of an industry that has great growth potential. Furthermore, GE has done an excellent job creating partnerships with some of the biggest names in the technology industry, but the Microsoft partnership may prove to be the most beneficial in the long term.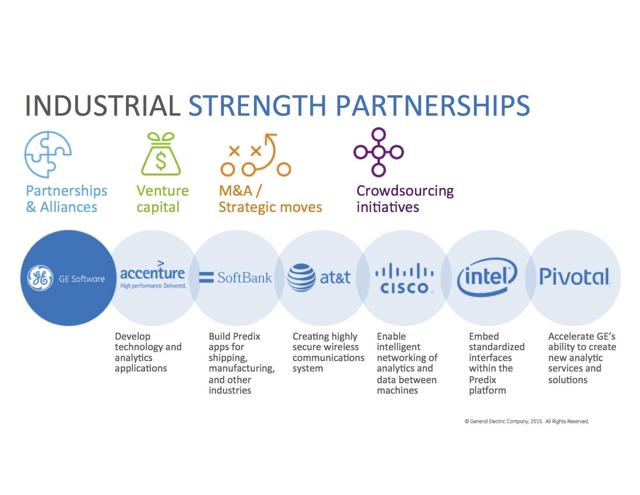 (Source: GE Presentation, Doorway to the Next Industrial Revolution: The Industrial Internet)
The market opportunity that GE has with Predix is tremendous (more on this below), but this specific partnership with Microsoft will help the company focus on customers that are not already covered by the partnerships identified in the slide above. Moreover, the GE-MSFT partnership will give GE an opportunity in the near future to possibly increase the estimate for the already hefty goal of bringing in $15 billion in digital revenue by 2020 (up from the $5 billion reported in 2015 and the $6 billion estimated for 2016).
In a February 2016 report, Synergy Research Corp. estimated that Microsoft was number two in the public cloud market (9% share), but had the number one growth rate as of 4Q 2015 (124%). This shows that Microsoft is a major player in cloud services, so GE will have the opportunity to learn a thing or two from a team that has been able to significantly grow in the cloud industry over a short period of time.
Predix is not set to be available on Azure until the second quarter of 2017, but I believe the benefits will begin to set in later this year when analysts start to understand the long-term potential that GE has with IIoT and how these type of partnerships are putting the company three steps ahead of its competitors.
Market Opportunity
The IIoT is expected to rapidly grow over the next decade, and many projections show that the industry will be a major force in the global economy. Accenture provides great research and projections for this industry, and the following estimate and quotes were highlighted in a recent report:
Conservatively, independent estimates are that worldwide IIoT spending will reach $500 billion by 2020.
The IIoT "spans industries representing 62 percent of gross domestic product (GDP) among G20 nations, including manufacturing, mining, agriculture, oil and gas, and utilities."
Many believe that the IIoT is just a way to improve operational efficiency, but "in today's environment, companies can also benefit greatly by seeing it as a tool for finding growth in unexpected opportunities."
$500 billion is a large number that is being thrown around, and it is hard to put too much credence in a dollar figure for 2020, but what investors cannot deny is the fact that IIoT is a growing industry that will play a vital role for many years to come.
GE is working hard to set trends in the industry, and with partnerships like the one announced with Microsoft, the company is making major strides towards the goal of becoming the "go-to" company in the industry. Management is showing that they are committed to digital, and that they are willing to invest now to prosper in the future. Simply put, digital is GE's future.
Satya Nadella, Microsoft CEO, said it best, "Every industry and every company around the world is being transformed by digital technology".
What Losing The SIFI Designation Really Means To GE
GE was recently approved to remove the systemically important financial institution ("SIFI") designation, and this is important for several reasons, but I want to highlight the two biggest reasons. First, as I described in this article, management will now not have to commit valuable time to staying up-to-date with the SIFI regulations and the never-ending regulatory filings, and this will allow for them to focus on the company's long-term strategy of growing the industrial businesses.
The other major reason indirectly relates to GE Digital in that the company is now free to allocate capital as the board and management deem necessary, which means GE will be able to heavily invest in the industries that will matter over the next few decades. This is an important factor, because the IIoT transition is a major shift that will likely require a lot of capital, but in my opinion, these type of investments are necessary.
There are other benefits for not being labeled a SIFI, but these two factors alone have the opportunity to create a great deal of value over the next few years.
Bottom Line
The GE-MSFT partnership is another step in the right direction when it comes to the company's long-term commitment to the digital industry. In "GE: If You Build It, They Will Come" (written in June 2015), I described Predix as a long-term catalyst that will create value over time, and this prediction is slowly becoming a reality. Again, the real benefits will be in 2018 and beyond, but by that point in time, the stock price will be significantly higher than it is today.
The announced GE-MSFT partnership and the SIFI de-designation will not materially impact GE's bottom line in the current year, but instead, the benefits will play out over many years. As such, GE may not be the best place to put your money if you are looking for a quick profit. However, the stock is a great long-term buy at today's price if you are willing to wait for the investments being made today to start paying off.
Many believe GE is overvalued at $32/share, but I think that it all comes down to your investment time horizon. If you are willing to hold on to the shares for three-five years and be patient while collecting an above-average dividend, then GE is a buy at today's price. Yes, the shares appear richly valued when compared to the 2016 earnings estimates, but they look more and more attractive the further that you look out.
If you found this article to be informative and would like to hear more about this company, or any other company that I analyze, please consider hitting the "Follow" button above.
Disclaimer: This article is not a recommendation to buy or sell any stock mentioned. These are only my personal opinions. Every investor must do his/her own due diligence before making any investment decision.
Disclosure: I am/we are long GE.
I wrote this article myself, and it expresses my own opinions. I am not receiving compensation for it (other than from Seeking Alpha). I have no business relationship with any company whose stock is mentioned in this article.