The bi-annual Farnborough International Airshow has started and traditionally the Paris Air Show, Farnborough International Airshow and Dubai Airshow are used as a stage to announce big orders. In this article I will have a look at the order inflow on Day 1 of the air show and notable news items. In the coming days I will be covering news and orders for Boeing (NYSE:BA), Airbus (OTCPK:EADSF), COMAC, Embraer (NYSE:ERJ) and Bombardier (OTCQX:BDRAF).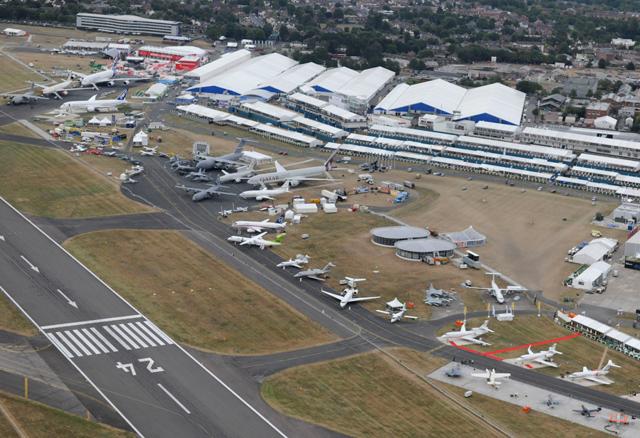 Boeing
Besides order news, Boeing announced it will be stretching the Boeing 737 MAX 7 on customer request. Although this could have played a role, I am certain that it has to do with the competitive pressure Boeing is facing for its narrow body family.
Xiamen Airlines inked a Memorandum of Understanding with Boeing for up to 30 Boeing 737 MAX 200 aircraft
Donghai Airlines disclosed an order intention for 25 Boeing 737 MAX 8 aircraft and 5 Boeing 787-9 aircraft
Standard Chartered placed a firm order for 10 Boeing 737-800s
Norwegian has made the biggest service order in history. The low cost carrier will be adding GoldCare service for the 108 MAX aircraft it has on order
The firm orders have a catalog value of $960 million , the market value will be closer to $465 million. The Memorandum of Understandings and LoIs (Letter of Intent) carry a catalog value of $7.5B and market value of $3.6B.
Airbus
Whereas Boeing shared some design changes to its products, Airbus is not expected to announce any major changes to its products.
The European jet maker reported the following orders:
Virgin Atlantic placed a long awaited order for 8 Airbus A350-100s
Air Côte d'Ivoire placed an order for a single Airbus A320neo
ARKIA ordered 4 Airbus A330-900neos
Jetstar Pacific inked a Memorandum of Understanding for 10 Airbus A320ceo airframes
The firm orders have a catalog value of $5.1B, the market value will be closer to $2.7B. The Memorandum of Understandings and LoIs (Letter of Intent) carry a catalog value of $980 million and market value of $390 million.

Figure 1: Order overview day 1 Farnborough International Airshow for Boeing and Airbus (Source: www.AeroAnalysis.net)
COMAC
COMAC received 2 commitments for its ARJ-21 aircraft. AVIC Leasing committed to 30 airframes, while China Aircraft Leasing committed to 60 airframes. List prices suggest a value of $2.7B, including discounts these commitments are like worth less than $1B.
Embraer
Regional jet maker Embraer saw some order inflow as well:
Japan Airlines converted an option for the Embraer 170 to a firm order for the Embraer 190
Kalstar ordered 5 Embraer 195-E2s and has options for another 5
Arkia is planning on ordering 6 Embraer 195-E2s with options for another 4
Nordic Aviation Capital ordered a total of 4 Embraer 190-E2s
Bombardier
Bombardier had no order news, but pressure on the Canadian jet maker to fill its backlog has been reduced significantly after orders from Delta (NYSE:DAL) and Air Canada.
Outlooks
Next to announcing orders, Boeing and Airbus released their market forecasts. Boeing sees a slight increase in demand for the coming 20 years and expects demand for over 39,000 airframes. Airbus has a slightly more conservative guidance, expecting demand for over 33,000 airframes. Embraer shared its forecast for large regional aircraft, up less than 1% at 6,400 aircraft.
Conclusion Day 1
Day 1 did not bring the fireworks that it usually does. Boeing and Airbus hauled in just 27 firm orders, 10 for Boeing and 17 for Airbus. Total orders and commitments are down significantly compared to the Paris Airshow last year. Day 1 has been the day of Asian airlines committing to aircraft purchases. Customer of the day, however, was Virgin Atlantic which ordered the Airbus A350. The airline ordered 8 Airbus A350-1000 airframes directly from Airbus and will be leasing another 4 from ALC. Day 1 is a win for Airbus. In the coming month it will become clear how many orders were already in the order books with both jet makers as unidentified customers, but one thing is certain: After day 1 Boeing is still leading in the annual battle.
If you would like to receive updates for my upcoming articles, please click the "Follow" text at the top of this page next to my profile.
Disclosure: I am/we are long BA.
I wrote this article myself, and it expresses my own opinions. I am not receiving compensation for it (other than from Seeking Alpha). I have no business relationship with any company whose stock is mentioned in this article.
Editor's Note: This article discusses one or more securities that do not trade on a major U.S. exchange. Please be aware of the risks associated with these stocks.