Netflix (NASDAQ:NFLX) shares traded down Monday in an otherwise strong broader market due to a bearish Barron's article which detailed that a 40% downside scenario is "easy to imagine." The article cites content spending as the biggest risk and essentially sums up the bear thesis with the following statement:
"Put simply, Netflix is on the hook to pay billions for stuff whose quality and appeal is a question mark."
We do not agree with this statement, and argue that NFLX is paying billions to create a moat comprised of quality content with enduring appeal.
Some of the content NFLX is spending big on is Disney (NYSE:DIS) content, and there are certainly no question marks surrounding the quality and appeal of DIS content. As we have previously illustrated, this deal is a game-changer, as DIS content has accounted for 38% of the box office sales of the top 10 domestic grossing movies between 2010 and 2015. So far in 2016, DIS content has accounted for 56% of the top 10 box office sales in the US, including 4 of the top 5 domestic grossing films. This is before Pete's Dragon, Doctor Strange, Moana, or the Star Wars spin-off film hit theaters, and any of these movies could easily crack the top 10 and boost DIS' box office domination. Put simply, there is no question mark surrounding DIS content's quality or appeal.
Other content NFLX is spending big on is CW content. We have also previously argued that this content is popular and has enduring appeal. The top 5 shows from the CW deal (in terms of viewership) garnered a collective total of 18 million viewers per episode in their most recent seasons. These include Arrow and The Vampire Diaries, which TV.com pegs as the number 2 and number 7 most popular TV shows, respectively. The enduring aspect is best illustrated with Supernatural, another CW show, which after 10 seasons still garners 2 million viewers per episode and is listed as the number 13 most popular TV show on IMDb.com and the number 8 most popular on TV.com. Put simply again, there is no question mark surrounding CW content's quality or appeal.
NFLX's original TV series are perhaps the most popular. Orange Is the New Black is listed as IMDb's second most popular TV show, behind only HBO's iconic Game of Thrones. Per Parrot Analytics data, we can see that Orange Is the New Black is particularly popular in Australia, where its demand rivals Game of Throne's demand. The data also shows that Daredevil and House of Cards are quite popular in both the UK and Australia, while Sense8 has gained some serious traction in the US and UK. Meanwhile, NFLX's most popular original series appears to be Narcos, which is wildly popular in the US, UK and Australia.
Above all else, the data shows that Amazon's (NASDAQ:AMZN) original content dramatically lags NFLX's original content in terms of quality and appeal. Without Game of Thrones, NFLX and HBO are more or less equal in terms of demand, while AMZN remains a distant third. It seems that NFLX's huge investment in original content is paying off already in terms of increased demand and more subs (sub growth continues at a high rate both domestically and internationally). Once again, there really aren't many question marks surrounding the quality or appeal of NFLX's domestically-produced original TV series.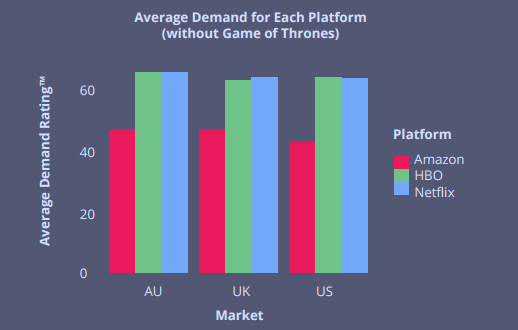 While still new, we also don't think there are a tremendous number of questions surrounding NFLX's original movies. The first of these, Beasts of no Nation, was highly appraised by critics and viewed as a quality film. Indeed, it was the most talked-about "snubbed" film online following the 2016 Oscars. The second high-profile NFLX original movie, The Ridiculous 6 starring Adam Sandler, wasn't as appreciated by the critics (widely considered an awful movie), but nonetheless set viewing records. According to NFLX management, the movie was seen more times in its first 30 days than any other NFLX movie in history, original or licensed. It also held the number 1 spot in every territory for some time.
There are two things at play here. One, as NFLX's Chief Content Officer points out: "Adam believes his audience is mostly at home, and he's probably right." The second is that star-power attracts viewers regardless of quality. Studies find that big stars increase a movie's revenue and mindshare, and this might be most clearly evidenced with Ridiculous 6 (Adam Sandler's star-power drew in viewers despite the movie being quite awful). For NFLX, this is only the first of 4 movies Sandler has agreed to do with NFLX, so there are 3 more highly-viewed Sandler movies on deck. Moreover, we will see star-power truly evidenced with NFLX's 2016 original movie War Machine featuring Brad Pitt. Given NFLX's huge and growing sub base, we argue NFLX will have no trouble convincing big-time Hollywood actors to star in NFLX original films. So long as NFLX can do this, NFLX movies should continue to garner high viewership.
The only real question marks for NFLX are those surrounding internationally-developed original content. While Club de Cuervos saw tremendous success in Spanish-speaking markets like Mexico and Spain and is renewed for a second season, the first season of Marseilles was somewhat of a flop in France. Nonetheless, NFLX has renewed the show for a second season. Other international intiatives include a futuristic drama show called 3% in Brazil, a first-ever NFLX original animated series, an adaptation of a best-selling novel into a 10-episode series, the first-ever India original series and a new German series called Dark set to launch in 2017.
While there are question marks surrounding the quality and appeal of this subset of NFLX content, we think those question marks are somewhat muted by the local star-power backing these series. Dark is directed by Baran bo Odar, whose latest critically-acclaimed film was a German box office sensation. 3% hails from Cesar Charlone, whose credits include cinematography on the worldwide hit "City of God." The novel-adaptation is based on a novel that sold 2.5 million copies. Another one of NFLX's originals, The Crown, is also noted to have a "talent-rich" cast.
In sum, we really can't imagine a 40% downside scenario due to investment in original and exclusive content not paying off. Contrary to the thesis of the Barron's report, we do not see many question marks surrounding the appeal or quality of NFLX's content. Indeed, the only question marks we do see are those surrounding internationally-developed original content, and even those are somewhat muted by a few successful launches coupled with significant local star-power support. In our minds, NFLX is strategically and necessarily investing billions of dollars into gaining a competitive advantage over AMZN, HBO, Hulu and other SVOD service, and is doing so by creating a moat comprised of quality content with enduring appeal. The investments are also timely, as they coincide with aggressive international expansion. Even if a few shows or movies are a flop, the sum of heavy content investment will pay off in the form of higher ARPU, more subs and greater engagement.
Disclosure: I am/we are long NFLX.
I wrote this article myself, and it expresses my own opinions. I am not receiving compensation for it (other than from Seeking Alpha). I have no business relationship with any company whose stock is mentioned in this article.