While known for its large global mining operations, BHP Billiton Limited (NYSE:BHP) is also heavily invested in the oil & gas sector. As prices for metals like copper and iron ore fell, BHP Billiton steadily increased its focus on its oil & gas producing properties. Back in 2011, the company purchased Petrohawk Energy Corporation to gain a foothold in the US shale business in a deal that was worth ~$15 billion when including the debt BHP Billiton took on. The purchase gave BHP Billiton a stake in the Permian Basin, the Eagle Ford, and the Haynesville plays.
At the end of 2014, the company had 18 rigs operating in the Eagle Ford, five in the Permian, three in the Haynesville, and none in the Fayetteville play. Due to crashing global crude prices and a glut of natural gas in America (which has been ebbing, pushing Henry Hub up from below $2/Mcf to ~$2.70/Mcf currently) BHP Billiton scaled back its oil & gas spending. Its shale operations were trimmed down so BHP Billiton was running only five rigs in the Eagle Ford, two in the Permian, and none in the Haynesville and Fayetteville plays by the end of 2015. During the first quarter of 2016, BHP also plans to reduce its rig count by two in the Black Hawk region of the Eagle Ford play.
Production out of the Haynesville and Fayetteville shale plays is heavily weighted towards dry natural gas, with some natural gas liquids production as well. That means BHP's drilling economics are heavily influenced by Henry Hub pricing in those two plays, which as I said before has rebounded materially. A hot summer combined with reductions in drilling activity will continue chipping away at high inventory levels, supporting prices in the near-to-mid term. It is worth watching to see if BHP would add rigs to either of those two plays in a $3/Mcf - $3.50/Mcf Henry Hub environment.
Over in the Eagle Ford and Permian Basin plays, BHP Billiton's economics are weighted heavily towards crude prices. Due to the generally stronger drilling economics on an incremental basis in those regions and the need to hold acreage by production, BHP Billiton has enough incentive to keep a few rigs running. Completed well costs in the Permian Basin and the Eagle Ford have fallen from $9.7 million and $9.1 million, respectively, during the first half of BHP's fiscal year 2015 to $7 million and $5.8 million during the first half of FY2016 (which ended in December 2015).
Oil & gas developments in Australia
Six companies each own 16.67% of the North West Shelf venture that is developing large amounts of hydrocarbon resources off the coast of Western Australia. BHP Billiton Limited, Woodside Petroleum (OTCPK:WOPEY), BP plc (NYSE:BP), Chevron Corporation (NYSE:CVX), Royal Dutch Shell (NYSE:RDS.A) (NYSE:RDS.B), and Japan Australia LNG (Mitsubishi Corporation and Mitsui & Co., Ltd each have a 50% stake in that venture) are all invested in the consortium, with Woodside Petroleum acting as the operator.
The Greater Western Flank development is home to 16 oil & gas fields that are weighted towards natural gas and condensate, with an estimated 3 trillion cubic feet of natural gas and 100 million barrels of condensate in reserves. Those fields are located in Australia's Carnarvon Basin.
Sanctioned in December 2011, the North West Shelf consortium decided to move forward with the Greater Western Flank-A development. Woodside Petroleum completed the Western Flank-A project slightly ahead of schedule and under budget at the end of last year. The development is meant to maintain stable supplies of natural gas to the onshore Karratha Gas Plant.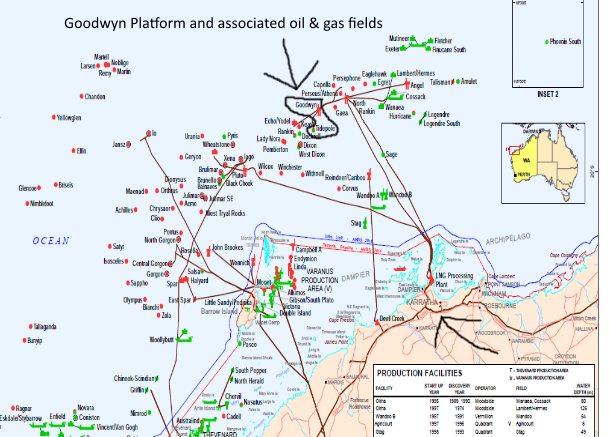 Source: Government of Western Australia's Department of Mines and Petroleum website (with additions from the author)
Through five LNG processing trains, six condensate stabilization units, two domestic gas trains, three LPG fractionation units, and storage/loading infrastructure to support LPG, LNG, and condensate production, the Karratha Gas Plant underpins the venture's offshore oil & gas production.
BHP Billiton, Woodside Petroleum, and their partners are developing the Goodwyn and Tidepole fields which were discovered in 1972 and 1971, respectively. Two wells were drilled tapping into the Goodwyn field and three wells targeted the Tidepole field, with production from those wells routed to the nearby Goodwyn A Platform through a 16 kilometer long pipeline. Phase one will have a field life of 25 years. It's expected that there will be additional wells targeting those fields in the future that will leverage existing infrastructure in the area.
Building off of that expansion, the North West Shelf consortium is moving forward with the Greater Western Flank-B (phase two) development, which was sanctioned in December 2015. For around $2 billion, production from the Keast, Dockrell, Sculptor, Rankin, Lady Nora and Pemberton fields will start up during the second half of 2019.
Eight production wells will be tied into the Goodwyn A Platform, with five wells expected to be operational in 2019 and the remaining three will be turned online in 2020. Like with phase one, output from those eight wells will be heavily weighted towards natural gas with some condensate production. It will take around 50 days to drill each well, with drilling operations expected to begin during the second half of this year.
The five production wells targeting the Lady Nora, Pemberton, Sculptor and Rankin fields will start up first, followed up by three wells tapping into the Keast and Dockrell fields coming online a little later during the first half of 2020. North West Shelf is developing 1.6 trillion cubic feet of natural gas and 43 million barrels of condensate on a 2P reserve basis in those six fields.
Final thoughts
BHP Billiton is fighting a pricing war on multiple fronts as the end of China's heavy industry boom depressed prices for metals and the emergence of roaring non-OPEC supply growth lead to a glut of crude worldwide. The collapse of commodity prices forced price takers like BHP Billiton Limited to have to make tough choices, which is why the company is pulling back. That being said, BHP Billiton Limited still has several major oil & gas assets that are worth keeping an eye on as the energy market gets closer to a recovery.
Author's note: Some of the companies mentioned above are not traded on a major US stock exchange, which come with their own sets of risks and rewards. Always do your own due diligence before investing.
Disclosure: I/we have no positions in any stocks mentioned, and no plans to initiate any positions within the next 72 hours.
I wrote this article myself, and it expresses my own opinions. I am not receiving compensation for it (other than from Seeking Alpha). I have no business relationship with any company whose stock is mentioned in this article.