Endeavour Silver (NYSE:EXK)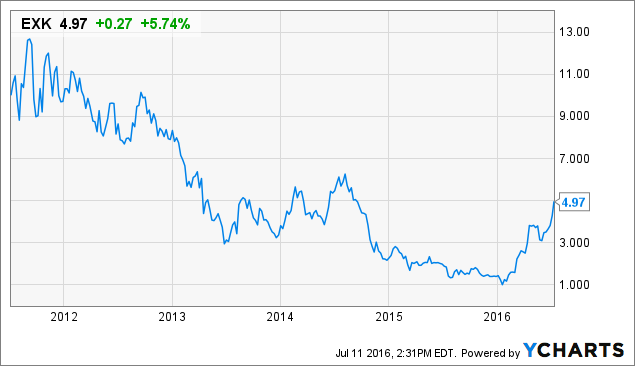 Recent Stock Price: $4.98
Shares Outstanding: 110.87 million
Market Cap: $552.15 million
52-Week Range: $1.00 - $5.09
Endeavour Silver recently released its Q2 2016 production results, raised its production guidance and gave a revised operating plan for the rest of the year. This was mostly a bullish news release as Endeavour is producing more metal than expected and plans on ramping up production at several mines with silver prices rallying north of $20 per ounce.
In the quarter, Endeavour says its silver production fell by 14%, however, its gold production increased by 17% to 15,649 ounces, and its silver equivalent production finished at 2.6 million ounces. For the first half of 2016, Endeavour says it produced 3.06 million ounces of silver and 31,609 ounces of gold.
Readers may remember that Endeavour originally guided for 2016 production of 4.9-5.3 million silver ounces and 40,000-43,000 gold ounces, equal to 7.9-8.5 million silver equivalent ounces for 2016. Due to the higher gold production and expected ramp up in the second half, the company has raised its guidance to 5.5-6.0 million silver ounces, 49,000-54,000 gold ounces and 9.0-9.8 million silver equivalent ounces. This is down from last year's 11.4 million ounce figure, but should grow again once development projects are brought to production.
After focusing on minimizing all-in sustaining costs and maximizing free cash flow in the past two quarters, management says it will now optimize for near-term production and long-term growth. This means the company is going to start spending more money on its operating mines and development projects. In fact, the company has raised its capital plan for 2016, from $11.3 million to $17.4 million. The company says it will spend $2.8 million more on capital spending at the Guanacevi mine, with a new capital spend of $3.3 million to go towards the Bolanitos and El Cubo mines.
In addition, the company now expects to spend $10.8 million on exploration this year, $2.8 million more than budgeted. The company is looking to complete a pre-feasibility study at the Terronera project, a preliminary economic assessment at El Compas, and will drill at Guanacevi, Guadalupe and El Cubo. Mapping and permitting will also take place at various projects in the second half of 2016.
The production results and updated guidance, and the increased capital spending program is pretty bullish news for the stock. The original capital spending outlook was put into place when silver prices were trading under $15 per ounce last year. This was a time when Endeavour really needed to cut its costs to boost its cash flow.
The company executed this plan with all-in sustaining costs averaging under $13 per ounce (including $11.12 per ounce last quarter), and now with silver prices rallying higher, can increased its spending to capitalize on its growth projects. The company has some flexibility as it can always decrease its development spending if silver were to take a nosedive back down to the $14-$15 per ounce range.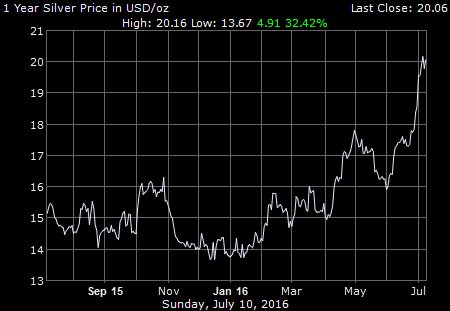 (Credit: SilverPrice.Org)
There are two main Endeavour projects I get excited about in particular: the Terronera and El Compas projects.
El Compas was acquired for just C$10.5 million back on May 9 when Endeavour agreed to acquire Oro Silver Resources. The property contains a historic high-grade gold and silver resource (552,000 tonnes grading 6.55gpt gold and 66.2 gpt silver, plus inferred resources of 421,000 tonnes grading 4.18 gpt gold and 59.9 gpt silver), is located next to infrastructure (roads and power lines) and the property is fully-permitted and ready for development, according to the company. Endeavour thinks there is excellent exploration potential here and has identified 10 prospect areas for exploration.
What's more: capital costs are estimated at less than $10 million. The company says it will invest in exploration to upgrade and expand the resource and then complete an updated resource report this year; the goal is to get El compas to production by next year.
The 100%-owned Terronera project is just as exciting. The company has already completed a resource estimate giving the deposit 28+ million ounces of silver resources and 200,000+ ounces of gold resources. The company has drilled 150 holes at Terronera and the best results include very high-grade intercepts, including 5.58 meters of 4.36 g/t gold and 3,875 g/t silver, and .48 meters of 7.68 g/t gold and 4,770 g/t silver. A pre-feasibility study is underway and this is another asset that could get to initial production by the end of 2017. According to the PEA, this mine should add 3 million SEOs of production annually at $7.60 AISC per silver ounce.
As for the balance sheet, the company has no debt and ended last quarter with $20.4 million in cash. The company also announced an at the market offering of up to $40 million worth of its shares back on May 5, although it's not yet clear if the company has issued any new stock yet, we should know more in the upcoming Q2 financial results.
In conclusion, Endeavour's Q1 production results and capital spending increase is positive news for shareholders. Investors have a lot to look forward to in 2016 as the company works on completing technical reports on its Terronera and El Compas projects. I think investors should consider buying shares on any future pullbacks.
Disclosure: I/we have no positions in any stocks mentioned, but may initiate a long position in EXK over the next 72 hours.
I wrote this article myself, and it expresses my own opinions. I am not receiving compensation for it (other than from Seeking Alpha). I have no business relationship with any company whose stock is mentioned in this article.