Introduction
Last time I wrote about oil, Britain was yet to shock the world with a successful Brexit vote, and the commodity was in an upswing following a devastating Canadian wildfire. Things have obviously changed since my June 10th publication, and I will address the current market for oil, and why I believe it to be so undervalued at the present.
Nigeria and the NDA
As most of you are aware, Nigeria is currently going through internal turmoil. The NDA, or Nigeria Delta Avengers, is a militant group bent on fighting the current regime in Nigeria. They are showing their opposition in the form of attacks on oil infrastructure. While at first the Nigerian President Buhari had a strong approach, it seems as though he is weakening his demeanor. He allegedly prayed that the NDA would stop attacking, as he rightfully recognizes the economic impact that a declining oil infrastructure would present to Nigeria. Just last week, the NDA took credit for destroying three Chevron manifolds. The group claims that the current government hardly invests oil profits into the state's development, and that they are being stiffed by leading powers. Nigeria happens to earn 70% of their revenue from oil sales, and having their production hampered to 1.5 million barrels per day (down from 2.2 million barrels per day) will severely harm the economy. With consistent attacks on oil pipelines, employees may be more hesitant to go to work, for fear of an attack. A workers strike for Nigerian oil employees will surely deepen concern of production figures. Here's a quick excerpt from Business Finance News:
According to Bloomberg, which cited Ecobank Transnational Inc.'s analyst, Dolapo Oni, the recent attacks and workers strike can reduce Nigerian crude oil production to below 1.5 million bpd in the coming months.
It is also worth noting that these attacks have been going on since February, but have certainly escalated in recent months.
Take a look at how the US Oil Fund (NYSEARCA:USO) has reacted since the recent destruction of the three Chevron manifolds: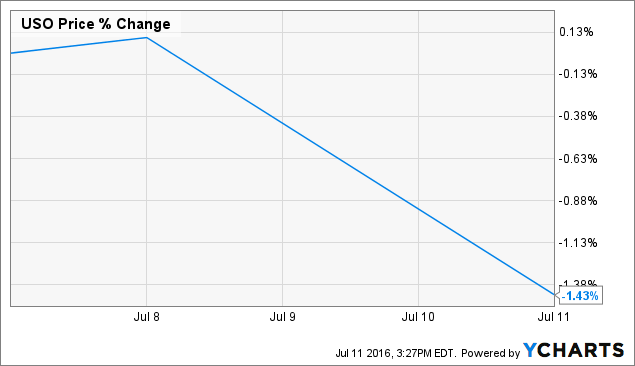 USO data by YCharts
While I believe that the supply given from just three manifolds isn't significant enough to really hamper global supply drastically, it is certainly worth looking deeper into. These attacks represent further uncertainty in a country that supplies a decent amount of oil to the global supply. This uncertainty may soon translate into a sharper demand for oil in the current state of affairs, and a weaker supply figure.
Recent Rig Count
There's no denying the increase in activity for the US oil industry. More rigs are becoming active, and more companies are contemplating exploration and production opportunities. The greenback has been appreciating, but global uncertainties are beginning to subside. This hurts oil prices, as does the expansion of rigs in the US. Oil has reached 2 month lows, and has luckily presented you with a great opportunity. I believe that global strength in the economy will increase demand, a demand that will surprise most people.
Conclusion
With an increasing rig count, people are turning increasingly bearish on oil. This concern is seemingly baked into the current price, as Nigeria's turmoil hasn't adequately been accounted for. Oil may drop lower this week, but it is a strong play for the medium term.
Disclosure: I/we have no positions in any stocks mentioned, and no plans to initiate any positions within the next 72 hours.
I wrote this article myself, and it expresses my own opinions. I am not receiving compensation for it (other than from Seeking Alpha). I have no business relationship with any company whose stock is mentioned in this article.