PepsiCo (NYSE:PEP) has been a terrific performer in recent quarters as well as over the long term as the company continues to find ways to impress investors. But I've been wary on the consumer staple sector for some time as valuations have become beyond stretched and PEP is certainly part of that group for me. Some will say that PEP is always "overvalued" because it is a premium franchise and while PEP is indeed a premium franchise, one needn't just pay the going rate for any company, regardless of how good it is. Some due diligence is required in order to understand the value of a company's stock before putting your money to work and in the case of PEP - even after a guidance bump during the Q2 report - it is ludicrously expensive.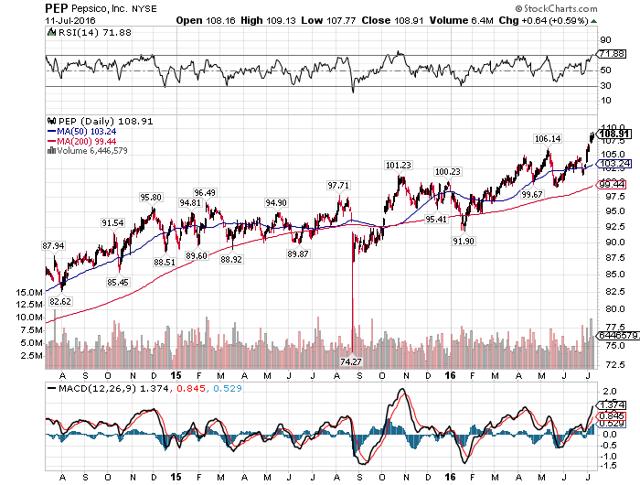 One issue I've had in pulling the trigger on PEP is that its revenue growth is terrible and has been for some time. This company is absolutely huge so blistering growth is never going to happen but negative growth numbers on the top line are pretty normal for PEP; not exactly something to get me excited. Granted, organic revenue was slightly positive for PEP in Q2 but it still has the same problem it has had for a few quarters now; the strong US dollar.
Virtually all multinationals have struggled with the dollar's relative strength in the past few quarters as the greenback has whacked large portions of revenue from S&P 500 companies and PEP is not immune by any stretch. Q2's organic revenue grew 3.3% - which is decent - but it still lost 4% due to forex translations. And given that the entire world seems hell-bent on devaluing their own currencies more quickly than the dollar, that problem isn't going anywhere anytime soon. This isn't a PEP-specific problem but it is the single most expensive problem the company has. PEP doesn't have the growth profile to ever overcome a 4% headwind to revenue and that's a problem. Organic growth is certainly nice but ignoring reported numbers is perilous to be sure.
One thing PEP has done a masterful job at executing its cost savings programs that have continuously boosted operating margins. Q2 saw a continuation of that as operating margins grew 80bps despite a heavy increase in marketing spending. That's terrific and PEP has done a better job than most at expanding margins over the past couple of years. I love a margin growth story but given PEP's revenue headwinds, it isn't enough. Operating margin dollars grew just 2% during the quarter despite the 80bps improvement because revenue was so weak. While I expect PEP will keep finding ways to grow margins, I also expect revenue growth will be flat to negative for some time, offsetting those margin gains in part or in whole.
PEP managed to raise its full-year guidance from $4.66 to $4.71 following the report and of course, bulls were very excited. But if we consider the magnitude of the raise - 1.07% - perhaps more caution is warranted rather than simply bidding the stock up to new highs. It's great that PEP is confident and raised guidance but a 1% hike is as close to meaningless as it gets.
If we take a look at what analysts are looking for in terms of EPS for the next few years, we see a very bullish picture that would be very easy for PEP is deviate from.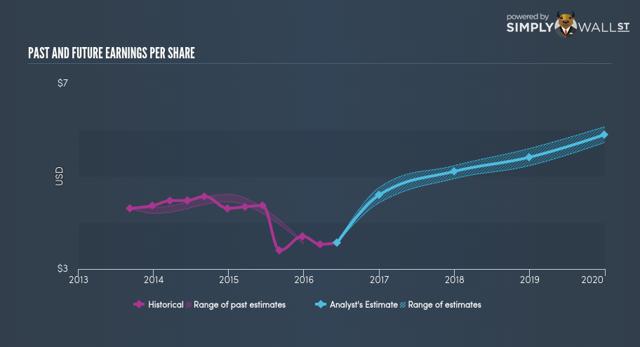 Source: Simply Wall St.
Analysts have PEP earning $5.90 in 2019, meaning that at current prices, PEP is going for 18.5 times earnings that won't occur for three years. I understand that the staples are very popular stocks, that PEP is dividend royalty and that it is usually expensive due to its track record. But just consider for a moment just how expensive this stock has become before you rush out and buy the 1% EPS guidance hike.
I mentioned as well that there is a significant opportunity for PEP to miss these bullish numbers and if you don't believe me, have a look at what PEP has actually done for the past several years in terms of profits.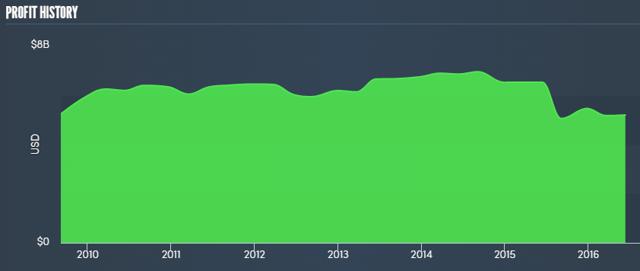 Source: Simply Wall St.
EPS has grown via a lower share count but PEP's actual profits are lower now than they were at anytime in the past six years. There is no reason why this flat-to-down profit trajectory can't continue and in particular, if the dollar strengthens materially. I'm not saying it will or won't but it is certainly a possibility that cannot be ignored and if PEP's profit growth looks like this for another six years, the stock is even more expensive than it appears because analysts don't see this kind of trajectory right now. And with high rates of growth already priced in, what happens if PEP misses?
I get that PEP is a dividend icon and that it will always be a little overpriced because of its track record. I also get that it is hitting new highs so being bearish isn't exactly a popular position right now but I can't help the evidence. There is way too much information to suggest that PEP is getting beyond frothy at this point for me to even consider going near it. If you want a high dividend, you can get a better dividend in a variety of places. If you want growth, you won't find it here. If you want value, ditto. In short, as terrific as PEP is as a company, its stock is equally the opposite; it is ridiculously overvalued at this point and putting new money to work here is a mistake in my view.
Disclosure: I/we have no positions in any stocks mentioned, and no plans to initiate any positions within the next 72 hours.
I wrote this article myself, and it expresses my own opinions. I am not receiving compensation for it (other than from Seeking Alpha). I have no business relationship with any company whose stock is mentioned in this article.