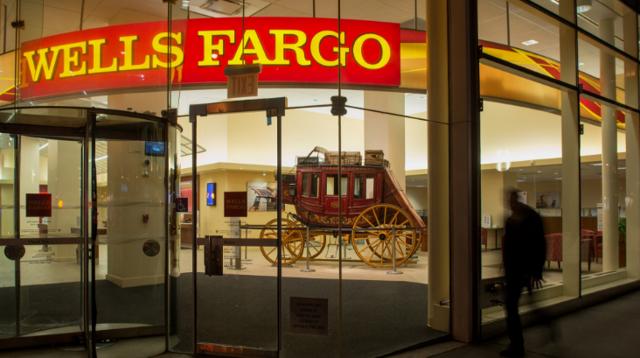 Mega bank Wells Fargo (NYSE:WFC) is due to report earnings for the second quarter later this week and as always, what WFC says on a variety of topics will be closely watched. WFC is widely regarded as the gold standard in banking, surely why it trades at a sizable premium to the other TBTF banks. But in recent quarters, the gap between WFC and the others has closed in terms of actual performance and that led me to comment after Q1 earnings that upside from $49 was probably quite limited. As it turns out, heading into Q2 earnings, we are still at $48 so what will WFC talk about that may send shares higher or lower?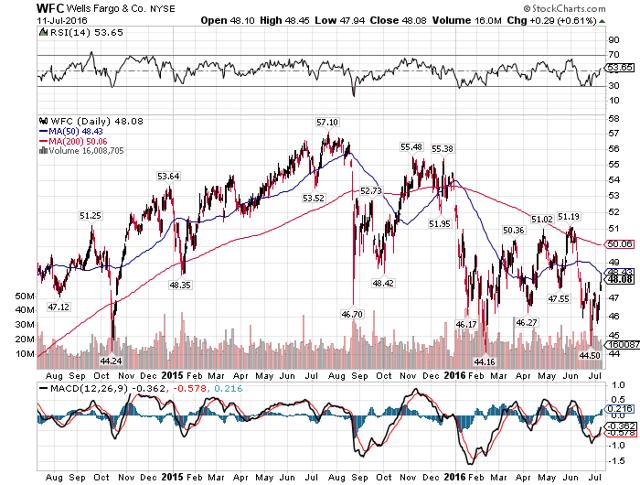 WFC has always been a sort of community bank on a massive scale, unlike the other TBTFs which are more like money center institutions. The difference is that WFC relies on taking deposits and making loans more so than the others - which have sizable non-consumer focused businesses - and that means WFC needs the consumer in order to grow earnings. In Q1, it didn't have that and that caused me to be more cautious.
WFC continues to collect deposits - just like everyone else - but its consumer business posted a weak Q1 due to higher provisions and rising noninterest expense. What WFC reports in this all-important segment for Q2 will drive whether it beats expectations or not and any commentary surrounding the consumer will be closely watched. WFC needs loan growth to grow profits more than the other TBTFs and without it, the valuation gap should narrow between WFC and JPM, BAC and C. That hasn't happened yet and is a potential downside catalyst.
WFC's energy exposure is right around 2% of its book and it took sizable reserves against future losses in Q1. If it takes more reserves against its energy portfolio, that would be a significant negative as I believe most expect that WFC is fully reserved. The recovery in energy prices has seemingly kept a lid on further losses but it will be something to watch if it is anything other than a non-event.
On the expense front, I also want to see more progress on its efficiency ratio. Q1's number was just under 59% and for this point in the cycle - years removed from the crisis - that number is still too high. Other banks like Citi and BAC that had to literally rebuild their businesses are excused from having higher efficiency ratios but WFC has no such reason. Higher compliance and regulatory costs mean that the days of sub-50% efficiency ratios are probably gone forever but 59% is too high. I want to see some progress from WFC on its costs because they are too high and it is hurting margins.
WFC continues to produce sizable capital returns and that will drive income seekers to the stock but what about earnings growth? Rates continue to plummet to historical lows around the globe and with WFC more reliant than the others on traditional interest income, how will it fare? Rates will certainly be a hot topic this time around and what WFC has to say about its earnings sensitivity and impact from continuously lower rates will be telling. Again, the outlook would appear to be somewhat negative, more so than its peers.
In addition to the fundamental headwinds I see, WFC is in a very clear and protracted downtrend right now. Since it peaked at $57 the stock has done nothing but make lower highs and as its major moving averages continue to fall, there is a lot of overhead resistance. That means that even if WFC were to mount a rally it would take a long time and a gargantuan effort by the bulls to push higher. It isn't as though that can't happen but the odds are certainly not in the favor of longs right now.
With WFC at 12 times this year's earnings and a number of headwinds that are both company-specific and macro related, WFC certainly does not seem like a prudent buy heading into earnings. Q1 wasn't particularly bad, although it was certainly weaker than the other TBTFs, and WFC was punished for it. Depending upon the sort of guidance we get based upon lower rates for longer, WFC could see a sizable selloff. We won't get a bloodbath because WFC is, well, WFC and it continues to pay a big dividend. But I'll reiterate what I said a couple of months ago; the risk with WFC is to the downside more so than the upside. I'm not arrogant enough to say that WFC is a short here because shorting WFC is a tough thing to do. But I am fairly confident that paying 12 times earnings heading into what could be a tough report is not something I'd advise. Be careful out there.
Disclosure: I/we have no positions in any stocks mentioned, and no plans to initiate any positions within the next 72 hours.
I wrote this article myself, and it expresses my own opinions. I am not receiving compensation for it (other than from Seeking Alpha). I have no business relationship with any company whose stock is mentioned in this article.