Anybody who bought gold (NYSEARCA:GLD) after June 23, the day of the Brexit referendum, is probably going to lose money in the next few months unless they reverse this position in the next few days. Brexit did not change gold's oversupply situation, just yielded some short term profit opportunities due to the fact that gold is negatively corelated to stock shocks (i.e., the drop caused by Brexit.)
Speculating is what people are doing when they try to buy gold as a cataclysmic stock shock is unfolding and it's really stupid speculation. Research shows that you will lose money if you purchase after the start of the event. The only exception is buying during extremely volatile stock days (June 24 and 28 for Brexit), but even then profits are much lower than buying before the crisis - and they disappear quickly.
If you want to speculate with safe haven assets you need to read the best research on gold as a safe haven for stock market crises by Dirk Baur of Dublin City University and Brian Lucey of Trinity College Dublin. They analyzed how long the excess profits from safe haven investing last after a crisis. The window is short: only around 15 trading days after the start of the crisis, with maximum gold profits occurring at around 10 trading days.
The good news is that you'll have lots of opportunities for safe haven speculation if you missed the opportunity to benefit from Brexit. There are multiple national elections in the euro zone that will lead to either Euromageddon (a good thing economically) or EU disintegration (a bad thing economically) each of which will have opportunities for safe haven investing.
It's now 11 trading days after Brexit so let's use it as an example of how you can safe haven speculate with gold and stocks.
First of all, let's talk about the Brexit timeline. The European Union Referendum Law was unveiled on May 27, 2015 when gold was around $1200 per ounce. British Prime Minister David Cameron did this as a tactic to try to win the parliamentary elections. It worked: Cameron's Conservative Party unexpectedly trounced the Labour Party.
Cameron diligently worked with the European Council to get changes to the Great Britain's EU membership that would eliminate any possibility that the referendum would be successful. At first, these appeared to be successful and gold declined to a low of $1060 per ounce on December 31, 2015.
Unfortunately, negotiations with the European Council rapidly deteriorated after this. The Council would only agree to changes that were viewed as extremely weak. When the draft agreement was released on February 2, 2016, many of Cameron's colleagues stated that he had failed to achieve most of the objectives he originally set out in 2013. Gold rose to $1127 per ounce on February 2.
On February 20 with gold at $1230, Cameron announced that the Brexit vote would be on June 23. Gold remained in a range from $1200-$1300, depending on which way the polls said Brexit would go, closing at $1255 in New York on June 23.
The market quickly realized that Brexit was going to be approved. On June 23 after 11:00PM EST gold spiked up to $1359, finishing the day at $1332 as shown in the chart below.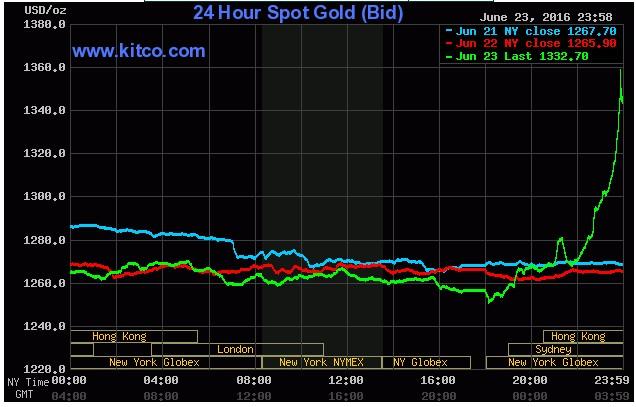 If you hadn't bought gold by now, you had missed the 6% one-day gain and the 25% run up since the beginning of the year. If you bought the June 24 close, $1313, and sold at the recent high on Thursday July 7, $1370, you would only have a 4.3% gain.
The chart below shows the gold price for the above time period.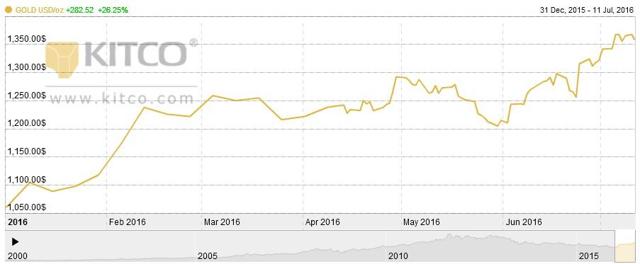 Unfortunately, anyone who bought gold on June 24 probably still has it. According to Baur and Lucey's research, safe haven gold gains usually go away in 15 trading days so, on average, gold will back be below the June 24 price in another four trading days.
So that was the opportunity in gold. Stock market volatility is the icing on the cake. Baur and Lucey show that stocks almost always go up after a negative shock, at least for the first 25 trading days. From June 23 to June 28, the S&P 500 stock market (NYSEARCA:SPY) dropped 5.3%. Two weeks later on July 8 it was up 8/10 of a percent so you could've locked in over a 6% gain if you had bought on June 28 and sold last Friday.
All the above adds up to a theoretical gain of over 30% in six months. Your real experience will be less but still significant if you react to political warning signs and prepare for safe haven opportunities.
For a Brexit example, let's assume you are slow and don't start buying your gold until February 20 when Cameron announced the firm June 23 referendum date when gold was at $1230. Being disciplined, you refuse to buy gold above the $1230 level and you have several chances to load up with as much gold as you want between $1215 and $1230.
On June 23, you nervously await the referendum results. You're prepared to sell your gold on the 24th if the referendum fails, hoping to get close to the June 23 close of $1255 for a small 2% gain of around $30 an ounce.
If the referendum passes, you plan on immediately buying stocks at the crisis lows with a holding period of approximately 25 days. Your gold is held until 10 trading days after the crisis when prices often peak.
On the morning of June 24, you find out that the referendum has passed and start to carefully purchase stocks (or options but that's too complicated for this example). Between Friday and Monday you purchase stocks at the average of the two days close of 2015 on the S&P 500. Once stocks start going back up on Tuesday the 29th, you cease buying.
On July 8 (the 10th trading day after the crisis), you sell your gold at the close for $1365 per ounce, for an 11% average profit.
You still got another two weeks before you sell your stocks but your happy to see that S&P 500 is reaching new highs, 2140 at this writing, for a 6% profit.
If you missed Brexit, the next big shock/opportunity/surprise is probably the Italian elections in October. Currently, the radical Five Star Movement, led by the comedian Beppe Grillo, is ahead of current Italian premier Matteo Renzi's Democrat party. If they win Euromageddon (Italy exit from the Euro) is almost certain to happen in short order.
Safe haven investing opportunities are not black swans but rather known events that can temporarily distort markets if all the dominoes line up right. I'll try to publish articles in the future that point out possible safe haven events.
Disclosure: I/we have no positions in any stocks mentioned, and no plans to initiate any positions within the next 72 hours.
I wrote this article myself, and it expresses my own opinions. I am not receiving compensation for it (other than from Seeking Alpha). I have no business relationship with any company whose stock is mentioned in this article.