By Scott Tzu
Those that know us know that we are extremely critical of Tesla (NASDAQ:TSLA) and that we have been short the stock off and on for the better part of a year or so now. We're critical because we don't believe the company will ever be able to turn a profit with its capital structure looking anything like it does now and we believe either the equity price will fall on its own or shareholders will fall victim to more dilution until they own fractions of a percentage in the company that they once did.
The headline after hours yesterday was that the Securities and Exchange Commission was investigating Tesla for potential securities law breaches related to the Florida auto pilot death that occurred just weeks before Tesla's $2 billion financing. It was only days ago that we released our full detailed write up on why we do not think the death was material, but for the negative press it would bring onto the company. Obviously, it is a tragedy anytime life is lost and these things should be taken extraordinarily seriously, but the materiality of the event as it relates to making a decision on the stock still does not seem to make sense to us.
1. It's Not a Formal Investigation, For Now
We have enormous respect for the Wall Street Journal and don't doubt that sources familiar with the matter are correct when they say the SEC is looking into the crash. The story that broke the news reads,
The Securities and Exchange Commission is investigating whether Tesla Motors Inc. breached securities laws by failing to disclose to investors a fatal crash in May involving an electric car that was driving itself, a person familiar with the matter said, heightening scrutiny of how the company handled the information.

The SEC is scrutinizing whether Tesla should have disclosed the accident as a "material" event, or a development a reasonable investor would consider important, according to the person familiar with the matter. The SEC's inquiry is in a very early stage and may not lead to any enforcement action by regulators, the person said.
This appears to be a very preliminary glance at whether or not there is enough cause to open a formal enforcement investigation. WE believe that there will not be, based on facts that we outlined in our previous article and new facts we'll discuss here.
But the first point to clarify is that this "inquiry" is at a "very early stage". We can worry about what comes after that if it moves forward.
Tesla has claimed that they have not been contacted by the SEC regarding this matter, so whatever inquiry they are conducting must be in the very early stages.
2. Can't Prove Materiality When Market Doesn't Care
In light of the information that the SEC is investigating the company, we wanted to double down on our opinion and go into detail as to why we do not think this SEC probe, if it goes forward, will not yield any negative results.
It is worth remembering, also, that we are skeptics of the company and that we welcome any regulatory probe into its business practices and especially its financials. We feel conflicted of sorts, because we know that Tesla should be trading much lower and we think a regulatory probe of the company is a great idea, however we are not sure that the SEC is going to be able to get them on the materiality of this death.
The first thing we need to look at is the definition of a material event. A material event is defined as "aspects of a company, that have not yet been made public but that will have at least a small impact on the company's share price once released." As we argued in our last article, the stock didn't even move on the news of the autopilot death, thereby essentially proving that it wasn't, in fact, material.
In the days following the announcement of the death, Tesla's share price barely budged. As further details came out about the death, including allegations that the driver may have been negligent, the stock continued to hold firm. In fact, the stock has moved straight up over the last week.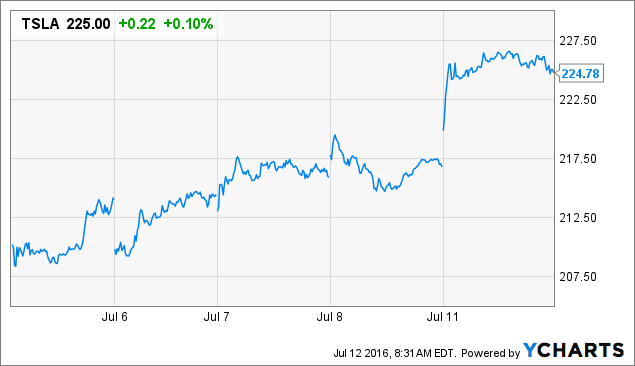 TSLA Price data by YCharts
It's going to be difficult for regulators to pin this one event as material when it clearly didn't have a marked effect on the market's opinion of Tesla.
3. It Could Only Be Material If It's Tesla's Fault, Which Isn't Proven
While we certainly don't see the dip as a buying opportunity, these SEC investigation headlines are often a shock at first and then not heard from him for a while. Many SEC probes involving much greater clear-cut evidence then this one we have seen go unfinished or closed without enforcement action.
But the point here isn't to make a comparison to other cases, it's to examine the facts of this one. This is more than just a case about whether or not the proper disclosure was made. It is extremely important to understand and act according to the events that took place the day of the accident. This is another reason that we believe it is unlikely that anything material comes from this SEC investigation.
Auto regulators are first going to have to judge whether or not this accident is going to be deemed Tesla's fault, before we can say that this could be a material event to investors. This hasn't happened yet.
This death is going to not just be a case about disclosure, but a case about exactly what happened during the crash. If the driver was negligent in his responsibilities as a driver, as bound by warnings and disclaimers issued by Tesla regarding the autopilot system, then there can't be a disclosure issue because it technically isn't Tesla's fault. If it was the drivers fault and this is deemed to be material, General Motors (NYSE:GM) would be expected to report every fender bender in the world to shareholders. It's not a prudent line of thinking and it doesn't make sense.
However, if it was certainly the autopilot system and nothing else that was to blame, only then can we make the question of whether or not the disclosure was improper. But we're not at that point yet.
Wild Card Scenarios and Our Final Take
Again, while we don't necessarily think that it was a material event in and of itself, the one thing the SEC could get the company on is if this event was potentially covered up internally. We have no proof of this happening, but it's a "wild card" avenue that could certainly give an SEC case some credence.
If Tesla executives conspired to purposefully keep this information quiet against the advice of securities lawyers or against their judgment, this could be horrific news for the company and lead to significant bad press that may negatively impact the company for a long time to come.
Barring that sort of conspiracy, however, we do not think anything significant is going to come out of this investigation. In a worst-case scenario, Tesla would likely settle with the SEC for a fine and that is only in what we believe to be the small chance that the SEC is able to make an open and shut case that Tesla purposely deceived investors and that this information was material.
Despite us not thinking this is the angle that fries the company, we are still markedly bearish on the company due to its horrendous financials. We may initiate a short position in Tesla at any point.
Disclosure: I/we have no positions in any stocks mentioned, but may initiate a short position in TSLA over the next 72 hours.
I wrote this article myself, and it expresses my own opinions. I am not receiving compensation for it (other than from Seeking Alpha). I have no business relationship with any company whose stock is mentioned in this article.