Critical Elements (OTCQX:CRECF) (TSXV:CRE) - Price = USD 0.41, CAD 0.56
Critical Elements is a Canadian junior mineral exploration company.
Their flagship project is the (spodumene) Rose lithium-tantalum project in James Bay Quebec. Currently they are quite well advanced with production plans for 2019.
Critical Elements also have 10 other exploration projects including the Bourier site which has strong lithium potential, Lemare, Nisk nickel/copper/cobalt/iron project, and the Rocky Mountains rare earths project. Some of these are being farmed out to other companies under buy in agreements. Platypus Minerals (ASX:PLP) recently signed such an agreement with Critical Elements for the Lemare lithium project.
What's driving the lithium market
Lithium mining is a leading industry supporting three separate billion-dollar industries - smartphones, electric vehicles and energy storage.
China's lithium-ion battery production tripled in 2015.
12 lithium ion battery "mega factories" are coming by 2020 (including Panasonic (OTCPK:PCRFY), Tesla (NASDAQ:TSLA), LG Chem (OTC:LGCLF), Samsung SDI (OTC:SSDIY), BYD Co (OTCPK:BYDDF), and Foxconn (OTC:FXCOF).
Goldman Sachs (NYSE:GS) calls "lithium the new gasoline." They forecast 22% electric vehicle (NYSE:EV) penetration by 2025, and "lithium demand for all EV applications could grow more than 11x by 2025.
Ford (NYSE:F) is spending USD 4.5b to add 13 new EV models to electrify 40% of its vehicle line up by 2020. General Motors (NYSE:GM) has the Bolt coming, Nissan (OTCPK:NSANY) has the Leaf, Toyota (NYSE:TM) the Prius, Mitsubishi (OTCPK:MSBHY) the Highlander, and VW (OTCPK:VLKAY)(Audi/Porsche), BMW (BAMXY:OTC), Renault (OTC:RNSDF), are all moving fast toward EVs.
Byd Co (OTCPK:BYDDF) and Tesla (NASDAQ:TSLA) are leading the pure EV plays, requiring more lithium each year.
Critical Element's Rose lithium-tantalum project - location map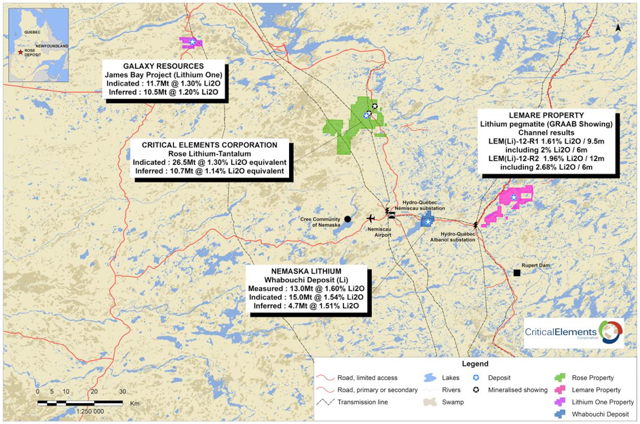 Critical Element's Rose lithium-tantalum project and resource details
The Rose lithium-tantalum project has an indicated resource of 26.5 million tonnes of 1.30% lithium hydroxide equivalent and an inferred resource of 10.7 million tonnes of 1.14% lithium hydroxide equivalent. That makes it only slightly smaller, and slightly lower grade than Nemaska Lithium, which has indicated 27.3 MT @ 1.54%.
Based on their 2011 Preliminary Economic Assessment (PEA) for the Rose lithium-tantalum Project, it showed an estimated Net Present Value (NPV) of post-tax CA$279 million at an 8% discount rate, and an estimated after-tax Internal Rate of Return (IRR) of 25%. Cost of production was estimated at USD 2,900/tonne (net of tantalum credits), and the sale price for the lithium carbonate equivalent (LCE) was estimated at USD 6,000/tonne. Expect this to be significantly increased when they release their 2016 feasibility study, as lithium carbonate contract prices are now closer to 13,000 USD/tonne, and the Canadian dollar has weakened around 30% since the PEA was done.
The resource is also low in iron content, so they can also sell technical grade lithium to the ceramic and glass industry, however their main focus is to produce lithium carbonate (and quite likely later lithium hydroxide) for the battery industry. The company plans to sell 25% of the lithium concentrate to the ceramic and glass industry, so as to generate earlier cash flow with greater diversification and lower risk.
Finally, the project is very well located, close to all the necessary infrastructure, in the mining friendly state of Quebec.
Rose hard rock lithium-tantalum deposit
25% partner (HELM AG) in Rose lithium-tantalum project - 100% off take agreed to.
In September 2015, Critical Elements announced to the market that they had secured an agreement with an unnamed (since named as HELM AG) leading global chemical company. CEO Jean-Sebastien Lavallée did say the 25% partner was "a very large chemical company, financially very strong", and "it's not any company that can provide this kind of warranty on the off-take." The deal included a take-or-pay off-take agreement for all (100%) products produced from the company's Rose lithium-tantalum project. Pending positive results of the feasibility study, the new partner has the option to provide equity financing in the project for up to a 25 percent interest. No further details were given. At current market prices a 25% stake would be around CAD 20m, however I would expect the deal to be finalized once the feasibility study is released and by then Critical Elements should have a market cap a lot closer to Nemaska (market cap CAD 313m), at around CAD 200m, making a 25% stake worth CAD 50. I see this similar to the Lithium Americas-SQM deal, and it certainly de-risks the Rose project. Some will argue the partner is getting in too cheap paying say only CAD 50m (my estimate) for 25%, however Critical Elements is also securing 100% of all sales, and production expertise, so really a win-win for both parties. You can watch a video discussing this here. In May 2016, Critical Elements raised an additional CAD 6.2m from a group of institutions led by JP Morgan Management UK.
In June 2016, it was announced that "HELM AG would provide Critical Elements up to 4.5 m as a credit facility (at 12% interest) to complete the feasibility study. In connection with the initial 1.5m drawdown, HELM shall receive 2,500,000 non-transferable share purchase exercisable entitling it to purchase same number of common shares of the Corporation a price of $0.77 per share." You can read more about the German chemical company HELM AG here. They have an equity value of 789m Euros.
Production plans
The conclusions of the PEA indicate the operation would support a production rate of 26,606 tons of high purity (99.9% battery grade) LCE and 206,670 pounds of tantalum hydroxide equivalent per year over a 17-year mine life (this could easily be extended). Mining would be mostly open pit. Mine start up costs were estimated to be USD CAD 305m.
At this stage the company has been using the standard chemical leaching to extract the lithium, rather than the hydrolysis technique chosen by Nemaska. They have been able to achieve 99.98% battery grade lithium carbonate.
Production of lithium carbonate should be able to begin by early 2019.
Valuation
Critical Elements is not yet producing, so has no earnings or P/E yet.
Based on market capitalisation Critical Elements looks extremely cheap to me. It currently has a market cap of only CAD 80m compared to Nemaska Lithium at CAD 313m (before the recent CAD 50m raising). That makes Critical Elements 4 times cheaper than Nemaska. Off course Nemaska have completed their updated 2016 feasibility study, and have a slightly higher grade lithium resource, and the proprietary (electrolysis) lithium extraction technique. Nemaska have pre-sold some lithium product to Johnson Matthey Battery Materials (JMBM) for an up-front payment of CAD 12 million. Comparably, Critical Elements have found a partner willing to take a 25% equity interest, and to help fund the mine and plant set up costs, and take 100% off take of all lithium and tantalum. Additionally Critical Elements have 10 other resource projects, albeit not yet developed. One could argue based on that Critical Elements should trade on a market cap at least the same as Nemaska, or not too far below.
It appears to me that Critical Elements does not get the same hype and promotion as Nemaska and others, and therefore it's stock price has not risen as spectacularly thus far.
Based only on reaching production for the Rose lithium-tantalum project, my model forecasts the following:
End 2019 - 26,606 tpa LCE produced, USD 77m in earnings, stock price of CAD 3.68, or 6.57x higher.
NB: Based on 75% ownership, 2% royalties, LCE sold at USD 10,000/t, production cost USD 2,900/t, PE of 15. CAD 100m equity raising, 155m debt, plus CAD 50m from 25% partner to build the mine and plants (CAD 305m). I also assumed CAD 50m of equity issued prior to production start up. These are my own assumptions, as a bit early still to have company guided assumptions.
Near-term catalysts
2016/17 - Completion of the feasibility study, permitting, and the 25% partner (HELM AG) taking up their 25% equity option.
2017/18 - Project financing and construction.
Competitors
The other producing lithium miners, and soon to be producers. I have discussed these previously in detail here, here and here. Needless to say, the top 3 producers are non-pure plays (SQM (NYSE:SQM), Albermarle (NYSE:ALB), and FMC Corp. (NYSE:FMC)). The top pure play currently producing miners are Orocobre (ASX:ORE) (OTCPK:OROCF), Mineral Resources [ASX:MIN], Galaxy Resources (ASX:GXY) (OTCPK:GALXF), and Neometals [ASX:NMT] (OTC:RRSSF). The near-term producers include Altura Mining (OTC:ALTAF) [ASX:AJM], Pilbara Minerals [ASX:PLS], Nemaska Lithium (OTCQX:NMKEF) [TSX:NMX], Lithium Americas (OTCQX:LACDF) [TSX:LAC], Lithium X (OTC:ROCEF) (TSXV:LIX), and Bacanora Minerals (OTC:BCRMF) [TSXV:BCN].
A key here is that it takes usually 3-5 years to bring on a mine (land acquisition, drilling, feasibility studies, permits, licenses, construction etc.), and demand is growing very strongly thanks to electric vehicles . I think all the above miners will have plenty of demand, as you can read here where I analyze future demand v supply in the lithium market.
Risks
Critical Elements may not be able to raise the funds needed to construct the Rose lithium-tantalum mine and plant. Seems unlikely given the value of the asset, and they have taken on a well funded 25% partner willing to take 100% of off take, and who will help fund the costs up to production. If they were to lose that partner then they also have the Canadian Government as a back up plan, similar to Nemaska Lithium.
Permitting. Unlikely to fail in Quebec, as others nearby have succeeded.
Lithium price falls back sharply. Unlikely for some time as demand is rising faster than supply.
Lithium replaced by other chemistries. Unlikely, as no other technology is as compelling as lithium. Plus, lithium itself is only 2-5% of the cost of manufacturing lithium batteries. You can view the battery cost breakup here.
Liquidity risk for those investors buying on the US exchange. Better to buy on the TSXV, as there's higher liquidity.
Conclusion
Critical Elements is comparable to Lithium Americas with their 25% large partner that de-risks the project, and similar to Nemaska Lithium with their large indicated spodumene resource in James Bay Quebec, Canada. Yet Critical Elements current trades at an incredibly low market cap just 25% of both Nemaska Lithium and Lithium Americas.
This is partly understandable as Critical Elements has not yet completed a PFS or DFS. Also because the 2011 PEA showed a lower NPV (based on a lower LCE price, and a stronger CAD), the 2016 feasibility study is not yet completed, and the 25% equity partner has not yet taken the equity option as this is subject to the feasibility study. Given the 2011 PEA was still very positive, it would suggest it is really just a mater of time for Critical Elements to pass these hurdles and the stock to be re-rated, towards a market cap similar to Nemaska. That would mean a very rapid rise in the stock price, should the above proceed as planned in 2016 and 2017. Risks remain with the above steps, and then mine and plant financing and construction.
The other main issue for investors to consider is if Critical Elements will be able to keep production costs as low as USD 2,900 per tonne. Being a spodumene resource this will be difficult, however Critical Elements plans to sell a lot of tantalum which will help achieve this lower cost.
Critical Elements is quite unique in that it is a CAD 80m market cap junior that has already secured a 100% off take partner for ALL products from the rose mine, at market prices. It has a great spodumene resource, and is well located in Quebec near existing infrastructure.
I would see the stock price moving above CAD 1.50 once the feasibility study and 25% equity partner participation is finalized hopefully in 2016. Then upon completing project financing and starting construction in 2017/18, the stock should be above CAD 2.00. By end 2019, if they have achieve 26ktpa LCE production, my model forecasts the stock to be at CAD 3.68 or 6.57x higher.
Currently, I have Critical Elements as ranked number 6, in my "top five lithium miners to consider", however for pure valuation and upside potential it could well be ranked number one, just ahead of Lithium X which is also exceptional value on a market cap of CAD 111m. Investors should also remember they have a portfolio of 11 potential projects, and certainly their flagship Rose project is looking like being a big winner.
Investors should buy now before the stock re-rates higher on this exceptional buying opportunity.
I am not an employed analyst, and investors should do their own due diligence and modeling.
As usual, all comments are welcome.
Disclosure: I am/we are long GALAXY RESOURCES (ASX:GXY), ALBERMARLE (ALB), OROCOBRE (ASX:ORE), LITHIUM AMERICAS (LAC), PILBARA METALS (ASX:PLS), NEMASKA LITHIUM (TSXV:NMX), ALTURA MINING (ASX:AJM), LITHIUM X (TSXV:LIX), CRITICAL ELEMENTS (TSXV:CRE).
I wrote this article myself, and it expresses my own opinions. I am not receiving compensation for it (other than from Seeking Alpha). I have no business relationship with any company whose stock is mentioned in this article.
Additional disclosure: The information in this article is general in nature and should not be relied upon as personal financial advice.
Editor's Note: This article covers one or more stocks trading at less than $1 per share and/or with less than a $100 million market cap. Please be aware of the risks associated with these stocks.