Only a handful of pipelines I follow have managed a sustained recovery in 2016. For example, pipelines operating mostly in crude oil aren't doing well, relatively speaking, because crude volumes have come down in North America and domestic demand is flat. Those midstream names focused in natural gas and natural gas liquids have since fared better, all other things being equal, because demand is steadily growing for a variety of reasons.
But the deciding factor in midstream performance over the last few months has been debt levels and distribution coverage. This might explain some of why Williams Partners (NYSE:WPZ) has been outperforming its parent Williams Companies (NYSE:WMB). Have a look at this chart.

Both Williams Partners and Williams Companies have gone up over the past three months, but Williams Partners has done much better.
Since three months ago, Williams companies has appreciated 30% and Williams Partners has appreciated 60%. The difference, I believe, lies in Williams Partners' cleaner balance sheet, and the fact that Williams Partners has finally achieved a distribution coverage ratio of over 1 times.
To be sure, these two entities are highly related. Williams companies has a 58% interest in Williams Partners as limited partnership. While the two entities are operating with the same assets, the two have different balance sheets and different credit ratings. This is why Williams Partners has outperformed.
For example, Williams Partners' debt is about 4.6 times trailing EBITDA. Williams companies is just over 6 times trailing EBITDA, as of late last year. As dry gas pipelines are completed, however, EBITDA will grow, and those debt ratios will drift lower.
Last quarter Williams Partners achieved a distributable cash flow-to-distribution coverage ratio of 1.02 times. Williams Companies' coverage ratio was just 0.89 times. Moody's rates Williams Partners at Baa3, just inside investment grade, but puts Williams Companies at Ba1, just outside investment grade.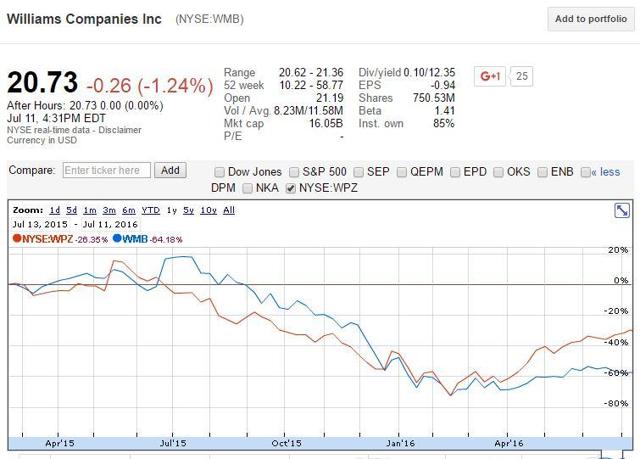 To be sure, both entities are still cheap overall because they were both eviscerated when oil and gas prices crashed. Both are historically cheap. Williams Partners yields 12.2%. Neither have cut dividends yet, but I'm now seeing some analysts argue that Williams companies will reduce its dividend, as Kinder Morgan did, and will do so to eventually regain its investment grade rating. I have to concur with that analysis, as that strategy seems to have worked well for Kinder Morgan in protecting its credit rating. I agree that Williams Companies could do the same thing to regain its investment-grade status.
In addition to that, there has been a resignation of six board members in Williams Companies, reportedly due to differences between them and CEO Alan Armstrong. Some activists investors, who together own 8.4% of all shares, seem to want a new CEO, but it's unclear what will happen from there, and whether they'll be able to get one.
As for Williams Partners, I expect it to continue and finish its pipeline system build out in the northeast doing this should grow cash flow and EBITDA by double digits in 2016, and that should further bring down the leverage ratio and keep that investment grade rating intact. If that's the case, and I believe that it is, then Williams Partners can be picked up here.
Lingering uncertainties
The biggest cloud hanging over Williams Partners continues to be whether its largest producer customer, Chesapeake Energy (NYSE:CHK) will make it. Chesapeake accounts for 20% of Williams Partners' volume, and it could be a big setback if Chesapeake goes under. For now it appears that Chesapeake is treading water by selling non-strategic assets and reducing costs in the Marcellus and Utica. Over the last couple months, the volume of bankruptcies in the energy space have subsided and higher dry gas prices are especially good for Chesapeake. I am less concerned about a Chesapeake bankruptcy now than I was three months ago.
I wouldn't rule such a possibility out yet, but as the months go by and the bottom in dry gas gets stronger, the likelihood of a major bankruptcy from gas producers becomes less and less. That makes me more and more confident in Williams Partners as an investment, especially as the partnership steadily improves its coverage and leverage ratios. If you want to own Williams' premier midstream dry gas assets, Williams Partners is the way to do so.
If you're interested in Williams Partners, feel free to follow me here on Seeking Alpha. I am long the stock myself, and I periodically provide update articles on this partnership. I will continue to do so as it becomes material and relevant.
Disclosure: I am/we are long WPZ.
I wrote this article myself, and it expresses my own opinions. I am not receiving compensation for it (other than from Seeking Alpha). I have no business relationship with any company whose stock is mentioned in this article.