If you're long US stocks (broadly speaking) you should thank your lucky stars for Brexit.
And for the Italian banking crisis.
And for Deutsche Bank's increasingly tenuous situation.
Do you know why? Because they've all served as decoys; distractions from the "main event", so to speak. And you're no worse for wear. In fact, you're "better" for wear. We're at all time highs on the S&P (NYSEARCA:SPY).
But while everyone's back was turned, this has happened:

The renminbi (NYSEARCA:CYB) has continued to grind steadily lower. And the spread between the onshore and offshore spots has begun to spike again. Let me remind you of why this is dangerous:

There is no question as to the correlation here. When the onshore/offshore spread widens, US stocks generally fall on risk-off sentiment tied to expectations of a weaker renminbi. It's just that simple. It's taken as a given among analysts; something that is barely worth rehashing for clueless clients. It's a "if they don't get it by now, they never will" kind of thing. Trust me.
But here's the thing. See how the yellow shaded area in the second chart plunges below the blue parity line right at the February S&P lows and then remains either below the parity line or close to it through the end of April? And see how the S&P rallied over the same exact period? That's no accident.
But note how the yellow shaded area has begun to spike above the parity line more often starting in May and continuing right up until now. And yet the S&P hasn't reset lower. That disparity likely will not last.
I talked on Monday about how China is keeping a lid on speculation. But I've been adamant about one thing: the RMB curse will return for risk assets. I've said it over and over and over.
On Monday, SocGen was out reinforcing this point in a note appropriately titled "The RMB Question Will Be Back." In it, the bank notes the discrepancy between the CNH forwards market and the reality of the ongoing devaluation, something I've discussed on multiple occasions of late:
The new normal in recent months is gradual RMB depreciation that doesn't create a negative feedback loop to other currencies or broader market sentiment. This could embolden policymakers to keep pushing the limits of depreciation, especially if speculative positioning stays subdued. Implied volatility, risk reversal, forward points, and the forward curve have all been unresponsive to the recent RMB weakness. This is partly due to the reluctance of speculative investors to add exposure after being burned by the RMB depreciation trade in January, but also because intervention remains ongoing despite not showing up in headline reserves or the forward book.

(Charts: SocGen; my highlight)
According to SocGen, there are two possible explanations for the recent behavior of the yuan:
The PBoC yielding to capital outflows and allowing the renminbi to fall faster is a way of relieving the pressure. This could be dangerous, as currency depreciation and capital outflows could form a vicious circle at some point.
The PBoC is confident that its capital controls could cap capital outflows regardless of the currency trajectory. Then the question is how much more depreciation the Chinese authorities would like to see. If they mean what they have said all along about staying away from a currency war, there should not be much more to go, at least in trade- weighted terms.
Clearly, the second explanation is implausible. Why? Well just look at the evidence:

(Charts: SocGen)
Trust me, there's plenty "more to go." Don't forget, if the broad dollar continues to rise, the USDCNY will have to skyrocket in order for the renminbi to remain stable against the basket- let alone depreciate: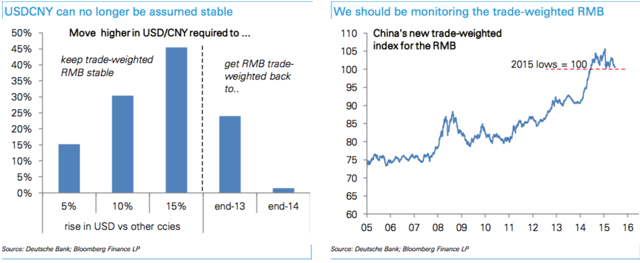 (Charts: Deutsche Bank)
So how low does it go? Well, according to SocGen, 7.10 at least, and 8 under a "risk scenario" (emphasis mine):
The next wave of RMB depreciation will see USD-CNY trade up to 7.10 by mid-2017. Since USD-CNY bottomed in early 2014, there have been five waves of depreciation and each has followed a predictable pattern: three to five months of USD-CNY increasing (+3.5% on average), followed by modest gains (+1%) spanning an equivalent time span, before another round of depreciation ensues. The predictability is suboptimal from a policy perspective, but it appears to be the PBoC's standard playbook. While there could be some consolidation or modest strength after the current depreciation phase ends (3.6% since April), the ensuing wave and medium-term path should see USD-CNY reach 7.10 over the next year.

The new risk scenario for CNY is 8.0 (20% increase in USD-CNY). We assign 20% probability to this scenario. The caveat is that the pain threshold for the market appears to be much higher than before and the implications for the global financial markets will primarily depend on the speed of depreciation.
Right. In other words, the yuan is going lower. And the value of your stocks depends on the market's collective "pain threshold" when it comes to tolerating depreciation.
So don't get too comfortable with "local" Brexit risk or "contained" Italian banking sector fallout, because the elephant in the room will "be back."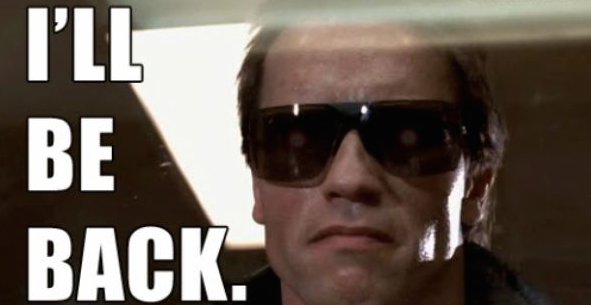 Disclosure: I/we have no positions in any stocks mentioned, and no plans to initiate any positions within the next 72 hours.
I wrote this article myself, and it expresses my own opinions. I am not receiving compensation for it (other than from Seeking Alpha). I have no business relationship with any company whose stock is mentioned in this article.