As odd a question as this may seem, could Venezuelan debt be a good buy?
After all, it's when everyone else is saying sell (buy) that it becomes very important to consider going long (short). Is Venezuela truly collapsing and preordained to experience economic destitution in perpetuity? Or is right now just particularly disastrous and some debt might actually be attractive? This piece will briefly examine that question.
I won't bother with the shocking narrative, as the mainstream press has already done an excellent job. Venezuela is in the midst of a full-on crisis, and I am by no means denying that. Search 'Venezuela' on any major news source, and literally every single piece will be negative.
But I want to get beyond that. Let's look at the numbers.
Venezuelan inflation is up. Like way up. Here's month on month CPI % growth. It currently stands at 180.90% and is, if anything, accelerating.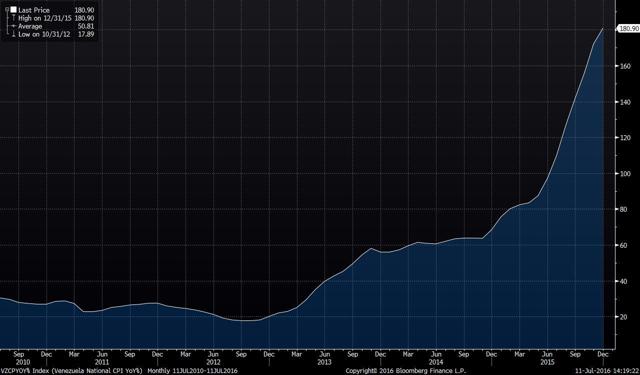 Estimates for average YoY (don't confuse that with the above MoM) CPI % growth in 2017 have been revised up to 233.1% from 124.1%. So not only have things been bad for a while, but we are continually revising (and not in a good way) just how bad things are.
Unsurprisingly, GDP growth is, unsurprisingly, negative, running at -7.1% in 2015 and estimated to rise (yay) to -6.8% in 2016.
So Venezuela is a mess. That's not news. But 'a mess' (which is the very ambiguous wording that most use) is not a very scientific way of seriously and objectively evaluating investment opportunities.
We know where the weakness is, but where might the strength (read: areas for speculative exploitation) be?
With newspapers littered with headlines like 'Venezuela Seizes Kimberly-Clark Factory,' its easily to be irrationally averse to any financial interaction with the country. But that irrational aversion is exactly what may make Venezuelan debt a great long.
Venezuelan equities, I wouldn't touch with a ten foot pole. The stock market is extremely thinly traded and there are few healthy businesses (largely because a. it was mostly foreign companies operating Venezuelan subs to begin with and b. Venezuela has a demonstrated proclivity for nationalization).
Fixed income is another story. There's an interesting (and potentially extremely profitable) game of chicken to be played with Venezuelan government debt.
It is widely understood that Venezuela will default on its debt. The question is when that will occur. Here is a chart of Venezuela's dollar reserves: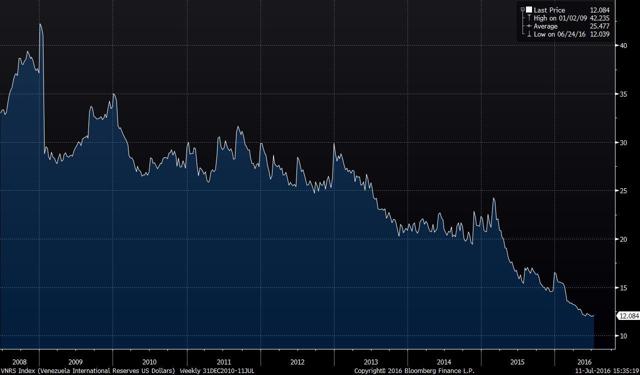 So yeah, it seems unlikely that Venezuela will be able to make good on its foreign-currency denominated debts (it may surprise you though, to hear that they have never missed a payment since 1982!), as its foreign currency reserves are quickly going to zero. And with their yields running at over 40% for relatively short-dated securities (due in 18 months), there is no appetite for Maduro's 'government' to turn to in order to roll over debt. So it should be clear that Venezuelan sovereign debt is not a security whose cash flows will be maintained as promised at issuance.
So the game is set: how long are you willing to hold on to this extremely high yielding debt before the inevitable default occurs? Well, the rampant pessimism and associated sky-high yields delivered formidable returns last year to those who were willing to hold their noses and reap the rewards of gorging on filthy distressed Venezuelan debt.
The question basically comes down to one of risk tolerance. You would be hard pressed to find as binary and uncertain a distribution of return probabilities as that which you take on by holding this stuff on the day a payment is due.
If you value a good night's sleep, probably best to stick to your negative-yielding JGB's. If you're willing to stomach the possibility of disaster befalling you in the blink of an eye
One last thing, as I try to convince you this could be a good high-risk bet. If worst comes to worst, the largest holders of Venezuela's icky debt are big, powerful institutions (Blackrock, Goldman Fidelity, UBS are the really big guys), and right below them (ranked by percent of outstanding Venezuelan debt held) are some more big hitters. So if worst comes to worst, you can get bought out by a vulture fund or be one of the lucky people who gets represented by the legal heft of mutual fund giants.
Not such a bad risk profile.
Disclosure: I/we have no positions in any stocks mentioned, and no plans to initiate any positions within the next 72 hours.
I wrote this article myself, and it expresses my own opinions. I am not receiving compensation for it (other than from Seeking Alpha). I have no business relationship with any company whose stock is mentioned in this article.