In a world starved for yield, Australia appears to be a haven of attractive fixed-income returns, with 1.926% yields on AUD-denominated (AUDS) sovereign two-year bonds, which also happen to be rated AAA. Sounds pretty good.
Here's the yield curve in bps terms: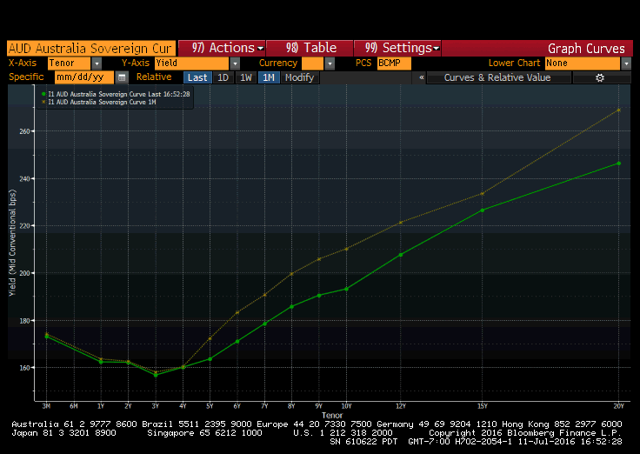 The attractive yields have led to widespread capital appreciation of Australian bonds and heavy ETF inflows. Here is the Bloomberg Australian Sovereign Fixed Income Index (only includes maturities >12mo):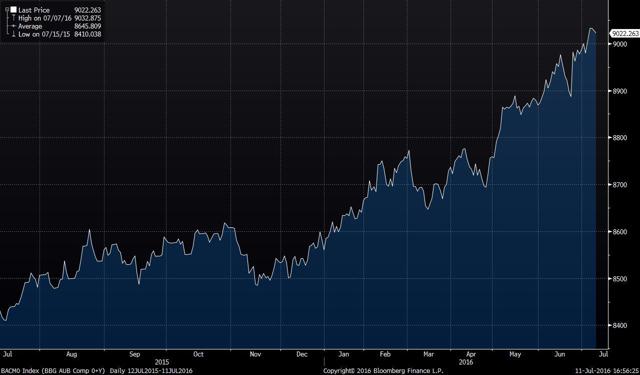 There is however some cause for concern. Australia's source of currency strength, its high yields, may be about to become a source of currency weakness, according to UniCredit SpA's head of global FX strategy, Vasileios Gkionakis:
The margin for conventional monetary policy easing is much higher in Australia compared to Canada and Norway. So from that respect, I can easily see the markets pricing more rate cuts by the RBA compared to the Bank of Canada and the Norges Bank.
Note how strange a statement this is. Before 2008, we would not be talking about "ability" to ease - all that mattered was the will to do so. But as we (by which I really mean Japan!) approach some (arbitrarily-determined) lower bound (I don't see it anywhere... can someone point it out? It seems to me that we can just keep driving further and further down...), a difference of a few bps (ok, a few hundred, but still) makes a significant difference in the conduct of monetary policy and subsequently impacts currency flows.
Here's the "monetary wiggle-room differential" from BBG: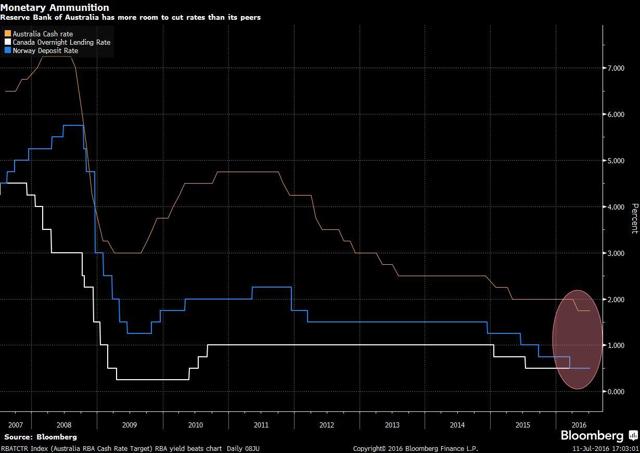 So that's something to look out for.
If the analysis pans out, that brings into question the fundamentals of the relationship between interest rates and currency valuations...
Perhaps a better paradigm for the causal loop is as such:
High Yields --> Currency appreciation in short run, but...
...those very same high yields make easing more doable when needed, currency's interest rate sensitivity is higher --> earlier high yields have served in the medium term to depreciate, rather than appreciate the currency.
It's unlikely that this dynamic will fully or even marginally impact presumed validity of the traditional model. I fully acknowledge that, and there's not a chance I will use this as my new analytical paradigm.
Nonetheless, it is interesting to look at refutations of convention, because history has consistently proven that convention is just that - convention! There is no inherent reason that our assumptions are correct, so such "intellectual stress-testing" is a great way of getting to truth, which is the surest path to investment success.
Hopefully, this curious little dynamic helped to spur some introspection and thought.
Disclosure: I/we have no positions in any stocks mentioned, and no plans to initiate any positions within the next 72 hours.
I wrote this article myself, and it expresses my own opinions. I am not receiving compensation for it (other than from Seeking Alpha). I have no business relationship with any company whose stock is mentioned in this article.