Welcome to the energy sector's ninth edition of "Buy on Weakness?", a series of articles that sifts through the underperformers of the week to find potential investment opportunities in the large-cap energy world.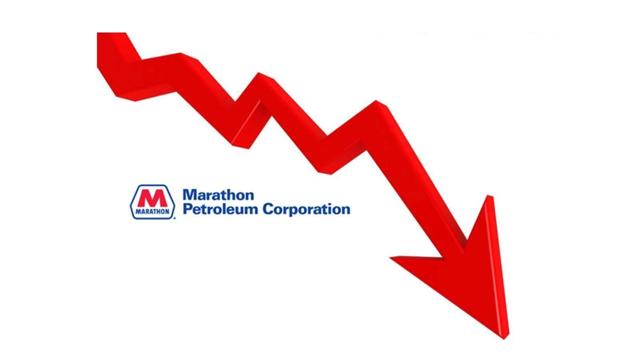 Credit: DM Martins Research montage using company logos
The idea is to help investors, particularly those focused on value plays, unearth ideas for the coming week. Check out the eighth and seventh editions of "Buy on Weakness?" for a look into prior weeks' "energy losers".
The table below highlights the top 20 energy companies - worth $10 billion or more in total equity value - that have performed the poorest in the previous five trading days.
Source: DM Martins Research, using market data compiled by Zacks Research
Oil Market Lower Amid Global Economic Uncertainty
After last week's rally, the oil market turned sour this time amid global economic uncertainty and less than expected crude oil inventory drop published by the EIA (Energy Information Administration). S&P Energy was down 1.8% while the Dow and S&P 500 were up 1.1% and 1.3% respectively. The large-cap energy group was down 1.1%, or ~$32.6 billion in market value this week. Biggest decliner in large-cap energy this week was Marathon Petroleum Corporation (NYSE:MPC), down 7.3%, while the biggest gainer this week was Energy Transfer Equity LP (NYSE:ETE), up 12.9%. Overall in the portfolio of 66 large-cap energy stocks that we analyzed, 47 names saw losses over the past 4 trading days.
WTI Crude was down 7.3% in the same week, closing at $45.40. Natural gas futures were down 6.3%, closing at $2.80 on Friday.
Let's take a closer look at some metrics focusing on the weeks' top 20 underperformers in the energy space.
Diving deeper into the data
The top 20 energy losers of the week have a median 2017 forward P/E of 16.1x, compared to the S&P 500's median trailing P/E of 14.6x. This week's top 20 group is expected to grow EPS in 2017 by 32.8%, and the companies generate median dividend yield of 1.8% (17 out of 20 companies are dividend-payers).
The table below highlights, in green font, the three best-positioned energy companies in each of the following categories: projected EPS growth, dividend yield, 2017 forward P/E and 2017 forward PEG (P/E divided by percentage-point EPS growth).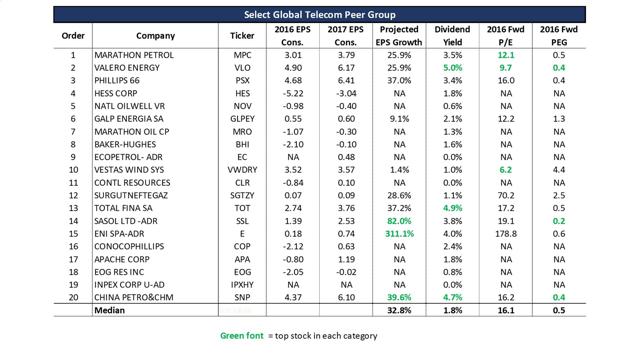 Source: DM Martins Research, using data from Yahoo Finance, Nasdaq and Market Watch
So which short-term loser should investors consider adding to their portfolio to take advantage, in the long run, of the price pullback? Let's take a closer look at one potential opportunity featured on energy's top 20 "biggest loser" list last week.
Marathon Petroleum Corporation: Good fundamentals, potential upside from integrations of BP and MarkWest Energy Partners acquisitions
Trading Recap:
As of close of business on July 8th, Marathon Petroleum Corporation was down 29.8% YTD, quite significant underperformance when compared to YTD benchmark results for energy sector SPDR (NYSEARCA:XLE), up 12.3%: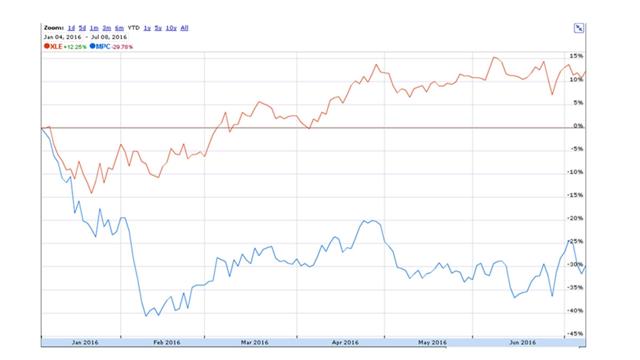 Source: Google Finance
Despite the suppressed share price, EPS growth expectations for the company are very decent at 25.9%, from $3.01 in 2016 to $3.79 in 2017. Based on the most recent closing price, the company trades at a forward P/E of 12.1x (2017 forward P/E of 9.6x) and yields 3.5%.
We have a bull stance on the stock
- MPC is the fourth largest domestic refiner with well-estimated network of midstream and retail channels. The company has combined crude oil processing capacity of 1.7 million barrels per day through its portfolio of 7 refineries. Given continuing depressed oil price, MPC will be able to take advantage of the lower input price as purchaser of crude oil.
- Integration of its existing Texas City refinery with the ones purchased from BP in 2013 to reap synergy and scale economy. According to a recent article from Motley Fool, the company expects refining alone to improve EBITDA by $1.2 billion by 2022.
- Looking into MPC's profit margins relative to industry average, the company looks to be an attractive company to own. From market timing standpoint, with a current P/E of 12.1x and TTM P/E of 10.0x, the company has lower P/E than most of the large-cap energy stocks.

Source: Fidelity Research
Risks:
- Refining segment accounts for over 50% of MPC's revenues in 1Q16. An increase in crude oil price could put a squeeze on the company's profit margin.
- Given the weak Q1 earnings where MPC fell behind on EPS due to decreased crack spread and increased operating expenses on its Refining & Marketing segment, shareholders will pay special attention on how MPC manage its operating environment for Q2 earnings on July 28th.
- Any delay in integrating recent acquisitions with existing operations will put significant downward pressure on the company stock.
Disclosure: I/we have no positions in any stocks mentioned, and no plans to initiate any positions within the next 72 hours.
Business relationship disclosure: Report authored by Jay Yang, edited by Daniel Martins