It's no secret that department stores have been under pressure for the past year. After enjoying the bull-market run and outperforming clothing producers and specialty retailers (e.g. Ralph Lauren (NYSE:RL), Abercrombie (NYSE:ANF), American Eagle (NYSE:AEO)) several of these stocks are down 30%-50% over the past twelve months due to margin pressure (from unseasonably warm winter) and increased competition from online behemoth Amazon (NASDAQ:AMZN). However, many of these businesses are still producing strong cash flow and are beginning to look cheap and quite interesting at current levels. Today I want to examine Nordstrom (NYSE:JWN) and highlight the attractive qualities of a retailer trading at historically low valuations.
A Premium Performer Without a Premium Valuation
Nordstrom's clearest competitor is Macy's (NYSE:M). Both sell a variety of clothing brands through both large physical stores and their own retail websites. As shown below, both now trade between 5.3x - 5.5x EV/EBITDA. This compares to long term valuation averages of approximately 7.5x and 6.0x for Nordstrom and Macy's respectively.
Nordstrom

Macy's

Source: Market Multiple - Stock Analysis
Despite trading at very similar valuations, the actual performance of the two companies is quite different. The chart below compares same store sales results since 2013 for the two companies. Though Nordstrom's same store sales growth is clearly under pressure in recent periods, it outperformed Macy's by an average of 4.7% over the last nine quarters. Nordstrom just reported its first quarterly decline in same store sales in since 2013, while Macy's reported its eighth.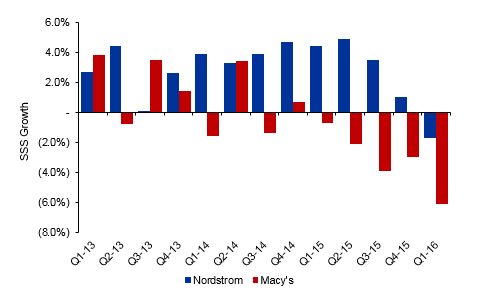 Source: Company earnings releases
Nordstrom also has a stronger balance sheet, allowing it additional financial flexibility in the current market uncertainty. The Company's current net leverage ratio stands at 1.4x EBITDA, compared to 2.1x at Macy's. Both companies pay dividend with yields of over 3% and have repurchased approximately 10% of outstanding shares since Q4-14, but Macy's has taken on additional leverage to do it.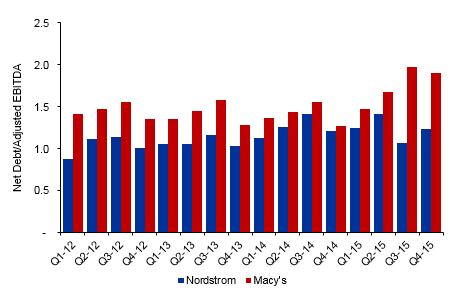 Source: Market Multiple - Nordstrom
One could clearly compare these two companies on all types of metrics (P/E, P/B, etc), but I believe these three address the primary areas of focus.
EV/EBITDA (Earnings valuation)- Macy's and Nordstrom trade at nearly the same valuation based on adjusted operating earnings.
Same Store Sales (Top-line growth) - Nordstrom organic revenue growth continues to outperform Macy's.
Net Debt/EBITDA (Capital structure) - Neither company has large debt worries, but Nordstrom clearly has the healthier balance sheet of the two with less financial leverage.
Continuing to Reinvent Itself
Nordstrom is really the combination of two businesses: full-price legacy Nordstrom stores and the off-price clearance Nordstrom Rack. The full-price stores and website mirror the business of Macy's while serving a slightly more affluent consumer. Nordstrom Rack is more comparable to a T.J. Maxx (NYSE:TJX) or Ross Stores (NASDAQ:ROST) and offers deep discounts on designer clothing and accessories. Stocks of these off-price competitors have drastically outperformed that of department stores over the past year, as consumers continue to shift their purchasing to those retailers offering the best deal. By operating its own line of discount stores, Nordstrom is able to move excess inventory from legacy full-price stores without sacrificing the additional margin lost by selling to a TJX or ROST. The chart below compares same store sales at the Company's full-price and discount segments. As you can see, the Rack business accelerated growth in the most recent quarters, helping to offset declines in the full-price business.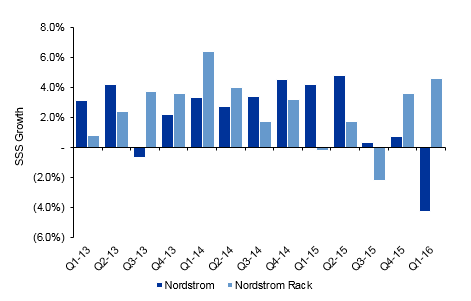 Source: Company earnings releases
The Company's management has clearly sensed this change in the retailing landscape and is transforming the business accordingly. The chart below shows that Nordstrom Rack now represents 61% of the Company's store count, up from 49% in early 2012. I think this shift is a positive one and highlights the ability of the Company to profit in both good times (selling higher-priced designed goods at Nordstrom) and bad (moving excess inventory through Nordstrom Rack and selling Rack specific inventory to consumers trading down). However, it is difficult to fully assess the continued impact of this shift on the Company's gross margins. A significant majority of Nordstrom Rack's items are specifically purchased for the mark-down store (similar to outlet stores of your favorite brands) with the rest being excess inventory from the full-price Nordstrom locations. The Company's combined gross margin of ~36% compares to 29% - 30% for ROST and TJX, but the slightly higher-end clientele and the lack of margin data for Rack vs. Nordstrom stores admittedly clouds the margin picture and is a risk to our investment thesis.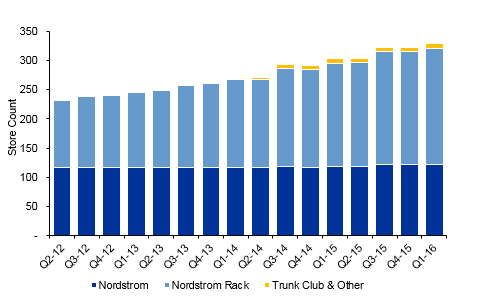 Source: Company earnings releases
Conclusion
Though the retail landscape is still under pressure, Nordstrom offers a compelling value for the long term investor. Despite trading near the same valuation, the Company continues to outperform its closest peer and a healthy balance sheet provides the flexibility necessary in these uncertain times. The continued shift to off-price designer apparel will serve as a natural hedge within the Company's business and help to cushion any further erosion in full-price sales. Investors should continue to monitor the same store sales and trends between the Company's full price and rack business. Any deterioration in Rack performance over multiple periods (both absolutely and relative to full price) would give me pause and lead to a reevaluation of the investment opportunity.
Disclosure: I am/we are long JWN.
I wrote this article myself, and it expresses my own opinions. I am not receiving compensation for it (other than from Seeking Alpha). I have no business relationship with any company whose stock is mentioned in this article.