Alacer Gold (OTCPK:ALIAF)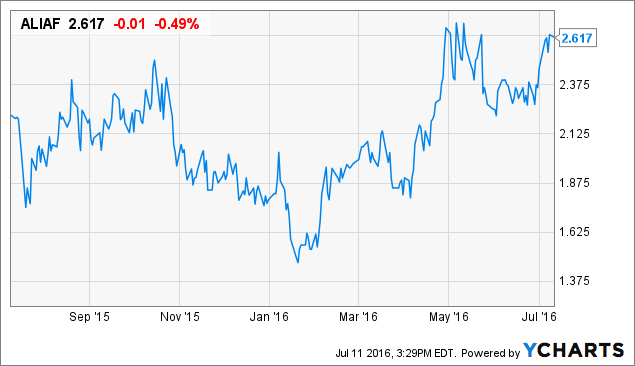 Recent Stock Price: $2.62
Shares Outstanding: 291.94 million
Market Cap: $764 million
52-Week Range: $1.43 - $2.82
Alacer Gold recently surprised me when the company announced it would be hedging a portion of its gold production throughout the year 2018. Gold hedging means that a miner is locking in a certain amount of its gold production at a fixed price per ounce, which reduces the downside risk of gold prices. However, it also reduces a gold miner's upside if gold prices rise.
This is surprising news because gold hedging was a popular tool used by gold miners in the late 90's and early 2000's then faced significant backlash from investors. A few gold miners put the hedges on production right before gold's big run-up and lost out on millions in profits. Take Barrick Gold (NYSE:ABX), which eliminated its gold hedges in late 2009 at a loss of $5.6 billion. Another example is Ashanti - now AngloGold Ashanti (NYSE:AU) - which nearly went bankrupt in 1999 because of its hedges.
Gold investors are also typically against hedging for this reason: it limits the company's exposure to the price of gold, which is the main reason for investing in the company in the first place. Gold investors want leverage to gold prices, plain and simple.
The only other gold miner I can think of that has done the same recently is New Gold (NYSEMKT:NGD), but the company is only hedging 270,000 ounces of gold for the remainder of 2016.
However, New Gold has hedged the contracts in a way that gives the company a guaranteed price floor of $1,200, while also providing some exposure if gold rises to as high as $1,400 per ounce.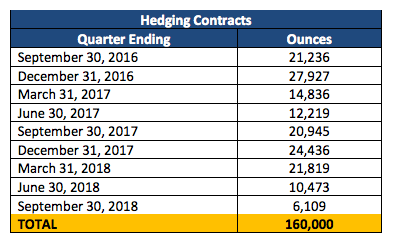 (Credit: Alacer Gold)
So, Alacer Gold has decided to join New Gold and implement a gold hedge on future production here, but I don't think it's as big of a deal than readers may think. For one, Alacer says it is only hedging 160,000 ounces of gold production over the next several years, at prices of $1,273 per ounce. That's only a portion of Alacer's total production, and the current gold price is only $80 above the hedging price.
This gold hedging is an important strategy for Alacer Gold as it secures the company's realized gold price during the construction of its sulfide project (cash flow earned during the next few years will support construction of the project).
Based on the company's reserves and its updated mine plan, Copler will produce 4 million gold ounces at sub-$700 all-in sustaining costs following the completion of its sulfide expansion. First gold pour is expected in Q3 2018. In the first five years, sulfide production will average 300,000 ounces a year at $545 AISC, according to the company.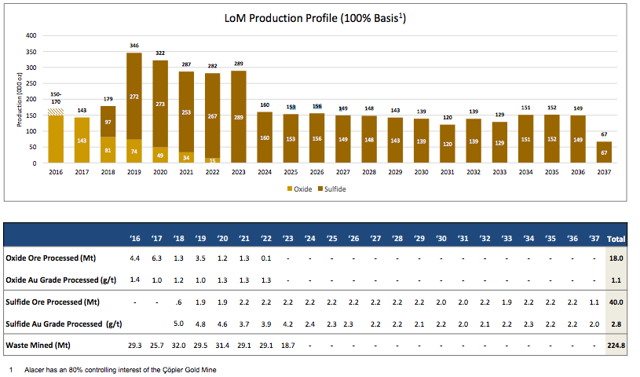 (Credit: Alacer Gold Presentation)
To sum up the Copler mine sulfide expansion, it's going to cost Alacer another $697 million in pre-production capital and $30 million in financing costs. However, the project is fully-funded as Alacer has $335 million cash on hand, $350 million in a credit facility, $35 million in JV partner contributions and expects $140 million in free cash flow from operations at $1,250 gold over the next two years; this gives the company a surplus of $133 million.
In conclusion, Alacer Gold's hedging news was a bit surprising to me, but when I read over the numbers, the decision makes sense. Alacer just wants to make sure it will have the necessary capital to get the Copler sulfide project to production by 2018, and this move should help that happen.
With $200 million per year in free cash flow expected during the first five years of sulfide production and a market cap of $764 million, I think Alacer Gold is still cheap here despite the recent run-up in the share price. Investors should look to acquire shares on any future dips.
Disclosure: I am/we are long ALIAF.
I wrote this article myself, and it expresses my own opinions. I am not receiving compensation for it (other than from Seeking Alpha). I have no business relationship with any company whose stock is mentioned in this article.
Editor's Note: This article discusses one or more securities that do not trade on a major U.S. exchange. Please be aware of the risks associated with these stocks.