Background
Impinj (NASDAQ:PI) is a Seattle-based RFID tag and reader chip technology company that is offering 4.6 million shares at between $12 and $14 per share, for an expected gross proceeds of $60 million, subject to over-allotment shares also purchased, which would increase gross proceeds to a maximum of $74 million.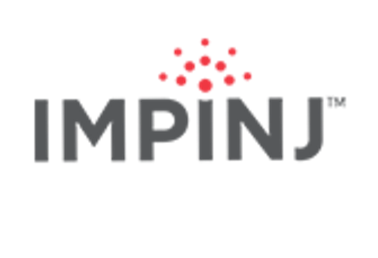 The company originally developed the RAIN radiofrequency identification standard that the industry uses and co-founded the RAIN Industry Alliance with Google, Intel and Smartrac.
Impinj has received more than $160 million in venture capital, private equity and strategic investment since the company's founding in 2000. Impinj' large investor syndicate has included Intel Capital, Samsung Ventures, ARCH Venture Partners, Polaris Partners, AllianceBernstein and now-dormant Mobius Venture Capital, whose partners later formed the successful Foundry Group.
As more and more devices and objects connect to the Internet, management believes that RFID technologies will have "paved the way for this IoT [Internet of Things] era" we are entering.
Technology
The company's technology " enables wireless connectivity to billions of everyday items such as apparel, race bibs, golf balls and luggage tags."
Uses of the technology include providing a unique identity to each item, as well as its location and authenticity to both enterprises and consumers.
(Source: Impinj YouTube Channel)
The ICs automatically power themselves from available radio waves, are readable up to 30 feet without line of sight requirements and may also include a variety of functionalities " such as item authentication, data storage, security, loss prevention and consumer privacy."
The company says that it believes that it's the only one that sells " includes tag ICs, reader ICs, readers and gateways" as an integrated platform.
Impinj's software system extracts data from ICs and delivers it in a variety of data formats to either legacy or new applications through the company's APIs.
Market Size
Impinj claims to have 65% of tag IC unit volume and 61% of reader IC unit volume when compared to IT research firm IDTechEx' estimates of the global market.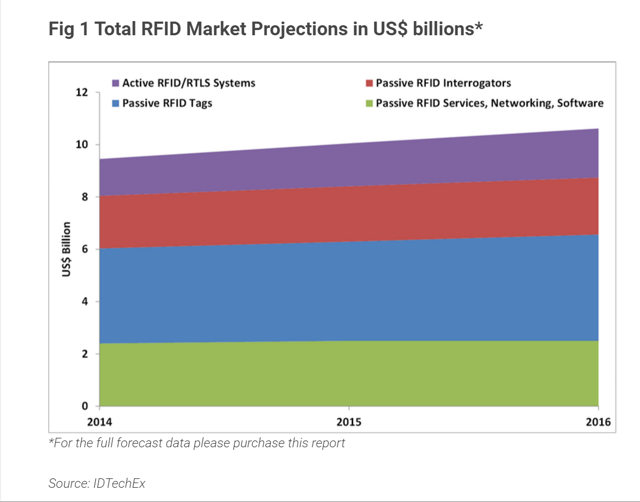 (Source: IDTechEx Research Report)
IDTechEx said in its October 2015 research report that the total global RFID market would grow from$10 billion in 2015 to $18.7 billion by 2026, with applications across virtually all industries:
Retail
Healthcare
Automotive
Industrial and Manufacturing
Consumer Experience
Food
Datacenter
Travel
Banking
IDTechEx went on to say that RFID continues to be quickly adopted by apparel manufacturers and retailers and will account for 4.6 billion RFID labels purchased in 2016 alone. Most of the growth in RFID tag sales in units will come from passive UHF RFID labels, but most of the sales volume will come from HF tag sales, due to its higher price point because it is used primarily in security use cases.
Tag IC sales volumes have grown at a 27% compound annual growth rate from 2010 to 2015, according to IDTechEx.

(Source: Impinj SEC S-1 Filing, IDTechEx)
Impinj says it has sold more than 13 billion tag ICs to date, but does not break down the sales as to lower margin UHF vs. higher margin HF. However, reading its S-1 Filing indicates extensive discussion of its sales to apparel manufacturers, which suggests that the majority of its business is in lower margin UHF RFID labels.
Financials
Impinj has had spotty but impressive year-over-year revenue growth:
2015: 23% YoY revenue growth vs. 2014
2014: 15% YoY revenue growth vs. 2013
2013: 30% YoY revenue growth vs. 2012
Gross margin has remained steady in the three most recent calendar years:
2015: 52% gross margin
2014: 53% gross margin
2013: 51% gross margin
Impinj is making a small net income after taxes, which is notable given that its focus is primarily on growth:
2015: $900K after tax net income
2014: $297K after tax net income
2013: $235K after tax net income
The company has significant research and development expenses. In the most recent year of 2015 they amounted to nearly 22% of gross revenues.
It also has $23.6 million in long-term debt, which it says will be reduced by $5 million post-IPO from net proceeds.
IPO Discussion
Impinj intends to sell 4.6 million shares at between $12 and $14 per share, for an expected gross proceeds of $60 million, subject to customary over-allotment share options for underwriters.
If the IPO successfully prices within the original estimated range, the company would have an approximate market value of $250 million.
Impinj says that it intends to use $5 million of the net proceeds to pay down a term loan under its mezzanine credit facility. Other than that, the company did not specify how it would use the remaining amount of the proceeds, other than using the standard boilerplate language of "for corporate general purposes".
Overall, I'm bullish on Impinj' prospects post-IPO for the following reasons:
Impinj is the industry heavyweight
It has high operating margins
It has a history of better than industry revenue growth
It operates in large and growing markets
The industry has numerous horizontal applications
Impinj provides a fully integrated, end-to-end solution
The company is in the sweet spot of a large and rapidly growing industry, and would be a great prospect for an "Internet of Things" portfolio addition.
Disclosure: I/we have no positions in any stocks mentioned, and no plans to initiate any positions within the next 72 hours.
I wrote this article myself, and it expresses my own opinions. I am not receiving compensation for it (other than from Seeking Alpha). I have no business relationship with any company whose stock is mentioned in this article.