Since its Q1 report released in May 2016, Teekay Tankers (NYSE:TNK) has sunk to its 52-week low of $2.78/share (at the time of publication), down nearly 40%. And there are indications it could continue on this path for one or two more weeks. We can, however, with a fair amount of confidence, look at some key technical indicators along with some significant fundamental aspects mentioned in May's quarterly report to help us draw some important conclusions.
CEO Kevin Mackay was optimistic for the future of TNK, despite last year's unfortunate weather conditions and oil's recent increase of $45-$50/barrel since late January of this year. Oil's volatility in the past year has wreaked havoc on tanker fleets across the board, and it's not just TNK that's hurting. Nordic American Tankers Limited (NYSE:NAT) and Frontline Ltd. (NYSE:FRO) -- among others -- have had notable declines in their stock prices for many of the same reasons. I wouldn't call it a marriage, but there is a strong correlation between the two trends. None of these shipping companies, however, are primed for a stronger turnaround quite like TNK.
(click to enlarge)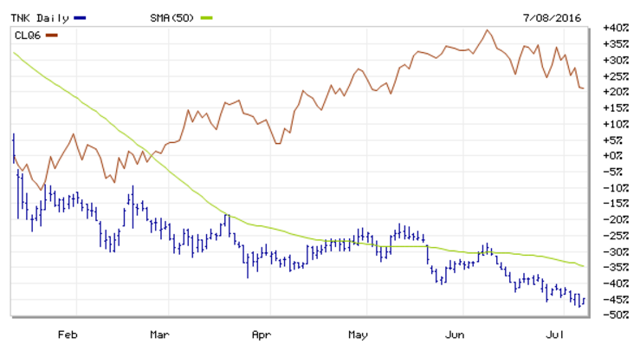 Source: MarketWatch
The supply and demand of oil has stabilized, relatively speaking. Given that this is a topic heavily covered here on Seeking Alpha, I don't feel the need to go too in depth on that subject matter. Suffice it to say that global oil demand remains strong, and according to the latest Energy Information Administration (EIA) report, the U.S. is projected to have the largest demand to date for the summer driving season. Meanwhile, they have had the lowest amounts of oil production since October 2014 producing roughly 9 mb/d (though I feel I should mention that the U.S. oil rig count has increased five of the past six weeks).
As demand for oil stabilizes around the $45-$50/bbl range, much of the potential earnings will be reliant on bunker costs as they have nearly doubled in the past six months, eroding some of the tanking industry's high earnings. They too play an important role in the industry, and limit the amount of return available to shareholders. I should also mention that even though bunker costs have increased substantially over the past six months, they are still down from this time last year when the average price was $326.50 per metric ton and crude was $58/bbl.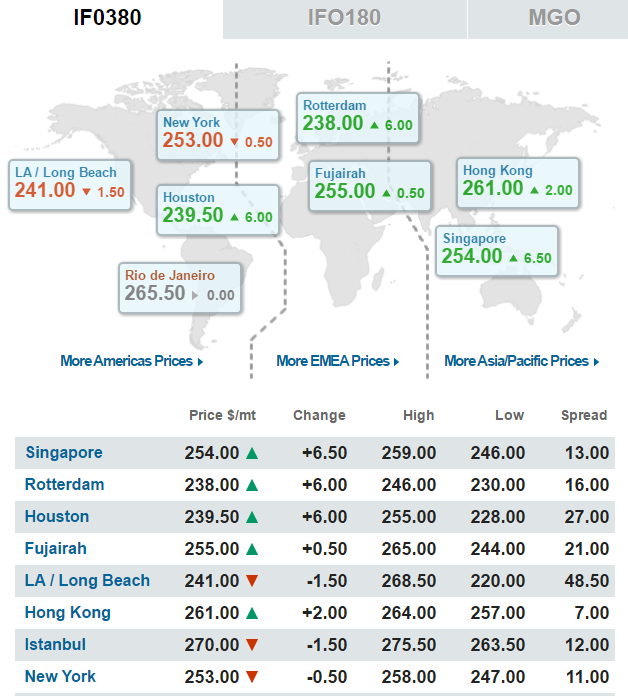 Source: Shipandbunker.com, prices as of July 11, 2016
IFO 380 Global 20 Ports Average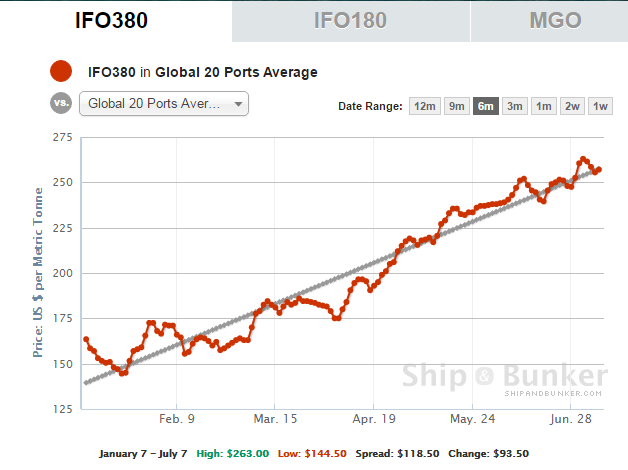 Source: Shipandbunker.com, prices as of July 11, 2016
From a fundamental standpoint, there is much to be said about the increase in efforts to create shareholder value. Much of the cash flow is being used to not only pay down debt, but also to pay out dividends to shareholders. The company's variable dividend policy is based on whether or not it can maintain a 30% net income dividend payout ratio.
There is one huge fundamental aspect that deserves some attention, and that is TNK's mention of its free cash flow. Earnings can often times be muddled and tweaked to convey a false front, but it's very difficult to fake free cash flow. TNK reports that it generated $66.2 million vs. last year's $53 million. While the dividend, which was paid out in June, was at $.09/share, it was the second highest in the past three years and beat the average by $.04/share. This will only add to the value of the company as it progresses toward higher returns and lowering its debt.
Finally, some of the key technical indicators that complement our fundamentals are the Williams Percent Range (W%R) of -70 and the relative strength index of roughly -35. Both are in accordance, indicating the stock is being undervalued at its current price. As stated earlier, I don't think that we have seen the lowest it will go. However, I do believe we are very close. There are too many good things set up for this company to remain where it is, given the current conditions. As the Q2 results will be reported in early August, I anticipate TNK to have a much better second half of the year vs. the first half, and by the end of 2016 I expect shares to easily be back to their $5-$6 range (or higher).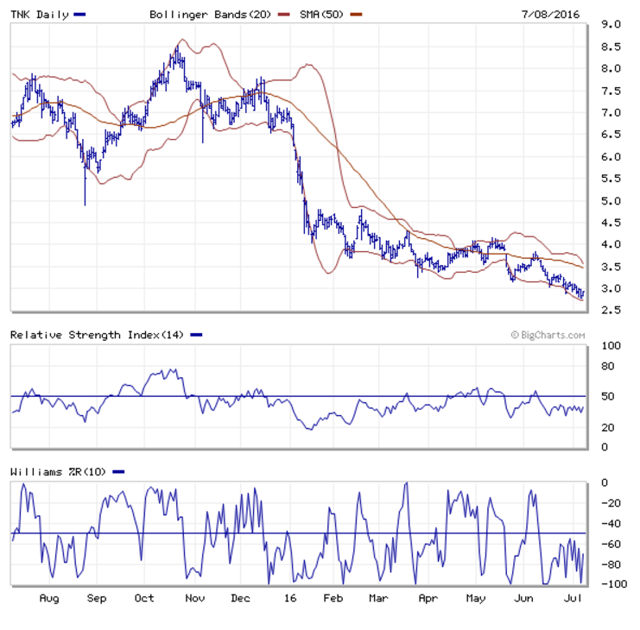 Source: MarketWatch
Disclosure: I/we have no positions in any stocks mentioned, and no plans to initiate any positions within the next 72 hours.
I wrote this article myself, and it expresses my own opinions. I am not receiving compensation for it (other than from Seeking Alpha). I have no business relationship with any company whose stock is mentioned in this article.