Welcome to the fourteenth edition of "Buy on Weakness? Tech Sector." This is a weekly series of articles that sifts through the underperformers of the previous trading week to find potential investment opportunities in the large-cap tech world. Check out the thirteenth and the twelfth editions of "Buy on Weakness?" for a look into prior weeks' "tech losers."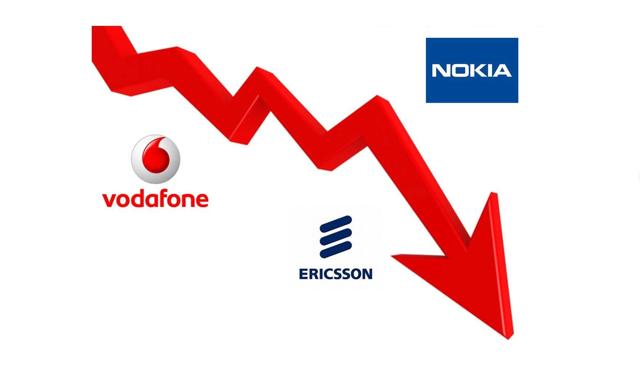 Credit: DM Martins Research montage using company logos
For this past week, the table below highlights the top 20 tech companies - worth $10 billion or more in total equity value - that have performed the poorest in the past trading days.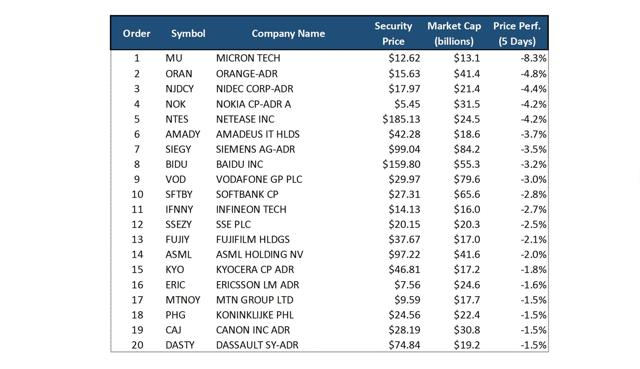 Source: DM Martins Research, using market data compiled from Zacks
Tech bounces back strongly and leaves Brexit worries behind
This week's "Buy on Weakness?" series showcases a convincing recovery in tech from the Brexit scare of the previous week. For every loser in the sector, there were two winners, as the sector returned +1.6% for the week in total.
There were clear losers, nonetheless.
Micron Technology (NASDAQ:MU) dipped the most, giving up over 8% in value. European companies claimed the following few spots, with French telecom carrier Orange (NYSE:ORAN) returning -4.8%.
Now let's take a closer look at some important metrics.
Diving deeper into the data
The top 20 tech losers of the week have a median forward P/E of 19.7x, much richer than the previous period's median of 16.1x. The group is expected to grow EPS in 2017 moderately, by 13.9% (vs. 10.2% last week), and the companies generate a dividend yield of 1.6% (17 of the 20 companies on the list are dividend-payers).
The table below highlights, in green font, the three best-positioned tech companies in each of the following categories: projected EPS growth, dividend yield, forward P/E and forward PEG (P/E divided by percentage-point EPS growth).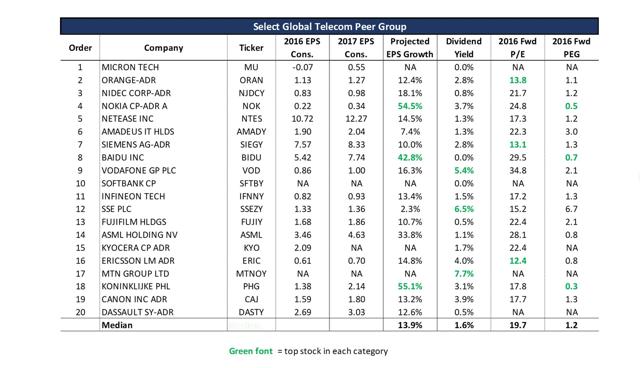 Source: DM Martins Research, using data from Yahoo Finance, Nasdaq and Market Watch
A couple of names above stand out, and might deserve a closer look.
I have written about Vodafone (NASDAQ:VOD) a few times recently, and I continue to believe that the stock is an attractive buy within the telecom space around $30/share. The company is very well diversified geographically, generating an estimated 85% of its revenues outside the U.K., a market that has recently (and perhaps unduly) become synonymous with "high risk". At a 1.9x net debt-to-EBITDA ratio, the company is also one of the least leveraged in the peer group, which makes its enviable 5.4% dividend yield look relatively safe. The rich valuations (nearly 35x forward P/E, 2.1x PEG) may discourage deep-value investors. But it is worth noting that, at current prices, VOD is only an inch off its 52-week low reached shortly after Brexit.
Network equipment giants Nokia (NYSE:NOK) and Ericsson (NASDAQ:ERIC) have also treaded water recently, both stocks down about -20% this year so far - against the Vanguard FTSE Europe ETF's (NYSEARCA:VGK) -7.1% and the Vanguard Information Technology ETF's (NYSEARCA:VGT) +1.4%. But both seem to showcase strong enough fundamentals to be worth some consideration.
Shares of the Swedish company are the cheapest among the top 20 losers of the week, trading at 12.4x forward EPS despite a respectable expected 2017 EPS growth of nearly 15%. And as I have mentioned in a recent article, the company is still exposed to markets that could fuel additional growth for years to come, including cloud services, IP networking, TV and media equipment, and carrier OSS/BSS software. It does not hurt that the company also pays a 4% yield to the patient investor.
Rival Nokia may not be much of a top-line grower, but synergies from the Alcatel-Lucent deal could propel the bottom line forward, along with the stock price. As I mentioned last month, "income-seeking investors will continue to appreciate the stock's attractive yield […], the company seems to be executing well on its cost-cutting initiatives […], and Nokia's $1.5 billion agreement with China Mobile may provide reassurance that the European equipment company can still compete in the large Asian market dominated by Huawei."
Disclosure: I am/we are long SPY, VOD, ERIC.
I wrote this article myself, and it expresses my own opinions. I am not receiving compensation for it (other than from Seeking Alpha). I have no business relationship with any company whose stock is mentioned in this article.