Nordic American Tankers (NYSE:NAT) is a crude shipping company with a fleet of Suezmax tankers. Following the May 2nd announcement of four Suezmax acquisitions (three of which have already been delivered), NAT will have a fleet of 30 vessels, including two newbuildings from Korea, scheduled for delivery in August 2016 and January 2017.
Over the past two years, NAT's fleet has seen the addition of 10 vessels, a 33% increase. The homogeneous nature of the fleet coupled with low leverage (especially for shipping companies) has led to the lowest breakeven rate in the business, below $12,000 per day as reported in their last quarterly. However, with the addition of the latest acquisitions, that breakeven rate is expected to increase slightly.
These vessels are tied to the spot market which can be highly volatile. For those unfamiliar with chartering options, see "Trading and Investing in Shipping: Focus on Chartering."
Recently spot prices for Suezmax vessels have seen a significant decline: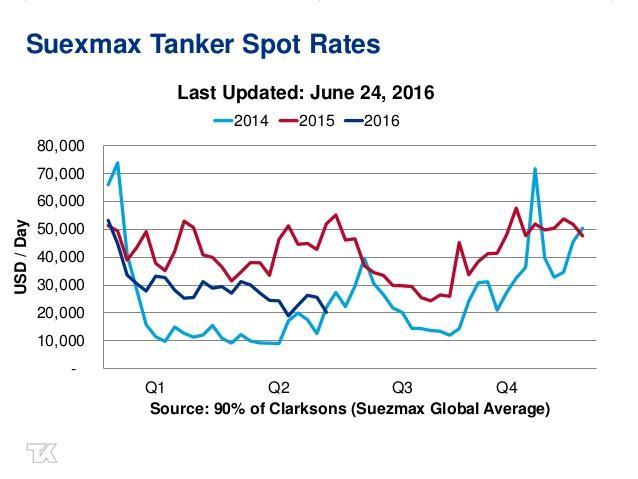 Source: Teekay Tankers
Since the start of the year, Suezmax spot rates have declined by more than 50%.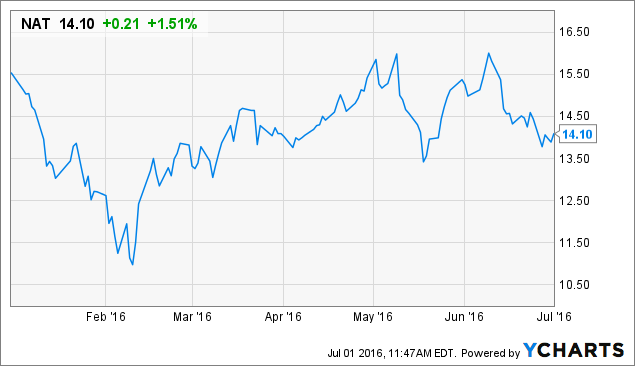 Source: YCharts
But this downward move in rates hasn't translated over into a price drop for NAT. In fact, as many analysts have pointed out recently, and rightfully so, NAT continues to command a premium over other comparable shippers that have seen significant declines.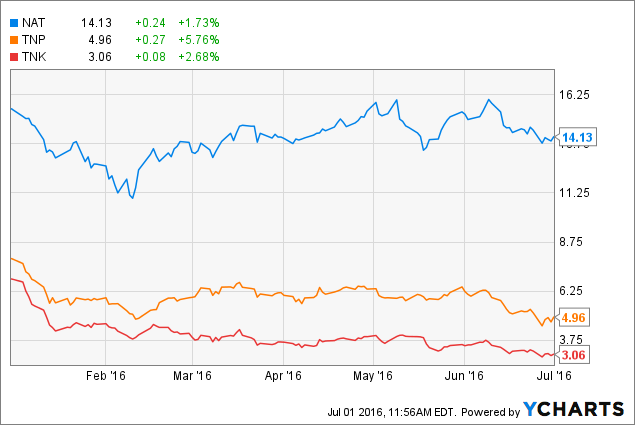 Source: YCharts
Year to date, NAT is down only 9% while Tsakos Energy Navigation (NYSE:TNP) is down some 37% and Teekay Tankers (NYSE:TNK) has lost a whopping 55%.
So why do we find NAT trading with a P/E of 10.84 while TNP has a P/E of 3.26 and TNK has a P/E of 2.37? Additionally, why do we find NAT trading far above asset value when other companies are well below?
I'm sure there are many opinions about the cause of this disconnect and I can't wait to hear them all in the comments section (sincerely). However, my personal belief is that NAT commands this premium for one major reason: CEO Herb Hansson. But first, here's a bit of history.
History
The shipping world is awash with failed CEOs — no need to name names here. But the steady hand of a 45-year veteran who has been successful in transforming a enterprise that started with three bareboat charters back in 1995 to a world class outfit with than 30 vessels is a major achievement. Especially when you consider that Joe Brady of Tradewinds (excellent article that everyone should read) states that NAT is "a company whose business model many predicted couldn't last." But NAT "has not only survived but thrived."
Though NAT was started back in 1995, its bye-laws and charter agreements with BP for the first three vessels, lasting seven years, restricted the company from acquiring additional vessels or concluding other business during the charter.
In fact, NAT was originally supposed to be a closed-end vehicle with shutdown scheduled for the end of those contracts in 2004. However, Hansson had other ideas and once the charters expired he changed the bye-laws and transformed NAT into a perpetual entity. Therefore, the vast majority of fleet growth has occurred over the past 12 years, making this accomplishment even more impressive.
So let's take a closer look at the man behind NAT and why many believe he is among the top CEO's in the shipping business, or if you are Jim Cramer, any business.
Herbjorn Hansson
An impressive history that started with an MBA from the Norwegian School of Economics and Business Administration and Harvard Business School.
(click to enlarge)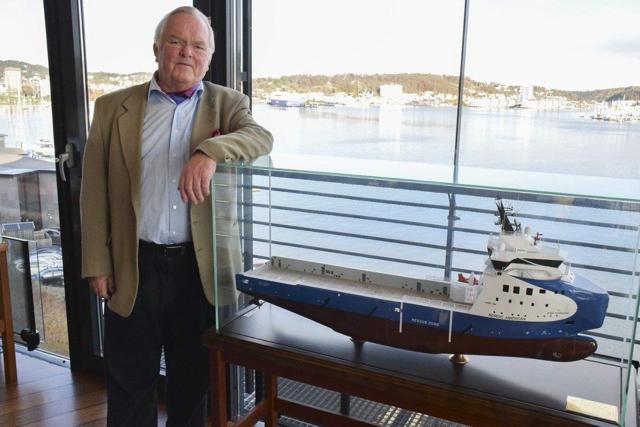 Source: Vestviken24
Later he went on to work for the Norwegian Shipowners' Association and during 1975 to 1980 he was Chief Economist and Research Manager of Intertanko. During the 1980s, he was Chief Financial Officer of Kosmos/Anders Jahre and in 1989, Hansson founded Ugland Nordic Shipping, an owner/operator of shuttle tankers. There he served as Chairman in the first phase and as Chief Executive Officer as from 1993 to 2001. UNS, under his management, was sold to Teekay for $780.0 million. Finally, in 1995 Hansson founded NAT where he continues to reside as the CEO.
An Original
Hansson isn't like most CEOs. He usually isn't on quarterly conference calls and rarely courts institutional investors. In fact, he seems to prefer the retail investor base for several reasons and has developed a sort of cult following over the years. This has been partially helped through his many appearances on CNBC, usually with Jim Cramer, who himself appeals to retail investors.
Again, this is a CEO that typically avoids financial or investment conferences, instead opting to share his time and outlook with a solid core of retail investors that he often travels to around the world to meet.
Because of this interaction his shareholder base is incredibly loyal. Robert Bugbee, President of Scorpio Tankers and Scorpio Bulkers offered up this insight on Hansson: "That's Herbjorn. He has really put the miles in. He has spoken directly to every retail salesman he can, everywhere he can and at every opportunity he can."
I believe it is this solid retail base combined with the cult-like following which has brought about NAT's premium and kept it going through good times and bad.
Evercore ISI analyst Jonathan Chappell notes that "retail investors see higher [tanker] rates and they know that leads to higher earnings, which means higher dividends, so they buy the [NAT] stock. The hedge funds that own these other companies see the higher rates too, but they're worried about China and they're worried about oil prices, so they're wary. It's why companies owned by a retail investor base lately have outperformed those owned by professionals."
With hedge funds and PE exiting the segment, like rats from a sinking ship, Hansson seems to know the recipe for keeping his core following happy; dividends. In fact, it was during the downturn in 2010-2013 when NAT continued to pay out a dividend that wasn't supported by earnings. Hansson championed this maverick strategy with dilution (four separate times) meaning investors weren't getting so much a return on capital as they were a return of capital. Of course, this move was not without its critics.
But there were some who understood as Joe Brady notes:
Among those seeing the logic, however, is Wiley Griffiths, the Morgan Stanley investment banker who has guided NAT in multiple equity issues.

"What he did in hindsight was he maintained his following of yield-oriented or income-oriented investors," Griffiths says. "He said, 'I will continue to provide you with yield or return while I can'."

"He thought the cost of disenfranchising NAT from its core shareholders was more important than adhering to corporate finance logic."
Perhaps Hansson got lucky here as the downturn soon passed. Now he is back to routinely paying a dividend less than cash flow in the most recent quarters.
But honestly, I don't think this was luck. This was good forecasting, listening to his shareholder base, and knowing his investors. Rather than following traditional corporate finance principles which would have had him scrap the dividend, and investor goodwill, he decided to take a "F" in Finance 101 and preserve the retail base that he worked so hard to accumulate.
Of course, during that downturn Hansson also took advantage of depressed asset prices and increased the fleet moving from about 16 vessels to 22 as the recovery was underway. As Hansson noted: "We are just like the fox. We have two exits in the back of the cage. If the market is up, we make money. If the market is down, we buy cheap ships."
Hansson obviously understands the highly cyclical nature of the shipping business which is why much of his strategy seems counter-intuitive and is often criticized. But the way I see it he is not reacting to the market conditions, but instead planning for them. This is a hallmark of a great shipping CEO.
Conclusion
Yes, his ships are old. Yes, there is increased off-hire time due to the age of the fleet. Yes, the stock is priced higher than the NAV which is simply composed of steel on the water (something critics point out is very easy to replicate). Yes, yes, yes, to all the criticisms.
But that doesn't seem to bother Hansson or his shareholders. They don't mind holding a stock trading at a premium because they believe they have a premium CEO, who is also a champion pitchman and communicator.
Part of that communication comes in the form of reassuring his retail base nearly every time a bearish analysis comes out with which he disagrees. He's been on CNBC following downgrades, his team has provided feedback to analysts they feel don't understand the unlevered IRR model, and here at Seeking Alpha articles that carry a bearish tone are often met with a direct response from NAT. No other company or CEO does this in the shipping world.
While PR doesn't necessarily make a company great, it certainly doesn't hurt. In fact, many analysts agree that PR can improve a stock's standing. Recently, my friend and colleague J. Mintzmyer wrote an article entitled "Teekay Tankers: Easy Double On Improved PR," which appealed to management and urged them to utilize similar strategies as NAT.
Aside from the exemplary PR, it also helps that NAT has one of the best, if not the best, balance sheets in the business. Of course, shipping is a risky business with boom and bust cycles. The balance sheet coupled with low leverage give NAT plenty of security in this stressful segment.
While the fleet may be easy to replicate with appropriate amounts of capital, duplicating the CEO and his results have eluded all those who have tried.
So, yes, NAT trades at a premium, but as many might agree, it is a well deserved premium that Hansson has cultivated very carefully over the years. He is an original and so is NAT. So to answer my own question, I believe Hansson is both a great CEO and a great salesman and well deserving of a premium.
Now, the key question left: Just how much of a premium do Herb and NAT deserve?
I welcome all questions/comments and invite you to follow me on Seeking Alpha as I continue to cover all aspects of maritime trade. Thank you for reading.
Note: Value Investor's Edge subscribers receive a 72-hour advantage on all macro reports and trade ideas from James Catlin as well as exclusive research by J. Mintzmyer.
Disclosure: I am/we are long TNP-D.
I wrote this article myself, and it expresses my own opinions. I am not receiving compensation for it (other than from Seeking Alpha). I have no business relationship with any company whose stock is mentioned in this article.