Toro Corp (NYSE:TTC) was founded in 1914, and is headquartered in Bloomington, Minnesota. Over the last 102 years, TTC has grown to employ over 6,000 people and become a world leader in turf and snow management, ground-engaging equipment, as well as irrigation and outdoor lighting.
Given the long history of this stock, I was surprised to see that it's recently been trading near all-time highs. I'm always impressed when companies can continue to grow and adapt over such a long time frame. Plus, I'm also intrigued by the nature of this business.
While the world of snow removal and turf management might not sound that exciting, this is the kind of slow changing industry I'm fascinated by. TTC also sells over 70% of its products to commercial users like golf courses and sports fields. I'm very curious to see how these business characteristics show up in the trends in historical financial statements.
But before getting into the fundamental data, here's a price chart to give you an idea of how TTC has treated shareholders (not including dividends). See for yourself how you would have done if you invested in TTC: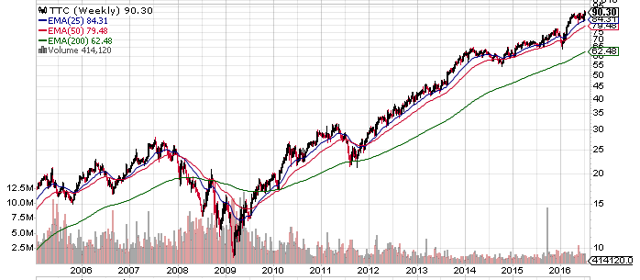 Now with that in mind, let's look at some financial and operating metrics over the last 10 years (source). I'm curious to see if the trend in the price chart, up and to the right, is reflected in the financial results. Let's take a look.
Fundamentals of TTC in Focus:
When looking for trends in financial statements, I like to start with the top line. This helps me understand the trends in demand from clients. And on this long of a timeframe, we can see sales demand in good times and bad, which provides helpful context: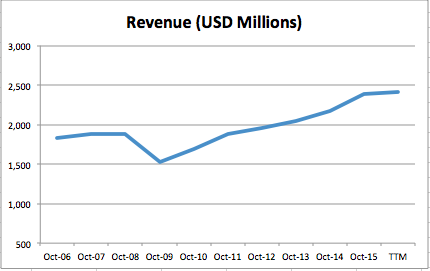 As you can see, TTC did take a hit during the last recession. And sales required a couple of years to recover to prior levels. But since then, it looks like client confidence has returned, and now shows few signs of slowing down. Additionally, revenue is quite consistent throughout the year (source). This might be due to the diverse nature of the business, since the company offers a variety of seasonal solutions from snow removal equipment to turf management solutions.
Looking back, TTC revenue growth has historically been fueled by acquisitions. The company has consistently bought growth for the last 30 years, with the 2014 Boss Products acquisition being the most recent. Given the precedent, and their experience, I'm optimistic the company will continue to be opportunistic. In the recent conference call, management affirmed they are still on the lookout for deals.
Now growth is one thing, but profitable growth (especially via acquisition) is another. In order to get a better handle on how accretive these top line improvements have been to profits, let's take a look at earnings: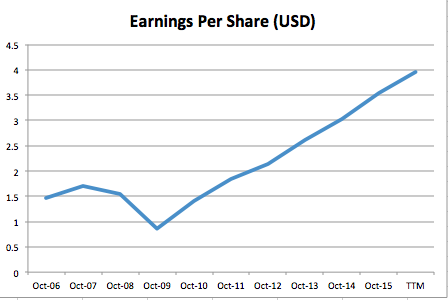 To my eye, it looks like EPS results are actually better than the top line. While they too took a hit during the last economic downturn, they've since rebounded in a fierce way. The TTM numbers are particularly encouraging.
As you might have guessed, in addition to the revenue growth, the big boost in earnings has come from margin improvements. This is reflective of higher margin selling to professional service clients, as well as extraneous factors like lower input and manufacturing costs (source). Overall, it appears management has a good handle on the business.
Now all of these results are pretty compelling. I think they speak to the niche nature of the TTC business. By acquiring so many verticals in such a specific circle of competence, TTC has been able to grow a client book, efficient distribution channels and a keen hand on operating their business through thick and thin. But how have equity owners been rewarded?
From a shareholder return perspective, I think TTC has also presented a pretty good track record. In addition to the 30% of earnings paid out in dividends, TTC has also been a big repurchaser of their own shares. Over the last 10 years, share count has declined by almost 50%.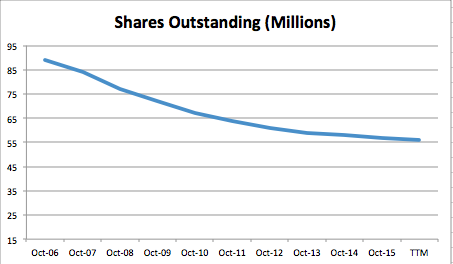 Beyond helping to increase your ownership percentage on a per-share basis, this reduction in share count has also helped to bolster dividend growth. That's because the company can pay out more to each owner, without increasing the total distribution. That said, the payout ratio has lots of wiggle room:
Over the last 10-years, the dividend has grown almost 10 fold! While the dividend growth has not been as consistent as I'd like, it's still pretty good. I'm happy to take bumpy results if the end result is bigger. However, if you were relying on this income for living, it probably wouldn't be appropriate.
In addition to capital returns, another plus for TTC shareholders is the relatively strong balance sheet. They have about 5% of their market cap in working capital, and this is bolstered regularly by incoming cash flows. While the company does have $380M in long-term debt and twice that in current liabilities, the interest expense has consistently been under 10% of operating income over the last 5 years. I think as long as the company is able to continue keeping this debt servicing cost low, it's likely a good use of capital.
So I must admit, TTC is looking pretty good at this point. But before getting too excited, there are definitely risks that need to be considered.
Risks of Getting Bullish on Toro:
The first thing that comes to mind for me when thinking about the risks of TTC is the economically sensitive nature of the revenue. In a downturn, TTC is likely to experience something similar to recessions prior. It's not ideal, but I think this makes sense. It's conceivable that during tough times people would try to put off this kind of purchase, or perhaps give more thought to extra maintenance, repairs and used equipment. While the company can manage through, shareholders are likely to see a hit to their earnings in the short term. Where possible, I prefer to invest in companies that have essential services with consistent demand.
As addendum to the above, the cyclical aspects of the business nature make shareholders particularly vulnerable to buying at the cycle high. And while I believe economic data still looks strong, it's possible that you would pay top dollar for TTC into a recession. Plus, the company may be vulnerable to margin contraction given the somewhat fortuitous nature of some of their improvements. So I wouldn't blame you for taking a pass on valuation alone. However, you may want to set an alert with your broker in case the stock ever drops 25%.
The table below sums it up well. At just under 20 times free cash flow, you could risk overpaying. But on the plus side, you're getting a niche business with a track record of executing effectively in a tight circle of competence. Again though, history suggests you could wait for cheaper prices.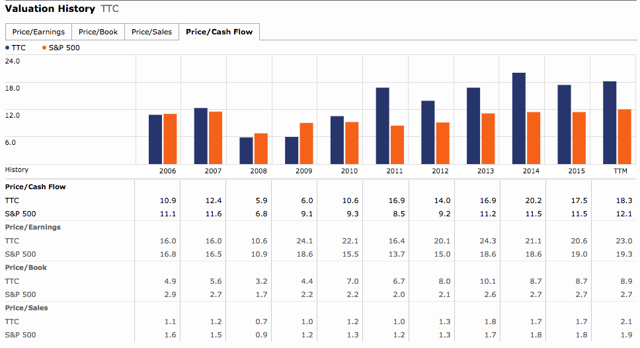 Conclusion: Cautiously Long TTC
Shares of TTC are a little expensive. So I feel lucky I own them from lower prices. I guess that's a good problem to have. Given the price current tag, I'm not itching to add at these prices, especially considering the recent run-up. On the other hand, my position is relatively small so I would be open to adding on a pullback, perhaps after earnings season.
But what do you think? Is TTC a company you're interested in owning?
Disclosure: I am/we are long TTC.
I wrote this article myself, and it expresses my own opinions. I am not receiving compensation for it (other than from Seeking Alpha). I have no business relationship with any company whose stock is mentioned in this article.