When it comes to mergers and acquisitions there are good deals, bad deals and deals that never see the light of day. There are times when good companies make bad deals, bad companies make great deals but at the end of the day the goal is the same: to grow and become better. In this case we have Canadian tech firm Mitel Networks (NASDAQ: MITL) and its continuing quest to grow its market share through the acquisition of video conferencing specialists Polycom Inc. (NASDAQ: PLCM), however this time around the $1.96 billion deal was not meant to be.
For those unaware of Mitel, it is a Canadian based business communications expert powering more than 60 million users with 2 billion daily connections spread across 100 countries. What started off as a company focused on business communication hardware has over the past few years begun a transition to embrace cloud storage. Mitel's growth in cloud computing has been recognized by Synergy Research Group as having both the "largest base of any cloud unified communications providers" and being the fastest growing company in its sector.
The potential that Mitel saw in its proposed deal was that both companies had corporate visions of helping their clients collaborate that were "almost identical", with Polycom's focus on video conferencing and Mitel's history in the business communications sector. From the very onset of the announcement for Mitel to purchase Polycom rumors had already begun to circulate that another suitor, named at the time Sponsor 1, was still in discussions with Polycom and had offered a "superior" offer than Mitel. Many believed that the Mitel deal was expected to be completed and had already received regulatory approval.
Now we know that Sponsor 1 was private equity firm Siris Capital Group that it had beat Mitel's offer by 13.6% with its own proposal of $2 billion, or $12.50 per share in cash and debt assumptions.
The investors' say
While news of this failed deal may be unpleasant news for Mitel, this has been a completely different story for investors. Long-term investors of Mitel have become rather accustomed to the constant cycle of mergers and acquisitions that Mitel has been on for quite some time with five deals in the past six years. Some of the highlights included the landmark $309 million acquisition of Aastra Networks which doubled its market cap and other deals such as the $560 million deal for Mavenir. Both of these larger deals offered Mitel a way to quickly expand its foothold in the industry and investors were supportive of this approach.
However, this time around with Polycorp there was a much different reaction among investors. When we look at Mitel's NASDAQ chart over the course of this story we see that when the deal was originally announced on April 8 Mitel's stock price was up at $8.21, its highest point since November 2015. Then immediately after the announcement the stock price plummeted to $6.10, where it continued to tread water until the rumors of another suitor emerged. This lead the stock to climb back up to $6.84 at the end of May where it hovered before falling back down to $5.97 on June 27. Then the unexpected happened Siris and Polycom announced that they had not only reached and agreement, but Mitel had also waived its right to match the offer.
These announcements triggered a 20% increase in Mitel's shares, pulling its stock price from $6.84 on July 7 to $7.21 on July 8, and managed to stay above $7.00 for the remainder of the week.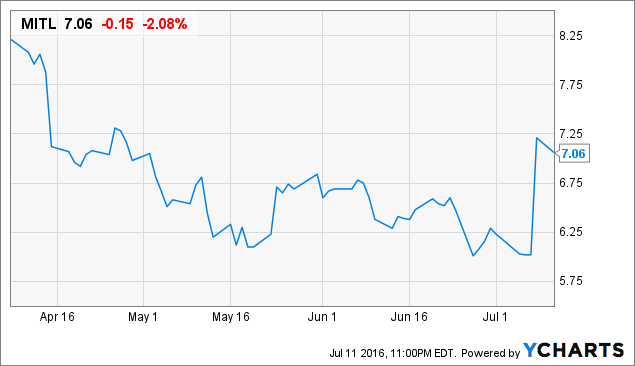 Why the rebellion among investors?
My personal belief is that there are two key factors in why investors reacted so coldly to the proposed deal with Polycom. The first is that this deal represented a stutter step in Mitel's ambitions to grow it cloud computing capabilities. The growth of Mitel's cloud computing arm has been a double edged sword with investors as while it is the technology of the future and has to potential to be a multi billion dollar industry, the pricing model of cloud services as compared to Mitel's hardware centric model has challenged the patience of some. The cloud model produces lower upfront revenues but higher long term revenues. The quest for the cloud was the key driver in the acquisition of Aastra Networks and represented the future of the company. This is a strategy which is paying off for Mitel as amidst the fallout of the failed Polycorp deal, Mitel has just announced that it has added AINEO Networks, Japan's leading provider of international communications systems by volume to its list of subscribers.
Perhaps the deal with Polycorp failed to convince investors that this was the best step for the future of Mitel as it rediscovers itself while it is grasping onto two different aspects of the tech industry.
The other potential catalyst for the reaction that investors have shown recently is Mitel's long term debt which is currently sitting at $603 million due in part to its steady stream of acquisitions. There is a belief that there is a desire among investors for Mitel to invest in itself for a time to remedy its debt before seeking out a more "future compatible" acquisition targets. This belief is further exasperated by Mitel's recent Q1 net loss of $22 million, and a projected 25% drop in Q2 2016 EPS which have left some leery of further acquisitions in the immediate future.
Hope is not lost
Despite this hiccup Mitel still presents itself as an intriguing option for investors looking to add something to the tech portion of their portfolio and its long-term potential shouldn't be overshadowed by recent events. In its most recent quarterly report Mitel saw its revenue rise to $276 million from $248 million in Q1 2015, this came in at the bottom end of its projected earnings of $270 million to $295 million. Where things get interesting for us in considering the future of the company is when we break down the revenue sources.
| | | | |
| --- | --- | --- | --- |
| | Enterprise | Cloud | Mobile |
| Q1 2015 | $213 million | $34.6 million | $26.1 million |
| Q1 2016 | $187 million | $45.8 million | $43.1 million |
Here we see the changing landscape of Mitel as it continues to face the new paradigm of cloud and mobile services beginning to erode its traditional business structure. For the most part Mitel has been consistent in its endeavors to embrace the change in technology and the needs of clients. It has shown this by increasing its total cloud seats from 1.37 million in Q1 2015 to 2.19 million in Q1 2016, investors are now waiting eagerly to see the effect that the new agreement "to expand AINEO's iPBX Hosting solution with MiCloud" over the next couple of quarters.
It is this growth in the cloud computing sector which has kept Mitel's head above water with investors who are looking for a stable tech option in their portfolio. However as I have previously mentioned it is this same transition from a primarily enterprise solutions driven company to one focused on cloud and mobile technology which will challenge the resolve of some investors.
Despite all of this Mitel is still maintaining an average short term price target of $12.20, which surpasses Mitel's all time high of $11.04 from back in May 2014. Mitel in its current state presents itself as an intriguing long term option for investors looking for a stable lesser known tech stock for their portfolio. While there will still be some growing pains in the immediate future patient investors who are looking to take advantage of the current fwd p/e ratio of 12.65 should consider the current state of Mitel for future gains.
If you enjoyed this article and found it helpful, please "Follow" me on Seeking Alpha to receive notification whenever I publish a new article.
You may also be interested in other recent articles I have written for Seeking Alpha with my Canadian point of view that focus on stocks and stories that I have found compelling. You can also find my previous article on Mitel here for further study on this Canadian tech company
Disclosure: I/we have no positions in any stocks mentioned, and no plans to initiate any positions within the next 72 hours.
I wrote this article myself, and it expresses my own opinions. I am not receiving compensation for it (other than from Seeking Alpha). I have no business relationship with any company whose stock is mentioned in this article.