Company Basics and Net Comprehensive Income
American Capital Agency (NASDAQ:AGNC) is a mortgage REIT which primarily invest in 30 year fixed rate mortgages backed by government sponsored enterprises (Fannie Mae and Freddie Mac). The company earns its income based on the interest rate spread between long term mortgage and short term borrowing rates, and uses leverage in order to maximize its earnings. To protect itself from interest rate risks that are magnified by leverage, the company holds a complex hedging portfolio. For the first quarter of 2016, AGNC has been able to breakeven with its costs and dividends paid to investors, reporting a comprehensive net income of $0.01 per share.
Note: AGNC reported a net income of ($2.33) per share in Q1 2016. Please neglect this value as GAPP accounting cannot accurately measure the company's (or any other mREIT's) performance. Comprehensive net income is a more accurate measure of the company's real "net income" inclusive of both its mortgage assets and hedging portfolio. Ignore the GAPP net income figure.
Underlying Portfolio and Discount to Book Value
Since American Capital Agency is a company holding mortgage assets, it is most important to value its shares according to its book value. Its book value as of Q1 2016 is $22.09 per share, but the company is trading on the market around $19 per share, representing a ~15% discount to book. Investors buying shares in the company can consider this as buying mortgage assets at a 15% discount to their fair market value.
However, keep in mind that most mREITs are currently trading below their book values due to unfavorable environment with low interest rate spreads. Here's a list of AGNC's competitors and their discount to book value:
| | |
| --- | --- |
| | Relation to Book Value |
| AGNC | 15% discount |
| NLY | 6% discount |
| ARR | 23% discount |
| CYS | 11.5% discount |
After the comparison, it can be noted that AGNC's discount to book is attractive compared to its peers. Being the second largest and very established mREIT, a 15% discount to NAV is a considerably low entry point with a large margin of safety at $19 per share.
Of course, the mREITs' management and their capabilities also needs to be taken into account when evaluating whether or not to purchase the shares. An investor evaluating a mREIT should not solely look for the largest discount to NAV. In fact, the biggest discount to NAV will often (but not always) indicate poor management, leading to very poor long term results.
Note: Just as purchasing high quality shares at reasonable prices is a very popular strategy, purchasing well managed mREITs with reasonable ratios to their book values may yield more favorable results in the long term. Using this philosophy, AGNC is an attractive purchases at this time due to its size, established management and attractive pricing.
Note on mREIT management: well managed mREITs can make adjustments to leverage ratio and hedging positions to maximize revenue in changing interest rate environments. In contrast, poorly managed may charge exorbitant fees and not care about shareholder's long term interests. Look for reasonable management fees and reasonable adjustments in hedging positions in changing rate environments when purchasing mREITs in general. Paying a little more for competent management will help guarantee long term results for mREITs.
Accessing American Capital Agency's Leverage and Positioning
Recently, interest rate spreads are narrowing and this has negatively effected the financial sector's performance. In response, AGNC's management has increased its leverage (6.5x from 5.8x) to generate more comprehensive income. This adjustment has helped the company earn enough comprehensive income to cover its dividend. As a result, the company reported a comprehensive income of $0.01 per share for Q1 2016.
See below for the company's adjustments in Q1 2016.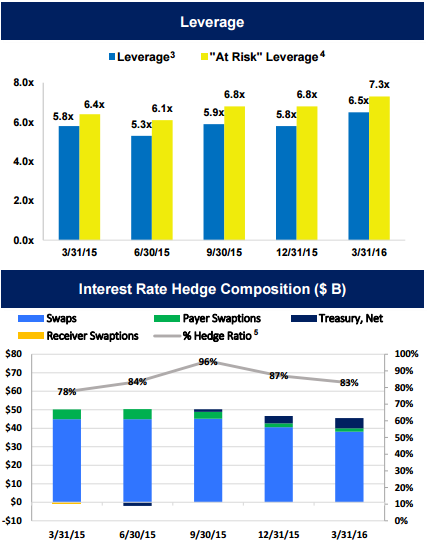 This adjustment was necessary due to the narrowing interest rate spreads. See below for the historical net spread and notice it is at its all time low at 0.68%. The current spread is ~0.71%.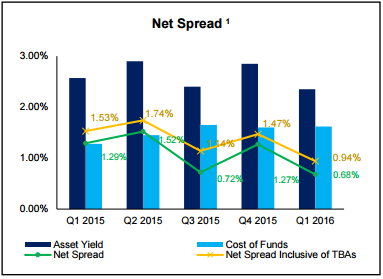 Despite AGNC's adjustment to increase risk in Q1 2016, the company is still in comparatively defensive position compared to its peers. See the table below for comparison on AGNC's leverage ratios with its peers.
| | |
| --- | --- |
| | Leverage Ratio |
| AGNC | 6.5x (increased from 5.8x last quarter) |
| NLY | 6.7x |
| ARR | 7.1x |
| CYS | 6.8X |
Notice that the interest rate spreads between "cost of funds" (~1.5%) and "asset yield" (~3.2%) AGNC uses to generate revenue is very well tracked by the 10 year US bond yield (1.4%) and 30 year US bond yield (3.1%). The current spread between the two yields are 0.71%, which is slightly more favorable than the Q1 2016 average of 0.68%. This slightly wider rate spread will help AGNC generate more comprehensive income in the current quarter and going forward.
In order to predict AGNC's future net comprehensive income and dividend policies, it is important to note its current leverage in relation with its current interest rate spreads and forward rate environments. This is because if rate margins further narrow, the company will have to raise leverage to generate more income and dividends. In general, to keep comprehensive income stable, an increase of leverage of ~0.1x will be required to offset an interest rate margin of 0.10%. Of course, the amount of leverage required to offset decreasing margins will increase as the interest rate spreads narrow further.
With AGNC's leverage at 6.5x, the company will be able to offset further narrowing rate spreads by increasing leverage. See the table below for the company's past data and how it could increase leverage to cover its monthly $0.20 dividend.
| | | | | | | |
| --- | --- | --- | --- | --- | --- | --- |
| | Q1 15 | Q3 15 | Q4 15 | Q1 16 | Projected | Projected |
| Rate Spreads | 1.29% | 0.72% | 1.27% | 0.68% | 0.60% | 0.50% |
| Leverage | 5.8x | 5.9x | 5.8x | 6.5x | 7.3x | 8.5x |
| Comprehensive EPS | $0.46 | ($0.43) | 0.06 | 0.01 | ~0 | ~0 |
Note that a leverage of >8.0x is usually considered too much for a mREIT. In the extreme scenario, Armor Residential REIT (NYSE:ARR), a competitor to AGNC, often had leverage over 9.0x or even above 10.0x. However, heavy leverage (>8.0x) is often too dangerous for any mREIT and disables its ability to deal with changing rate environments. With this in mind, AGNC is in very good position given that rate spreads are at historically lows of ~0.65%.
The other risk AGNC faces is large parallel shifts in interest rates. Fortunately, the Federal Reserve is extremely cautious in raising rates and doing so very slowly. Moreover, the global economic pressures, especially in Europe and China, are likely to keep rates low and steady for at least a few years. The current rate environment is stable and favorable for AGNC.
Importance of Taxation Tax Shelter in Returns
Since all dividends distributed by AGNC is considered ordinary income, it is best to hold this asset in a Roth IRA account or self directed 401k.
In a Roth IRA account, AGNC's earnings are 100% tax free, both at the corporate level (due to REIT's taxation laws) and the investor level. This presents a huge advantage since other companies' dividends have to go through two levels of taxation (~50% corporate and ~15% personal). Due to this fact, holding AGNC's shares in a Roth IRA account is very beneficial and makes the company hold a significant competitive advantage in terms of generating income.
Always hold AGNC or any other mREIT in a tax sheltered account for significant taxation advantages.
Conclusion
In conclusion, American Capital Agency is a mortgage REIT well positioned to deliver steady dividends for the long term. Dividends are expected to stay at $0.20 per month, but be sure to hold the shares in a tax sheltered account. The company is fairly valued at $19 and its discount to book of 15% is very attractive. The risk in purchasing the stock is relatively low at the current price due to its relatively defensive positioning and room for further adjustments. Buy and hold shares of AGNC in a tax sheltered account.
Disclosure: I am/we are long AGNC.
I wrote this article myself, and it expresses my own opinions. I am not receiving compensation for it (other than from Seeking Alpha). I have no business relationship with any company whose stock is mentioned in this article.