By Dr. Daniel Teper (Chief Executive Officer), Dr. Monica E. Luchi, (EVP, Chief Medical Officer), and Dr. Miri Ben-Ami (President, Immune Oncology)
Last week, on June 29th, hundreds of leaders across the health, academic, private industry, and philanthropic sectors joined together with patients, survivors, and advocates for a national summit - a Cancer Moonshot. A goal is to make exponential progress in the fight against cancer. Vice President Joseph Biden issued the challenge, "Make a decade-worth of progress in the next five years," and more than 6,000 people around the country came together for more than 270 local events in their communities to heed the call.
We at Immune Pharmaceuticals (NASDAQ:IMNP) are pushing forward with a multi-pronged approach to fighting cancer. Over the past year, we have significantly expanded our immuno-oncology (I/O) senior leadership to drive this effort forward. Our efforts in I/O are headed up by Miri Ben-Ami, MD, a former senior executive at Teva, Monica Luchi, MD, with a track record of a successful clinical development at Novartis, Incyte and Mesoblast, Mark L. Levitt, MD, PhD a Board Certified Medical Oncologist, SVP, Clinical Affairs and Jean Kadouche, PhD, SVP, Scientific Development and the co-inventor of our bi-specific antibody platform. Additionally, our labs at the Alexandria Center in New York City are headed up by Boris Shor, Ph.D. Dr. Shor brings more than a decade of pharma industry experience in oncology drug discovery. He joined Immune from Pfizer Oncology Research Unit where he led internal and external collaboration project teams to develop novel antibody-drug conjugates (ADCs) for the treatment of cancer.
We are also aggressively expanding our pipeline. Earlier in the year, we laid out plans for the I/O business unit, which centers around two late-stage assets, Ceplene® and Azixa®, and two novel technology platforms, bi-specifics and NanomAbs®. Over the past six months, we have made significant progress on all fronts.
Ceplene® is approved in Europe for remission maintenance and prevention of relapse in adults with Acute Myeloid Leukemia (AML), an orphan indication with poor survival prognosis, for which no effective therapy is available to patients. Ceplene, in combination with low dose IL-2 immunotherapy, met the Phase III primary endpoint of Progression Free Survival. A post hoc analysis of this Phase 3 trial shows that Ceplene + IL-2 efficiently prevented relapse in non-FAB-M2 subtype AML, where leukemic cells are immunosuppressive and express the histamine 2 receptor (H2R), but was devoid of efficacy in M2 subtype AML, where leukemic cells do not express the ROS-forming oxidase or H2R. The Kaplan-Meier plots for LFS can be seen below in which FAB classification was grouped as AML with minimal differentiation/AML without maturation (FAB-M0 and FAB-M1), myeloblastic AML with maturation (FAB-M2), and monocytic forms of AML (FAB-M4 and FAB-M5).
Additionally, in April 2016, researchers out of Sweden presented a poster at AACR on the Phase IV RE:MISSION trial, designed to assess the immunomodulatory properties of Ceplene® + IL-2, and to correlate potential biomarkers with clinical outcome. From the RE:MISSION, investigators found a reduction in the frequency of CD8+ T effector memory (TEM) cells during the first cycle of Ceplene® + IL-2 prognosticated leukemia-free survival (LFS) (HR 0.25, P=0.001) and overall survival (OS) (HR 0.24, P=0.009). Similarly, induction of T effector cells (TEFF) during the first cycle also impacted favorably on patient outcome (P=0.048 for OS). The poster is available on our website.
Earlier in the year, we filed a patent for the use of Ceplene® in combination with immune checkpoint inhibitors. In June 2016, scientists from Gothenburg University, Sweden reported that new mechanistic and tumor growth inhibition data with Ceplene® in combination with immune checkpoint inhibitors targeting PD-1 and PD-L1 in AML, lymphoma, and breast cancer models.
- In the first presentation, H. Grauers Wiktorin, et al, demonstrated decreased accumulation of myeloid-derived suppressor cells (MDSC) in the tumors accompanied by decreased growth in breast and lymphoma murine cancer models. MDSC harvested from Ceplene-treated animals demonstrated significantly less NOX2-derived Reactive Oxygen Species (ROS) and consequent loss of ability to inhibit T-cell proliferation as compared to MDSC from non-treated animals. Moreover, when combined in these models with checkpoint inhibitors targeting PD-1 and PDL-1, growth inhibition was markedly enhanced compared to either Ceplene® or the checkpoint inhibitors alone.
- In the second presentation, R. Kiffin, et al. demonstrated that Ceplene®-induced down-regulation of NADPH Oxidase (NOX2) resulted in increased differentiation and decreased growth of human myelomonoblastic PLB-985 (PLB) xenografts in immunodeficient mice. This provides further mechanistic evidence to explain the striking efficacy of Ceplene® in combination with low dose IL-2 observed clinically in the myelomonocytic M4 and M5 AML subtypes in both Phase III and Phase IV clinical trials. These results suggest that Ceplene®, in addition to its previously documented role as an innate immune checkpoint inhibitor, acts also as a maturation agent in AML decreasing the tumor's ability to proliferate.
We have also recently discovered that Azixa®, a novel microtubule destabilizer that both functions as a potent cytotoxin and acts as a vascular disrupting agent (VDA), is synergistic with immune checkpoint inhibitors. Murine colon cancer model data generated out of our labs in New York demonstrate that the combination of Azixa® and immune checkpoint inhibitors such as anti-CTLA-4 antibody resulted in enhanced activity compared to the activity elicited by the single agents alone, independent of the dose of Azixa®. As a result, Immune has filed a provisional patent application with the USPTO relating to the combination of Azixa® (veribulin) in combination with the immune checkpoint inhibitors such as an anti-CTLA-4 antibody and anti-PD1 monoclonal antibodies in the treatment of cancer.
The benefits of combining synergistic combinations of anti-cancer drugs are that companies can offer packaged solutions for physicians and payers. The U.S. FDA has approved and recently expanded the label for combining Opdivo® (nivolumab) and Yervoy® (ipilimumab). These types of combinations can be powerful therapeutic options for patients, but uptake is hampered by incredibly high costs. New cancer drugs are extremely pricey; this was the recent topic of an article on Motley Fool. But because Bristol owns both Opdivo® and Yervoy®, the company can create packaged solutions for hospitals and healthcare providers. In this regard, we at Immune Pharma believe that assets like Ceplene® and Azixa® are complementary to this strategy.
In this regard, our Bi-specific antibody platform is a potential leap forward in multi-targeted cancer immunotherapy. In December 2015, Dr. Shor presented a poster at IBC's Antibody Engineering & Therapeutics Conference in San Diego, CA, titled "Design and Validation of a Novel Tetravalent IgG1-like Bi-Specific Antibody Format." In this study, Immune described positive developments with a novel platform for the production of tetravalent IgG1-like bi-specific antibodies (bsAb). The prototype bi-specific antibody retained effector functions and mediated redirect killing of target cells by cytokine-induced killer T cells demonstrating direct anti-cancer effects in vitro as well as anti-tumor activity and improved survival in vivo in a mouse xenograft model of disseminated leukemia.
In March 2016, we announced the publication of this preclinical data in Journal of Immunology (Golay et al., 2016). This publication demonstrates design validation of a novel generic platform for the production of tetravalent IgG1-like chimeric bispecific mAbs. Our goal is to complete initial validation of several bispecific antibody candidates for further development based on internal R&D efforts and seek new intellectual property protection for these discoveries.
We have also seen a surge in interest over the past several years in the development of combination therapies combining immunotherapy, immunomodulatory, and cytotoxic agents. Our NanomAbs® are next-generation nanoparticles, which contain thousands of cytotoxic molecules and are conjugated to monoclonal antibodies that recognize specific targets (antigens) in order to enhance the nanoparticles' specificity, stability, and therapeutic efficacy. The company has created a platform with a goal to provide a more efficient approach for tumor-specific delivery of cancer therapeutics and immunomodulatory agents.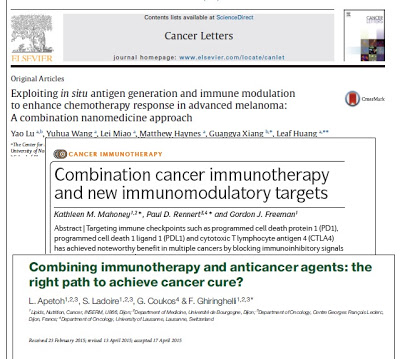 We believe our NanomAbs platform allows for a variety of small molecules, peptides, or proteins to be chosen based on sensitivity to cytotoxic agents and delivered inside a nanoparticle formulation. Similarly, the highly targeted monoclonal antibody conjugated to the nanoparticle can be chosen based on tumor antigens, and the company has already prioritized the development of several immune checkpoint inhibitor-targeted NanomAbs. This is an area gaining significant scientific validity. Our goals are the validation of manufacturing processes and the generation of preclinical proof of concept data with NanomAbs within the next year.
Finally, we should not forget that bertilimumab, our lead first in class monoclonal antibody, while being developed currently in multiple phase II clinical trials for inflammatory diseases such as ulcerative colitis, bullous pemphigoid and soon atopic dermatitis, has a strong rationale for use in oncology in the emerging field of regulation of the micro-environment of the tumor. Several important publications attest to the mechanism of action and the relevance in ovarian cancer (Levina V, et al., 2009, Nolen & Lokshin, 2010) and renal cell carcinoma (Jöhrer K, et al., 2005).
In conclusion, we are striving to advance our oncology platform with a multi-pronged approach. We see significant value in our I/O assets and believe our next-generation bi-specific and nanomAb platforms will have validation in the near future. Several previous financing transactions have, in hindsight, created a difficult environment for the company and its investors. We have learned from and are in the process of overcoming those challenges. We are working now on corporate development transactions that will allow us to better finance the company. We believe that our pipeline has the potential for significant value creation in the near future.
Editor's Note: This article covers one or more stocks trading at less than $1 per share and/or with less than a $100 million market cap. Please be aware of the risks associated with these stocks.